Yanks honor Tampa area HOPE Week charity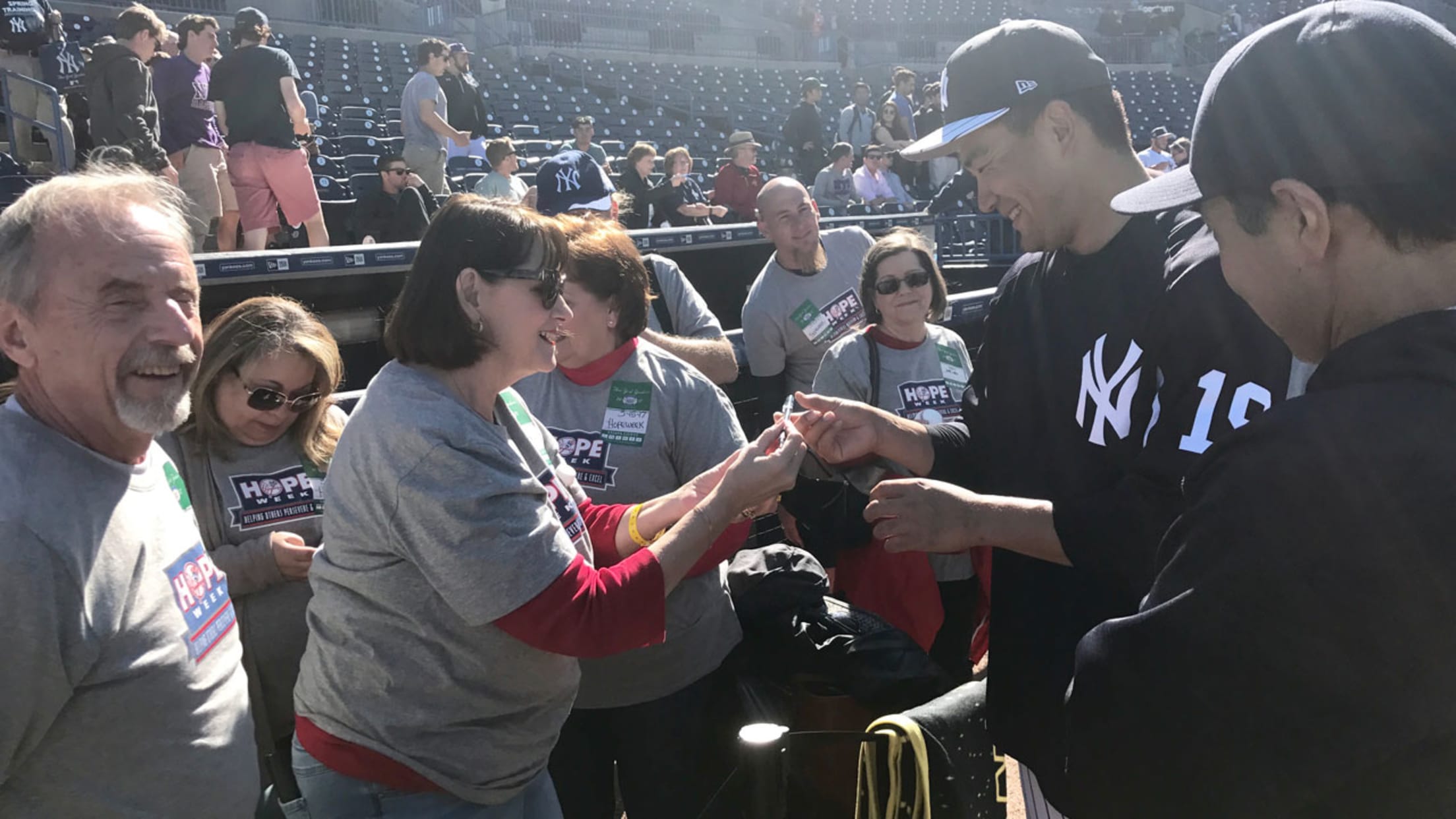 Blanket Tampa Bay now operates on a year-round basis and has already provided to more than 1,000 individuals in need. (Bryan Hoch/MLB.com)
TAMPA, Fla. -- As part of the return of HOPE (Helping Others Persevere & Excel) Week, the Yankees recognized members of the Blanket Tampa Bay organization prior to Wednesday night's 3-1 victory over the Phillies at George M. Steinbrenner Field.This marks the ninth season of HOPE Week, a week-long community
TAMPA, Fla. -- As part of the return of HOPE (Helping Others Persevere & Excel) Week, the Yankees recognized members of the Blanket Tampa Bay organization prior to Wednesday night's 3-1 victory over the Phillies at George M. Steinbrenner Field.
This marks the ninth season of HOPE Week, a week-long community program that brings to light remarkable stories intended to inspire individuals into action in their own communities, and the seventh year that the Yankees have recognized an individual or organization from the Tampa area during Spring Training.
Blanket Tampa Bay is a 501(c)3 organization that provides blankets and basic needs for everyday living to the homeless and working poor in the Tampa Bay area. The organization was founded in 2014 after Beth Ross and her husband, Ray, wanted to collect blankets for a Christmas Eve donation to attendees at Trinity Cafe, a Tampa not-for-profit that serves meals to the homeless.
• Kaprielian to make spring debut against Jays
Blanket Tampa Bay now operates on a year-round basis and has already provided to more than 1,000 individuals in need. During the spring and summer, the organization distributes rain gear, including ponchos, umbrellas, socks and hygiene products. In the fall and winter months, it also gives out blankets, hats and gloves.
HOPE Week 2017 will take place in New York from May 22-26.
Worth noting
• Yankees first baseman Chris Carter was scratched from Wednesday's lineup due to an illness. He was replaced by Greg Bird, who hit his fourth home run of the spring in the second inning.
• Right-hander Ernesto Frieri worked out for the Yankees on Wednesday at George M. Steinbrenner Field and is expected to sign a Minor League contract. The 31-year-old last pitched in the Majors in 2015, but he impressed with Colombia during the World Baseball Classic. Frieri compiled a 3.55 ERA with 73 saves over 298 big league appearances from 2009-15.
"This is a guy that saved a lot of games," manager Joe Girardi said. "I know he pitched well in the [Classic]. Some of our people saw him, so he's going to get an opportunity here."
• The Yankees made five cuts prior to Wednesday's game. Right-hander Johnny Barbato, left-hander Dietrich Enns and right-hander Giovanny Gallegos were optioned to Triple-A Scranton/Wilkes-Barre and reassigned to Minor League camp. Infielder Miguel Andujar was optioned to Double-A Trenton and reassigned to Minor League camp, while right-hander Chance Adams was reassigned to Minor League camp.