Inbox: Will short year impact Boone's 'pen plans?
Beat reporter Bryan Hoch answers fans' questions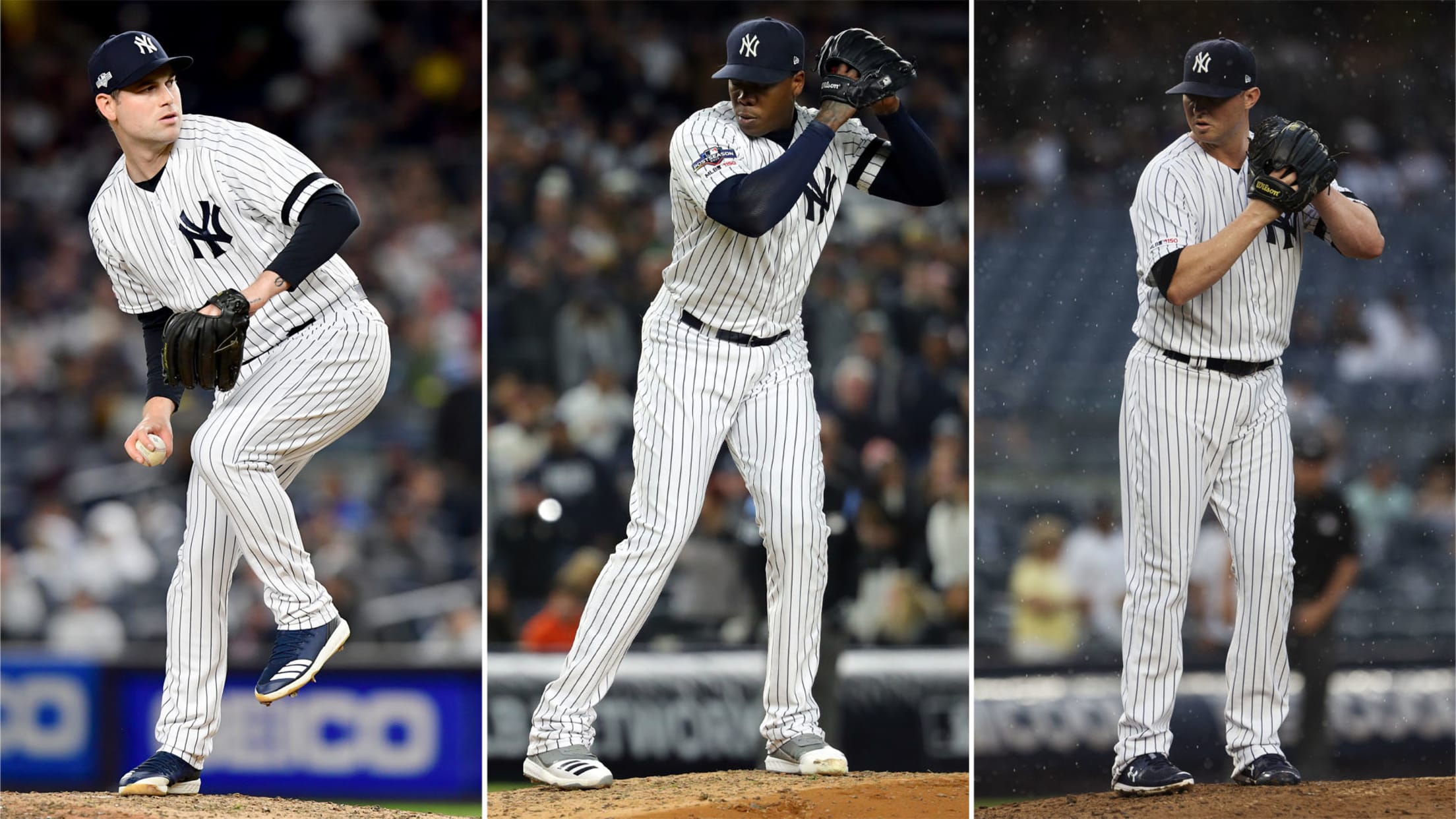 It has been nearly 70 years since the Yankees organized a camp outside the state of Florida, dating to when Joe DiMaggio's final Spring Training took place under the Arizona sunshine in 1951. The Bombers haven't trained in the Northeast since World War II, when they used diamonds in Asbury
It has been nearly 70 years since the Yankees organized a camp outside the state of Florida, dating to when Joe DiMaggio's final Spring Training took place under the Arizona sunshine in 1951. The Bombers haven't trained in the Northeast since World War II, when they used diamonds in Asbury Park, N.J., (1943) and Atlantic City, N.J., (1944-45).
• Yankees FAQ: Details on the upcoming season
But now on deck is Summer Camp at Yankee Stadium, which promises to be a unique experience for all involved. As we prepare to see the guys lace up their spikes once again, let's dive into the Yankees Inbox:
Will Aaron Boone use the bullpen differently this year than previous years to give starters more or less innings?
-- @zevi_weis
I believe Boone will use the bullpen more aggressively during the season's first month than he otherwise would have, given that pitchers shifted back into their winter modes and now will be building stamina in a three-week camp rather than the usual six or seven. Pitching coach Matt Blake has said that since there's no playbook for this, he expects teams to err on the side of caution.
• Boone on '20: 'We'll never run from expectations'
"If you're in a three-week build-up, I would imagine we could probably get guys to 55 to 65 pitches, assuming everything goes according to plan," Blake said in April. "Those first seven days [of camp] will be a huge indicator of where we can go."
It's not a perfect comparison, but when baseball returned from the strike in 1995, Buck Showalter didn't push a Yankees starter past 100 pitches until the season's seventh game (when Jack McDowell threw 116 over eight innings against the Red Sox). In an era in which pitch counts were not as scrutinized as they are now, Opening Day starter Jimmy Key threw 84 pitches over five innings against the Rangers.
Managers will absolutely be tempted to push starters further, given the importance of each game in a 60-game sprint rather than a 162-game marathon, and that'll probably happen after a week or two get peeled off the calendar. Boone will have the luxury of pointing to a bullpen that he rightfully believes is a strength, but can you imagine how Twitter will react if he pulls Gerrit Cole after 55 to 65 pitches in his Yankees debut?
Is Aaron Judge ready?
-- Connor O., Sarasota, Fla.
Great question. We know that Judge is included within the 60-man player pool, and he told Sports Illustrated that he was able to "hit a little bit" during his final days at George M. Steinbrenner Field in Tampa, though it's unclear if he was able to do much more than hit off a tee (as Newsday reported).
• Judge back in NY: 'It's time to get things rolling'
The Yankees have said that Judge's exams showed continued healing in his cracked right rib, and hearing that he is back to swinging -- ostensibly without pain -- is a positive development. If Judge can advance to a stage where he is facing live pitching, something that he wasn't able to do during Spring Training, that should provide a better forecast for his late-July availability.
With an expanded roster and taxi squad, who do you see getting potential time in the bigs that would probably not if it were a normal season?
-- @MarkFD218
With a 30-man roster to begin the regular season, at least four players who would have started their years in the Minors will be wearing pinstripes in late July. Extra bullpen arms seem like safe bets to be in demand, so prospects like Clarke Schmidt, Deivi Garcia and Michael King figure to get good looks during camp. David Hale, Ben Heller, Tyler Lyons and Dan Otero seemed to be on the bubble when Spring Training halted on March 12.
Multi-positional versatility is a plus given the unique nature of the season, and switch-hitter Rosell Herrera was receiving attention during Spring Training. There could have been a wrestling match between carrying Thairo Estrada, Herrera and Tyler Wade on a 26-man roster; now the Yanks can carry all three if they'd like. A third catcher like Chris Iannetta, Erik Kratz or Josh Thole also seems possible in the early going.
What are the Yankees going to do with Clint Frazier now that our starting outfield is seemingly healthy?
-- Alex L., Washington, D.C.
The pandemic cost Frazier a great opportunity for playing time. With Judge and Giancarlo Stanton injured, Frazier likely would have been in the Opening Day outfield alongside Brett Gardner and Mike Tauchman. Stanton was supposed to return in April, and general manager Brian Cashman later said that he expected Judge to be out until "summertime," so Frazier would have continued to compile at-bats.
In my very unofficial season simulation using the addictive Out of the Park Baseball 21, Frazier has started 75 of the Yanks' first 84 games, belting 15 homers with an .843 OPS. Why am I talking about stats from a video game? Well, that would have already given Frazier a career-high in big league at-bats, surpassing the 225 he notched last season -- and as we learned in the first half of 2019, his bat can be a force, especially with consistent playing time.
Essentially, the return to action places Frazier further back than he was when Spring Training started in February, now that Aaron Hicks (Tommy John surgery on his right elbow) may be ready for Opening Day. If Gardner, Hicks, Judge, Stanton and Tauchman are all healthy, then Frazier may wind up ticketed for the Yanks' taxi squad, along with outfielders like Estevan Florial and Zack Granite.
For suspended players like Domingo Germán, is there any proration of the suspension given the shortened season?
-- @KnicksWillRise
Germán agreed to an 81-game suspension last year under the Joint MLB-MLBPA Domestic Violence Policy, with 18 games served during the 2019 season (postseason games were included in that total). As such, Germán still needs to serve 63 more games during the 2020 regular season, which obviously rules him out in a 60-game regular season schedule.
According to MLB, Germán would theoretically be permitted to pitch in the 2020 postseason because he already missed the 2019 postseason. That would require being added to the playoff roster despite not having pitched against big league competition in more than a year, which seems unlikely but not impossible.
Will Miguel Andújar be in the starting lineup?
-- Marty A., via e-mail
Though third base likely remains Gio Urshela's job to lose, Andújar is expected to be on the roster, as he likely would have been if the season started in March. Andújar's willingness to add versatility to his portfolio helped his chances, as he showed the ability to play a passable left field while continuing to work on his infield defense.
Andújar figures to see time at third base, left field and perhaps at first base, though his designated hitter at-bats would be impacted if Judge and Stanton are both healthy. Most important, Andújar's power seemed to be restored after he missed most of 2019 with a right shoulder injury.
Is there any chance that the Yankees can make a trade?
-- Kevin S., Comerio, Puerto Rico
In theory, yes. Rosters are no longer frozen, and an Aug. 31 Trade Deadline has been instituted, though clubs are only permitted to trade from the 60 names who are in their player pool. Any player acquired in a trade must be assigned to the player pool. At this stage, teams will probably hesitate to make deals; in most cases, they haven't scouted the players since March, and there could be something of an ethical dilemma in trading someone during a pandemic.
• FAQ: Roster and transaction rules for 2020
Is the front office worried about the health of this team heading into July?
-- Frank B., Middlesex, N.J.
From a baseball perspective, Boone has talked about there being a "silver lining" in that his team should be healthier than they would have been if the season had started on March 26. That roster wouldn't have had Judge, Hicks, James Paxton or Stanton, and now you can make a convincing argument that all four will be active when the season begins.
Now the Yanks (a team, mind you, that set a Major League record with 30 players serving 39 injured list stints last year) must get through three weeks of Summer Camp -- not only avoiding on-field injuries, but also passing their COVID-19 testing. It's impossible to say what will happen, but we can probably assume there will be speed bumps between now and July 23 or 24. Fingers crossed that it all works out!