Yankees FAQ: Details on the upcoming season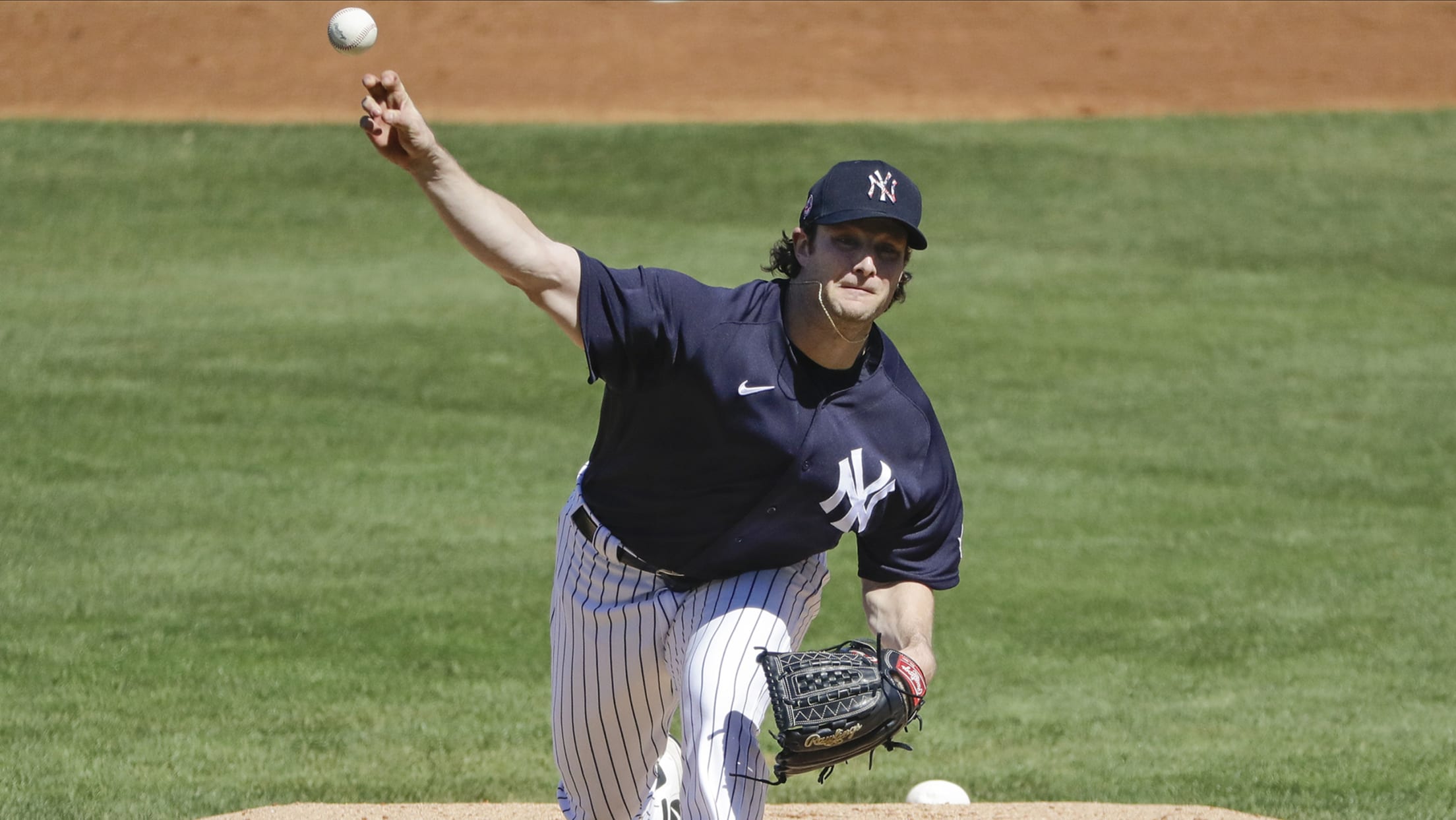 Gerrit Cole was the celebrated addition of the Yankees' offseason, lauded by general manager Brian Cashman as his "great white whale" after years of pursuit. Upon his arrival at Spring Training, the ace right-hander spoke confidently about his ability to deliver a World Series championship to The Bronx.
Gerrit Cole was the celebrated addition of the Yankees' offseason, lauded by general manager Brian Cashman as his "great white whale" after years of pursuit. Upon his arrival at Spring Training, the ace right-hander spoke confidently about his ability to deliver a World Series championship to The Bronx.
• MLB announces 2020 regular season
The coronavirus pandemic paused Cole's preparation for his first season in pinstripes, but the right-hander's long-awaited debut is now back on the calendar. After a delay of more than three months, the Yankees are ready to return to action, still considered American League East favorites as all 30 clubs prepare for what promises to be a sprint to the finish line.
"It's the dream to go out there every day and try to win every single time," Cole said in February. "It sounds very simple, but there are a lot of moving parts and there are a lot of people that pour a lot of time into simplifying that one theme -- we need to win a world championship. To be surrounded by like-minded people always just reinforces that."
• FAQ: All you need to know about 2020 season
The Yankees believed that they were equipped well for a 162-game marathon, but their powerful lineup and strong pitching staff could translate well to the shorter season. Through 60 games in 2019, the Yanks led the AL East with a 38-22 record.
They finished with a division-best 103-59 mark, sweeping the Twins in the AL Division Series before falling to Cole and the Astros in a six-game AL Championship Series.
Here are some frequently asked questions about the upcoming campaign as it relates to the Yankees:
Where will camp take place, and when?
Instead of George M. Steinbrenner Field in Tampa, Fla., the Yankees' spring home since 1996, the organization will utilize Yankee Stadium for the reboot of camp. Players are expected to report by July 1.
For weeks, the Yankees' plan had been to return to the Sunshine State, where several players were working out at Steinbrenner Field. Florida's recent rise in positive COVID-19 tests prompted the shift to New York, where conditions have improved markedly since March and April.
"We will continue to follow Major League Baseball's guidelines and protocols, and we will vigilantly work with Governor [Andrew] Cuomo, Mayor [Bill] de Blasio and their health authorities, as well as with federal officials and Major League Baseball's own medical and infectious disease experts, to ensure our facility maintains the best possible safety standards," the Yankees said. "The health and safety of our players, staff and employees, and of their respective families, will always be our top priority."
When and where is Opening Day?
The 60-game schedule proposed by Major League Baseball has been sent to the Major League Baseball Players Association for approval. The tentative plan is for all clubs to open the regular season on either July 23 or 24.
Which teams will be on the schedule?
The proposed schedule will largely feature divisional play, with the remaining portion of each club's games against their opposite league's corresponding geographical division -- in the Yankees' case, the National League East. Thus, the Yankees will play 10 games each against the Blue Jays, Orioles, Rays and Red Sox, and an additional 20 games total vs. the Braves, Marlins, Mets, Nationals and Phillies.
How are the Yankees' injured players doing?
Manager Aaron Boone has said that the shutdown represented a "silver lining" for the Yankees, who likely would not have had Aaron Hicks, Aaron Judge, James Paxton or Giancarlo Stanton if the season started as scheduled on March 26.
Hicks (Tommy John surgery) has resumed swinging and is expected to be ready by July, while Judge (right rib fracture) is believed to be not far behind. Judge recently was seen hitting off a tee at Steinbrenner Field, according to Newsday. Paxton (back surgery) has been throwing from a mound for weeks, and probably would have been ready by the middle of May or early June, while Stanton (right calf strain) recovered and could have been playing games in April.
What are some competitions to watch when camp resumes?
Clint Frazier and Mike Tauchman seemed to have defined roles if the season had started on time, but with Hicks, Judge and Stanton all potentially ready for Opening Day, those outfielders now could be battling for plate appearances. Miguel Andújar is in a similar situation, having been envisioned as a backup to third baseman Gio Urshela, who could also play left field or DH. Other hopefuls for the staff could include Deivi Garcia, Michael King and Clarke Schmidt.
On the pitching side, the Yankees had been leaning toward using Jonathan Loaisiga as the fifth starter or as a jack-of-all-trades, but Paxton's return places Loaisiga's role in question. Jordan Montgomery had seemingly secured a rotation slot with a strong spring; will he automatically be named the fifth starter, or does the lefty need to prove himself again?
What about Domingo Germán?
In January, it was announced that Germán agreed to an 81-game unpaid suspension for violating Major League Baseball's domestic violence policy. That included the final 18 games of the 2019 season, as Germán was placed on administrative leave last Sept. 19.
Because Germán needs to sit out 63 more games, he will not be eligible to pitch during the 2020 regular season. He would be eligible to pitch in the postseason since he already missed the 2019 playoffs, and his suspension will not carry over to 2021.
How do the roster rules affect the Yankees?
Expanded rosters will work like so: Teams can field a 30-man Opening Day active roster, which they must reduce to 28 players at the season's two-week mark. Two weeks later, on Day 29 of the season, they must slice that roster to 26 players. They will then carry 26 players for the rest of the season.
The initial expanded roster could allow the Yankees to keep bubble players like Frazier, Andújar and Tauchman initially and then make decisions on roster spots as the season unfolds. The same holds true of the pitching staff, with opportunities for Loaisiga and Montgomery likely to make the initial squad and then we'll see how it plays out.
In addition to the 40-man roster, teams will be allowed to carry an additional pool of 20 players. Teams will also be allowed a "taxi squad" of three players who will join the team on road trips in case of injury, with the players subject to change each trip. The regular injured list will be for 10 days in 2020 for both position players and pitchers, as it was in '19. MLB is also instituting a special COVID-19-related injured list for players who test positive, have confirmed exposure or are exhibiting symptoms. There would not be a minimum or maximum number of days players can spend on this list.
Players optioned or outrighted off the roster must remain that way for a minimum of 10 days before they can be recalled.
Will the Yankees play any exhibition games?
Cashman said that the club is exploring playing as many as three exhibition games at the conclusion of camp, but those potential matchups have not been finalized. For geographic reasons, Cashman said the Mets would be a preferable fit.
How can I watch the games?
A revised television schedule has not yet been released. The majority of games on the Yankees' original 2020 schedule were scheduled to be televised by the YES Network. Select over-the-air games were also set to be shown on PIX11. Out-of-market Yankees games can be streamed LIVE on MLB.TV on your favorite supported devices.
How can I listen?
All Yankees games are expected to be broadcast on the Yankees Radio Network, whose flagship station is WFAN (660 AM, 101.9 FM). Every Yanks game can be listened to LIVE online or on the go with MLB Audio.