Yankees-Indians ALDS Game 1: In Real Life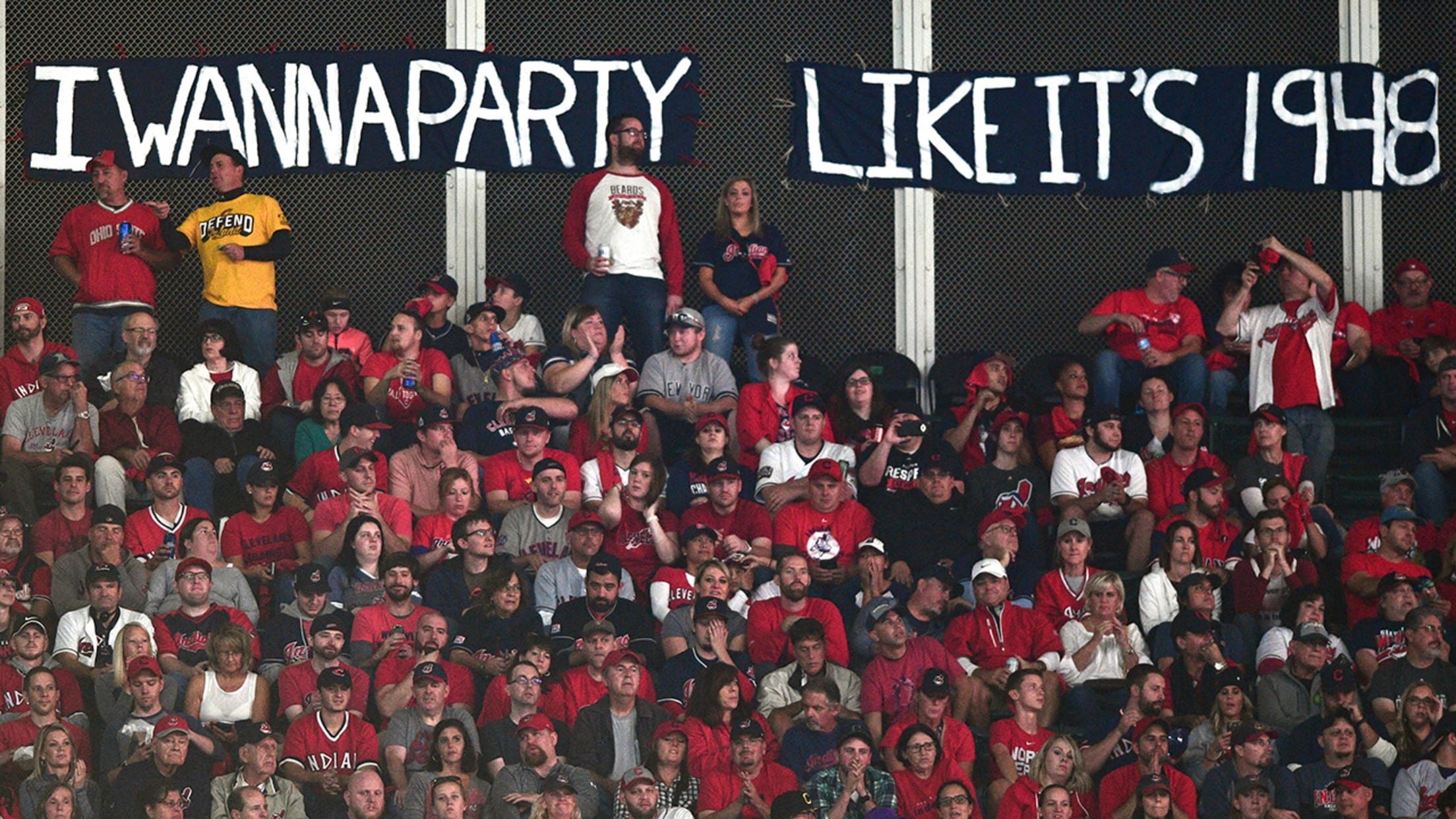 The Indians beat the Yankees, 4-0, on Thursday night to take a 1-0 lead in the American League Division Series presented by Doosan. We were at the scene in and around Progressive Field.11:09 p.m. ET: Allen slams the doorCody Allen sat down the first two Yankees he faced in the
The Indians beat the Yankees, 4-0, on Thursday night to take a 1-0 lead in the American League Division Series presented by Doosan. We were at the scene in and around Progressive Field.
11:09 p.m. ET: Allen slams the door

Cody Allen sat down the first two Yankees he faced in the ninth before allowing a single, then recovered to strike out Greg Bird swinging to put a bow on a 4-0 win that gave Cleveland a 1-0 series lead.
Allen entered with two outs in the eighth for the four-out save, beginning with rookie slugger Aaron Judge. For the fourth time in the game, Judge went down on strikes, swinging through Allen's 2-2 curveball in the dirt.
10:16 p.m. ET: Take a Bauer, you've earned it
*Claps hands*#RallyTogether pic.twitter.com/mMaO514Ls0

— SportsTime Ohio (@SportsTimeOhio) October 6, 2017
Cleveland starter Trevor Bauer was lifted with two outs in the seventh inning to a standing ovation from a very happy crowd at Progressive Field and the Indians leading, 4-0. His final line: 6 2/3 IP, 0 ER, 2H, BB, 8 K. And now ...
It's time. pic.twitter.com/jHwrbf6ofY

— Cleveland Indians (@Indians) October 6, 2017
9:52 p.m. ET: No more no-no
Bauer was nearly perfect through his first five innings, holding the Yankees to an 0-for-15 showing with six strikeouts. The lone Yankees baserunners came via a second-inning walk to Bird and a dropped third strike to start the fourth inning with Judge at the plate. According to FS1, with his first out in the fifth inning, Bauer set the franchise record for longest postseason no-hit bid.
Bauer lost the no-no on an Aaron Hicks double off the left-field wall with one out in the sixth, but received an ovation from fans all the same.
Bauer: 5th time a pitcher has taken a no-hitter into the 6th inning of a playoff game against the Yankees pic.twitter.com/co6SNO0C1t

— James Smyth (@JamesSmyth621) October 6, 2017
9:22 p.m. ET: Sonny's skies turn Gray
Sonny Gray's first postseason start since 2013 came to a close after just 3 1/3 innings, three earned runs, four walks and a wild pitch. The 27-year-old looked like he might be heating up after a pair of strikeouts in the third, but opened the fourth with a walk and a home run, followed by a pair of walks sandwiched around a popout. He departed in favor of Adam Warren, who escaped further damage.
2nd time in #Yankees history that starters failed to complete 4 IP in first 2 postseason games. Also happened in '56 WS - Ford & Larsen.

— Bryan Hoch (@BryanHoch) October 6, 2017
8:59 p.m. ET: He's all over the place
Just two at-bats in and Jay Bruce has already doubled to one side of the park and homered to the other, the latter knock coming in the fourth to push the Tribe's lead to 3-0. Bruce's shot had an exit velocity of 104.4 mph and traveled a projected 371 feet, according to Statcast™. In addition, the home run from Bruce had a launch angle of 42 degrees, Bruce's highest on a home run since Statcast™ was introduced in 2015.

8:45 p.m. ET: That came way out of ... center field
Jason Kipnis' move to center field since coming off the disabled list has definitely raised some questions about the former second baseman's ability to patrol a large area. Kipnis silenced his naysayers in the third inning with an incredible diving catch to rob Chase Headley of a hit. Per Statcast™, the play had a 26 percent catch probability, making it a four-star catch. Kipnis covered 88 feet in 4.7 seconds to make the all-out diving grab.
October 6, 2017
8:29 p.m. ET: Could always be worse
Gray opened the second by allowing a double and a single, then hitting a batter to load the bases. The Yankees' starter then rebounded to coax a double-play grounder from Roberto Perez that scored the Indians' first run, but finished the frame with minimal damage after a Giovanny Urshela pop fly ended the threat.

8:02 p.m. ET: Play ball

With the game officially underway, Bauer needed 17 pitches to sit down the Yankees in order, with two strikeouts, in the first inning. Gray used 20 pitches, walked a batter and uncorked a wild pitch to complete a scoreless opening frame.
7:06 p.m. ET: Beast mode engaged
As the Yankees took pregame BP, it was pretty clear that manager Joe Girardi and Judge, the AL home run king, were all business.

6:19 p.m. ET: Parrotheads unite
Edwin's parrots are in the building. pic.twitter.com/NmBMYOj4CK

— William Kosileski (@BillKosileski) October 5, 2017
Indians slugger Edwin Encarnacion is famous for carrying his "parrot" around the bases after a home run, and with a little more than an hour to go before first pitch, these fans couldn't wait to show their support, onesies-style. Eat your heart out, Rays rookies.
6:17 p.m. ET: Up in the sky! It's a bird, it's a plane ...

"Super Joe" Charboneau hopped in the booth to talk Game 1. Charboneau raked for the Tribe in 1980, using a .289 average, 23 homers and 87 RBIs to claim AL Rookie of the Year honors. The tall tales surrounding the slugger in his prime only added to his legend.
5:30 p.m. ET: Tell me what you CC
5 p.m. ET: Getting in the swing of things
Francisco Lindor, Jose Ramirez and the Indians got down to business during pregame BP as the Yankees stretched on the side.
Francisco Lindor and Jose Ramirez taking some swings prior to Game 1 of the ALDS. pic.twitter.com/4mgf8iF8gU

— William Kosileski (@BillKosileski) October 5, 2017

4:11 p.m. ET: Let the trash talking begin
Players from the NBA's Cleveland Cavaliers will be in attendance tonight. Because of this, Indians manager Terry Francona was asked whether he thought LeBron James would be rooting for the Yankees or the Indians.
#Indians manager Terry Francona:

"I don't think I need to be telling LeBron what to do, but I think he'll be rooting for the Indians." pic.twitter.com/acBUgotbmU

— William Kosileski (@BillKosileski) October 5, 2017
Looks like LeBron didn't get the message ...
#PinstripePride pic.twitter.com/BzzOnlIkFK

— New York Yankees (@Yankees) October 5, 2017
3:39 p.m. ET: Calm before the storm
The crowd is slowly growing outside of Progressive Field in anticipation of today's 7:30 p.m. ET Game 1.
Lots of #RallyTogether signage outside of Progressive Field before Game 1 of the ALDS. pic.twitter.com/ErErvmgEqL

— Ben Weinrib (@benweinrib) October 5, 2017
3:15 p.m. ET: Line 'em up
It's our time. #RallyTogether #RockYourRed pic.twitter.com/B4Jl0xT7pi

— Cleveland Indians (@Indians) October 5, 2017