Severino gaining confidence with every outing
Yanks righty appears ticketed for rotation, delivers solid start against Mets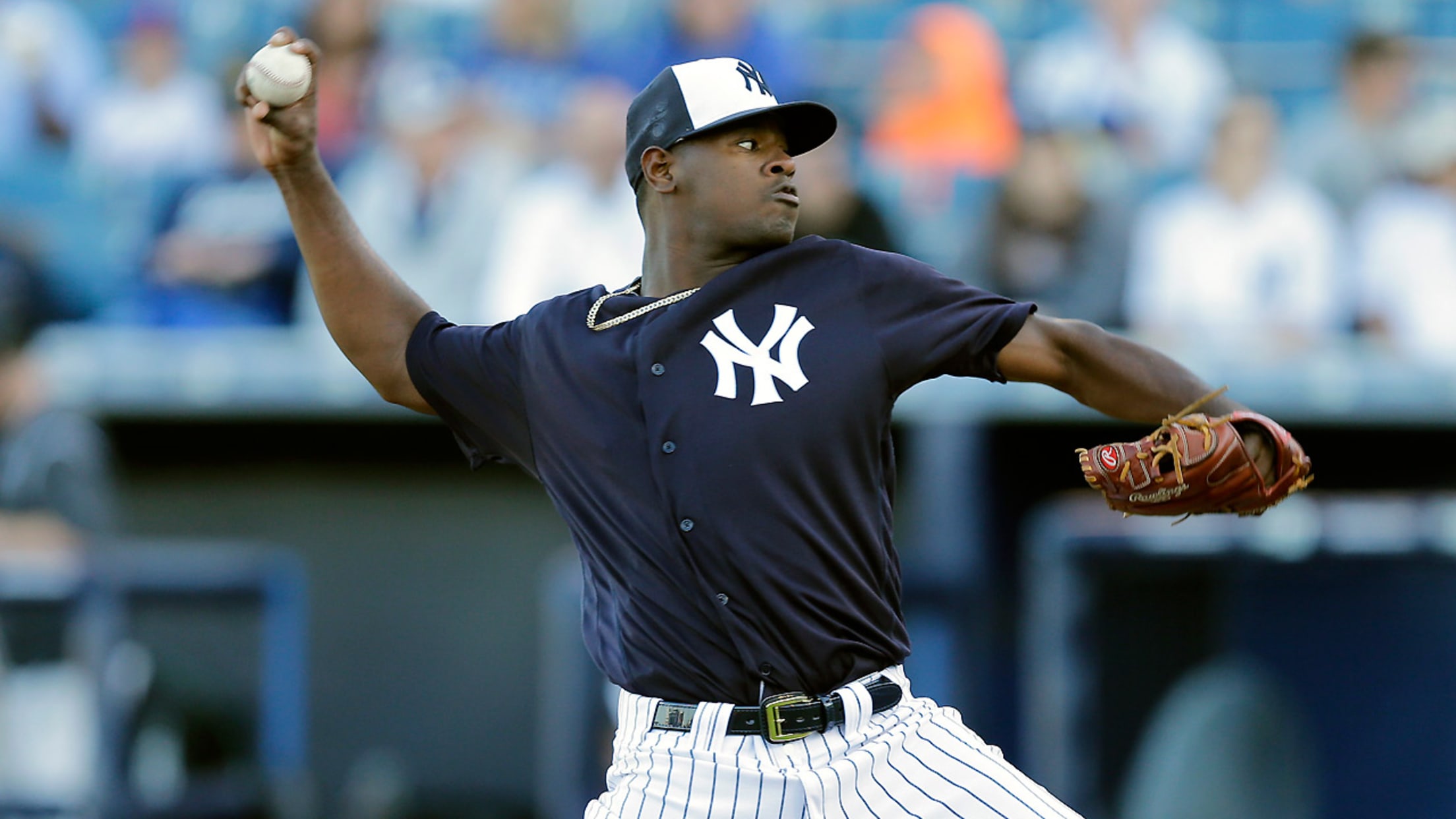 Luis Severino allowed two runs on five hits over 4 1/3 innings while striking out five on Tuesday. (Chris O'Meara/AP)
TAMPA, Fla. -- Luis Severino pumped his fist as he struck out the final two batters of the fourth inning on Tuesday, pinning the Mets' Yoenis Cespedes on third base. The young right-hander is gaining both experience and confidence, and the Yankees couldn't be happier.Reserving a rotation slot for the
TAMPA, Fla. -- Luis Severino pumped his fist as he struck out the final two batters of the fourth inning on Tuesday, pinning the Mets' Yoenis Cespedes on third base. The young right-hander is gaining both experience and confidence, and the Yankees couldn't be happier.
Reserving a rotation slot for the 22-year-old is just a formality at this point, as Severino struck out five in Tuesday's 6-3 victory, limiting the defending National League champions to two runs over 4 1/3 innings. Severino said that every outing is an opportunity to prepare.
• Spring Training: Schedule | Tickets | Gear
"I know how Major League hitters think now, and it's important to bring that to this year here and have more confidence in myself," Severino said.
The Yankees saw enough out of Severino's 11 starts at the tail end of last season that having him begin the year in Triple-A was never seriously considered, even though they will have to deliver bad news to either CC Sabathia or Ivan Nova in the next two weeks.
In manager Joe Girardi's eyes, Severino has proved that he belongs at the big league level, and nothing changed that assessment on Tuesday. Severino scattered five hits and a walk over his 77 pitches (48 for strikes), getting through the lineup on the strength of his fastball despite lacking his good command.
"He means a lot to our rotation if he pitches the way he's capable of, because he's got really good stuff, he's a power arm and he has the ability to go deep in games," Girardi said. "He's very mature at a young age."
Girardi has wondered aloud how heavily he might be able to lean on the Dominican Republic product as an honest-to-goodness, homegrown starting pitcher -- something that isn't always associated with the Yankees. Severino has mentioned 200 innings as his goal, having thrown 161 2/3 innings in 2015, including 62 1/3 in the Majors.
"I am learning hitters," Severino said. "Some guys when you throw a strike are waiting for breaking balls, that stuff. Me and [catcher Brian McCann] are always on the same page."
Given that, the Yankees can't wait to see what Severino can do for an encore.
"You forget how young he is when he's out there," Girardi said. "You think he's pretty wise and mature, he has a plan and knows what he wants to do. He just goes out and competes. When you have stuff like he does and you compete as hard as he does, you're usually going to have success."