Homer record still in reach for Bronx Bombers
Yankees on pace to surpass 1997 Mariners record of 264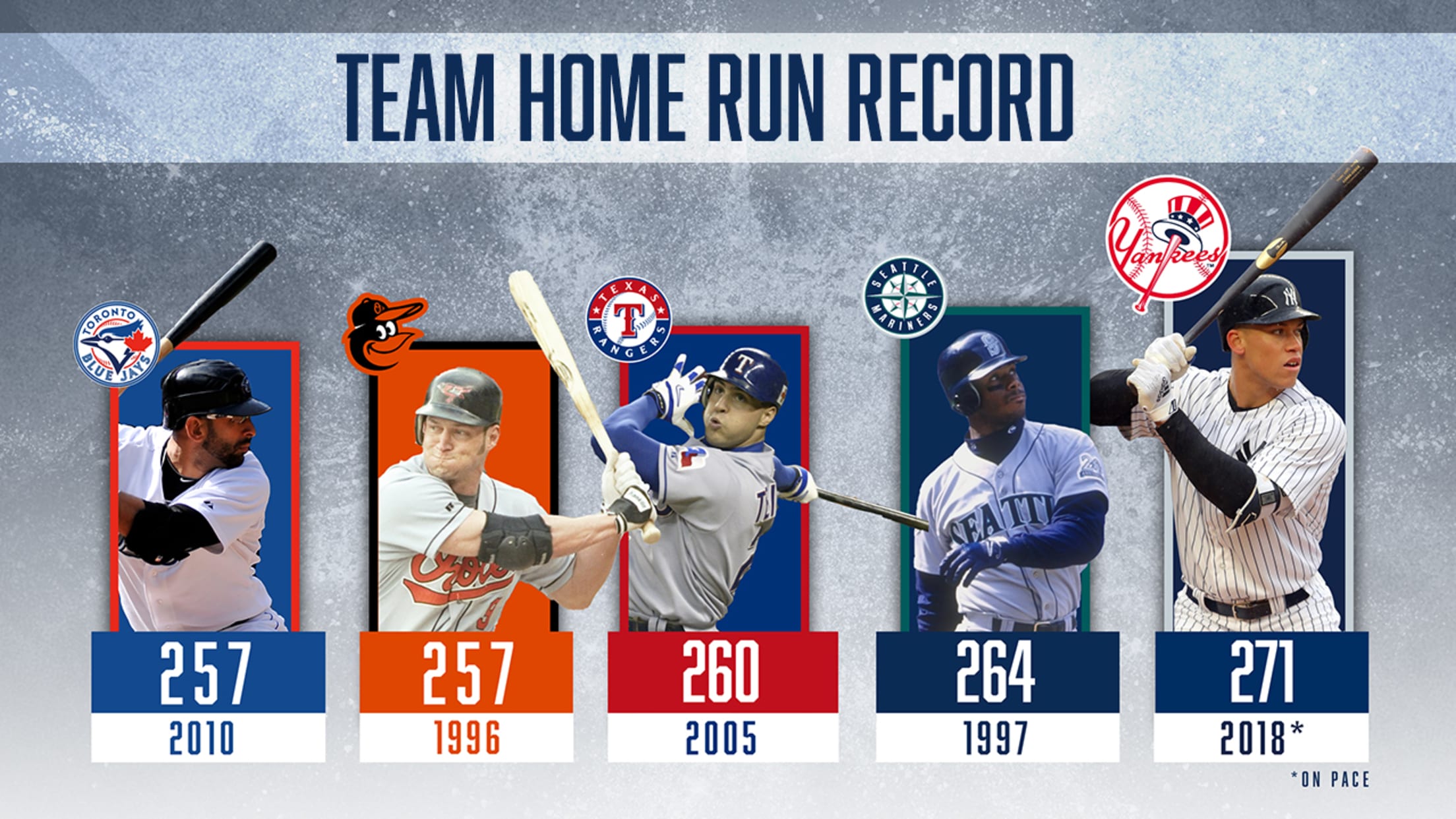 Four months ago, we looked at the imposing lineup the Yankees had put together, noting that they'd added reigning National League MVP Award winner Giancarlo Stanton to a group that had already led the Majors in homers in 2017. The question was an obvious one: Could they break the all-time record
Four months ago, we looked at the imposing lineup the Yankees had put together, noting that they'd added reigning National League MVP Award winner Giancarlo Stanton to a group that had already led the Majors in homers in 2017. The question was an obvious one: Could they break the all-time record of 264 home runs, held by the 1997 Seattle Mariners?
At the time, the Yankees hadn't yet acquired Neil Walker or Brandon Drury, and they had big holes at second and third base. They still had some serious questions to answer. Nonetheless, the projections indicated that they had a real shot to challenge the record.
When the Yanks play their 53th game of the season on Friday night against the Orioles, they'll be nearly one-third of the way through the year. That's more than enough time to check in, see what we've learned about them and figure out if the record remains within reach.
So will the Yankees be celebrating a record-breaking home run year come October? Yes. Mostly. It's complicated.
Yes! They are on pace to challenge the record.
In the simplest terms: yes. The Yankees have hit 87 home runs, the most in the Major Leagues, through their first 52 games. That's an average of 1.67 per game, which, over a 162-game season, comes out to 271 home runs. Despite inconsistent seasons from Stanton, Gary Sanchez and Didi Gregorius, the Bronx Bombers have been fueled by Aaron Judge's smashing follow-up and unexpected power from rookie second baseman Gleyber Torres.
If the current paces hold, Judge would end up with 46 homers, and the Yanks would just barely get to the record. Baseball's best power-hitting team would end up in the history books. It's what you expected, and what you want.
The only problem with that is that being "on pace" is always a tricky subject, since it assumes that exactly what's happened already is what will happen going forward. Justin Verlander is on pace to have a 1.11 ERA; it's not going to happen. Mookie Betts and his .750 slugging percentage is on pace to have one of the dozen most powerful seasons in history; it, too, is not going to happen.
For the Yankees, the specific problems with being "on pace" are clear. Torres is on a 50-homer pace, over a full season of 700 plate appearances. Greg Bird, expected to be a big contributor before yet another injury, has just 17 plate appearances and a single home run. He barely has a pace at all, but he'll likely get plenty of playing time going forward. The remaining two-thirds of the Yanks' season may not resemble the first one-third much at all. How do we handle that?
Yes! They are projected to challenge the record, too.
We'll do it the same way we did back in February. As we explained at the time, the best way is to look at the projection systems, especially Steamer and ZiPS, the two most respected public projection systems available. No, projections aren't perfect windows into the future, but they're better than simply looking at the first two months and expecting that the same thing will happen indefinitely. If you'd done that at the end of May, you'd have expected Gregorius to have a Ruthian season.
We'll take a mixture of those two systems, though they're largely similar; Brett Gardner, for example, is projected by Steamer to hit nine more homers, and by ZiPS to hit 10 more. We'll apply them to the expert-generated playing time expectations at the FanGraphs depth charts, which helps account for the Bird problem, and we'll see what the output is.

As it turns out, the expected output is … 271 home runs. Despite all our warnings about "pace," the expert projections give us nearly the same number, one that would barely top the '97 Mariners.
Your first reaction might be one of surprise, that Stanton would be expected to outhomer Judge the rest of the way, but that's mostly an overreaction to Stanton's uneven start. The higher number here is in part due to Stanton's longer track record of power, but also due to the fact that he's coming off a stronger power season than Judge is, too. Remember, Stanton hit 33 homers in the second half last season. Judge hit 22. It's not hard to see these projected numbers happening again.
You'll notice that Bird is projected for 11 more homers, but in only 283 plate appearances, far lower than the 400-plus that others like Gregorius and Judge are expected to get. If he's healthy, Bird will get more than that, but it's also pretty fair to not give him the benefit of the doubt in that regard; for all the hype, Bird has been around since 2015, and he will be playing just his 100th Major League game this weekend.
As you'd expect, most regular players are projected to more than double their current home run total -- as we noted, we're only a third of the way into the season -- and this is a Yankees team that leads the Majors in home runs. You can see where this is headed. There's so many more home runs to come here, especially as the Northeast finally gets past an unseasonably cold spring and the weather heats up. (It's worth noting that home runs are slightly down in the Majors this year, though it's uncertain how much of this is due to the weather.)
What other records are in reach?
Regardless whether or not they break the Major League record -- and it looks like it's going to be very close -- there's still the matter of the Yanks' record to consider, and that's a much easier target to shot for.
The Yankees' team record is 245 homers, set by the 2012 group of Curtis Granderson, Robinson Cano, Nick Swisher and Mark Teixeira. That broke (by one home run) a record which had stood since only '09, which broke (by one home run) a record which had stood since '04, and last year's 241-homer team came within one of that. (We're living in a record-setting home run era, obviously.)
That 2012 team had 10 players get to double-digit homers, which is tied for second most in big league history behind four clubs who had 11 such players, most recently last year's Astros. That's in reach here, too; our projections above show 10 Yanks projected for 10 or more homers, with Walker just missing out at nine.
Obviously, projections are just that: The best possible expectations for the future, based on what we know so far. We know the Yankees are loaded with talented sluggers, but we can't see everything that's going to happen. We don't know who will get hurt, or shockingly slump, or be added or subtracted in a trade. This would all look very different if, say, Manny Machado took Miguel Andujar's third-base playing time come July.
We knew, however, at the start of the season the Yanks had a pretty solid chance of challenging the all-time home run record. Based on what we've seen through the first third of the year, they still do. If we check back in on this in August, they'll probably still be on track there, too. There's too many sluggers here not to be.