NY ready to face Bauer, not Kluber, in Game 1
Indians starting ace in Game 2; Severino won't pitch out of bullpen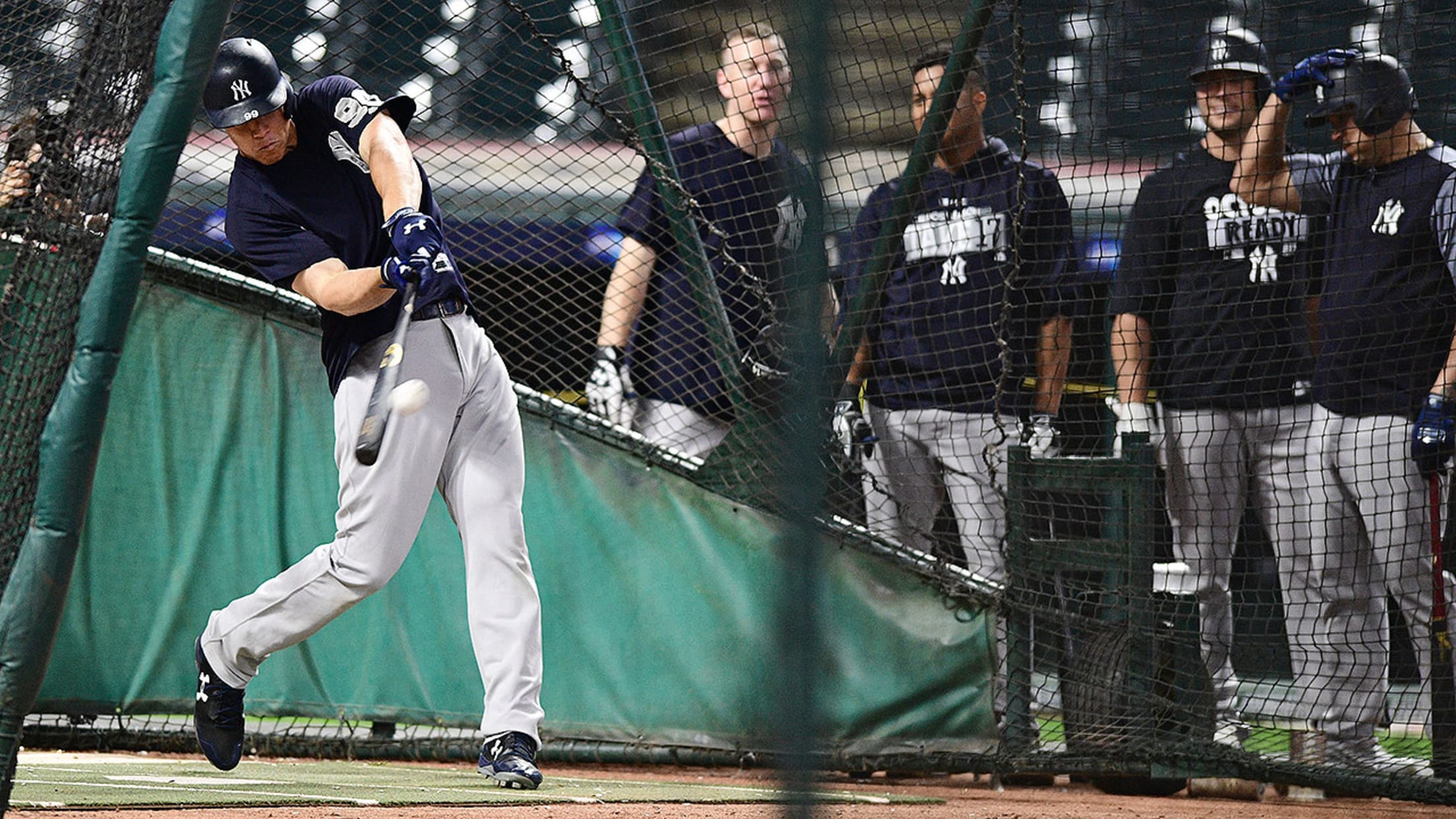 The Yankees went a combined 0-4 against Indians starters Trevor Bauer and Corey Kluber this season. (AP)
CLEVELAND -- The Yankees did not seem displeased by the news that the Indians will save American League Cy Young Award front-runner Corey Kluber for Game 2 of the AL Division Series presented by Doosan, with Trevor Bauer set to take the ball in tonight's series opener at Progressive Field."He's
CLEVELAND -- The Yankees did not seem displeased by the news that the Indians will save American League Cy Young Award front-runner Corey Kluber for Game 2 of the AL Division Series presented by Doosan, with Trevor Bauer set to take the ball in tonight's series opener at Progressive Field.
"He's a great pitcher. I think it's good for us, that we don't have him the first game," second baseman Starlin Castro said of Kluber. "I think the first game is really important. We have Bauer tomorrow, we've faced him twice already this year, like Kluber, too. The results are kind of different with Kluber, so I think it's good to have [Bauer] in the first game."
:: ALDS schedule and coverage ::
Kluber went 18-4 with a 2.25 ERA in 29 starts this season, going 2-0 with a 1.59 ERA in two starts against the Yankees, including a dominant complete game on Aug. 3 in Cleveland. Bauer also had success against New York, going 2-0 with a 1.38 ERA in two starts. He was 17-9 with a 4.19 ERA in 32 games (31 starts) this year.
"You've got a number of guys over there that seem to have 18 wins. It's interesting," Yankees manager Joe Girardi said. "I think we probably expected to see Corey Kluber in Game 1. I know for them, it still allows them to pitch twice, and I'm sure they have a great reason for doing what they're doing, but unfortunately, I wasn't invited to those meetings."
Bauer said that he sees a lot of muscle in the Yankees' balanced lineup, as well as scrappy players who put the ball in play and can run well. Shortstop Didi Gregorius and outfielder Brett Gardner could qualify in all of those categories.
"Didi's had a really good year," Bauer said. "He can run a little bit, puts the ball in play, and has power. Gardner puts the ball in play, steals bags, is a tough at-bat, takes a lot of pitches."
No relief
Girardi said that he is not tempted to consider using right-hander Luis Severino out of the bullpen in the ALDS, even though he threw just 29 pitches in his AL Wild Card Game start against the Twins. The Yanks have lined up Masahiro Tanaka to pitch Game 3 of the ALDS on Sunday in New York, with Severino set to start a potential Game 4 the next day.
"I was asked, 'Could you bring him back Friday?'" Girardi said. "I just think, with his workload and what he's done this season, it's probably not in his best interests, and the full rest will probably do him some good."
Turn the page
The Yankees were 2-5 in the regular season against Cleveland, splitting an Aug. 3-6 series at Progressive Field before being swept in a three-game series in New York from Aug. 28-30. That helped jump-start the Indians' historic 22-game winning streak, and Gardner said the Yankees do not need any reminders about Cleveland's ability.
"I know that they've got a really good team," Gardner said. "They might be the best team in the American League, and obviously last year we knew they had a really good team, too. We know how good their rotation can be, and offensively and defensively. We've just got to play well. If we play well, we've got a chance."
Carsten Sabathia, who will start Friday's Game 2, said the Indians' lineup presents a myriad of challenges for any starter.
"They've got everything; speed, power, they wear on you and make you throw a lot of pitches," Sabathia said. "It's a tough lineup to face. You've got to attack the strike zone, be aggressive and try to get some swings early in the count to get deep into the game."
All Rise
Aaron Judge has a fan in Indians manager Terry Francona, who said the Tribe spent a good deal of time discussing the rookie during Wednesday's pre-series meeting. The AL leader with 52 homers, Judge was 4-for-14 (.286) against Cleveland pitching this season, hitting his 35th homer off Indians right-hander Mike Clevinger in an 8-1 victory on Aug. 6 in Cleveland.
"He's good for Major League Baseball. He's bad for the teams you're playing against," Francona said. "He's really good. From all accounts, he's a really special young man. I didn't get a chance to meet him at the All-Star Game, because I wasn't there, but everybody came back raving about him as a person. I know, if you throw in the wrong place, he's going to hit it a long way."