T-Mobile Home Run Derby tonight (8 ET, ESPN)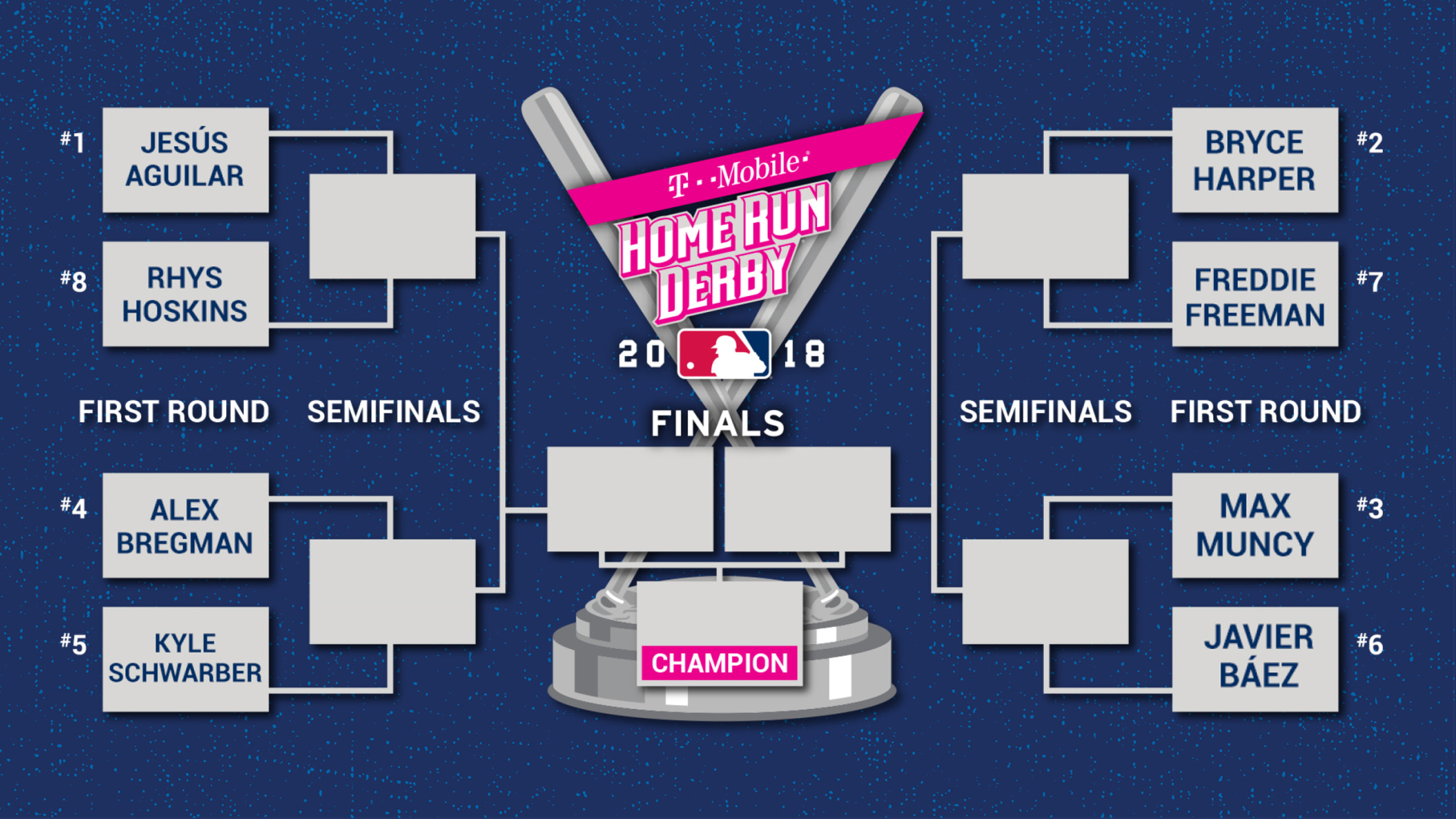 WASHINGTON -- Steps from the United States' seat of power, Major League Baseball will bring the power to Nationals Park tonight in the T-Mobile Home Run Derby. Homer-hitting host Bryce Harper leads a fascinating -- and young -- field of Derby entrants who will look to beat the clock and
WASHINGTON -- Steps from the United States' seat of power, Major League Baseball will bring the power to Nationals Park tonight in the T-Mobile Home Run Derby. Homer-hitting host Bryce Harper leads a fascinating -- and young -- field of Derby entrants who will look to beat the clock and each other in the sport's most swinging showcase at 8 p.m. ET on ESPN.
Harper is the only one among the eight participating sluggers who has done the Derby before, having finished as the runner-up to Yoenis Cespedes in 2013 at Citi Field. So, Harper has the experience, and he's got the comfort of competing in his own confines. But he's also got some of the season's biggest stars -- and biggest surprises -- to contend with.
As the hometown star, Harper will have to wait for the field to finish their turns since he'll go last. In order, it'll be Rhys Hoskins (Phillies), Jesus Aguilar (Brewers), Kyle Schwarber (Cubs), Alex Bregman (Astros), Javier Baez (Cubs), Player Page for Max Muncy (Dodgers), Freddie Freeman (Braves) and Harper (Nationals).
• Listen: Morning Lineup Podcast breaks down the Home Run Derby
Here are the seedings and first-round matchups for what is the youngest Home Run Derby field ever:
:: Complete Home Run Derby coverage ::
Left side of bracket

Jesus Aguilar, Brewers vs. 8. Rhys Hoskins, Phillies

Alex Bregman, Astros vs. 5. Kyle Schwarber, Cubs
Right side of bracket

Bryce Harper, Nationals vs. 7. Freddie Freeman, Braves

Max Muncy, Dodgers vs. 6. Javier Baez, Cubs
That's the field, and the rules and format will be the same as they've been since 2015, which is to say the ticking clock and the importance of not just going deep but extra deep -- with the dinger distances measured by Statcast™ having an impact on extra time allotments -- are in full effect.
The average age of the participants is 26.39. As a matter of fact, this year's oldest participants, the 28-year-old Freeman and Aguilar, weren't even born when the Derby was first held in 1985.
• Home Run Derby history
Three of the participants -- Hoskins, Schwarber and Muncy -- are competing in the Derby despite not being selected for the National League All-Star squad. So we've got dingers, and we've got ringers.
Given the relative youth and the specific inexperience involved here, it's difficult to know what to expect from this group. Harper can only hope that the groove he got into five years ago, when at 20 years old he became the youngest player to reach the Derby final, will be replicated.
• Play the T-Mobile Home Run Derby Bracket Challenge game
Harper's father, Ron, pitched to him then and is expected to pitch to him again.
"Growing up, you always play catch with your dad and enjoy those moments, and I was able to do that every single day," Harper said last week. "I'm looking forward to just having the family around at the All-Star Game. Having my dad in the clubhouse. That's truly cool."
This Derby group reflects some of the coolest stories of the 2018 season. Who knew that Aguilar and Muncy would be viable everyday players for contending clubs, let alone Derby entrants (with Aguilar on the NL roster)?
Muncy was released by the A's at the start of the 2017 season. A year later, he shocked the baseball world by becoming the fastest Dodger to reach 20 homers in a season (he did it in 183 at-bats) in franchise history. Aguilar was a former Milwaukee waiver claim seemingly relegated to part-time duties at the start of the season, but he took advantage of an injury opportunity to become an early NL MVP Award candidate, the NL Final Vote winner and the top seed in this Derby by virtue of him leading the group in home runs at the time the field was selected.
"They asked me if I want to do it and it was like, 'Let's do it, let's be part of the big moment and the big show,'" Aguilar said. "I just agreed. We're going to have fun with my little kid up there and those superstars behind me. So let's do it. Why not?"
Beyond the great stories of Muncy and Aguilar, you've got the great swagger of Bregman and Baez, smaller in physical stature but big in confidence. You've got Schwarber, the natural-born slugger seemingly made for an event like this. You've got Hoskins with a chance to show the baseball world that the personal Home Run Derby he staged late in 2017, when he became the first player in history to hit 18 homers in his first 35 games, applies to this special setting. And you've got the understated but long-tenured and respected Freeman getting a rare opportunity on a national platform and a rare chance to let it loose in a batting practice-type setting. Freeman is so disciplined with his BP approach that he told ESPN he hasn't homered in BP in three years.
Harper, though, will be uniquely positioned as the central figure of the field.
"I might have sent a text to him earlier to start the trash-talking," Freeman said. "It should be fun. I'm hoping the fans are too excited for him and he gets nervous and hits zero."
We know the temperature won't be zero. With a forecasted high of 96 in the District on Tuesday and little cooling off expected in the evening, conditions will be ripe for homer heroics.
While watching the 2018 All-Star Game presented by Mastercard live on FOX on Tuesday, fans can submit their choices for the Ted Williams Most Valuable Player Award presented by Chevrolet with the 2018 All-Star Game MLB.com MVP Vote.
The 89th Midsummer Classic, at Nationals Park in Washington, D.C., will be televised nationally by FOX Sports; in Canada by Rogers Sportsnet and RDS; and worldwide by partners in more than 180 countries. FOX Deportes will provide Spanish-language coverage in the United States, while ESPN Radio and ESPN Radio Deportes will provide exclusive national radio coverage of the All-Star Game. MLB Network, MLB.com and SiriusXM also will provide comprehensive All-Star Week coverage.
For more information about MLB All-Star Week and to purchase tickets, visit AllStarGame.com and follow @MLB and @AllStarGame on social media.