Greinke hit hard by Dodgers in tough opener
D-backs ready to move on after allowing 8 home runs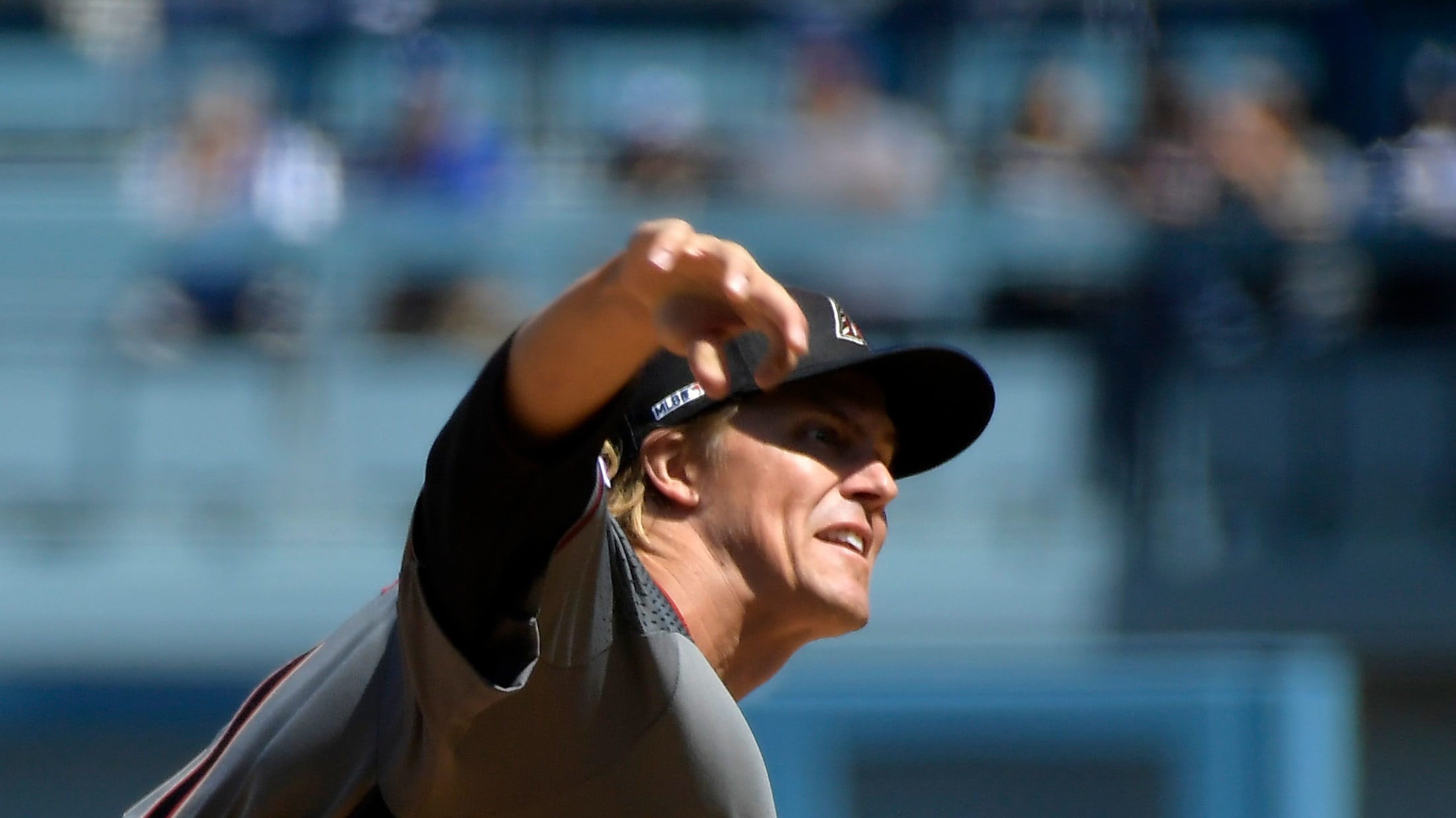 LOS ANGELES -- Like all teams, the D-backs had been looking forward to Opening Day for a while. Now, though, they'll want to make sure they forget it, turn the page and be ready for the 161 contests that follow after they were on the wrong end of baseball history
LOS ANGELES -- Like all teams, the D-backs had been looking forward to Opening Day for a while.
Now, though, they'll want to make sure they forget it, turn the page and be ready for the 161 contests that follow after they were on the wrong end of baseball history in a 12-5 loss to the Dodgers on Thursday afternoon at Dodger Stadium.
The Dodgers hit eight home runs, the most a team has ever hit on Opening Day. Four of the homers came off starter Zack Greinke who did not appear to have his usual pinpoint command.
"It's not how we drew it up," D-backs manager Torey Lovullo said. "That's for sure. You give up eight home runs in a game and you're probably not going to win. They beat us. They came out and sucker punched us early and got after Zack, and from there things never got going in the right direction."
It's easy to get caught up in the ugliness of the loss, especially when it comes against a rival on Opening Day, but the D-backs understand that it's a marathon and not a sprint.
"It's one game," said veteran outfielder Adam Jones who homered in his D-backs debut. "Guys came in here afterward like, 'It's one game. Hip-hip-hooray.' They played a good game over on that side. You tip your cap to them, and now come out and bring it tomorrow. It's just one game. We've got 161 left. You're going to get to test some of these guys' adrenaline, test some of their fortitude, which I love."
The week started out with a test of the team's mental strength as they watched outfielder Steven Souza Jr. suffer a gruesome season-ending knee injury on Monday night.
Then came Thursday's debacle, leading Lovullo to be asked about the mental state of his team this early in the season.
"It's part of the game," Lovullo said. "It's how you deal with different types of crisis. You band together and you get off the ropes, stagger back into the middle of the ring and keep punching, and I know this team will do that. We've had a bit of bad luck here lately, and this definitely wasn't the script we wanted, but I know that this team will be resilient. That's what they're built on."
While the rest of the team turns the page on Friday, Greinke will look to rediscover his offspeed stuff in the four days before he starts again, this time against the Padres in San Diego.
Greinke had success last year throwing a slow curve that could register as low as 65 mph.
It didn't fool the Dodgers, though, as the first two homers came against slow curves.
"I felt good," Greinke said. "I just didn't pitch very good. A lot of mistakes. Offspeed wasn't real sharp. Just not a lot of good things going on out there. All the offspeed was not very good today, either. But probably especially the curveball. Hopefully I can get better by next time."
There are going to be plenty of "next times" left for the D-backs this year. That's what they're counting on.
Worth noting
• Jones' homer marked the third time he had homered on Opening Day.
• Christian Walker got the Opening Day start at first base and responded with a seventh-inning homer. It was his 28th birthday. Of his seven career homers, three have come against the Dodgers.
• Reliever Matt Koch also allowed four home runs on Thursday. The eight homers allowed by the D-backs were the most in a single game in franchise history.
Up next
The D-backs take on the Dodgers on Friday night at Dodger Stadium at 7:10 MST with Robbie Ray getting the start. The left-hander had a good Cactus League season, with his velocity ticking up from where it was last spring. Ray will be opposed by right-hander Ross Stripling, so expect the left-handed-hitting Jake Lamb to be in the lineup at first base.