Which Wheeler, Thor suitor did Mets scout Thursday?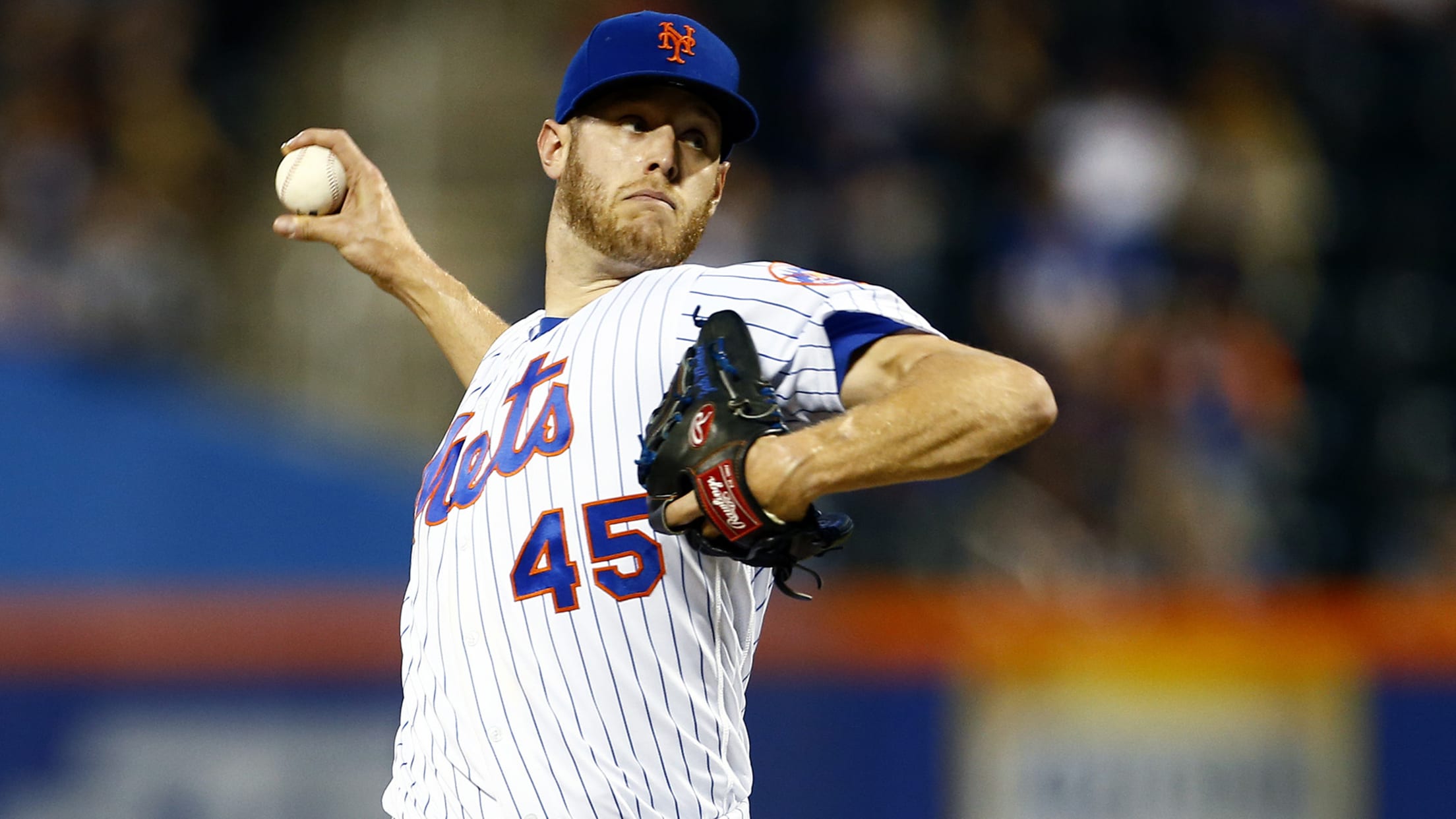 MLB.com is keeping track of all the latest news and trade rumors surrounding impending free agent Zack Wheeler right here.
MLB.com is keeping track of all the latest news and trade rumors surrounding impending free agent Zack Wheeler right here.
Mets scout Brewers on Thursday
July 19: The Mets continue to explore trade possibilities with the Deadline less than two weeks away. Major League sources told SNY's Andy Martino that Ruben Amaro Jr., the special assistant to Mets general manager Brodie Van Wagenen, was dispatched to Phoenix on Thursday to scout the Brewers, who are reportedly interested in both Zack Wheeler and Noah Syndergaard.
What's unclear is which players on Milwaukee's MLB roster Amaro was there to see, besides top prospect Keston Hiura. New York would presumably ask for Hiura in any trade involving Syndergaard, but the Brewers will likely be reluctant to move the second baseman, who has hit .320/.383/.594 with nine homers and five steals in his first 34 big league games.
Wheeler, meanwhile, likely won't command more than a mid-level prospect, as he is currently on the injured list due to shoulder fatigue and can become a free agent at the end of this season.
How does Wheeler's right shoulder fatigue affect his status as a trade chip?
July 16: Zack Wheeler has been one of the key names on the rumor mill as a sought-after starter for contenders. That changes after the hard-throwing righty was placed on the 10-day injured list with right shoulder fatigue.
The move is retroactive to Friday, which means Wheeler will be ineligible to return until July 23 at the earliest. In that best-case scenario -- which might not come to pass, even if there's no structural damage to Wheeler's shoulder as Tim Healey of Newsday reported -- that would give the 29-year-old free-agent-to-be at most two starts before the July 31 Trade Deadline.
That's not a lot of opportunity for the Mets to engage with potential suitors for Wheeler, who is having a tough season on the surface (4.69 ERA) but has shown signs (3.66 FIP, career-high 9.8 K/9) that continue to make him an intriguing addition down the stretch.
Put simply, this undercuts some of Wheeler's value -- and some of the Mets' leverage -- on the market, as any club looking to acquire him will have to keep its fingers crossed he can get and stay healthy over the final two months.
Zack Wheeler is headed to the injured list with shoulder fatigue, which more or less destroys his trade value.

He had interest far and wide across the league. Perhaps a team still takes a crack in hopes he returns, but the Mets' desire to cash in at the deadline has evaporated.

— Jeff Passan (@JeffPassan) July 15, 2019
Best fit for Wheeler might be crosstown
July 15: The Mets "should get over their Yankee-phobia" and think about trading Zack Wheeler to the Yankees, MLB Network insider Ken Rosenthal writes in a Monday column for The Athletic addressing 12 of the Trade Deadline's most burning questions (subscription required).
It seems like an easy match. The Yankees are in the market for starting pitching, and they "prefer a starter with high-end stuff and durability." That, Rosenthal writes, makes someone like Wheeler, the Indians' Trevor Bauer or the D-backs' Robbie Ray the best fit.
At least, it did until news broke Monday afternoon that Wheeler was headed to the injured list with right shoulder fatigue -- a development that undercuts his value a good deal.
Wheeler has overpowering stuff -- his fastball is averaging 96.7 mph this season, his slider is averaging 91.7 mph, and his splitter is averaging 89.1 mph. He ranks among the top five starters in baseball in terms of velocity for all of those pitch types.
And from the Mets' standpoint, Rosenthal thinks the team's struggles this season should spark some big moves, maybe even a Trade Deadline shocker. He writes that "the only untouchables should be their All-Stars" -- that's Jacob deGrom, Pete Alonso and Jeff McNeil -- and that "trading Wheeler, [Todd] Frazier and [Jason] Vargas should be only the start."
Trade market prices continue to be 'enormous,' even for rentals such as Wheeler
July 14: Despite the fact that teams aren't able to make trades in August anymore, the market hasn't picked up yet, aside from the Red Sox acquiring Andrew Cashner from the Orioles and the A's picking up Homer Bailey from the Royals.
Perhaps it's because asking prices remain "enormous," Buster Olney reports in an article for ESPN+ (subscription required), citing conversations with executives around baseball. According to Olney, teams are requesting "very high-end prospects," even for rentals such as the Mets' Zack Wheeler.
With the Trade Deadline still more than two weeks away, sellers have the ability to make steep demands for their players, but buyers typically don't part with elite prospects for impending free agents. Wheeler and Giants left-hander Madison Bumgarner are the most notable names among starting pitchers in that category.
Mets general manager Brodie Van Wagenen addressed the state of the team in speaking with reporters Friday and made it known the focus would be on moving players on expiring contracts, including Wheeler, corner infielder Todd Frazier and lefty Jason Vargas.
New York may have lost a potential Wheeler suitor when Boston picked up Cashner on Friday, as Red Sox president of baseball operations Dave Dombrowski indicated the team could stand pat after trading for the righty, according to masslive.com. Still, it's possible the Mets will continue to drive a hard bargain, as a source told MLB Network insider Joel Sherman that as many as 10 teams had inquired about Wheeler.
Mets GM Brodie Van Wagenen hints at plans for Wheeler, deGrom & Thor
July 12: Brodie Van Wagenen might not have used the word "seller" in describing the Mets' stance leading up to the July 31 Trade Deadline, but the club's GM more or less put that label on his plans over the next few weeks -- at least when it comes to certain players.
In speaking with reporters Friday, Van Wagenen indicated the focus will be on moving expiring contracts, but he "would fully expect" Mets ace Jacob deGrom and highly sought-after fellow righty Noah Syndergaard (under club control through 2021) to remain on the roster.
On Syndergaard and deGrom: "I would fully expect those guys to be on our roster."

— Mike Puma (@NYPost_Mets) July 12, 2019
Of the team's players in the final year of their deals -- a group that includes veteran infielder Todd Frazier and southpaw Jason Vargas -- right-hander Zack Wheeler is the most intriguing chip.
Although the 29-year-old has struggled some with a 4.69 ERA this year, Wheeler sports a more respectable 3.65 FIP on the strength of his strikeout (9.8 K/9) and walk (2.6 BB/9) rates. He also was coveted at this time last year but wound up staying put and having a huge second half (1.68 ERA, 0.81 WHIP, 73 Ks in 75 IP) -- something the Mets will play up in any negotiations for Wheeler.
Heyman: Yanks don't think they can land Wheeler without huge overpay
July 12: In their quest to add a starting pitcher before the Trade Deadline, will the Yankees ultimately have to settle for either Madison Bumgarner or Marcus Stroman?
MLB Network insider Jon Heyman thinks so, as he noted in an appearance on WFAN's "Joe & Evan" program Thursday.
Heyman considers it unlikely that the Indians' will trade Trevor Bauer (controllable through 2020) or the Rangers with deal Mike Minor (controllable through 2020) while they are in the thick of the postseason race. And although the Yanks like impending free agent Zack Wheeler, Heyman gets the sense that the organization doesn't think it can pry him from the crosstown Mets without a major overpay.
That leaves Bumgarner (a free agent after this season) and Stroman (controllable through 2020), though the Yankees are "not that enamored" with either pitcher, according to Heyman. It's unclear which of the two New York prefers, but Heyman thinks the club should go after Bumgarner because of his postseason resume.
The Yankees enter the second half with a 6 1/2-game lead over the Rays in the American League East, but Luis Severino's season-long injury problems and J.A. Happ's struggles have left the club short on starting pitching.
In an appearance Friday on MLB Network Radio on Sirius XM, general manager Brian Cashman reiterated that the team is looking to bolster its rotation this month. However, he added that if the Yankees don't find a deal they are comfortable making, they have some fallback options, with Severino, Dellin Betances and Jonathan Loaisiga expected back from the IL at some point this season, and Deivi Garcia (the team's No. 4 prospect, per MLB Pipeline) performing well in the Minors. Cashman also said that New York is not willing to part with Garcia for any rental player.
Brian Cashman on the deadline: "Yeah, we're going to target starting pitching."@Yankees | #Yankees | #PinstripePride pic.twitter.com/fIDsNvevcI

— MLB Network Radio on SiriusXM (@MLBNetworkRadio) July 12, 2019
These teams could be in mix for Wheeler
July 5: When the Mets' Zack Wheeler took the mound Tuesday and struck out eight batters while holding the red-hot Yankees to just two runs in 6 1/3 innings, he did so in front of a contingent of scouts, according to Marc Carig of The Athletic (subscription required).
As an impending free agent on a team with the second-worst record in the National League, Wheeler is an obvious trade candidate, and the Yanks, who experienced Wheeler's stuff first-hand on Tuesday, have been mentioned as a potential suitor.
The crosstown rivals don't usually come together for trades, however, and while Major League sources told SNY's Andy Martino that they won't have an issue sending Wheeler to the Yankees if they make the best offer, MLB Network insider Joel Sherman predicted Wednesday in an article for the New York Post that the Mets will ultimately trade the righty to the Braves, Brewers, Twins or "someone not the Yankees."
On Friday, SNY's John Harper listed those four teams as well as the Astros among five possible landing spots for Wheeler and provided speculation as to what the Mets might be able to land in a trade.
Yankees: RHP Albert Abreu (NYY's No. 3 prospect, per MLB Pipeline)
Braves: LHP Kolby Allard (ATL's No. 8), LHP Joey Wentz (No. 9) or LHP Kyle Muller (No. 10)
Twins: C Ryan Jeffers (MIN's No. 17)
Brewers: LHP Aaron Ashby (MIL's No. 9)
Astros: OF Myles Straw (HOU's No. 13)
Carig mentioned the Brewers as a possible landing spot as well. Milwaukee nearly acquired Wheeler alongside Wilmer Flores in a 2015 deal for Carlos Gomez, and although that was under a different general manager, the team remained "enamored" with Wheeler's upside when it tried to trade for him as recently as this past offseason, Carig reports.
Although Wheeler's 4.42 ERA is more than a run higher than last season's mark (3.31), he owns a 1.86 ERA with a 20-to-4 K/BB ratio in 19 1/3 innings over his past three starts. Some may forget that Wheeler had a 4.85 ERA last year as late as June 26 before posting a 2.06 ERA over his final 15 starts.
According to ESPN's Buster Olney, the Mets are telling other teams that they are going to wait a little longer before deciding whether to buy or sell. If the Mets do decide to sell, their inclination is only to deal walk-year players -- Wheeler, Jason Vargas, Todd Frazier -- and not Noah Syndergaard or Edwin Diaz, per Sherman.
The Mets have indicated to other teams that they want to wait a little longer before settling the buy-or-sell question. A lot of teams seem to be taking that approach, for now.

— Buster Olney (@Buster_ESPN) July 4, 2019