At least 9 teams calling about Wheeler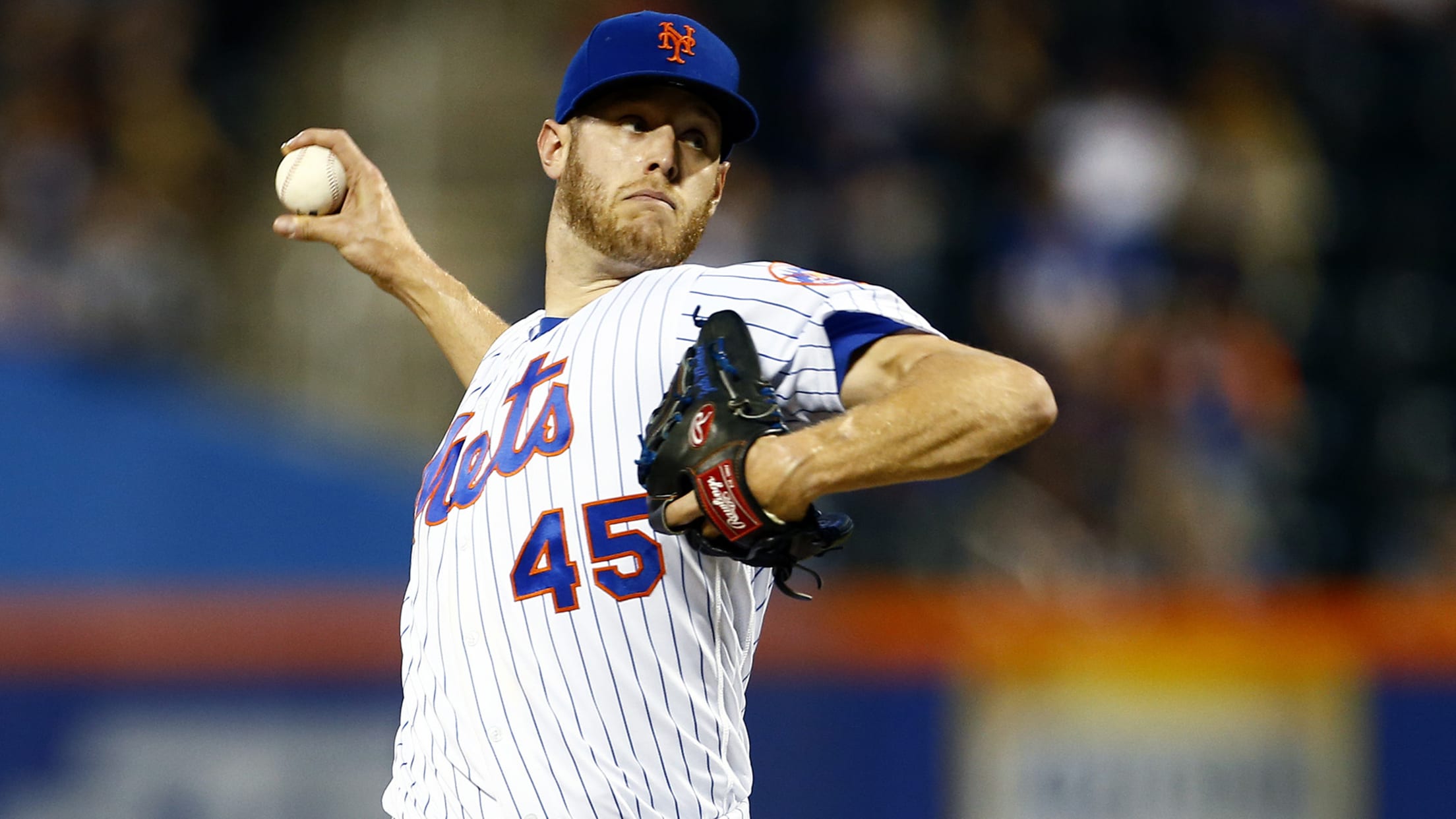 MLB.com is keeping track of all the latest news and trade rumors surrounding impending free agent Zack Wheeler right here. • Watch MLB Network for around-the-clock Trade Deadline coverage
MLB.com is keeping track of all the latest news and trade rumors surrounding impending free agent Zack Wheeler right here.
• Watch MLB Network for around-the-clock Trade Deadline coverage
Report: Mets taking calls on Wheeler, but Thor off market
July 31: One of the biggest questions leading up to the Trade Deadline has been whether the Mets will move starters Zack Wheeler and Noah Syndergaard.
MLB Network insider Joel Sherman reports the Mets are still fielding calls from at least nine teams concerning Wheeler, and there remains a "decent chance" the impending free agent will be traded.
#Mets still fielding calls from 9 teams on Wheeler. They have a price. If met, he will be traded. There remains a decent chance of that.

— Joel Sherman (@Joelsherman1) July 31, 2019
The Astros are among the teams discussing him, according to MLB.com's Jon Paul Morosi. The Rays are in the mix as well, reports SNY's Andy Martino, who says the action on the righty is getting "hot and heavy." So much so, in fact, that even the crosstown rival Yankees are talking with the Mets about Wheeler, per MLB Network insider Jon Heyman.
Astros, Rays and surprise — Yankees — are talking about Zack Wheeler. NYY skeptical Mets would trade with them but they have been talking at least.

— Jon Heyman (@JonHeyman) July 31, 2019
However, it appears that Tuesday's dominant outing from Syndergaard was not his final start in a Mets uniform, as a source tells MLB.com's Anthony DiComo that Syndergaard won't be traded before the Deadline. Syndergaard is under control through 2021, so there wasn't much urgency for the Mets to deal him now.
Noah Syndergaard had reason for his confidence last night: the Mets have indeed decided he's not going anywhere, according to a source. Syndergaard will be a Met past 4 p.m. today.

— Anthony DiComo (@AnthonyDiComo) July 31, 2019
Astros making big push for Wheeler
July 30: While the Astros might prefer to add a controllable starter, with Gerrit Cole, Wade Miley and Collin McHugh set to enter free agency this offseason, the acquisition cost could play a big role in what they ultimately do before the Trade Deadline.
Houston has "backed off" in its pursuit of Mets right-hander Noah Syndergaard due to a reluctance to trade its No. 1 prospect, outfielder Kyle Tucker, according to MLB Network insider Ken Rosenthal in an article for The Athletic (subscription required). But that doesn't mean a deal between the two clubs is off the table entirely.
In impending free agent Zack Wheeler, the Mets have another pitcher who could be of interest to Houston and will cost less to acquire than Syndergaard, who is controllable through 2021.
Two sources told Rosenthal that the Astros were working hard to acquire Wheeler, and a rival GM told SNY's Andy Martino, "I fully expect the Astros to get Wheeler."
Other clubs to show interest in the righty? The A's, Rays and Braves, according to Rosenthal.
Wheeler flashes usual stuff in promising return
July 27: Many eyes were on Citi Field on Friday night as Wheeler climbed the mound for his Trade Deadline audition. His performance -- three runs allowed over 5 1/3 innings -- should boost his trade value and reassure rival scouts that he is indeed healthy after missing three weeks with a right shoulder impingement.
Wheeler kept the Pirates at bay until Adam Frazier's two-run homer in the sixth, though New York's four homers provided enough run insurance for its right-hander. Wheeler averaged 96.8 mph on his four-seam fastball, per Statcast, and maxed out at 98.2 mph while he struck out seven Pittsburgh hitters and allowed six hits.
The fact that Wheeler showed his usual velocity and that he appears to be healthy helps the Mets, who continue to be a focal point of the rumor mill with both Wheeler and fellow righty Noah Syndergaard in talks, as SNY's Andy Martino notes.
We've been hearing a lot about Syndergaard, but my sense is that it's Wheeler who's on a more certain track to be traded. Helped that he showed he was healthy last night.

— Andy Martino (@martinonyc) July 27, 2019
How Wheeler's return to the mound Friday night will impact his trade value
July 26: Friday night marks Zack Wheeler's first outing since July 7, as the hard-throwing righty missed a crucial chunk of the Trade Deadline season with right shoulder fatigue. His return -- at home against the reeling Pirates -- comes just in the nick of time for the 29-year-old to drum up last-minute interest as a trade chip ahead of July 31.
Once considered one of the top available arms for postseason contenders to target, Wheeler's value was undercut considerably by losing nearly three weeks this month. That doesn't mean, however, that clubs aren't still interested in the free-agent-to-be for a potential lift down the stretch and in October.
The Astros stand out as "one of many teams" who will be keeping a close eye on Wheeler tonight, according to MLB Network insider Jon Heyman. Others who have been linked to Wheeler include the Yankees, Twins and Brewers.
Astros are one of many teams with interest in Zack Wheeler. All depends on how it goes tonight in his return engagement of course.

— Jon Heyman (@JonHeyman) July 26, 2019
What should Mets do with Wheeler?
July 25: Just in time to pump up his trade value, Zack Wheeler is set to come off the injured list to start Friday after missing time due to right shoulder fatigue. Trade offers for the right-hander, however, likely will be affected by his stretch on the shelf, even if he pitches well in his return, writes ESPN's Jeff Passan.
Although a member of the Mets organization recently told Yahoo Sports the chances were "pretty high" Wheeler won't be a Met on Aug. 1, his trade value already had been limited (prior to the injury) by his impending free agency, and Passan noted that a source recently wondered whether the New York would consider holding onto Wheeler and extending him a qualifying offer this offseason.
If they went through the qualifying-offer process with Wheeler, the Mets would either have the 29-year-old under contract for 2020 at roughly $18 million -- or be eligible to receive Draft-pick compensation once he signed elsewhere (provided it was before the 2020 MLB Draft). Each of those possibilities might be more attractive than the offers the team receives.
As for what the Mets might be able to get for Wheeler at this point, here's what an AL executive said in a rundown of the NL East clubs' intentions ahead of the Trade Deadline: "It's going to be tough for them to get value for Wheeler with so little time off the injured list. Their chances of trading him will get better the deeper and better he pitches on Friday. I think a B-level pitching prospect, ranked like 9-15 in another team's system, is around what they should expect back."
Still another option? The Mets could look to extend Wheeler long term -- perhaps the free-agent-to-be's asking price is somewhat depressed amid a tough season? -- while at the same time consider dealing fellow flamethrower Noah Syndergaard for a much larger return, as MLB Network insider Ken Rosenthal reports they are "exploring."
An option #Mets are exploring, per sources: Trading Syndergaard and signing Wheeler to an extension. NYM would benefit from return for Syndergaard while keeping Wheeler, a quality starting pitcher who otherwise would depart in free agency. @TheAthleticMLB

— Ken Rosenthal (@Ken_Rosenthal) July 25, 2019
Team source: Chances 'pretty high' Wheeler is traded
July 23: Wheeler is lined up to make his next start Friday, and at least one member of the Mets' organization believes it will be his final start in blue and orange.
A team source tells Yahoo! Sports' Mike Mazzeo that chances are "pretty high" that Wheeler will be dealt before the July 31 Trade Deadline. New York entered Tuesday's matchup with the Padres 14 games back of the first-place Braves in the National League East.
"It's just where we're at," the source told Mazzeo. "If we played better in San Francisco [over the weekend], it might have changed everything."
The Mets lost three of those four contests to the Giants, with all three of those losses coming in extra innings. Wheeler's trade value took a hit when he went on the injured list earlier this month with a right shoulder impingement, though his high-octane arsenal (130 strikeouts in 119 innings) might still attract suitors -- particularly with the growing sentiment that other marquee starters like Trevor Bauer and Madison Bumgarner will not be moved.
Still, Wheeler is a pitcher with a checkered injury history and an impending free agent after this season. It remains unclear just how much the Mets would get in return for the right-hander, though an excellent start Friday could help turn the tide.