Experience unlimited Rays baseball all season long! For $49 a month, you can access every 2023 regular season home game with no blackout dates. Tickets are standing room only with an option to purchase a guest pass.
Pro Tip: Save more by committing to the full season for only $249!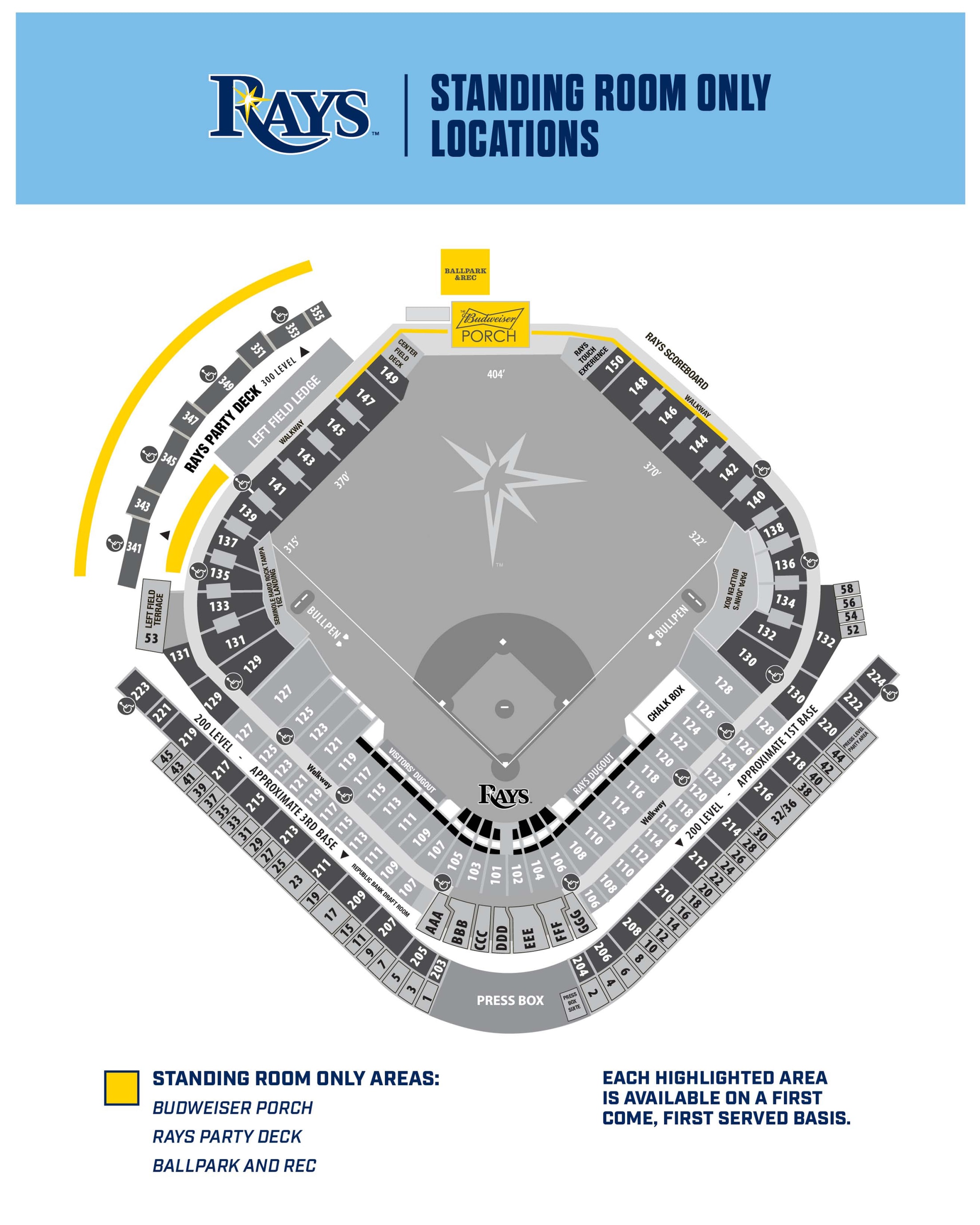 Ballpark Pass Reservations
Reserve your games by clicking the button below.
How it works:
Note: Limited quantity available. After making your initial payment, subscriptions automatically renew* on the first day of every month starting with May of 2023. Cancel anytime.
Buy a Ballpark Pass through the button above.

Login and reserve any game you want, up to 3 games at a time.

Pro tip: Add a guest pass or upgrade your seats!

Access your tickets through the MLB Ballpark app. Your non-transferable ticket barcodes will appear 4 hours prior to first pitch.
Frequently Asked Questions
---
*By purchasing a Ballpark Pass, you are automatically opting in to receive commercial emails from raysbaseball.com and our partners. Ballpark Pass reservations and tickets associated are subject to availability. Guest passes are non-refundable unless a reservation is canceled more than 4 hours before the selected game. Prices vary by game. Ballpark Pass and guest passes are not available to fans who purchase tickets with the intent to resell. By purchasing a Ballpark Pass, and selecting the monthly payment option, I authorize the Rays and their partners to automatically withdraw from my credit card six payments, for a total of $294 to pay for the remaining balance of my 2023 Ballpark Pass on the dates listed below. I understand my credit card will be charged the next payment amount of $49, followed by five equal payments of $49 for the remaining balance of the 2023 season. I authorize the Rays and their partners to automatically charge my credit card per the Terms and Conditions of this agreement. I understand that no additional notifications will be provided unless the date or amount of the payment changes, in which case, notice will be provided 10 days in advance of the payment. This notice constitutes my copy of recurring payment authorization to the Rays and their partners. Please retain a copy of this agreement for your records. The Ballpark Pass can be canceled before any scheduled payment. To cancel your Ballpark Pass and the automatic payment, log in to your Ballpark Pass account and cancel before 11:59 p.m. ET on the last day of the month before your next scheduled payment (cancellation deadlines are 4/30, 5/31, 6/30, 7/31, 8/31). Payment will be charged on the following dates for the 2023 season: 5/1/2023, 6/1/2023, 7/1/2023, 8/1/2023, 9/1/2023.
Ballpark Pass payments are non-refundable. ACH/EFT payments and Debit Cards are not accepted. E-Sign Consent 1.Consent.You acknowledge and agree that by accepting the above recurring payment terms and conditions, you consent to receive a copy of the authorization, all required disclosures, and any future notices in electronic form only instead of receiving a paper copy. Your consent extends to the authorization, all required disclosures, and to all future notices from the Rays. 2.Paper Copy. If you wish to obtain a paper copy of your recurring payment authorization, any required disclosures, or any future notice, you may do so by printing it yourself or by calling the Rays' customer service phone number on the website. A reasonable fee may be charged for paper copies. 3. Withdrawal of Consent. You may withdraw your consent to the receipt electronic notices and disclosures at any time. Please be aware, however, that withdrawal of consent may result in the termination of your access to our electronic services and your ability to use certain products. To withdraw your consent, you may contact us at _[email protected]_ 4.Current Information. You must promptly notify us of any change in your email or other electronic address. You may change the email address on record for you by contacting us at [email protected]. If you have given us another type of electronic address, such as an electronic address or mobile phone number for SMS text messages, you may change that address by contacting us at _[email protected]_ 5. Hardware and Software Needed. To receive electronic notices, disclosures, and records, you must have access to: a current version (defined below) of an Internet browser we support, a connection to the Internet, a current version of a program that accurately reads and displays PDF files (such as Adobe Acrobat Reader), and a computer and an operating system capable of supporting all of the above. You will also need a printer if you wish to print out and retain records on paper, and electronic storage if you wish to retain records in electronic form.