The Official App of Tropicana Field
Everything you need at your fingertips. Including your tickets.
A redesigned Ballpark app for iPhone and Android
The Ballpark app presented by Bayfront Health St. Petersburg is your all-access pass to Tropicana Field. Enjoy easy access to mobile tickets, receive exclusive offers, and play games: all on the app. You can view the team schedule, ticket information, as well as directions and parking information. Available for download at the iPhone App Store or Google Play today.
Tropicana Field only accepts mobile tickets. Paper tickets, including print-at-home and PDF versions, are not available or accepted.
Account Set-Up
Once you have downloaded the MLB Ballpark app, please login with your MLB account credentials or create an account. If you have purchased tickets through raysbaseball.com/tickets, you will login using the same information used to purchase tickets.
If you do not have an MLB account:
Open the MLB Ballpark app and sign up for an MLB account
Your password must contain 8-15 characters, 1 number, 1 uppercase, 1 lowercase, and no special characters
After signing up you will need to verify your email address. You can verify your email address by tapping the profile icon in the top left hand corner of the Home tab, then tapping on My MLB Account Emails, and tapping Resend.
A verification email will be sent to the email address requested. (This could take a few minutes). Tap on the link in the email to allow access to your tickets in the Ballpark app.
Accessing Tickets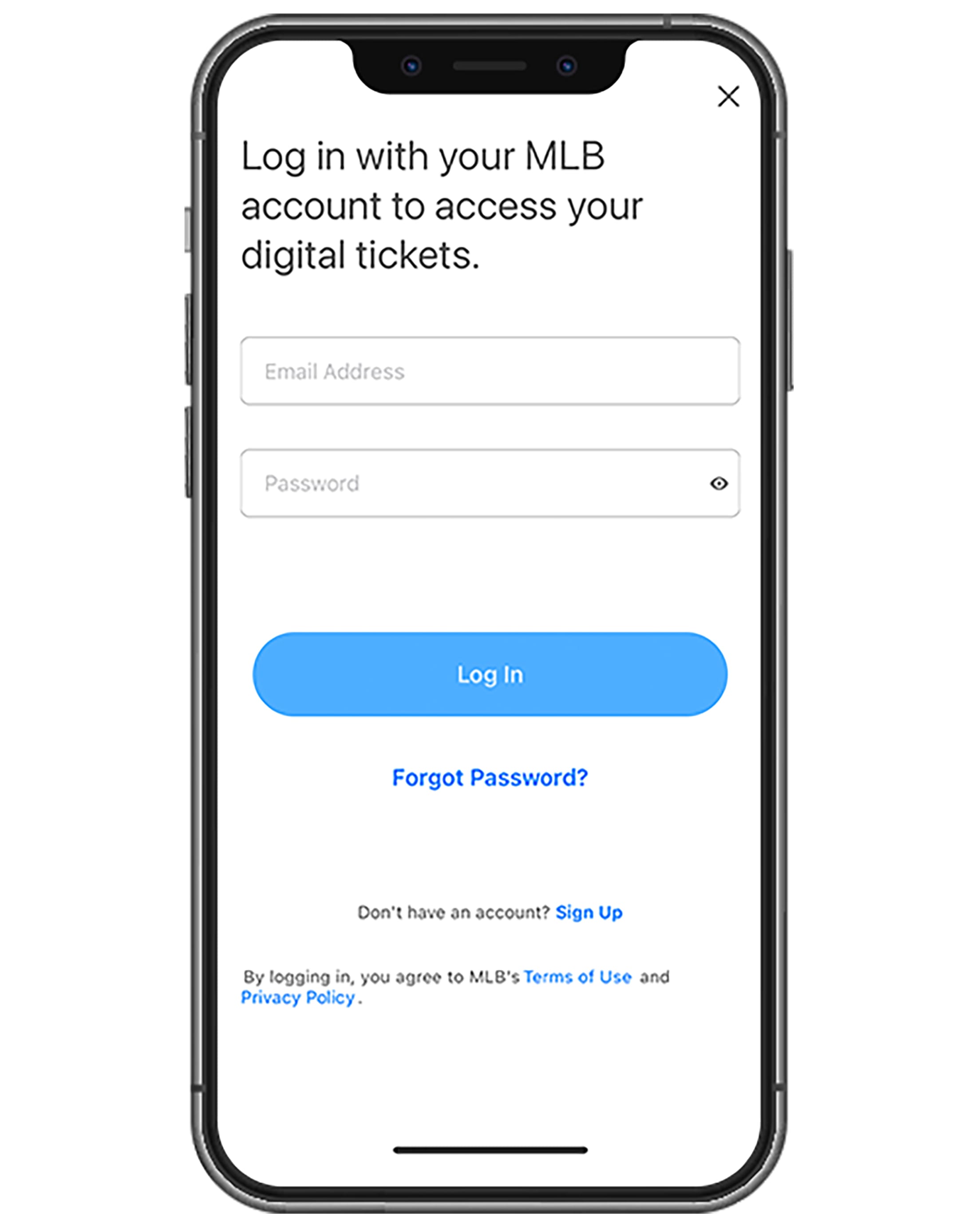 Step 1
Open the MLB Ballpark app and log in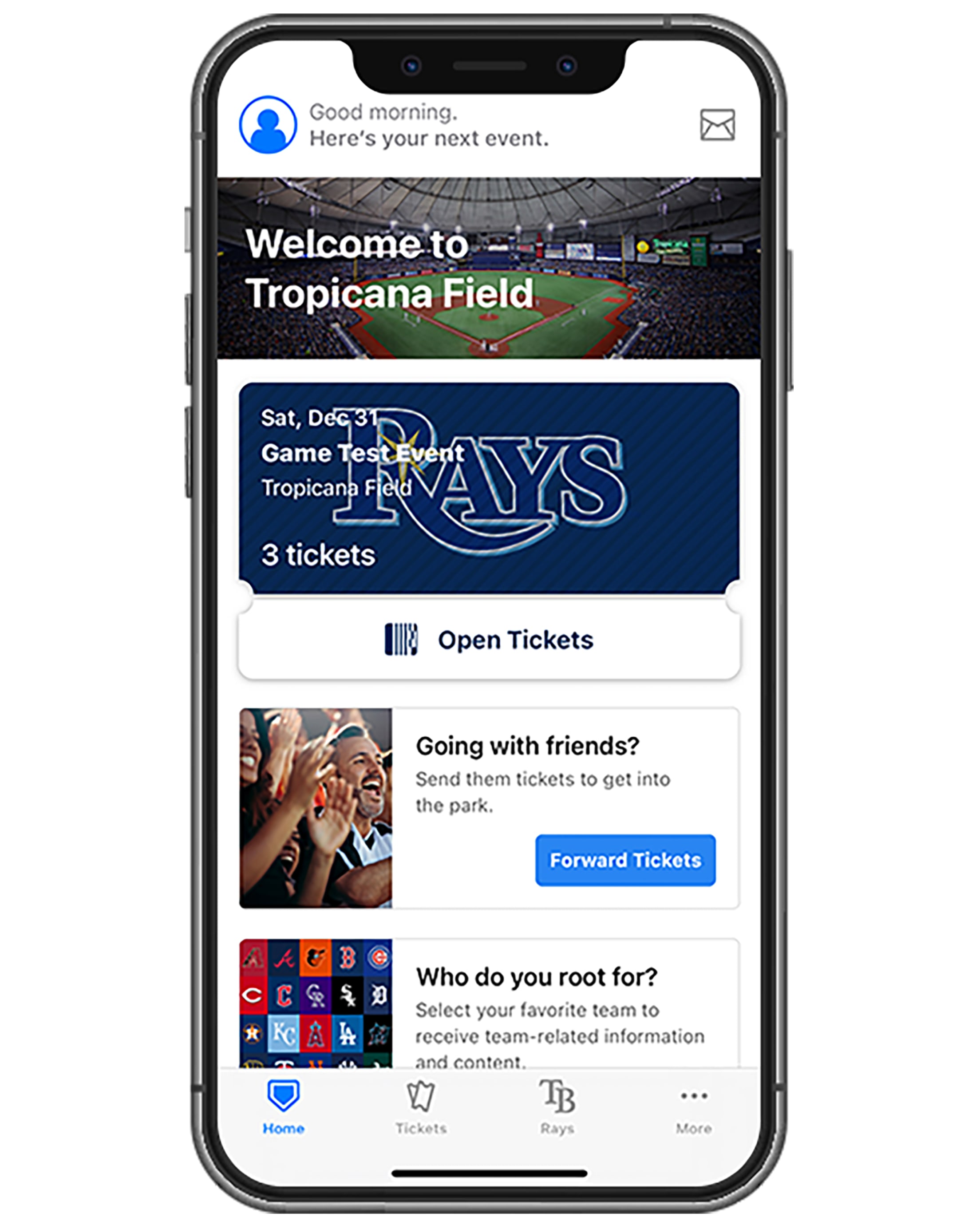 Step 2
Tap the tickets tab to view all your tickets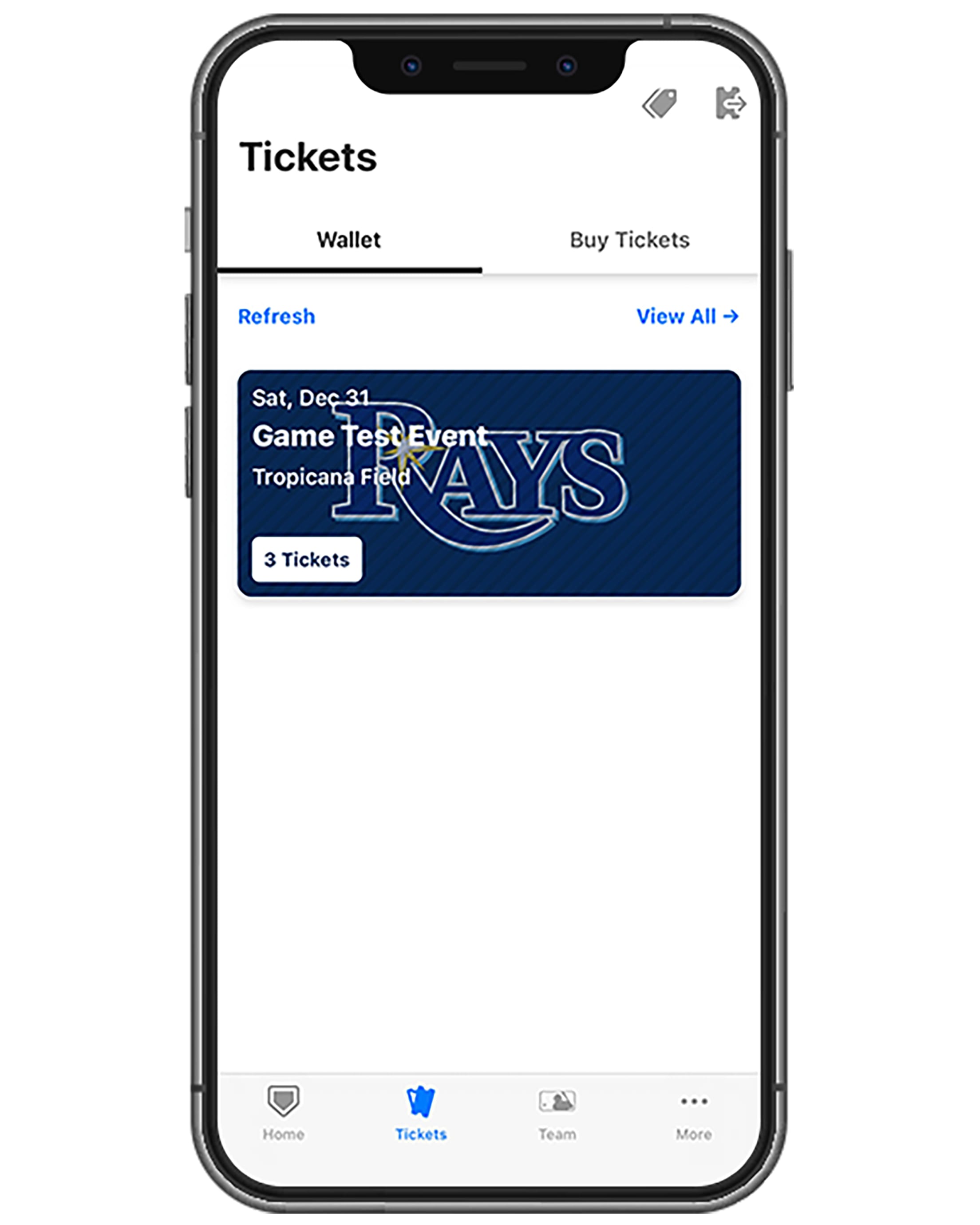 Step 3
Tap on the tile for the game you want to access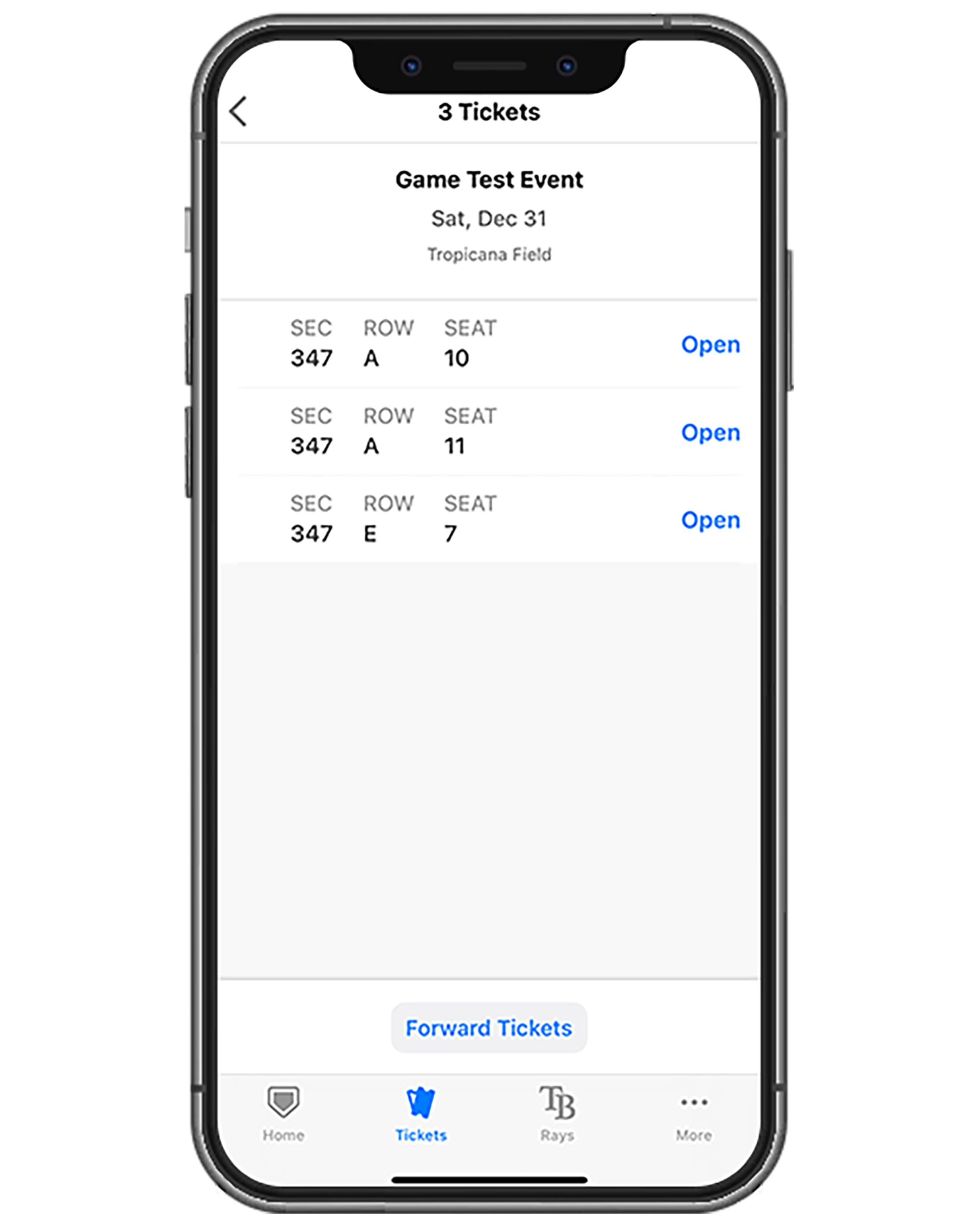 Step 4
Tap open on the ticket you want to access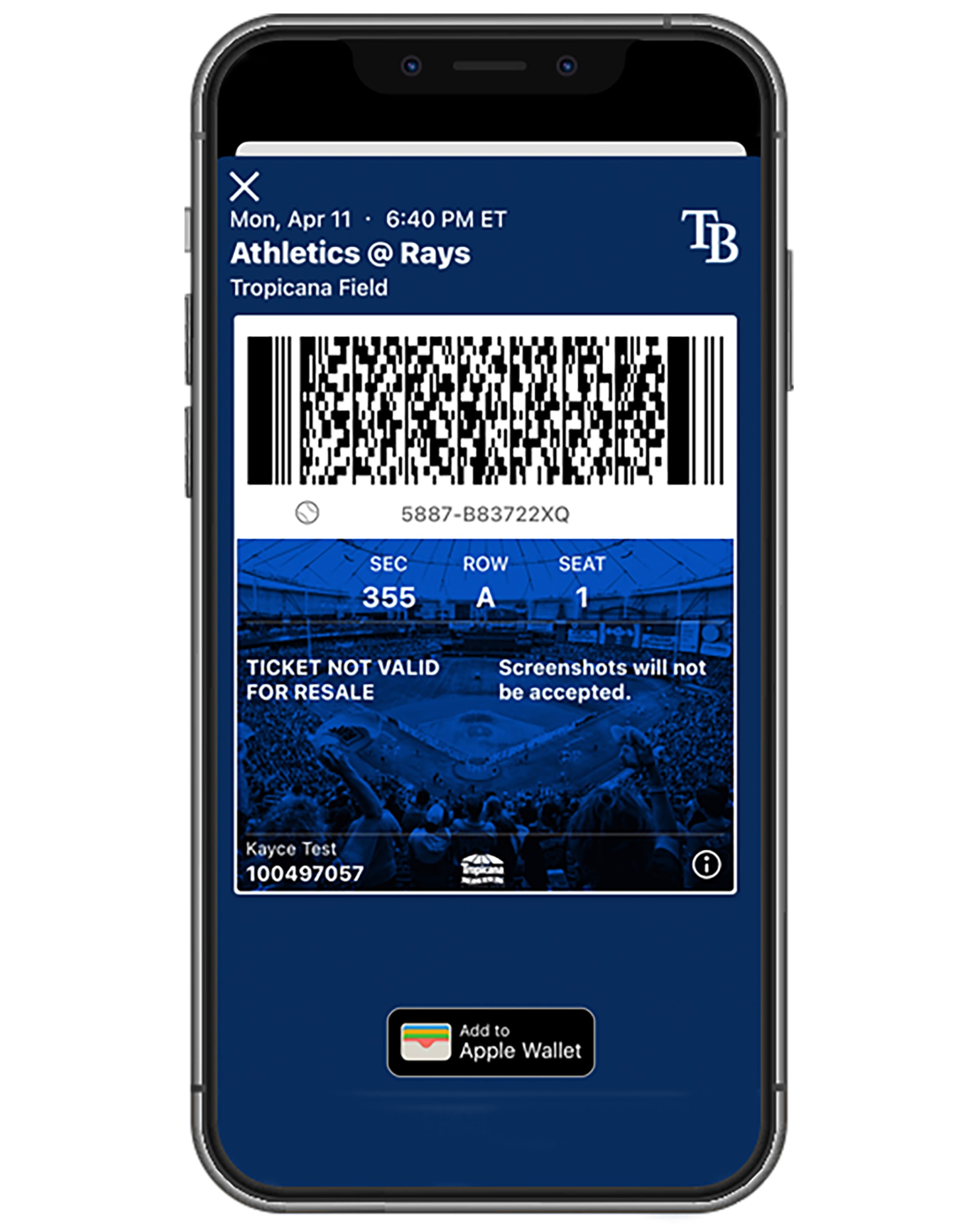 Step 5
If you have multiple tickets, swipe across the screen to access all barcodes
Resetting Your Password
For step-by-step instructions on how to reset your account password, view our instruction guide.
Forwarding/Recalling Tickets
For step-by-step instructions on how to forward or recall a ticket, view our instruction guide.
Rays Pay Wallet
Set up your Rays Pay wallet now by adding your preferred credit or debit card under the 'Payments' tab for a quick scan to pay.
Season Members receive a 20% discount on concessions and merchandise when paying with an attached credit or debit card in the Rays Pay wallet.
Mobile Ordering
Order your favorite food and drinks at the ballpark from the convenience of your seat and seamlessly pick it up at more than 20 of our concessions locations, available exclusively through the Ballpark App!
Step 1: Open the MLB Ballpark app, select the Rays as your favorite team
Step 2: Open the Rays team page by tapping the 'TB' icon at the bottom of your screen
Step 3: On the Rays team page, tap the 'Order Food + Drinks' from the menu to start your mobile order
Step 4: Select the concession location you want to order from and start placing your order
Step 5: Confirm payment and head to the concession stand. Once you arrive, provide your name and order number at the Order Pickup area
Pro Tips:
Use the 'Filter' button to show various foods by location and type to make the search for your favorite foods easier.
For a faster checkout, make sure to set up your Rays Pay Wallet before arriving at Tropicana Field. Load your preferred credit card into your Rays Pay Wallet by opening up your Ballpark App and visiting the Rays tab at the bottom of the screen. Tap on the Rays Pay Wallet icon and select 'Payments.' Save your card and place your order!
Step 2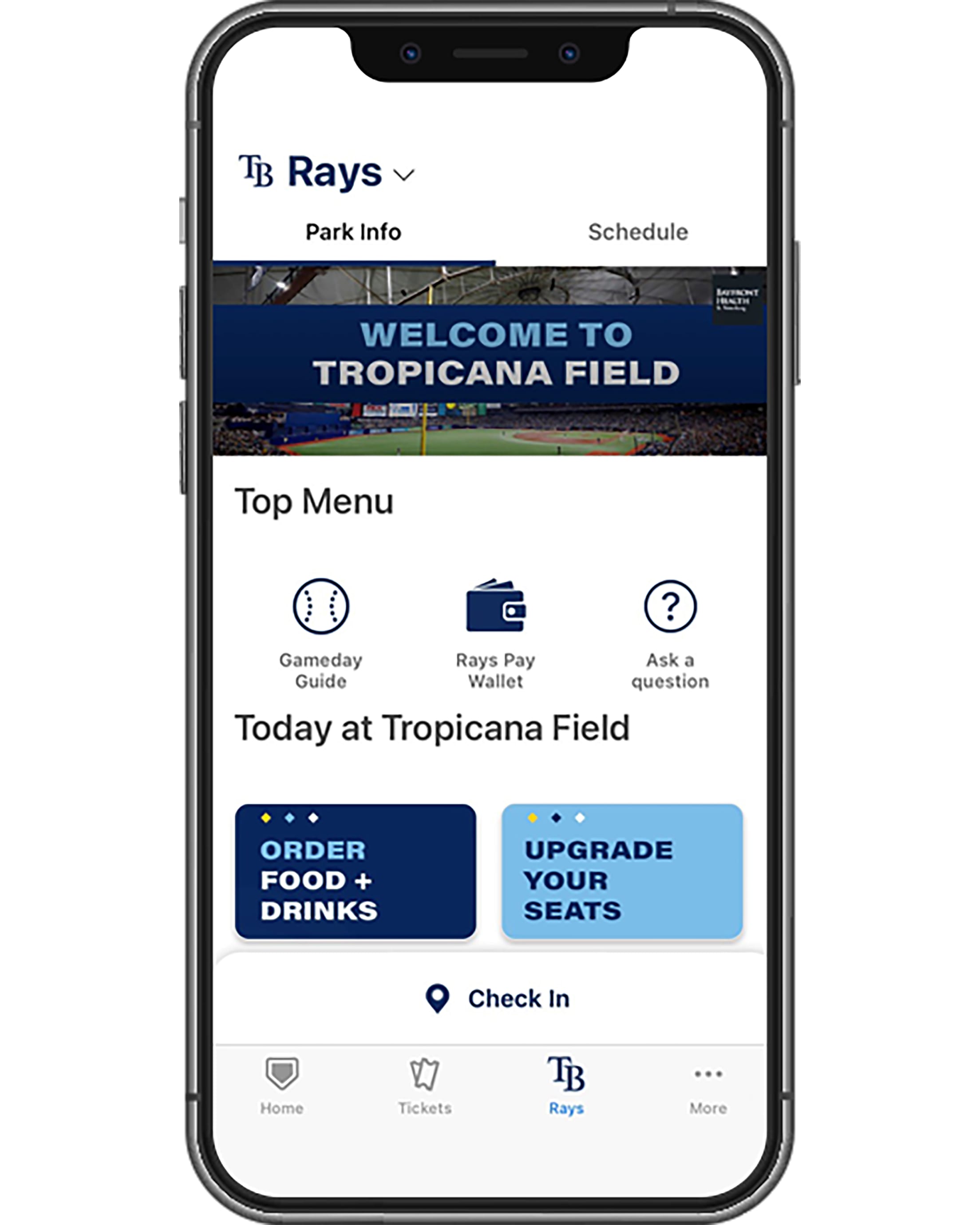 Step 5