Recipient of the USA Today 2014 Readers' Choice Award for Best Spring Training Facility, Charlotte Sports Park is a state-of-the-art facility with a baseball boardwalk ringing the outfield, family-friendly kids play area, upgraded concession stands and a top-notch team store. The Rays Inaugural Spring Training Season in Charlotte County in 2009 featured record-breaking crowds, as the Rays set a franchise record for single-season home attendance. During the 2018 Spring season, the attendance record was broken for the largest single-game crowd at Charlotte Sports Park.
Tickets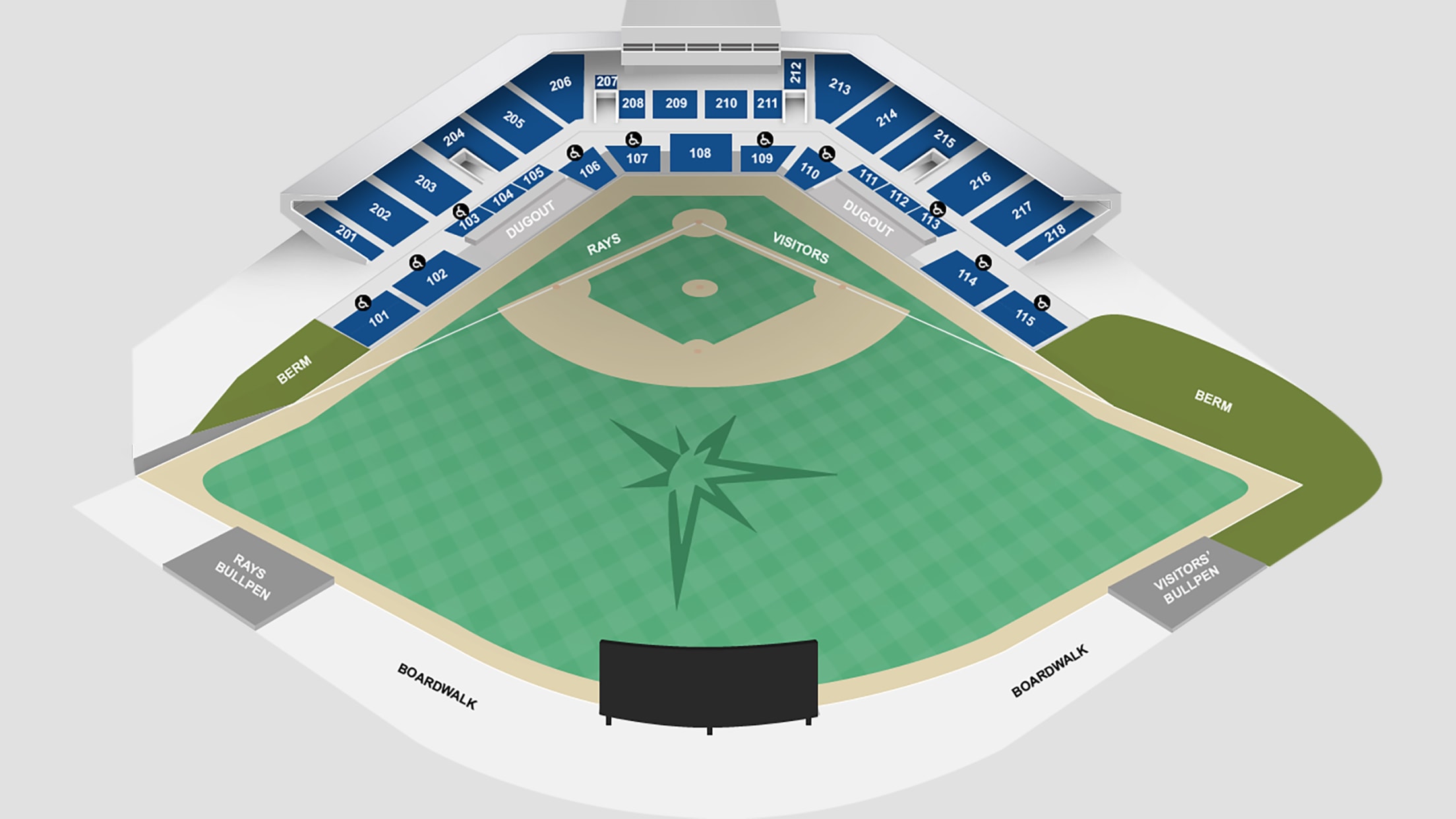 Ticket Packages
Season Ticket Packages, Mini-Packs and Group/Picnic Outings are available by calling 888-FAN-RAYS, emailing [email protected] or visiting raysbaseball.com/spring.
Single-Game Tickets
Single-game tickets for games at Charlotte Sports Park are available exclusively online through raysbaseball.com/spring.
Mobile Ticket Delivery
All tickets and parking are mobile only, delivered via the MLB Ballpark App. For more information on Rays mobile ticketing, please visit www.raysbaseball.com/mobile.
Parking
Parking at Charlotte Sports Park is $10 per car. Parking is cash-free, mobile-only and available through the MLB Ballpark App. Parking is available in the main lot or across El Jobean Road in the Charlotte County Fairgrounds lot. All parking spaces are subject to availability at time of arrival.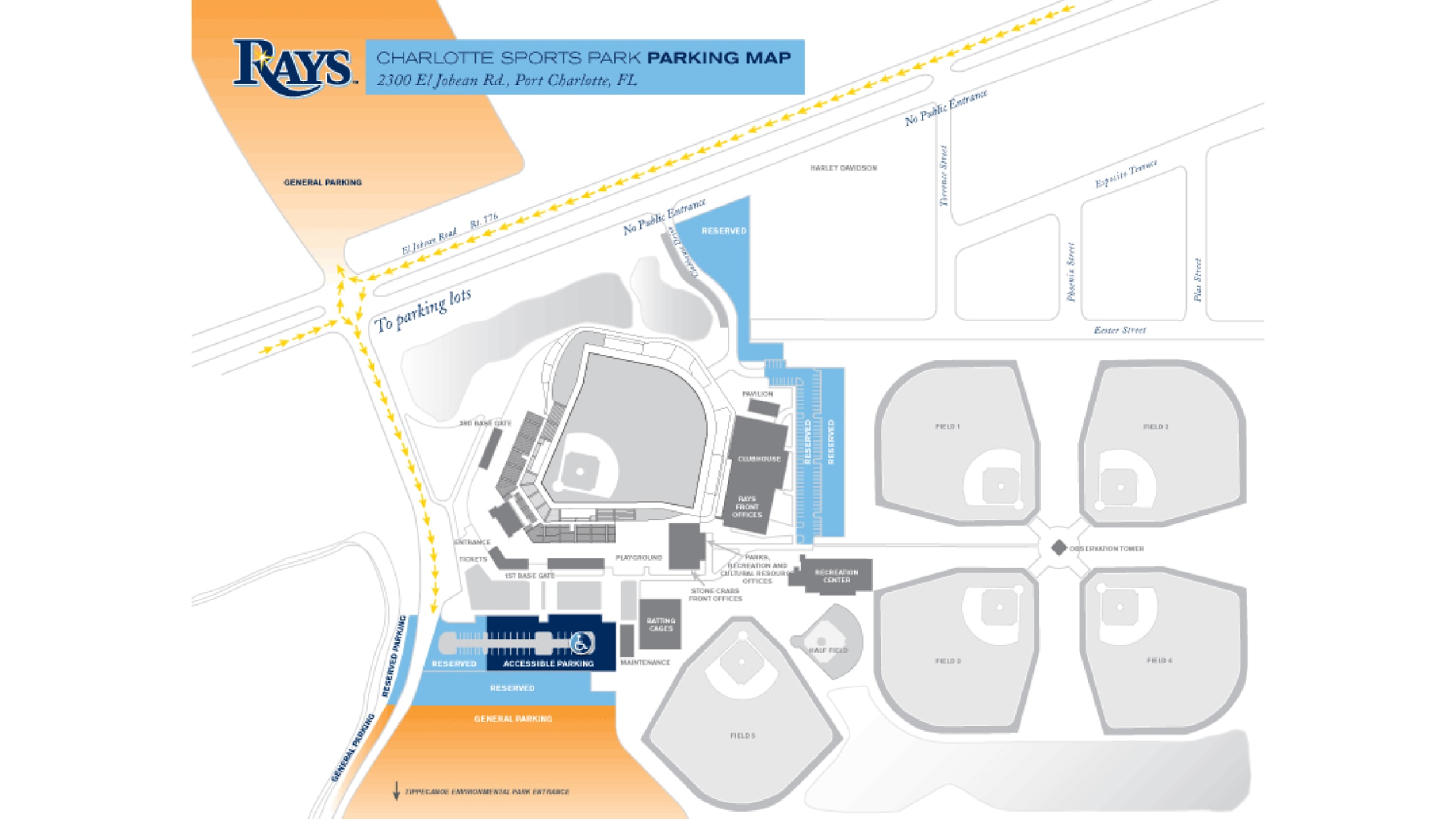 Prohibited Items/Ballpark Regulations
The Tampa Bay Rays and Charlotte Sports Park are committed to creating a safe, comfortable and enjoyable ballpark experience for our guests. We ask that all fans observe the prohibited items and guidelines listed below to ensure a safe, family-focused environment for everyone. If any of the below items are discovered at the entrance gates, they must be returned to your vehicle or discarded. Prohibited items will not be stored at the gates or Guest Services. Charlotte Sports Park security and staff reserve the right to prohibit other items at their discretion.
Prohibited Items and Ballpark Regulations:
Any outside food and drink, except that needed for medical purposes.

Please note that one sealed bottled water, no larger than one liter, and children's single-serving juice boxes are permitted.

Backpacks, purses, bags, coolers or containers of any kind in excess of 16" x 16" x 8"

Alcohol

Smoking

Weapons of any kind, including firearms, pocket knives and chemical sprays larger than .5 ounce.

Fireworks or other explosives

Banners and signs are permitted and may be displayed in the ballpark as long as they are baseball-related, do not interfere with the playing field or other ballpark signage, or inhibit the view of other fans.

Signs may not include derogatory language, gestures or symbols.

Charlotte Sports Park management reserves the right to remove any sign displayed on the property.

Cameras with lenses longer than 12"

Electronic equipment that interferes with other fans' enjoyment of the game

Tripods

Umbrellas

Drones

Any animal or pet not certified as a trained service animal

Wrapped gifts** or gifts of any kind in excess of 16" x 16" x 8''

Helium balloons and beach balls

Bullhorns, airhorns and other excessively loud noisemakers

Lasers

Bubble machines

Full-sized bats, banners and flags with sticks, poles or items that can obstruct another fan's view

Clothing with obscene or offensive messages

Cans, bottles, cups and any other containers, with the exception of sealed, bottled water no larger than 1 liter

Folding/lawn chairs are not allowed in Grass Berm General Admission seating (blankets, beach towels are permitted).

Items that could be projectiles

Brooms longer than 3'

Anything that can obstruct the view of other fans

Footwear with wheels

Radios, laptops, tablets and other electronic devices are permitted in the ballpark as long as they do not interfere with other fans' enjoyment of the game and are smaller than 16"x16"x8".

The recording of game footage and the transmission of any description or reproduction of game activity are prohibited.

Solicitation of contributions and distribution of literature on ballpark property are prohibited.

Clothing and footwear are required to be worn at all times while at Charlotte Sports Park.

Charlotte Sports Park is a smoke-free facility.

There is no longer a designated smoking area.
**Please note that if you have a planned party that includes gifts, we advise either wrapping the gift item at Charlotte Sports Park after it has been inspected or placing the unboxed gift item in a gift bag. Security staff will ask guests to open any wrapped items.
Charlotte County and the Tampa Bay Rays appreciate that all fans follow these guidelines. Guests who choose not to adhere to these policies may be in violation of ballpark or county regulations and are subject to intervention, including denial of admission into the stadium, ejection from the stadium, and/or arrest.
Health and Safety