Kipnis (calf) scratched vs. Rox but not worried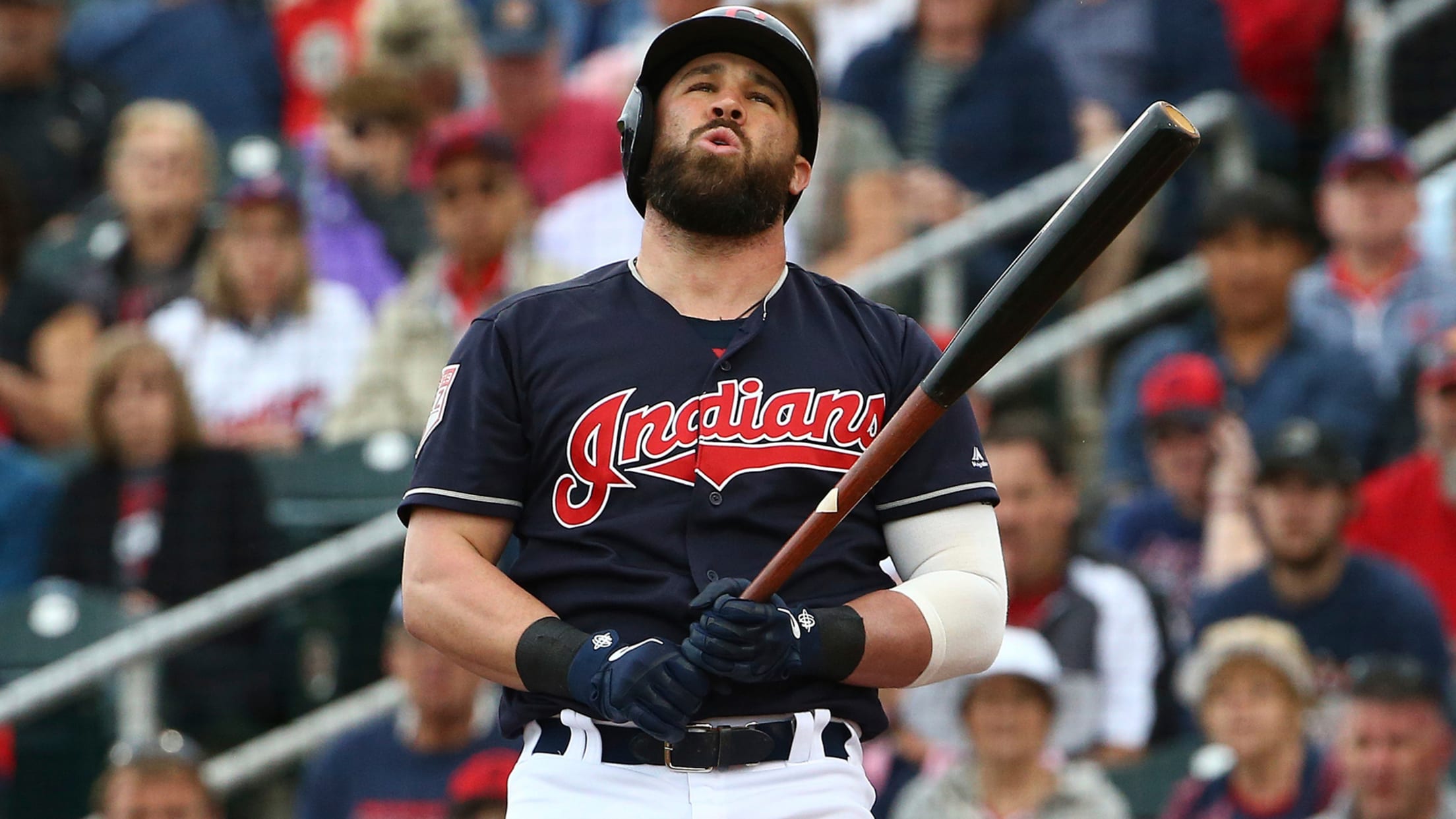 GOODYEAR, Ariz. -- For the second time this spring, Jason Kipnis has been temporarily shut down after experiencing some right calf tightness. But, just like earlier this month, Kipnis did not seem too worried. Prior to Thursday afternoon's 9-3 win over the Rockies at Goodyear Ballpark, Kipnis was penciled in
GOODYEAR, Ariz. -- For the second time this spring, Jason Kipnis has been temporarily shut down after experiencing some right calf tightness. But, just like earlier this month, Kipnis did not seem too worried.
Prior to Thursday afternoon's 9-3 win over the Rockies at Goodyear Ballpark, Kipnis was penciled in at second base, hitting second in the lineup, but he was scratched about two hours before first pitch.
"It's stuff I'd play through during the season, but they don't want anyone doing that during spring," Kipnis said. "It's nothing I'm worried about. Otherwise, I'm doing pretty good."
Kipnis went 1-for-3 in the Tribe's 9-3 victory against the Brewers at home on Wednesday and said he felt fine during the entire game. The second baseman said he wears calf sleeves and has been doing treatment on it. But he came in feeling pretty sore on Thursday, so the team decided to keep him out of the lineup for precautionary purposes.
"You work out in a gym, especially guys in cold weather all offseason, and you come here and your body has to get readjusted to the different movements," Kipnis said. "Sometimes you might put on a little muscle and the ligaments can't hold that, so it gets a little strain or sore. But it's almost like a season that's abbreviated where the middle of Spring Training is kind of midseason where your body is really getting used to everything and kind of at its lowest, but you start building it up and working out."
As of now, it appears as though Kipnis will be day to day and likely won't miss much time. He said there was no grab or pop that would've caused more concern.
"Your eyes are always on Opening Day and the season that matters the most," Kipnis said. "So anything that takes away from that, you kind of shut down and make sure that's the most important part."
Johnson launches grand slam
Indians manager Terry Francona talked about how well Daniel Johnson has been hitting left-handed pitching so far this spring, Just a few hours later, the club's No. 22 prospect, per MLB Pipeline, continued that success.
Singles by Hanley Ramirez and Max Moroff and a walk to Matt Joyce loaded the bases for Johnson in his first at-bat of the afternoon the bottom of the sixth. On the first pitch from Rockies lefty Jake McGee, Johnson blasted a grand slam to right field, putting the Indians up 9-0. It was his second homer of the spring.
"Terrific kid. Hard-worker. We love his tools," Francona said before the game. "He's got [356] at-bats at Double-A, so he needs to play, but we've loved having him in camp. He's actually swung the bat probably better against left-handers than he has right-handers. Now it's a small sample, but it's nice to see a guy that isn't just bailing against lefties. He's hit some pretty good left-handed fastballs for a home run, a double, I mean there's a lot to like with him."
🚨 Daniel Johnson grand slam 🚨

The #Indians' No. 22 prospect, acquired from the #Nats in the Yan Gomes deal, puts the @Indians up 9-0 as they look to close out a no-hitter vs. the #Rockies. Follow live: https://t.co/L4elfSew2s pic.twitter.com/7BMCp8qLot

— MLB Pipeline (@MLBPipeline) March 14, 2019
Lindor homers in B game
In the Indians' B game against the Reds on Thursday, Francisco Lindor went 1-for-3 with a home run and a walk. He first got back into game action in the Triple-A game against the Dodgers on Wednesday, going 0-for-3, and came in to camp feeling really well Thursday morning, according to Francona.
"Again, we're trying to get him on his feet, get him seeing balls off the bat, but also knowing that he's not going to just react and go dive for a ball," Francona said. "He's done a good job to this point of really staying within what he's supposed to and it will help get him ready quicker. But we've still got to keep an eye on him."
Up next
Carlos Carrasco will make his second start of the spring for the Tribe against Jason Hammel and the Rangers on Friday at Surprise Stadium. First pitch is slated for 4:05 p.m. ET. The game can be watched live on MLB.TV.