Mets option Dom Smith, call up Hechavarria
Adeiny's opt-out, club's lack of SS depth prompt surprising move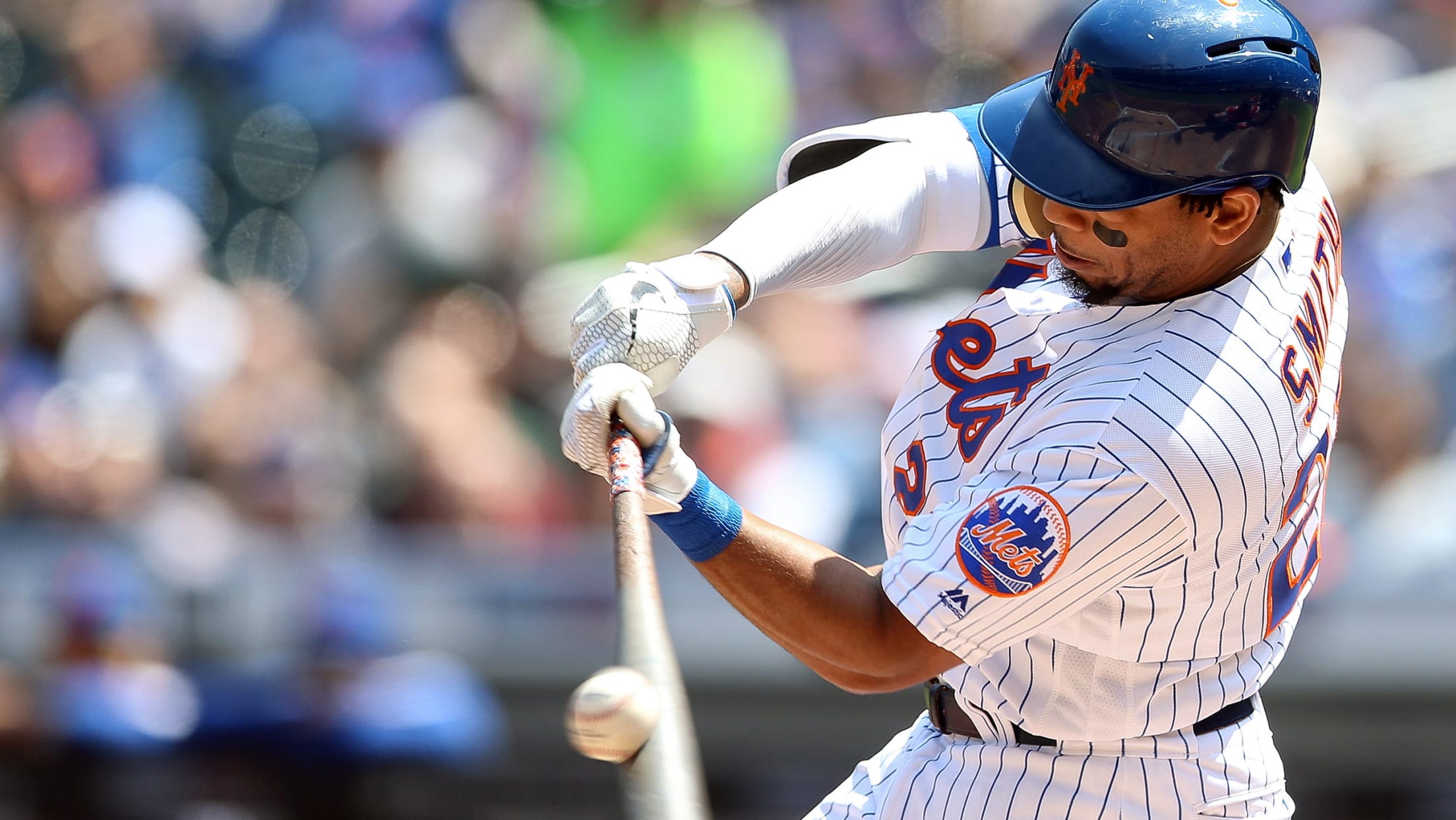 MILWAUKEE -- The Mets optioned first baseman Dominic Smith to Triple-A Syracuse and called up shortstop Adeiny Hechavarria from Triple-A prior to Friday's game against the Brewers at Miller Park. The club also transferred pitcher Drew Smith to the 60-day injured list. Hechavarria had an opt-out clause in his Minor
MILWAUKEE -- The Mets optioned first baseman Dominic Smith to Triple-A Syracuse and called up shortstop Adeiny Hechavarria from Triple-A prior to Friday's game against the Brewers at Miller Park. The club also transferred pitcher Drew Smith to the 60-day injured list.
Hechavarria had an opt-out clause in his Minor League deal that would have allowed him to become a free agent on Wednesday had the Mets not added him to the roster. Given that, and New York's lack of depth at shortstop, the club decided to call up the veteran at the expense of Smith, who had performed well in limited action.
Hechavarría, who hit .348 in 25 games for Syracuse this season, with nine doubles and 17 RBIs, joined the Mets ahead of Friday's game.
"When a player has the right to exercise an opt-out, then it creates a more near-term decision for us, and obviously we have to factor in all sorts of different scenarios at that point in time," general manager Brodie Van Wagenen said before Friday's game. "He wasn't on the roster and he's got the ability to leave the organization, and I think being able to keep him at a position where we have three different needs, to be able to play elite defense, he can give that to us on a daily basis."
Hechavarría appeared in 94 big league games in 2018, with the Rays, Pirates and Yankees. Prior to that, the 30-year-old was Miami's regular shortstop from 2013-16 and was traded to Tampa Bay during the '17 season.
Hechavarría said he wasn't certain what the Mets would do when he exercised his opt-out.
"To be honest, I wasn't 100 percent sure. I would say I was more like 90 percent sure what would go down, because they spoke to me in Spring Training about the possibility of this happening, and up until now they've kept their word, and here I am," Hechavarría said through a team interpreter.
Manager Mickey Callaway said the move increases the Mets' defensive flexibility.
"He's going to allow us to double-switch in a lot of different positions," Callaway said. "He's been playing third, short and second base really, really well in Triple-A. I think at this time, we felt it was a necessary decision for us."
In limited playing time, Smith batted .333 with four RBIs and two doubles in 30 at-bats. He hit .224 in 56 games last season with the Mets, with five homers and 11 RBIs.
"It's a very difficult decision," Callaway said of optioning Smith to Triple-A Syracuse. "Dom has done such a great job preparing himself every day, especially with the limited playing time, to be a factor off the bench for us when he does come in.
"He's going to go down there, stay locked in, and when he gets his chance to come back up, he's going to help us."
With Smith gone, Todd Frazier becomes the primary backup at first base behind Pete Alonso.
"We have Todd who can move over there if we need [him] to, but we really feel comfortable with the way Pete has played first base the whole season," Callaway said. "You never really want Pete's bat out of the lineup."
The move also leaves the Mets thin on left-handed hitting off the bench. The role will be partially filled by whoever isn't in the starting lineup on a given day.
"Dom was definitely valuable as a lefty off the bench," Callaway said. "We'll have the occasional lefty there [on the bench], and then we have [J.D.] Davis, who's swinging the bat vs. lefties and righties, and we feel really confident that he can get the job done in those big spots."