Mets' Wheeler to injured list with shoulder fatigue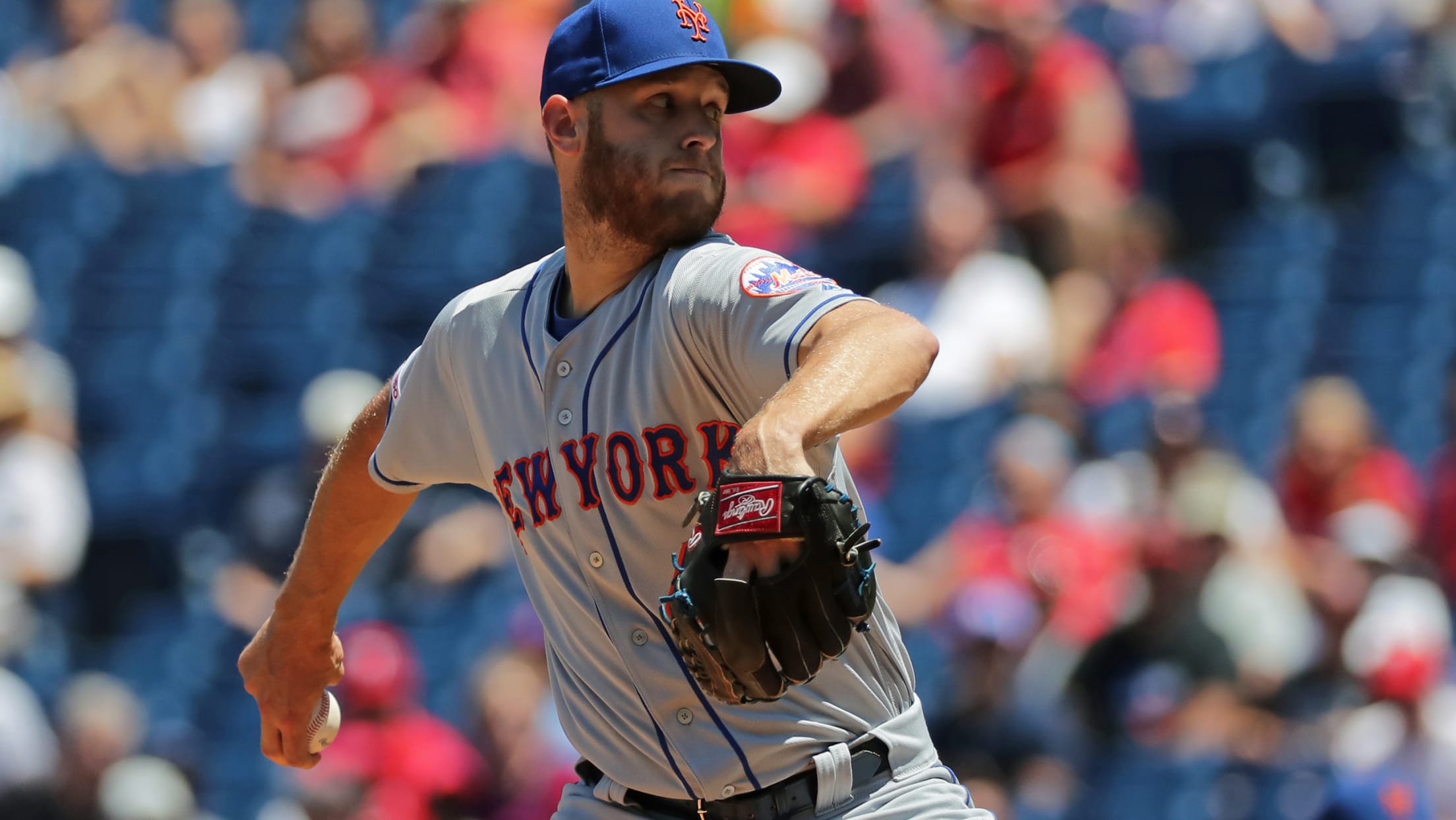 Mets righty Zack Wheeler -- a frequent subject of rumors ahead of the July 31 Trade Deadline -- has been placed on the 10-day injured list with right shoulder fatigue, retroactive to Friday, the team announced on Monday. Wheeler will be eligible to come off the IL on July 22,
McNeil finding his groove with bat -- and arm
All-Star homered on first pitch, later saved a run on throw from right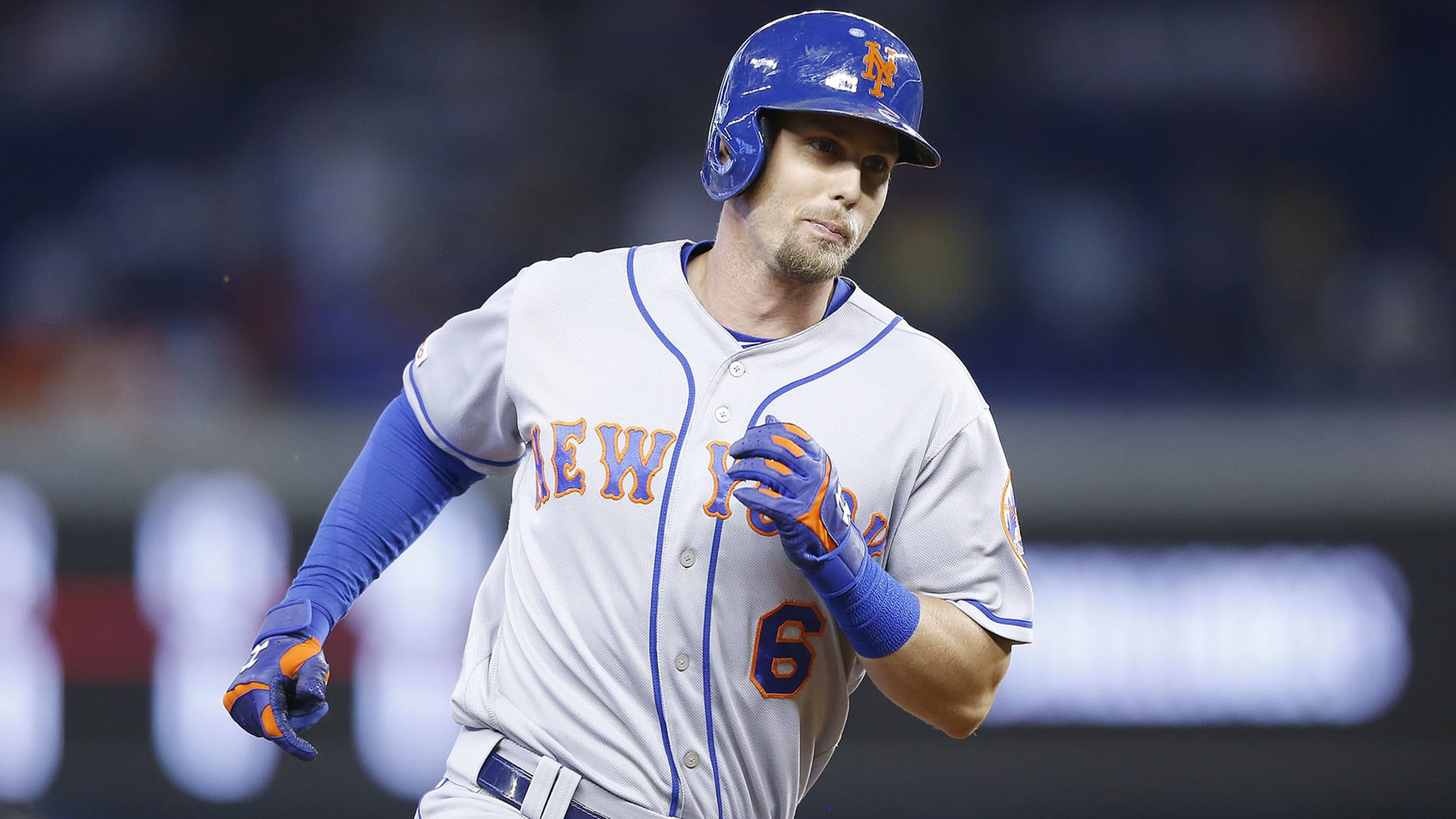 MIAMI -- Minutes before Jeff McNeil led off Sunday afternoon's series finale at Marlins Park, Mets manager Mickey Callaway told his All-Star to work an 11-pitch at-bat before homering. "I just laughed and said I'd do one on the first pitch," McNeil quipped. McNeil did just that, sending fellow All-Star
Callaway on why Rosario didn't start Sunday
Manager on move after hustle issue Saturday: "I wouldn't call it disciplinary'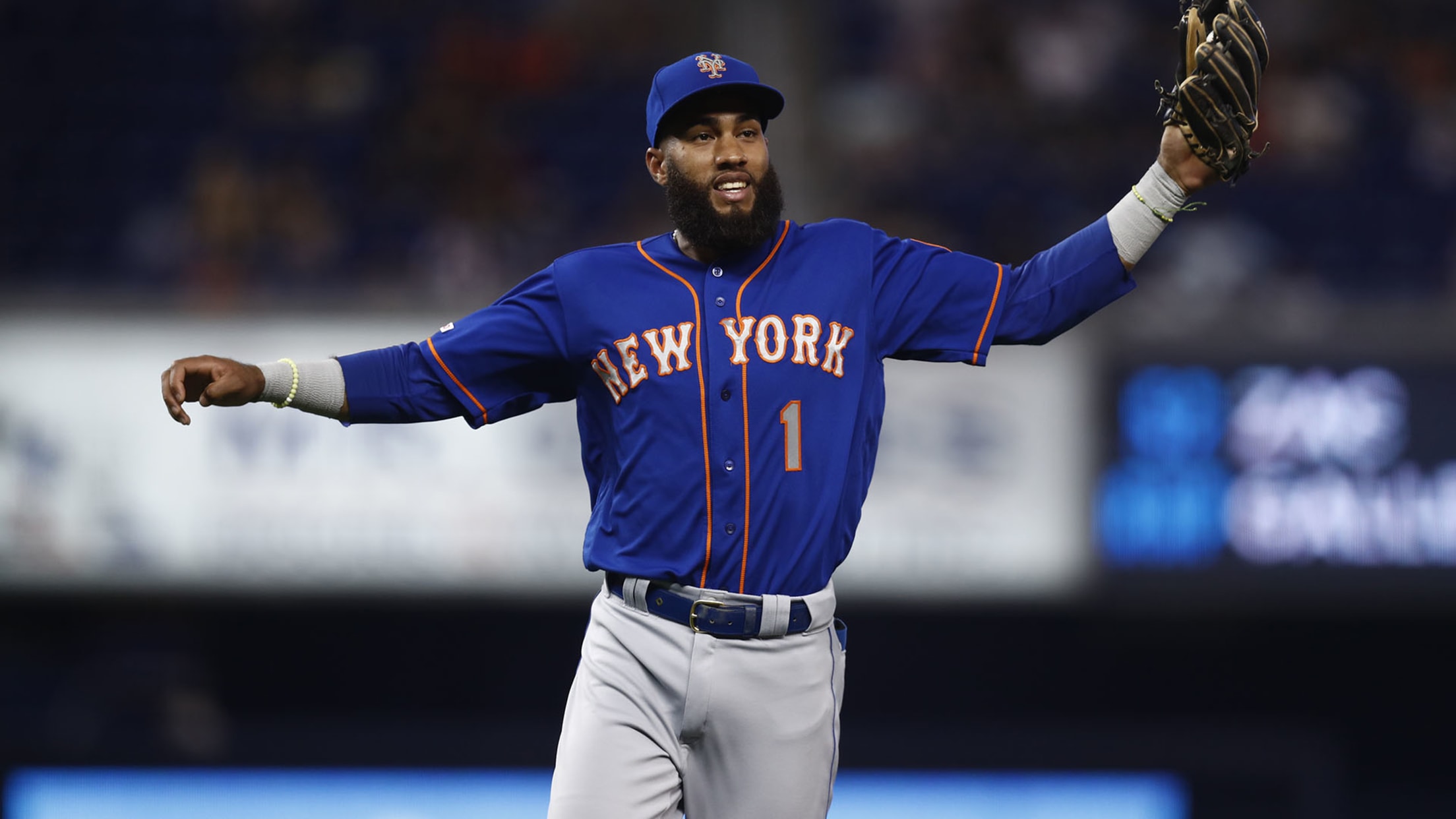 MIAMI -- Mets shortstop Amed Rosario wasn't in the starting lineup for the Mets' 6-2 victory over Miami at Marlins Park on Sunday afternoon after a lack of hustle on a play the night before. Rosario, whose fly ball to right-center in the eighth inning of Saturday night's 4-2 win
Syndergaard on trade talk: 'I love being a Met'
Rosario gets breather on Sunday, giving Hechavarria a chance to start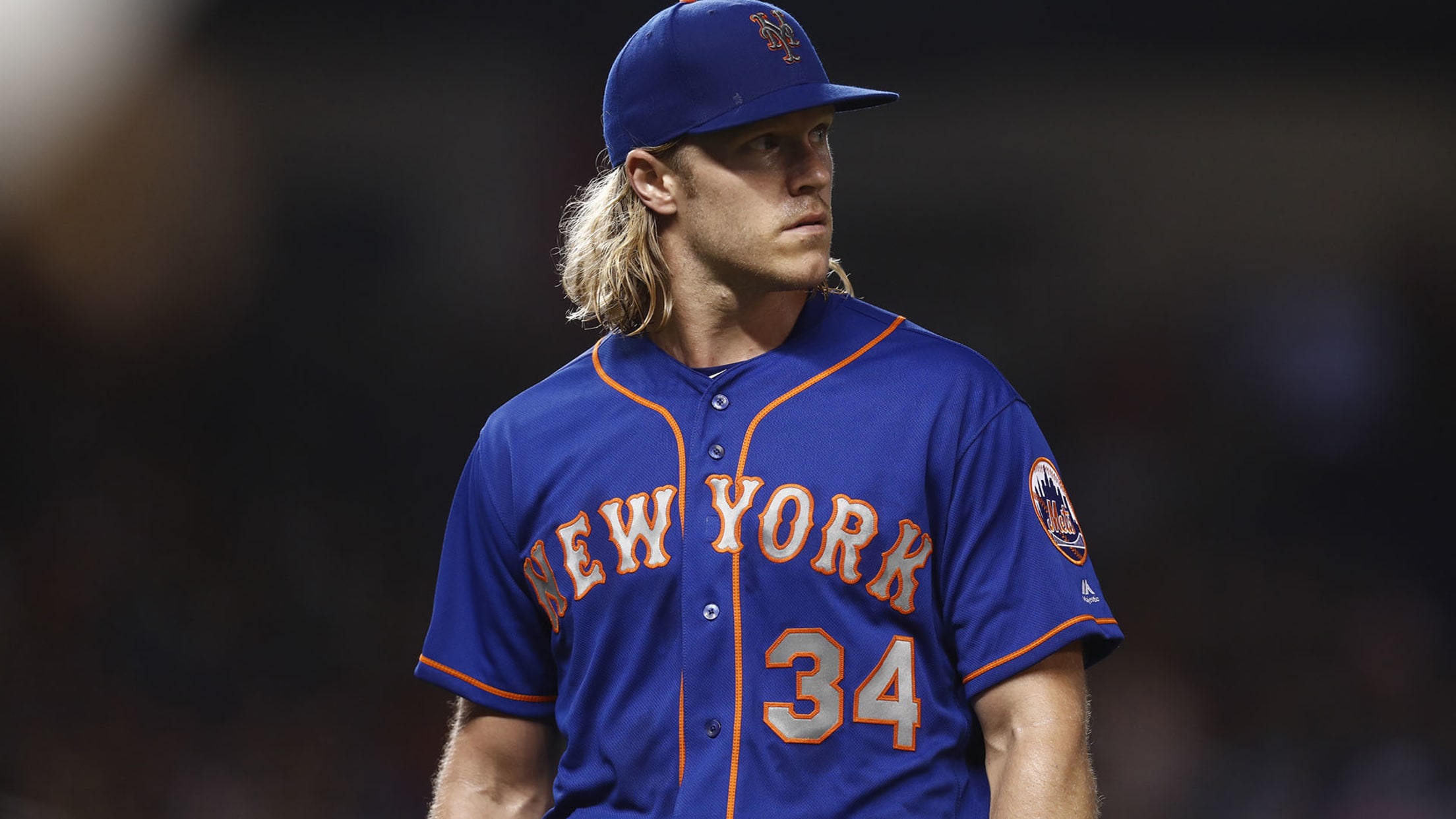 MIAMI -- A number of scouts came to see Mets right-hander Noah Syndergaard on Saturday night at Marlins Park, and the flamethrower put on a show in a 4-2 victory over the Marlins. Though Mets general manager Brodie Van Wagenen said on Friday that he fully expects controllable guys like
Cano on clutch HR: 'I know what I can do'
Veteran's game-winner gets his second half off to a promising start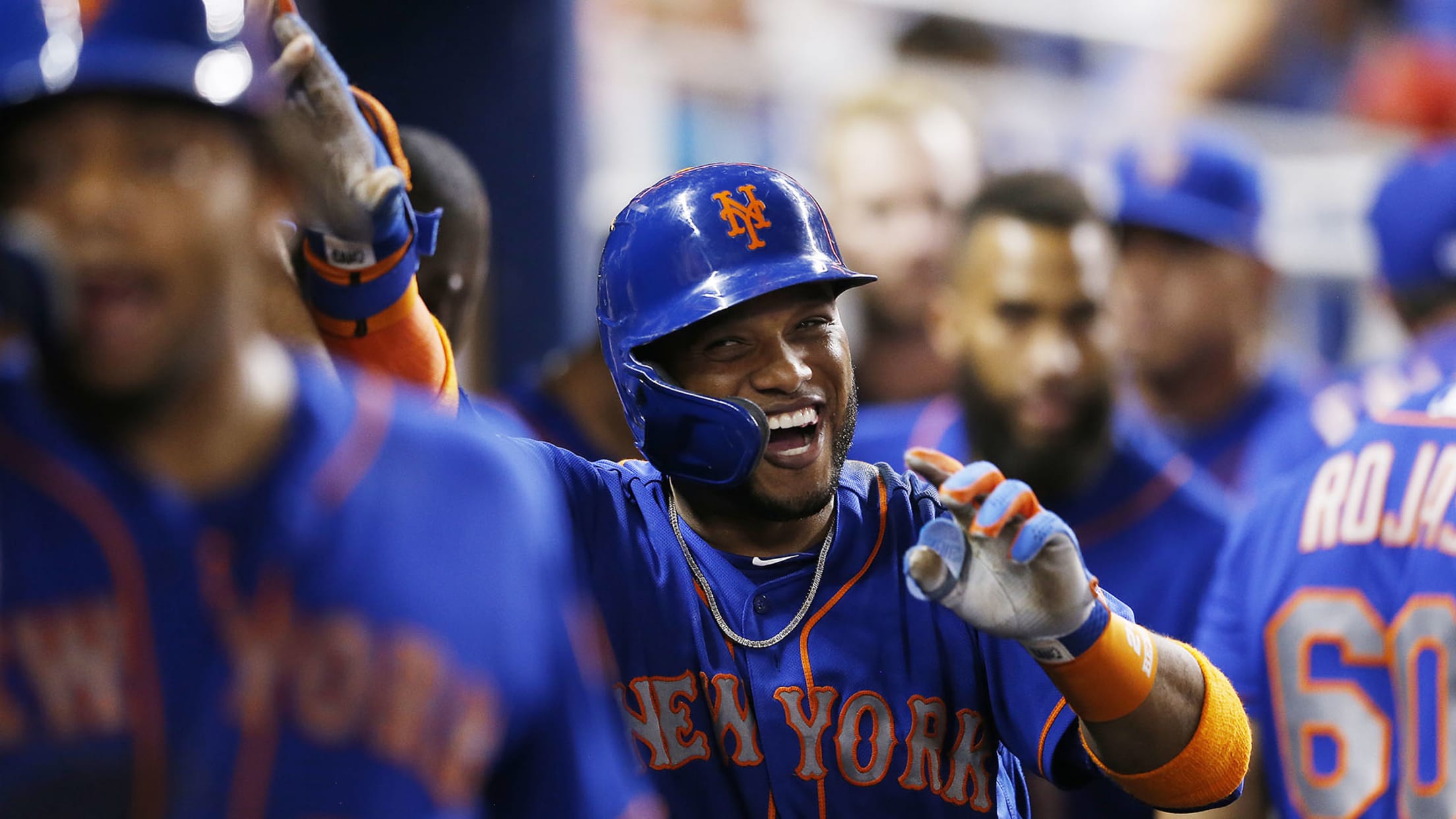 MIAMI -- Where has Robinson Cano's power gone? It's a question that was posed to Mets manager Mickey Callaway on Saturday afternoon, before his team's game against the Marlins. The 15-year veteran, with 315 career home runs and an .842 OPS to his name, entered Saturday night's contest with just
Mets reflect on Angels' no-no, Skaggs tribute
Matz throws simulated game ahead of expected Wednesday start vs. Twins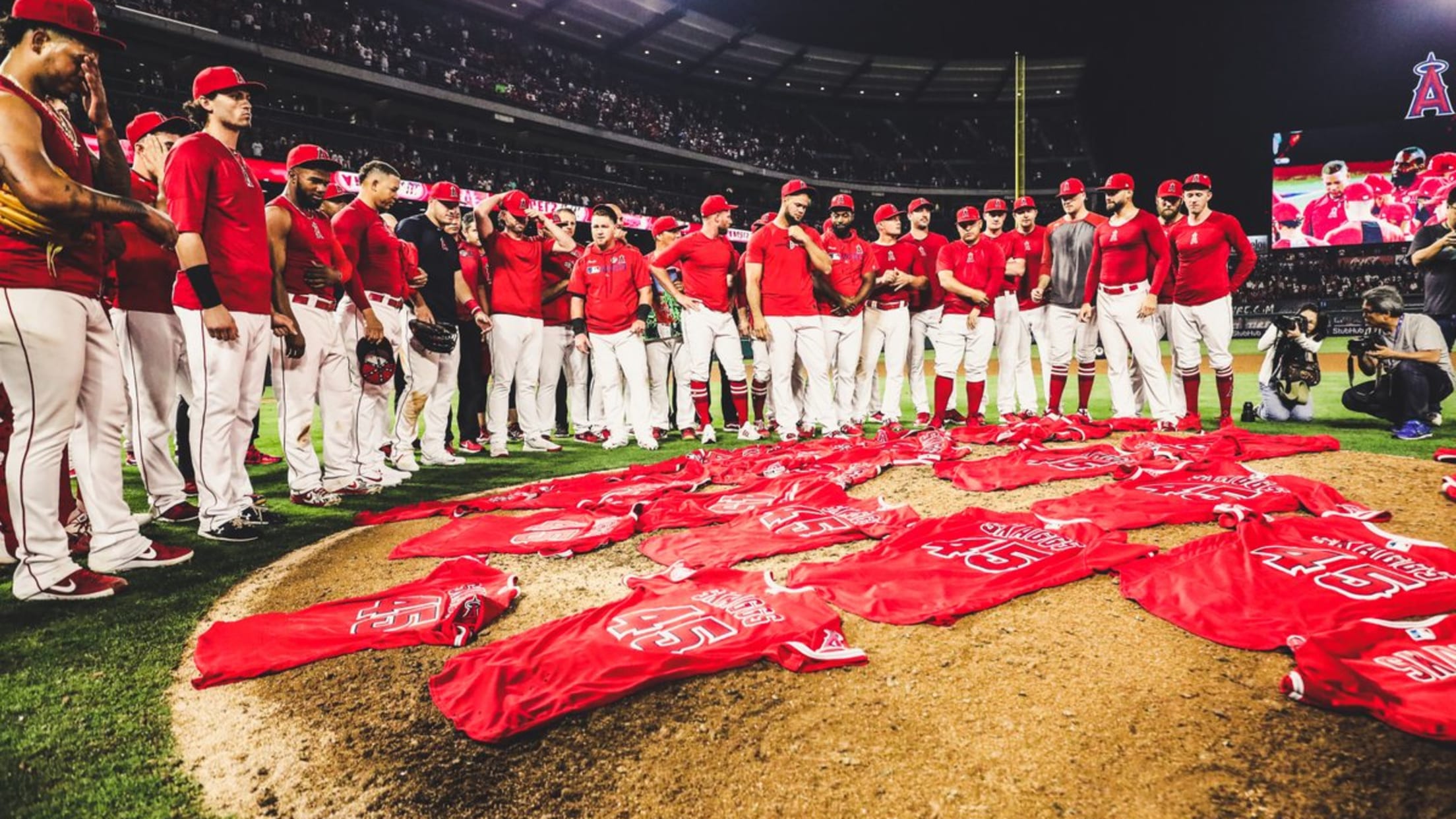 MIAMI -- As Michael Conforto watched highlights of the Angels' combined no-hitter on Friday night, he couldn't help noticing the similarities to a game he appeared in nearly three years ago at Marlins Park. On Sept. 26, 2016, Conforto pinch-hit in the Mets' 7-3 loss to the Marlins, who were
Sunday's top prospect performers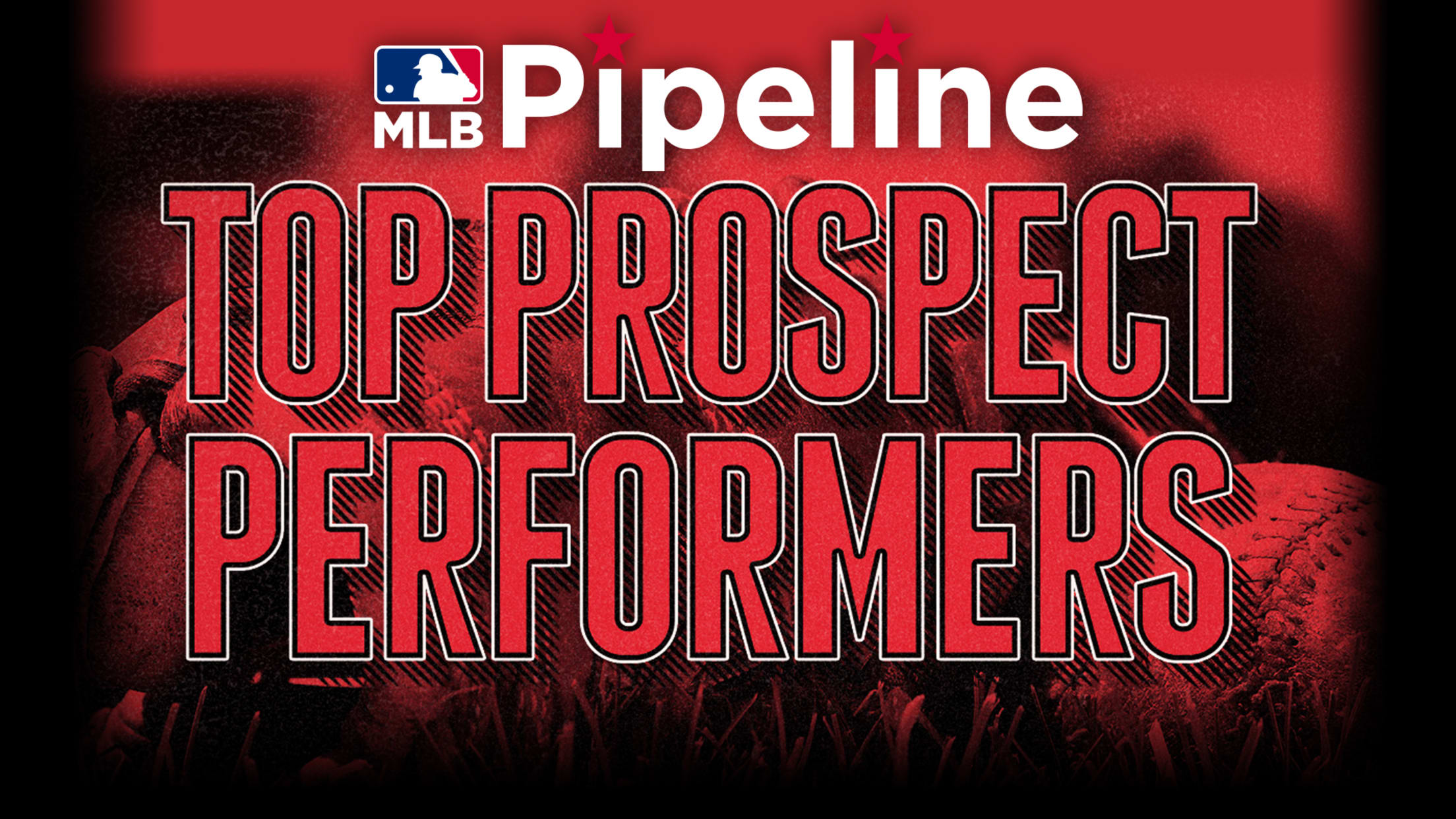 Here's a look at Sunday's top Minor League performers from each team's Top 30 Prospects list: AMERICAN LEAGUE EAST Blue Jays: Eric Pardinho, RHP (No. 4, No. 98 in MLB) -- 5 IP, 3 H, 0 R, 1 BB, 4 K (Class A Lansing) The young Pardinho was shut down
Vargas thrown off course by pickoff tries
After focus on opposing pitcher at first, eventual pitch is a game changer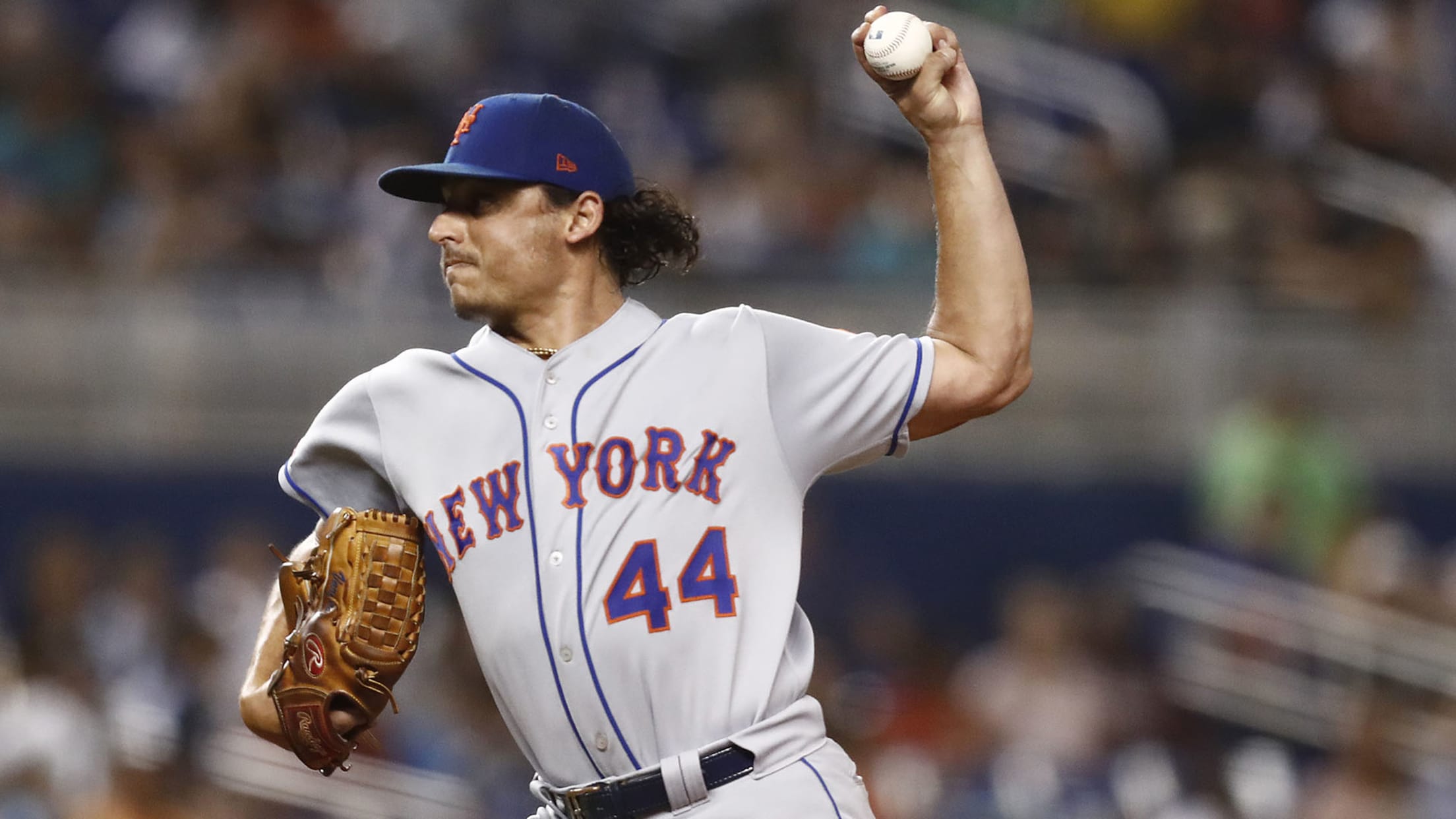 MIAMI -- With two outs in the third inning, Mets veteran southpaw Jason Vargas threw over to first base to keep opposing pitcher Caleb Smith honest ... six times. Smith, who spent June on the injured list with left hip inflammation, certainly didn't appear to be a baserunning threat. Plus,
Van Wagenen: 'We have a core going forward'
GM talks state of the team, including Callaway, Lowrie, Nimmo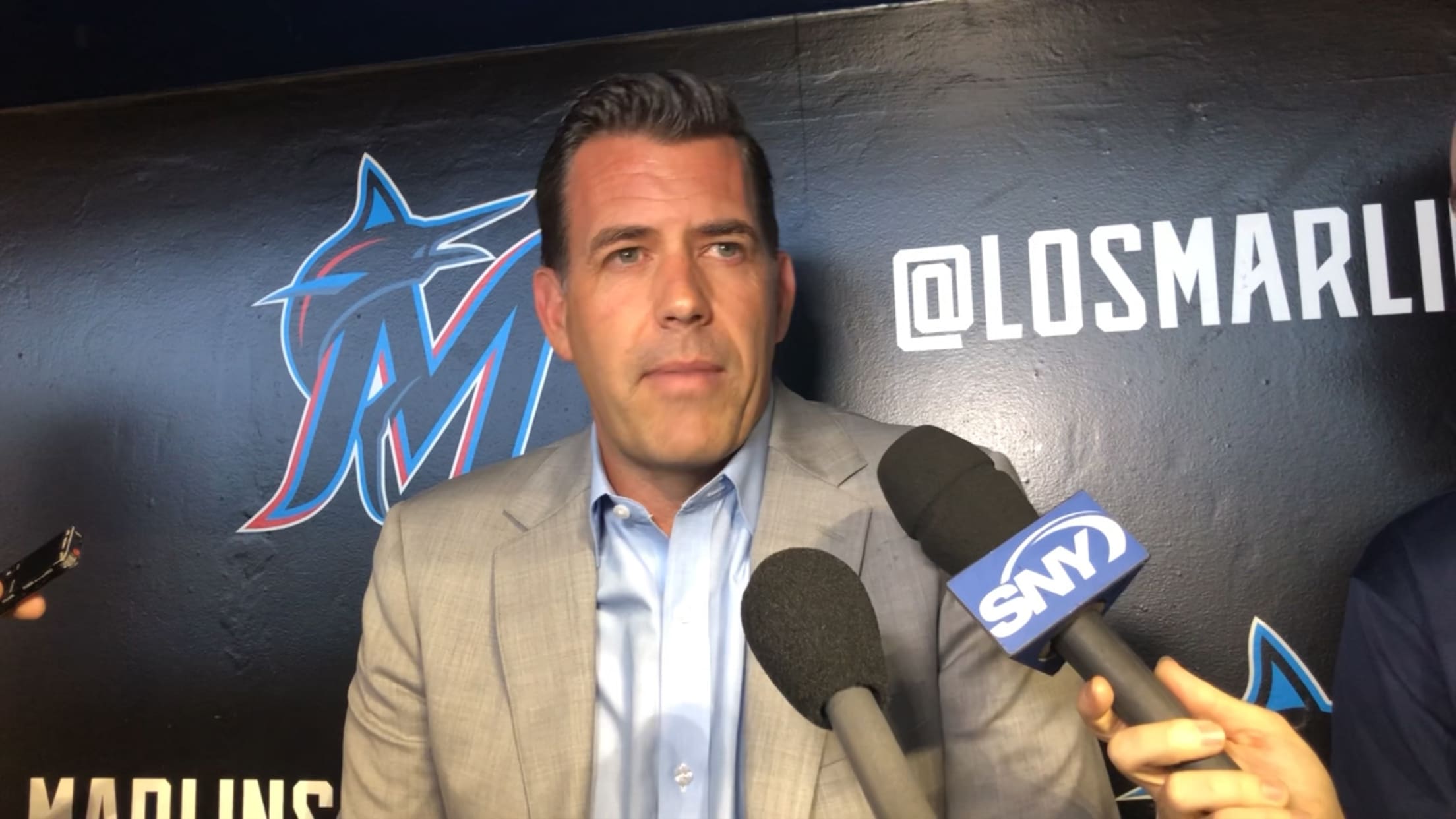 MIAMI -- Nearly seven months ago, new Mets general manager Brodie Van Wagenen told the National League East to "come get us" after a busy offseason. Hours before the second half got under way with Friday night's 8-4 loss to Miami at Marlins Park, Van Wagenen addressed the difficult reality.
Wheeler deal is Mets' most likely Deadline move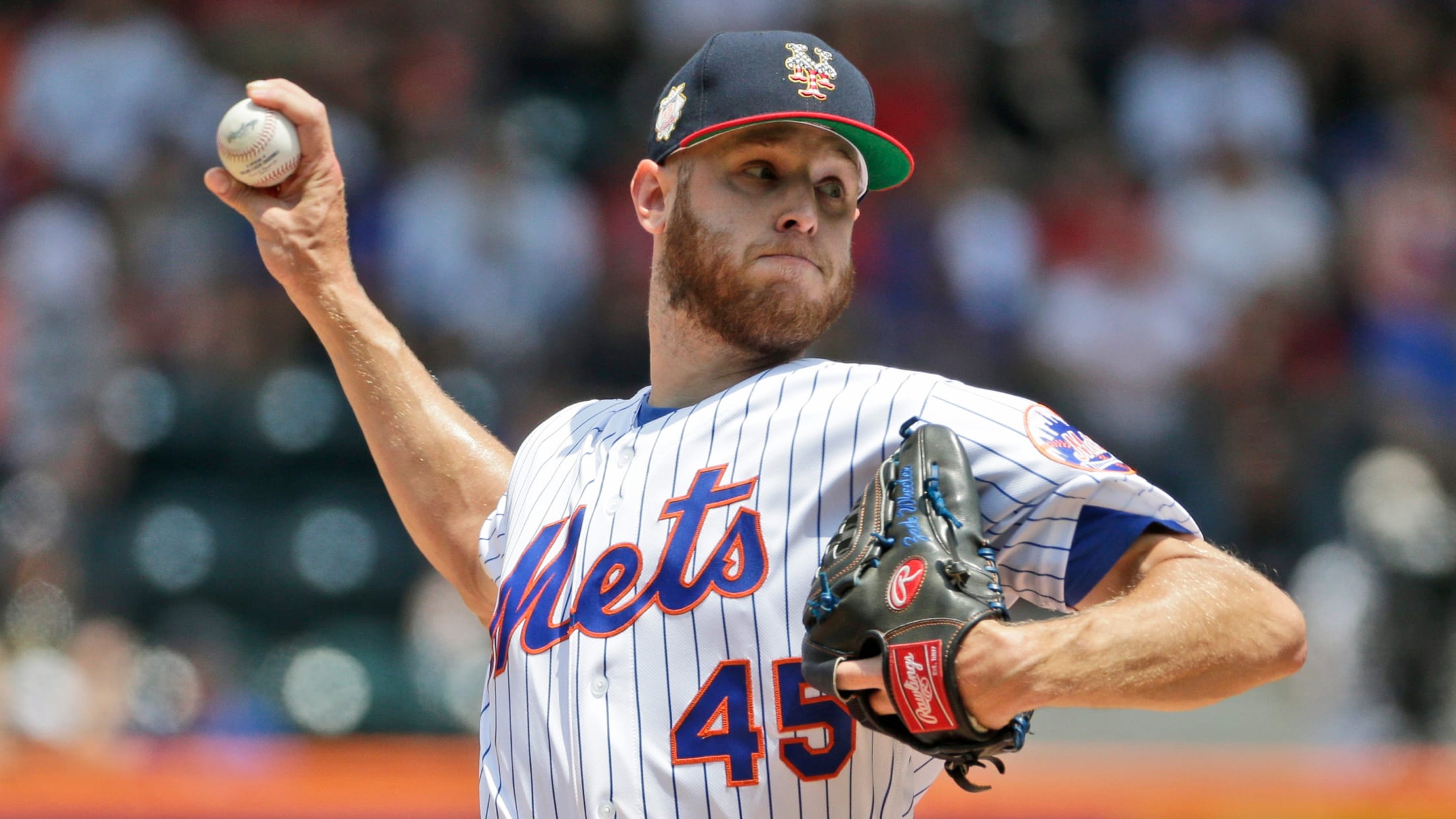 NEW YORK -- The Mets' best-laid plans have cracked and fissured. Entering the second half of the season in fourth place in the National League East and 13 1/2 games behind Atlanta, and trailing all but one team in the NL Wild Card race, New York still believes it can
With an All-Star first, Alonso makes an impact
Mets slugger makes history by driving in multiple runs; deGrom throws perfect inning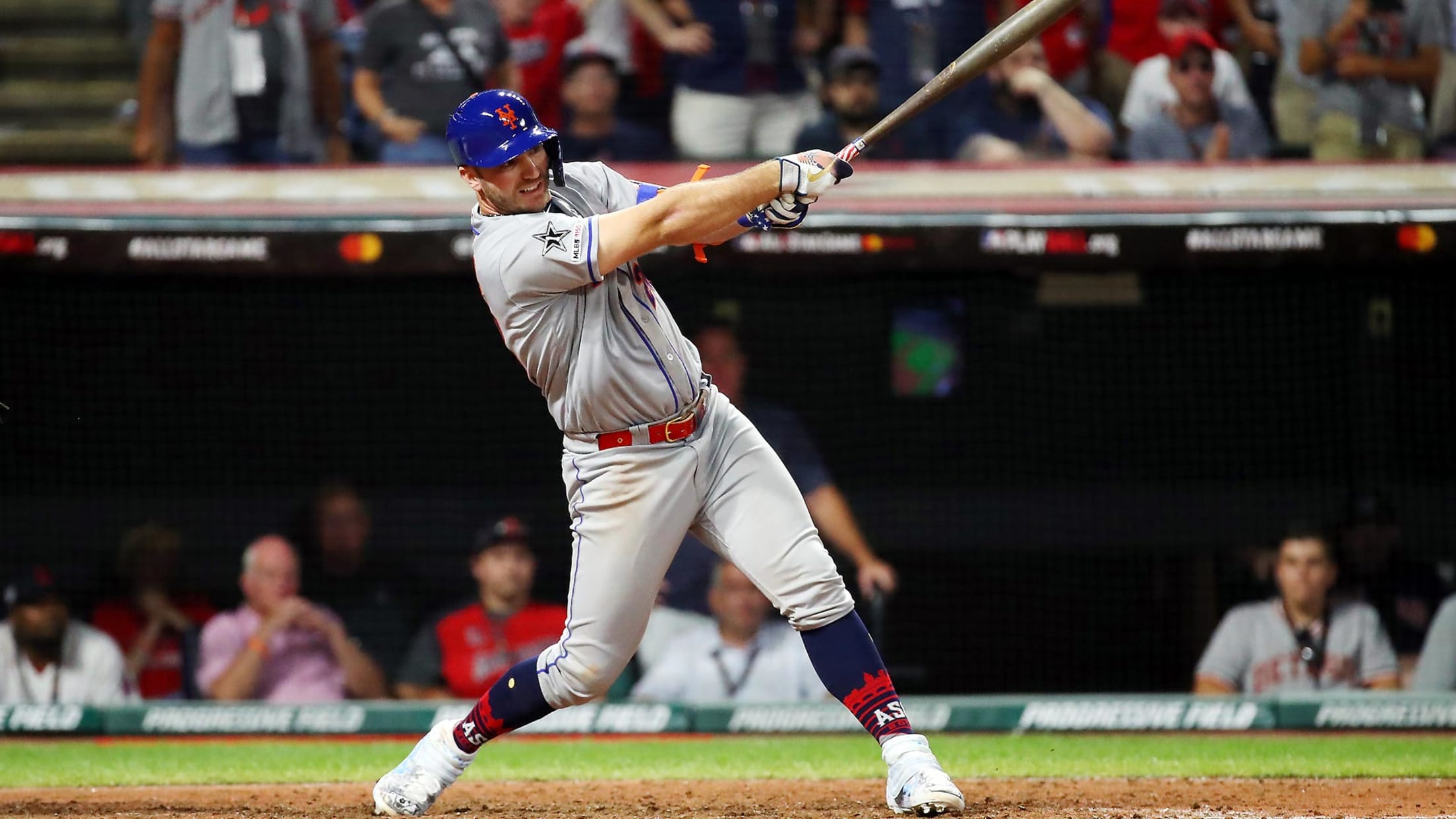 CLEVELAND -- On Monday night, he took the spotlight with the long ball. On Tuesday, Pete Alonso grabbed a little bit more with a simple base hit. The T-Mobile Home Run Derby champion came to the plate with the bases loaded and two outs in the top of the eighth
NL East players to watch ahead of the Deadline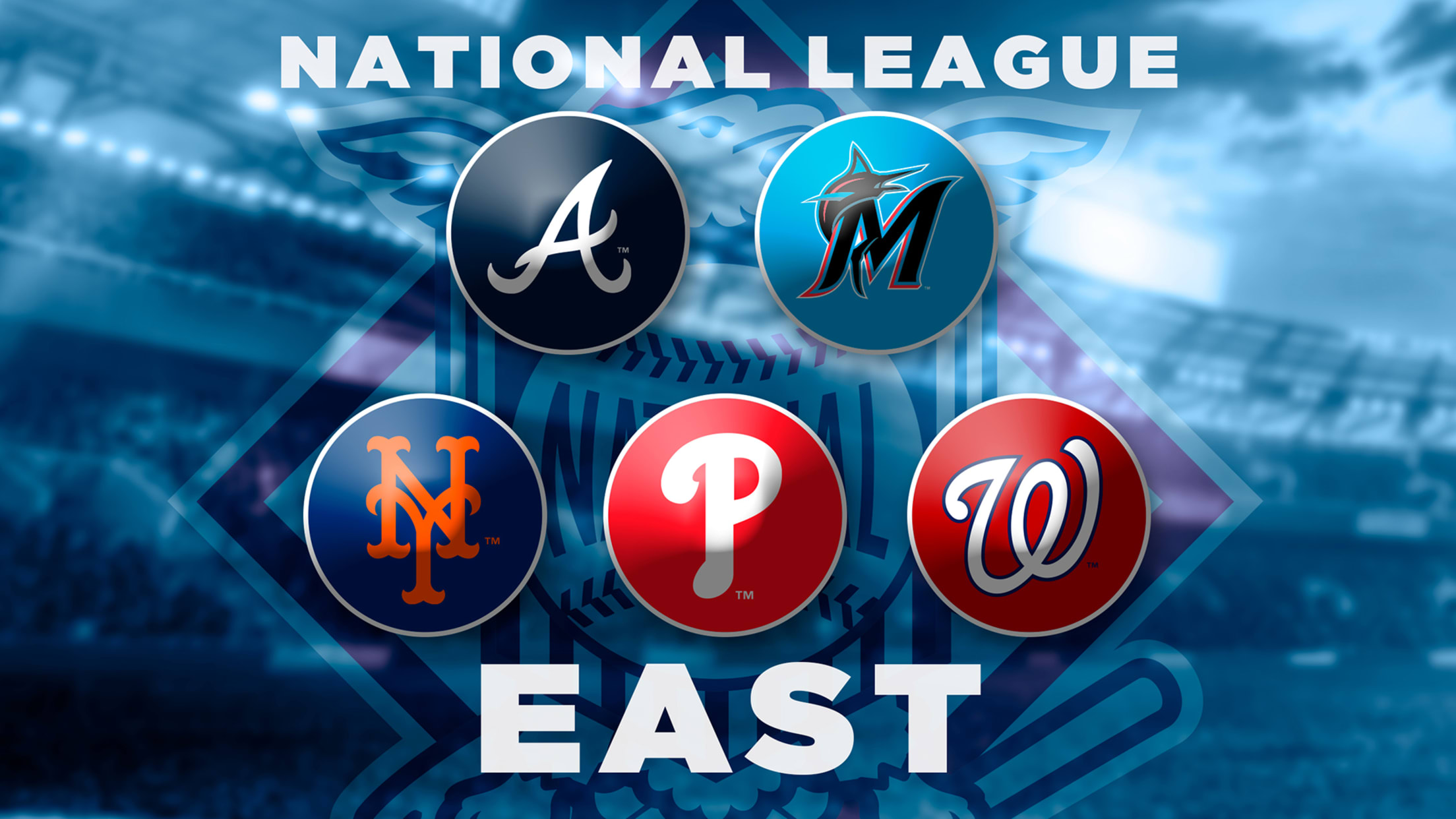 The National League East entered the year with the expectation that it would be the most exciting and competitive division in the Major Leagues. It has certainly been compelling through the first half of the season, even though the Braves have raced out to a six-game lead over the second-place
Prospects we'd like to see in '20 Futures Game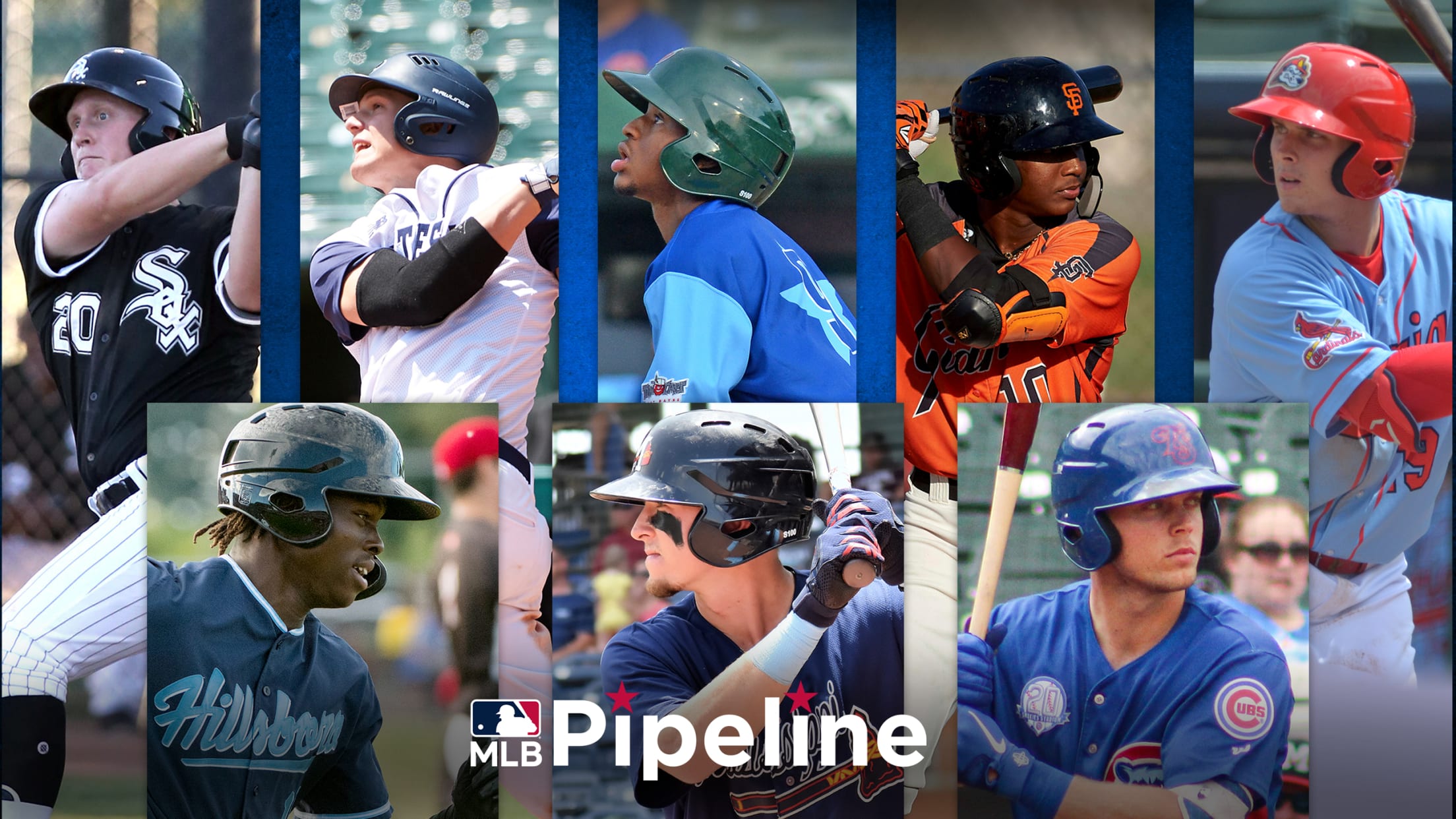 Many of the top prospects in baseball showcased their talent last Sunday in the 21st annual SiriusXM All-Star Futures Game, which saw the American and National League squads play to a 2-2 tie in eight innings. While it proved a pitching-dominated event, those who tuned in were offered a glimpse
Muncy, Alonso prove All-Star sluggers can D up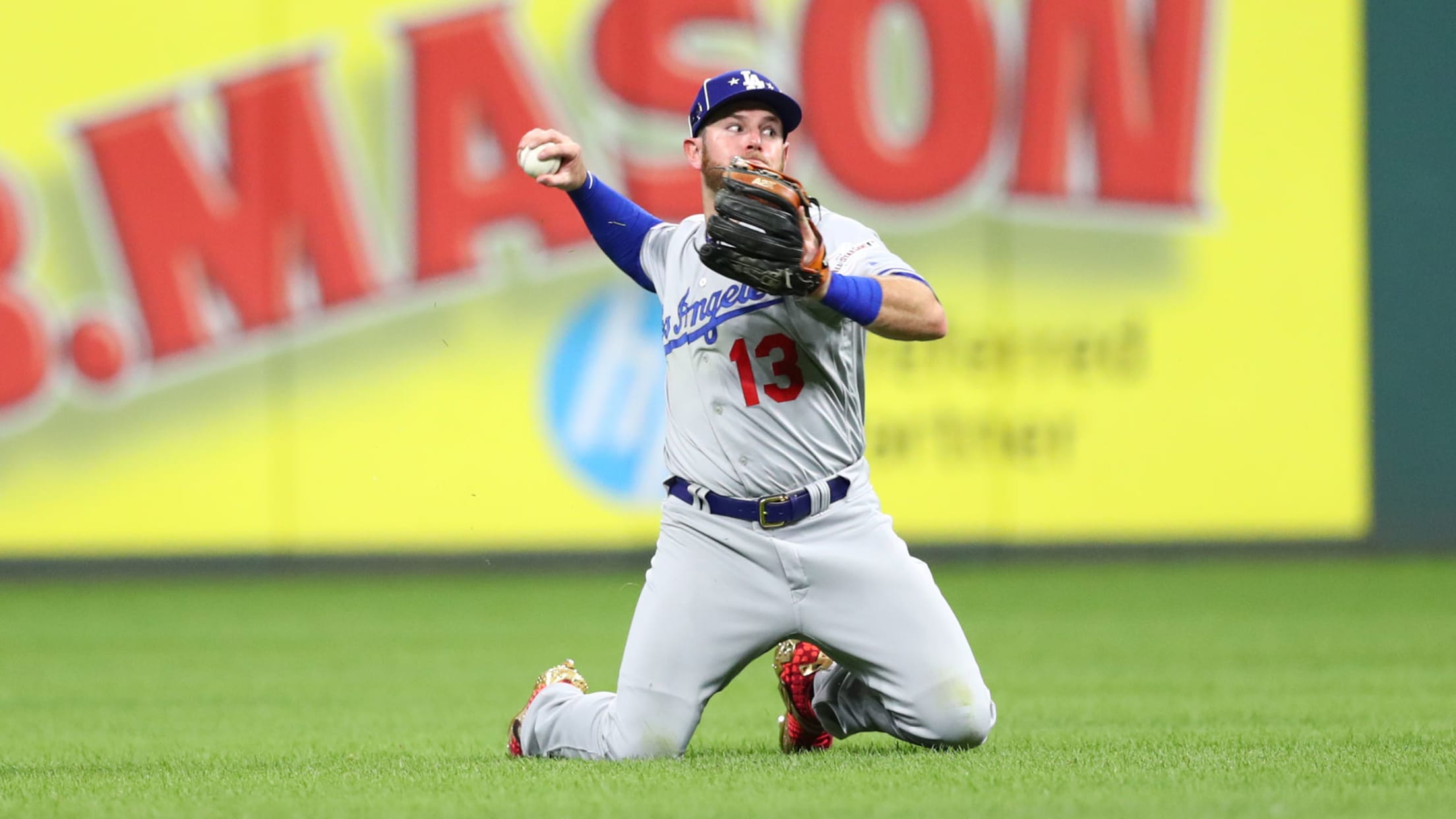 CLEVELAND -- The Indians fans in attendance were hoping for a Carlos Santana highlight in the bottom of the sixth inning of Tuesday night's All-Star Game presented by Mastercard, but instead were treated to some defensive wizardry by the Dodgers' Max Muncy at second base. Batting with one out against
Polar Bear Pete! Alonso wins Home Run Derby
Mets slugger defeats Vlad Jr. in finals to win $1 million grand prize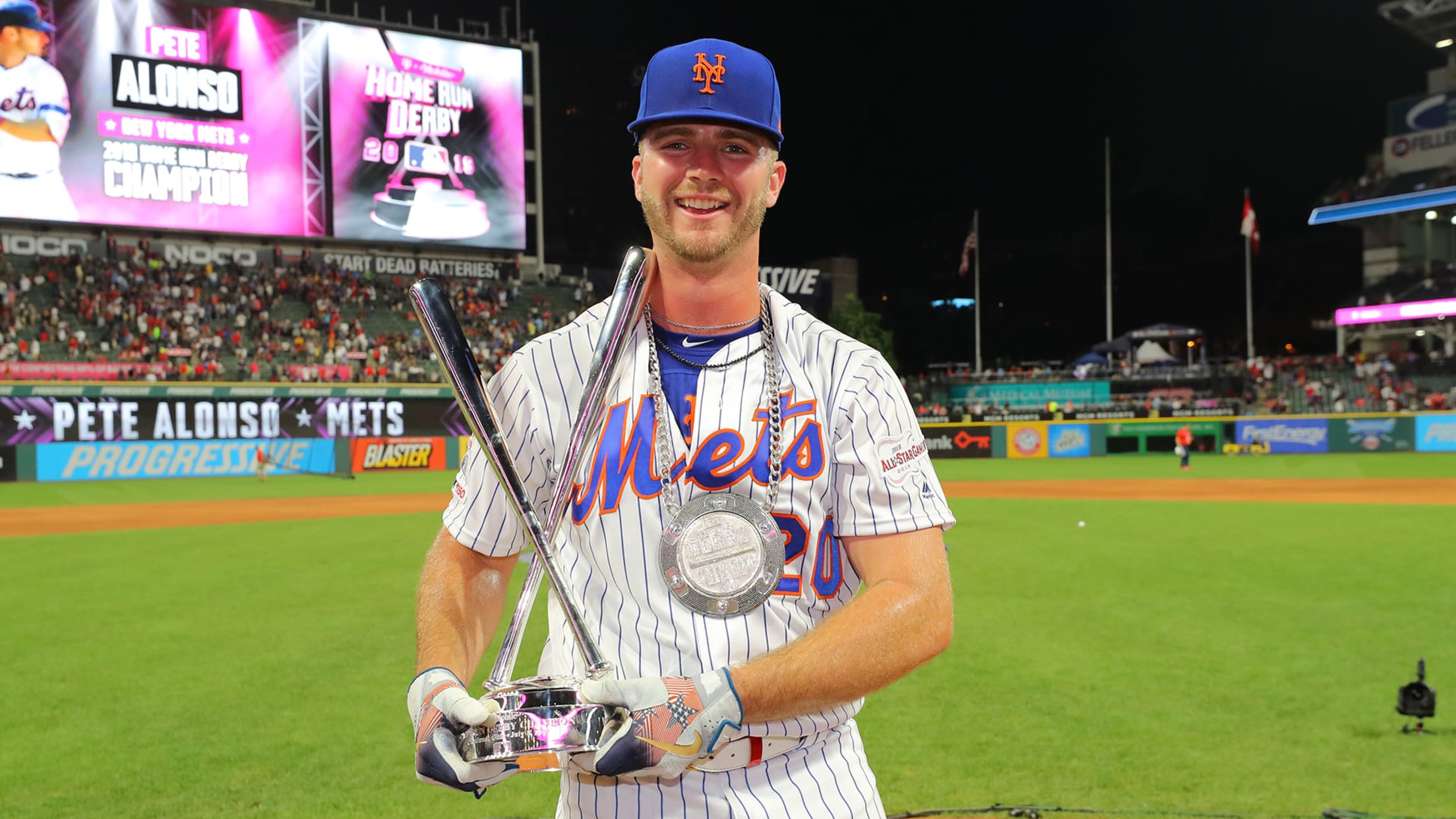 CLEVELAND -- Vladimir Guerrero Jr.'s prodigious power kept Progressive Field buzzing during Monday night's T-Mobile Home Run Derby. Yet when all was said and done, it was Pete Alonso raising the trophy. Alonso outslugged Guerrero in a memorable final round, hitting 23 home runs to edge his fellow rookie by
Here's what happened in every HR Derby round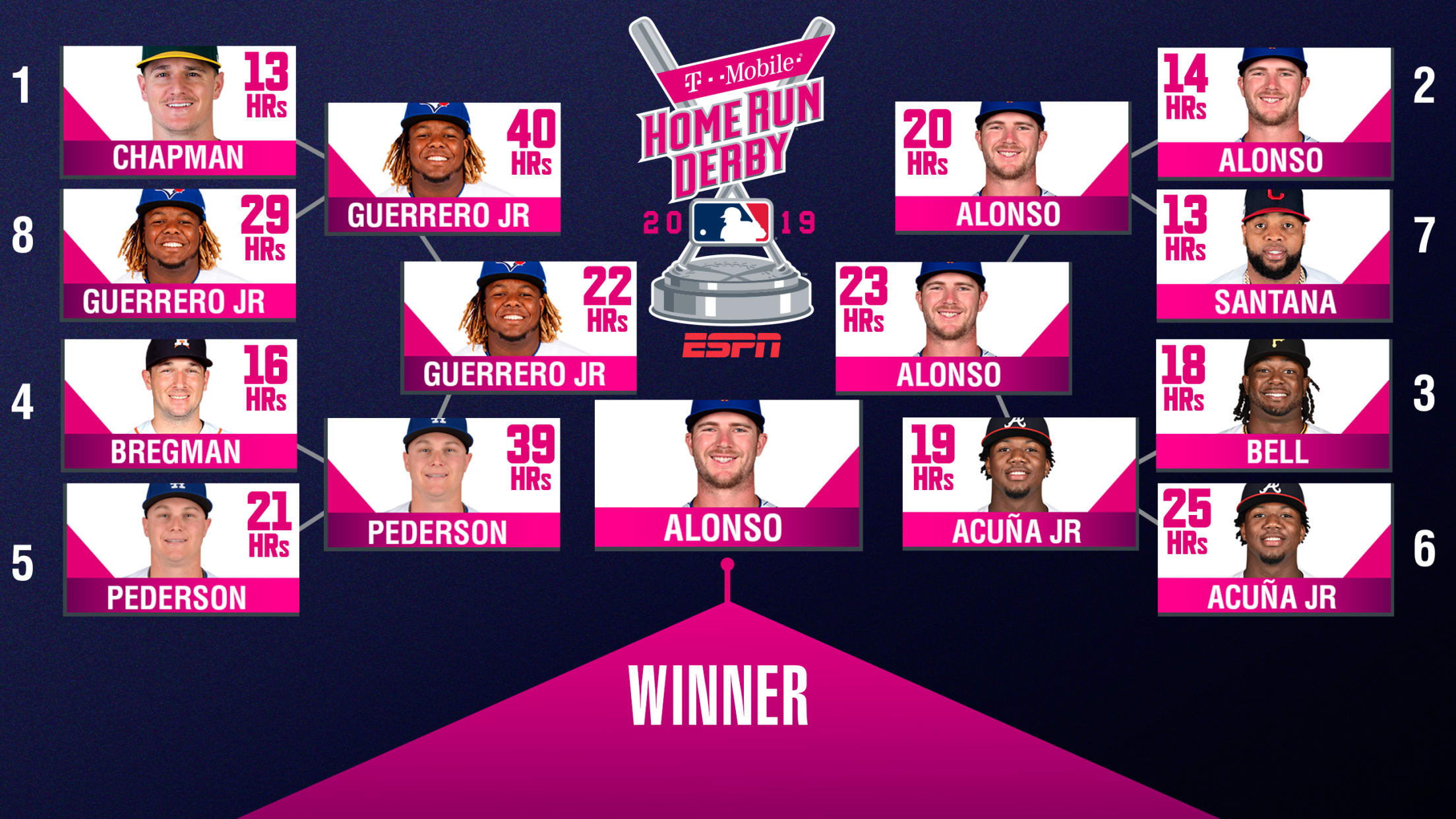 With an average contestant age of 25.26 years, the 2019 T-Mobile Home Run Derby featured the youngest field in the event's history, so it's fitting that a rookie slugger took home the $1 million prize. Mets rookie sensation Pete Alonso overcame a mesmerizing performance from Blue Jays phenom Vladimir Guerrero
312 HRs. 91 by Vlad! Inside Derby's numbers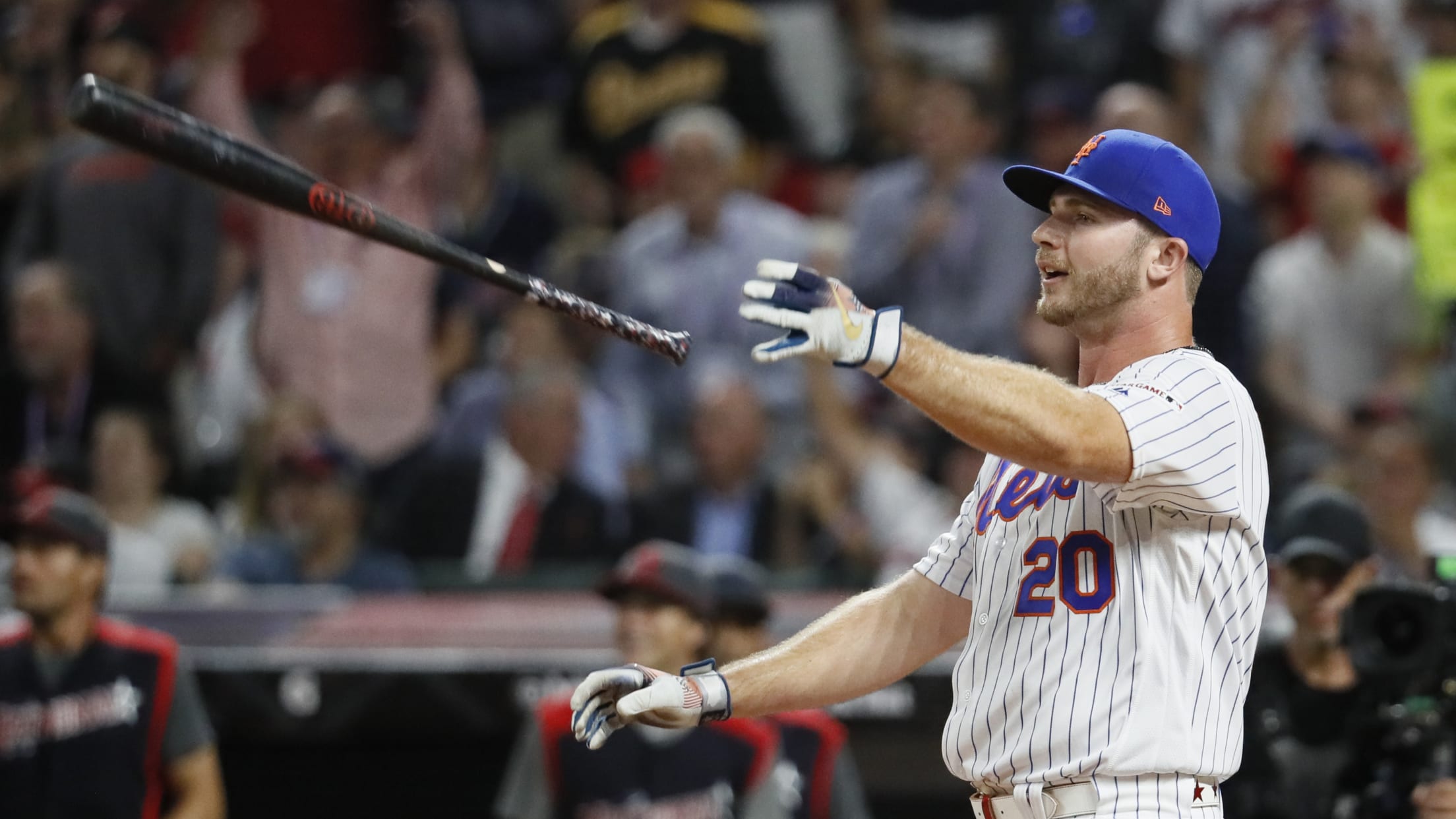 The 2019 T-Mobile Home Run Derby was one for the ages. MLB's youth movement was the story at the start -- and it was the story at the finish. A pair of rookie sensations, the Mets' Pete Alonso and the Blue Jays' Vladimir Guerrero Jr., duked it out in the
How each club's Futures Game prospects fared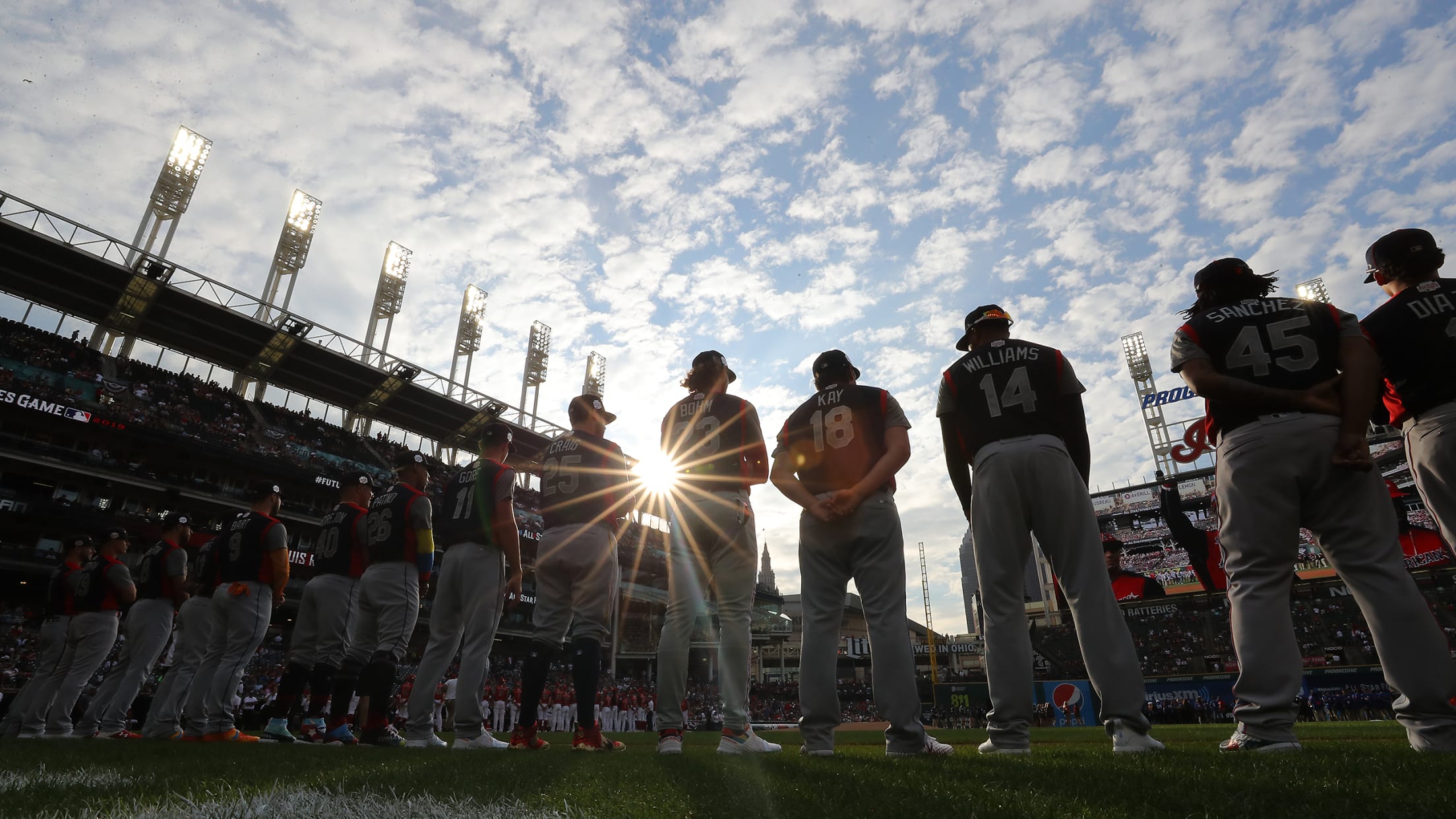 The MLB Futures Game during All-Star weekend is the premier showcase event for the stars of tomorrow to give us a glimpse of things to come. And while the 2018 game was a slugfest, the 2019 contest was the opposite. There wasn't a hit for either the National League squad
ASG a 'cool moment' for pals McNeil, Alonso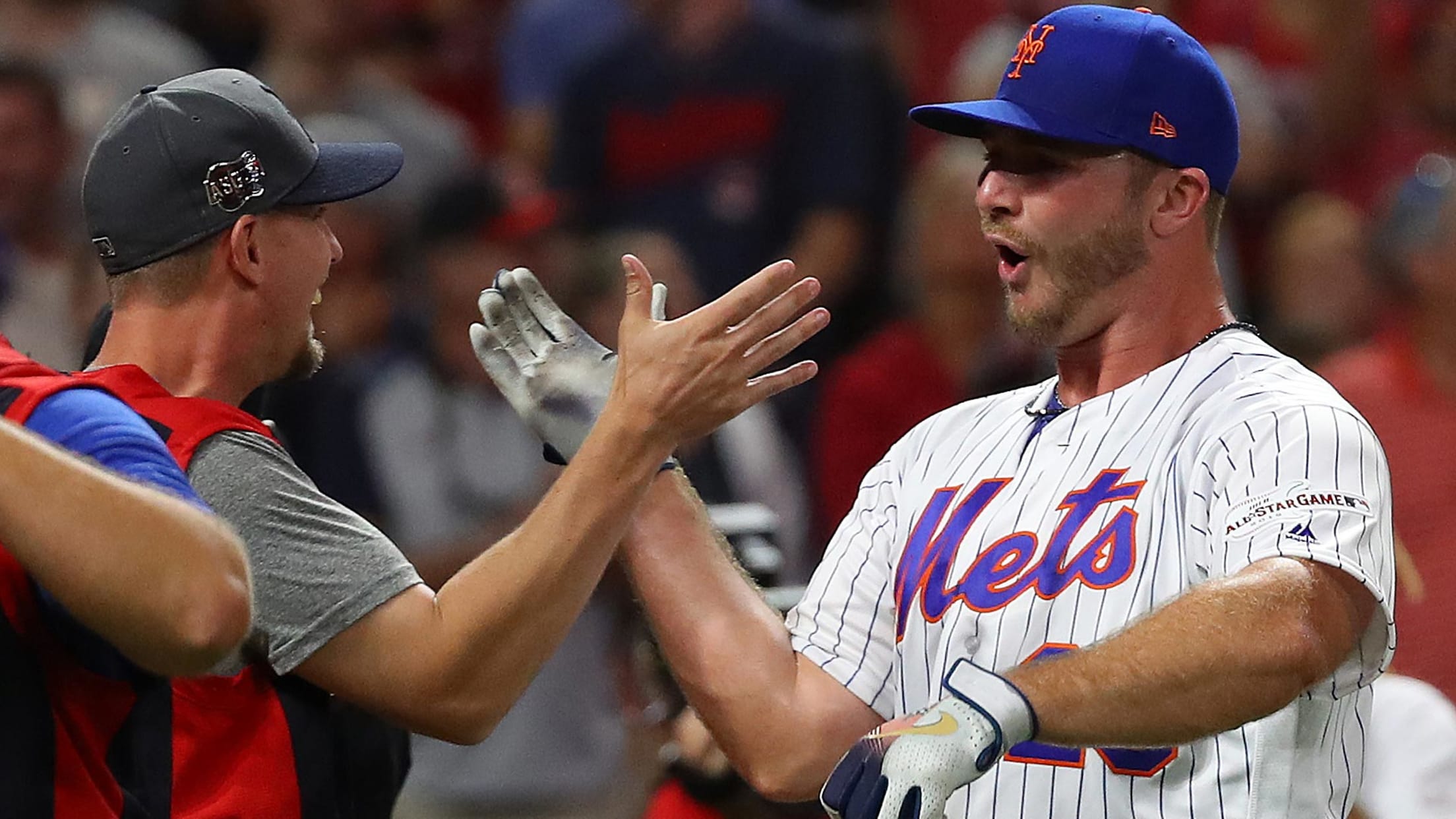 Jeff McNeil is unsure how, exactly, the oversized plush polar bear found its way into the Mets' clubhouse at Citi Field. All he knows is that he's become somewhat obsessed with the likeness of his buddy, Pete Alonso. For the past three seasons, McNeil (nicknamed "Squirrel") and Alonso ("Polar Bear")
Callaway: 'Anything can happen' in 2nd half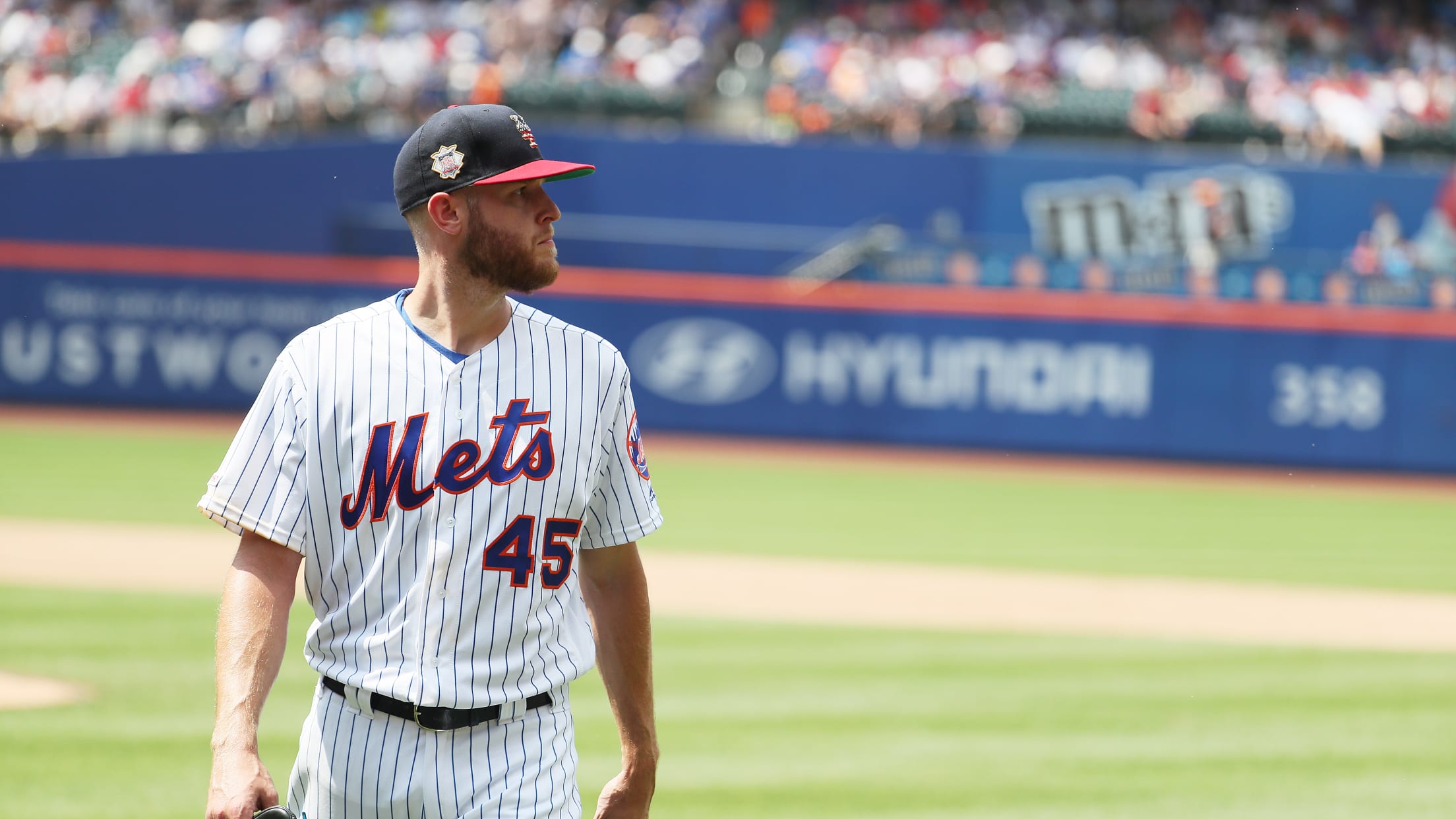 NEW YORK -- To say the Mets' first half did not go as Brodie Van Wagenen, Mickey Callaway and others in the organization envisioned would be a tremendous understatement. So smitten with his team over the winter that he urged other NL East clubs to "come get us," Van Wagenen