deGrom OK after 'pen session, in line for Friday
Frazier activated; Cano, Rosario out of lineup; Wilson to injured list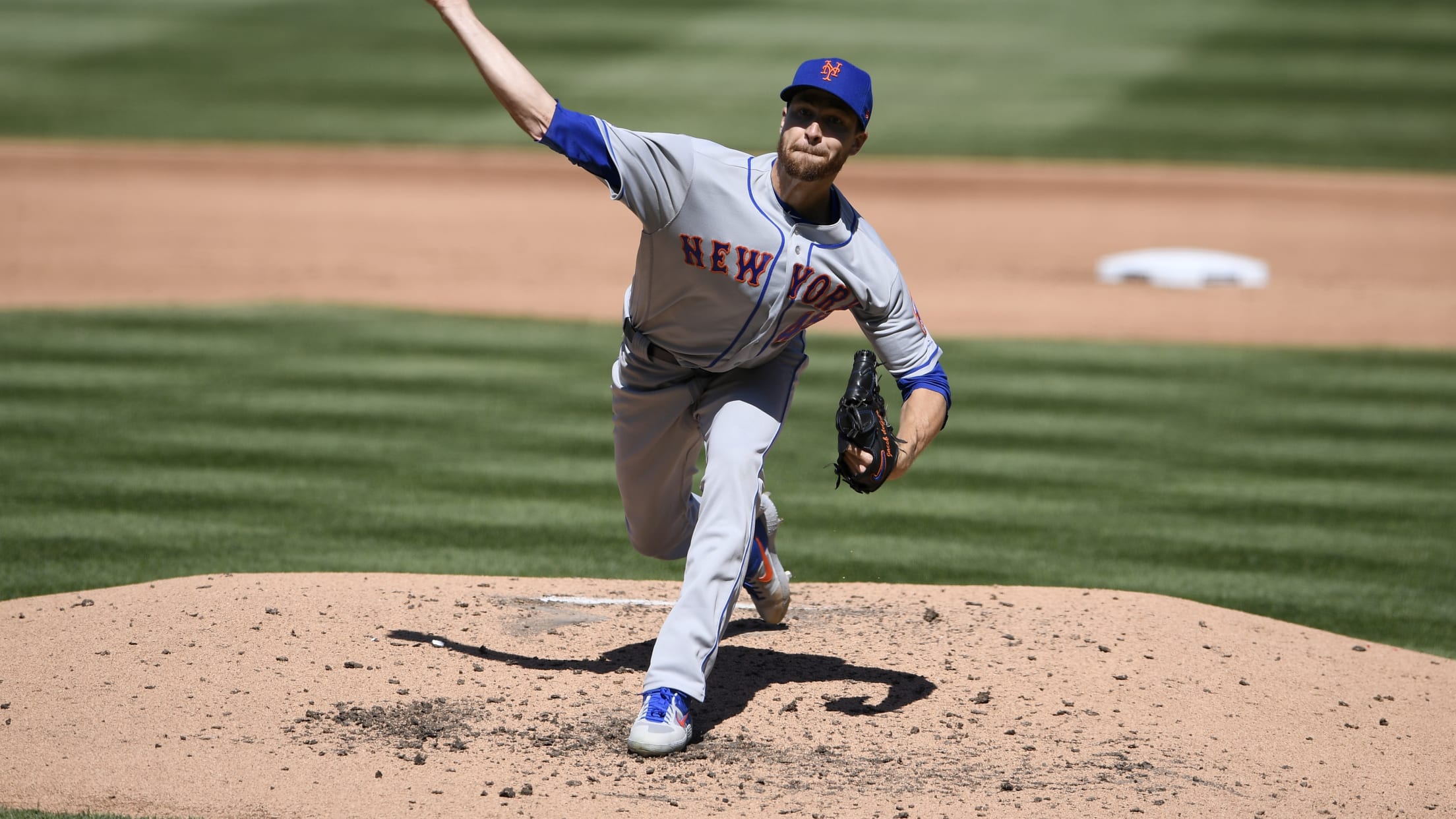 NEW YORK -- A welcome sight greeted the Mets on Monday, when Jacob deGrom trudged through the rain to complete a 30-pitch bullpen session at Citi Field. As he walked off the field, deGrom grinned and remarked that he "felt good." A team source said deGrom is scheduled to throw
NEW YORK -- A welcome sight greeted the Mets on Monday, when Jacob deGrom trudged through the rain to complete a 30-pitch bullpen session at Citi Field. As he walked off the field, deGrom grinned and remarked that he "felt good." A team source said deGrom is scheduled to throw another bullpen session Wednesday and, assuming all goes well, will return from the injured list in time to start Friday against the Brewers.
Earlier Monday, deGrom underwent an MRI that came back "good, clean, no problems whatsoever," according to Mets general manager Brodie Van Wagenen, who expressed optimism regarding the sore elbow that began bothering deGrom late last week.
"We had a very low level of concern originally," Van Wagenen said, "and that was validated today."
Mostly, Van Wagenen attributed deGrom's woes to the bout of strep throat that prevented him from keeping to his normal throwing schedule last week. When he returned to the mound, deGrom felt soreness in the joint, prompting the Mets to schedule a checkup. That included an MRI, despite indications over the weekend that deGrom might not receive one.
Here's Brodie Van Wagenen on the Mets' handling of Jacob deGrom: pic.twitter.com/SjpiDLBMXz

— Anthony DiComo (@AnthonyDiComo) April 22, 2019
"I don't know that there was really internal debate as much as we were listening to the player, we were listening to the training staff, and we wanted to make sure that we were smart and prudent," Van Wagenen said. "That's why we put him on the IL in the first place."
The reigning National League Cy Young Award winner, deGrom was 2-2 with a 3.68 ERA in four starts before landing on the injured list. If he pitches Friday, he will have missed only one start.
Cano recovering
Although X-rays on Robinson Canó's right hand were negative after he was hit by a pitch on Sunday, Cano remained "a little bit sore" the following day, according to Van Wagenen. It was enough for the Mets to hold Cano out of the starting lineup for their series opener against the Phillies, with hopes that he can return by Tuesday.
The Mets did use Cano as a decoy in Monday's 5-1 victory, announcing him as a pinch-hitter in the seventh inning but removing him when the Phillies countered with a pitching change. Manager Mickey Callaway said Cano was feeling better by that point, but the Mets still "didn't really want him to hit."
Also out of the lineup was shortstop Amed Rosario , who was battling flu-like symptoms on Monday morning. Jeff McNeil filled in at second base, while callup Luis Guillorme played short. The Mets recalled Guillorme earlier in the day, optioning reliever Paul Sewald to Triple-A Syracuse.
McNeil gave the Mets a similar scare to Cano, taking a pitch off his right hand in the seventh inning on Monday. He underwent X-rays after the game, but said he felt totally fine and expected to be back in the lineup Tuesday.
Reliever down
In a separate transaction, the Mets placed reliever Justin Wilson on the injured list due to left elbow soreness. Wilson underwent an MRI, which was negative, and hopes to return when eligible April 30.
Wilson, the Mets' primary left-handed setup man, posted a 3.24 ERA in his first nine appearances. He allowed a hit and a walk in his last outing without retiring a batter, and complained afterward of the elbow soreness.
Frazier returns
The Mets' final transaction was an expected one: Infielder Todd Frazier returned from the injured list after missing the season's first 21 games due to a strained left oblique. He singled in his first at-bat and finished 1-for-4 in his season debut.
"It's time to go," Frazier said before the game. "Day 1 starts for me today."
The challenge for the Mets will be working Frazier into their everyday mix without disrupting their other thriving infielders. While McNeil will continue to play nearly every day, according to manager Mickey Callaway, more of his reps will come in the outfield, where he is an inferior defender. Frazier's presence will also result in fewer starts for J.D. Davis, whom the Mets are not comfortable using in the outfield.
Still, Callaway envisions Frazier "playing third, playing it quite a bit and going from there." In 115 games last year, Frazier batted .213 with 18 homers and a .693 OPS. He is capable of playing first and third base and even shortstop in a pinch, although the success of Pete Alonso decreases the likelihood that Frazier will spend much time anywhere but third.