For Swoboda, a latent appreciation of Hodges
'He belongs in the Hall,' the 1969 champ said of his late manager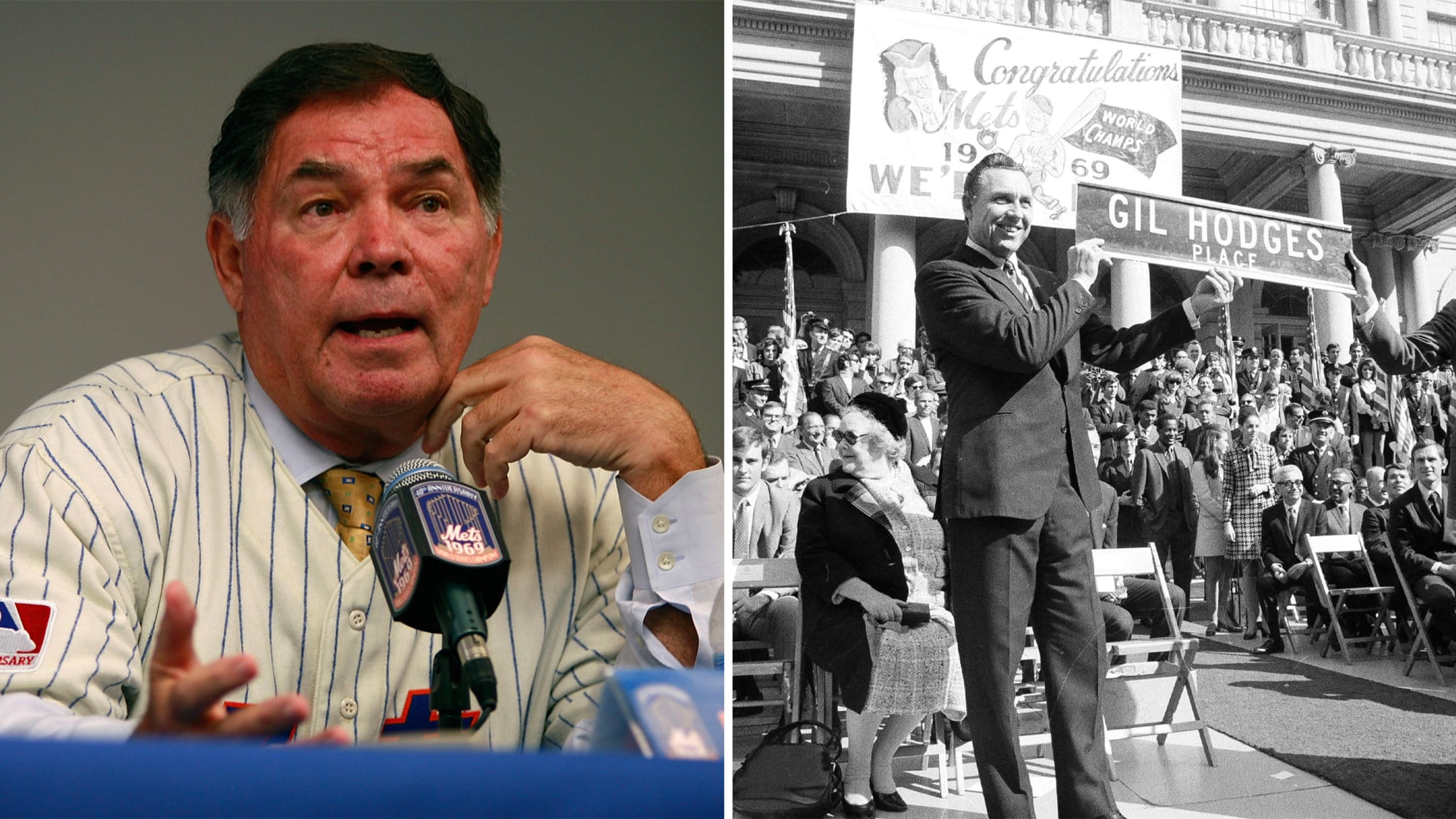 NEW YORK -- Recently, MLB.com proclaimed Gil Hodges as the best manager in Mets history, and for a good reason. He turned them from a laughingstock in 1967 to World Series champions two years later -- a team affectionately known as the "Miracle Mets." Before the 1969 season started, New
NEW YORK -- Recently, MLB.com proclaimed Gil Hodges as the best manager in Mets history, and for a good reason. He turned them from a laughingstock in 1967 to World Series champions two years later -- a team affectionately known as the "Miracle Mets."
Before the 1969 season started, New York's odds to go all the way were 100-1. During their first seven years of existence, the Mets won no more than 73 games in a season, and it looked like they were going nowhere fast during the summer of '69. In fact, the Mets were more than 10 games behind the Cubs before going on one of the more miraculous runs in Major League history.
Some 50-plus years later, former Major League outfielder Ron Swoboda, who played for Hodges from 1968 until the spring of '71, credits the skipper for the miracle that occurred. As he was writing his autobiography, "Here's The Catch," a couple of years back, Swoboda, 75, researched every game of '69 and slowly realized the genius of Hodges.
"I thought the way he handled people, the decisions he made, I thought were sharp and on the money," Swoboda said. "There weren't too many people that I felt like could make in-game decisions as sharp as Hodges."
Some of Hodges' in-game decisions affected Swoboda in a big way, and in ways he did not appreciate at the time. When Hodges joined the Mets after the 1967 season, Swoboda was an everyday outfielder. By '69, he was platooning with Art Shamsky in right field. During that period, Swoboda acknowledged that he didn't get along with Hodges. For the skipper, it was his way or the highway. Swoboda now acknowledges he didn't deserve to play during the first half of the season.
"He had his own idea of what you should do to get ready and stay loose," Swoboda said. "I hit .281 the year before Hodges got there. I sort of felt like at the age of 24 -- I had been in the big leagues four years -- I thought I knew what to do. ... For some reason, it seemed everything I did was counter of what Hodges thought I should be doing. I don't know. If I hadn't stuck that good year in there ... I don't know. I always had a problem with authority.
"I knew we didn't get along and I took a lot on myself. He just wanted you to shut up, work hard and be the best baseball player you could be. And I could do some of those things, some of the time. I couldn't do all of them, all of the time. As a result, I grated on him and that's an understatement."
Yet Swoboda came through for Hodges when it counted most. In the World Series, he batted .400 (6-for-15) and drove in the deciding run to help the Mets clinch their first championship over the Orioles.
And Swoboda, a Baltimore native, is known for making one of the greatest catches in MLB history. His headfirst catch of a ball off the bat of Brooks Robinson prevented the Orioles from scoring the go-ahead run in the ninth inning of Game 4. The catch came as a surprise, because Swoboda was widely considered a below-average outfielder.
Over time, Swoboda's perspective on Hodges changed. It took playing for other managers for Swoboda to realize that Hodges, who died of a heart attack in 1972, was the best manager he ever played for.
"[I have a warm spot for Hodges because] he was a quality manager and he gets [the short end of the stick]," Swoboda said. "He has the misfortune to die young. [Had he lived], it would have cemented him as a Hall of Fame guy in everybody's mind. There wouldn't be any issue about that. ... Combined with what he was as a manager, player and man, he belongs in the Hall of Fame."
Bill Ladson has been a reporter for MLB.com since 2002. He covered the Nationals/Expos from 2002-2016. Follow him on Twitter and Facebook.