'Tebow Time' hits Year 4 with camp invite
Mets also invite four of their top 30 prospects to Spring Training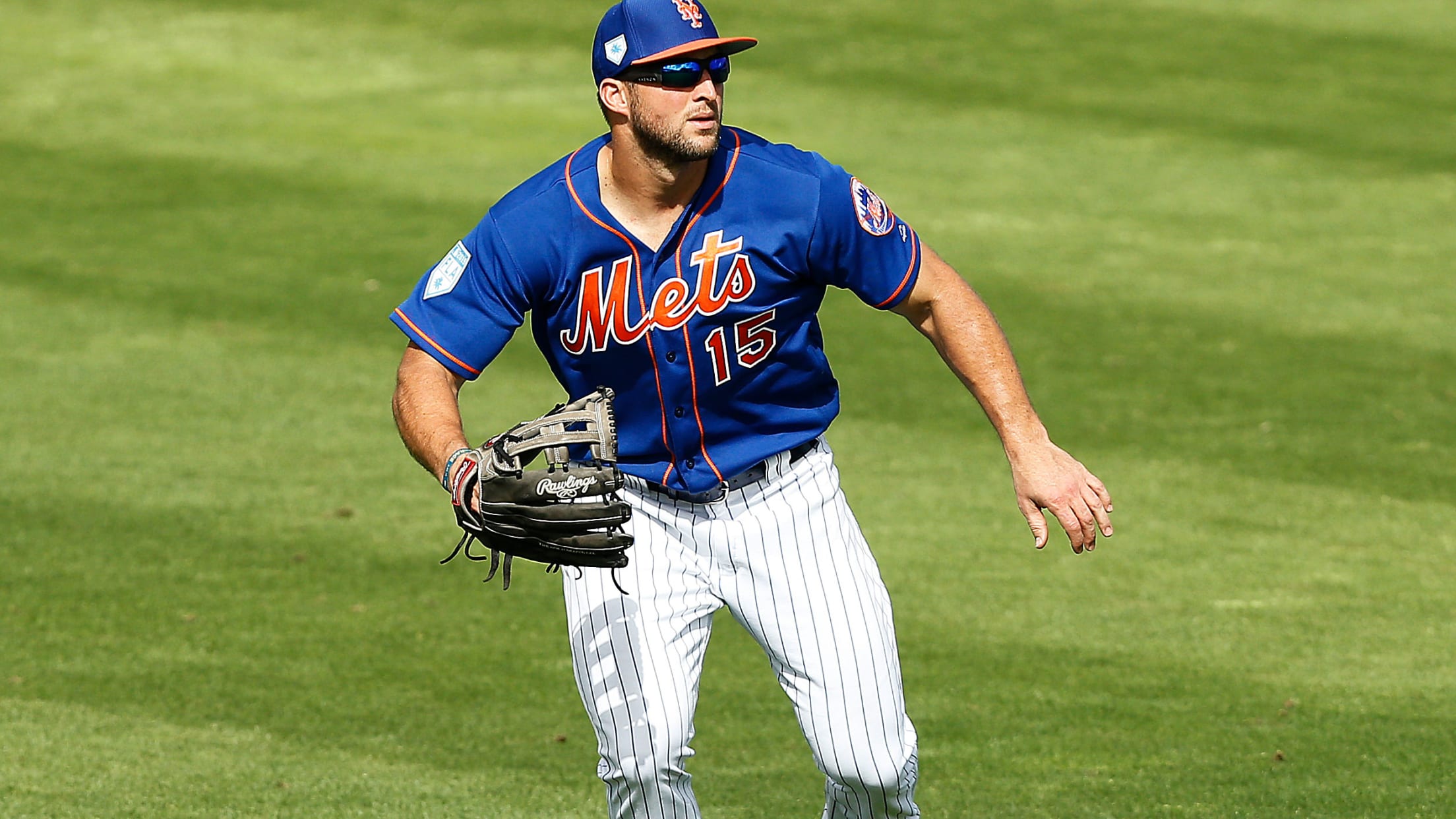 Tim Tebow will be at Major League Spring Training with the Mets again this season. The 32-year-old NFL quarterback-turned-Minor League outfielder was among the Mets' list of eight non-roster invitees to 2020 Spring Training, the club announced Thursday. Tebow is entering his fourth season as a Met. Playing at Triple-A
Tim Tebow will be at Major League Spring Training with the Mets again this season.
The 32-year-old NFL quarterback-turned-Minor League outfielder was among the Mets' list of eight non-roster invitees to 2020 Spring Training, the club announced Thursday.
Tebow is entering his fourth season as a Met. Playing at Triple-A Syracuse last season, he hit .163/.240/.255 with four home runs and 19 RBIs in 77 games before suffering a season-ending laceration on his left hand on July 21. It was the second year in a row Tebow's season ended early due to injury -- he missed the final two-plus months of 2018 due to a broken bone in his right hand.
Also among the Mets' non-roster invitees this year are No. 7 prospect David Peterson, the 24-year-old left-hander who was the team's first-round Draft pick in 2017, and No. 11 prospect Kevin Smith, the 22-year-old lefty who was the organization's Minor League Pitcher of the Year in '19.
Two other Mets non-roster invitees also rank among the team's Top 30 prospects, per MLB Pipeline: 23-year-old right-hander Ryley Gilliam (No. 16) and 26-year-old catcher Patrick Mazeika (No. 27).
The team's other invitees to Spring Training are: 24-year-old right-hander Stephen Nogosek, who made his MLB debut for the Mets last year; 26-year-old catcher Austin Bossart, who was acquired from the Phillies for Jason Vargas before the 2019 Trade Deadline; and 27-year-old righty Matt Blackham.
In addition to the non-roster invitees from within the organization, the Mets also announced Thursday that they've signed seven players to Minor League contracts with invites to Major League Spring Training: 27-year-old outfielder Ryan Cordell, 24-year-old outfielder Johneshwy Fargas, 26-year-old infielder Jake Hager, 25-year-old right-hander Pedro Payano, 24-year-old righty Francisco Ríos, 23-year-old catcher David Rodríguez and 25-year-old righty Adonis Uceta.