Buy and/or sell: 11 teams on Deadline bubble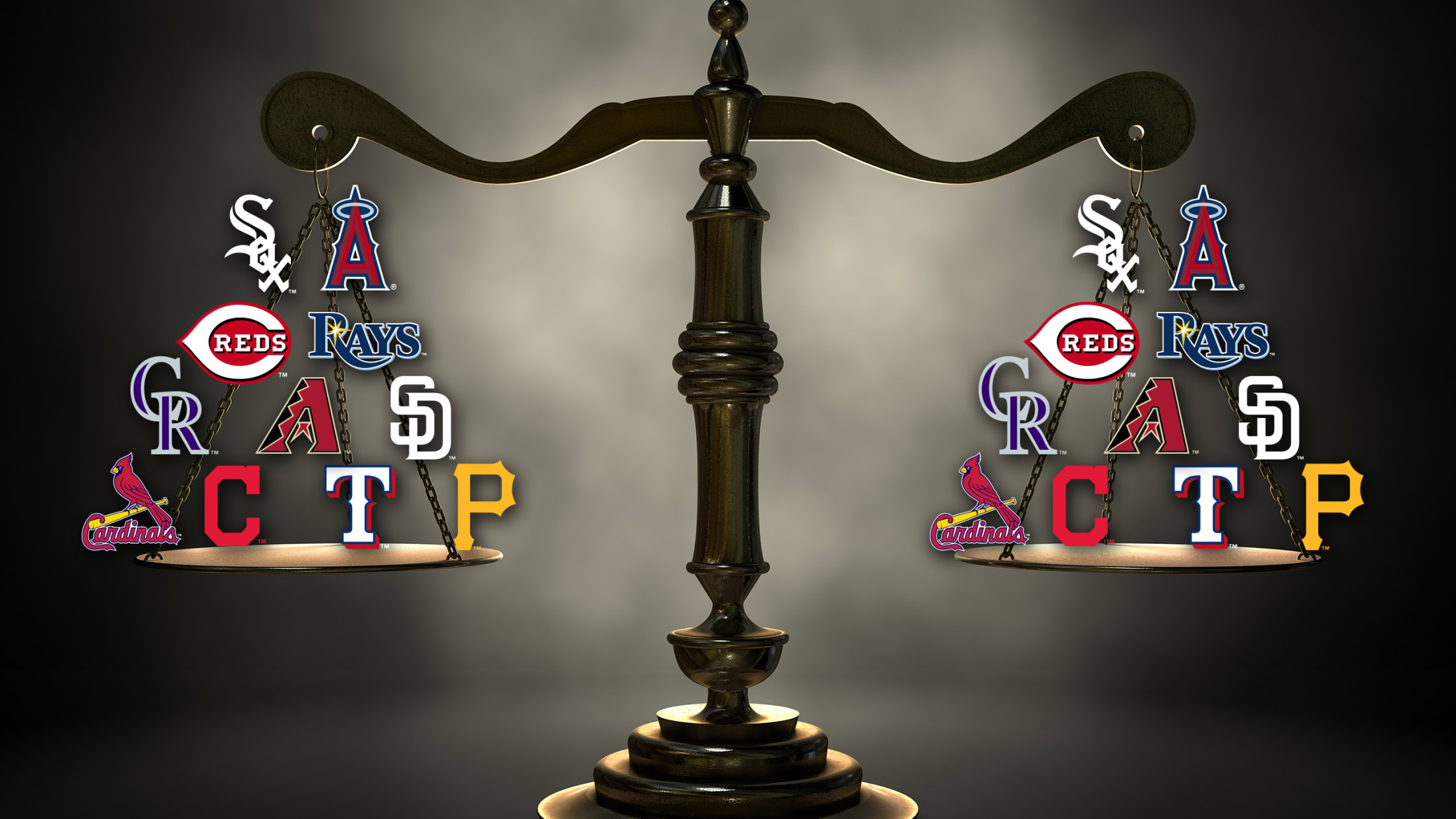 As Major League Baseball prepares to open its second half, 24 of the 30 teams sit within seven games of a postseason spot. With no more August trades for clubs to fall back on, the next three weeks should present a flurry of moves that will shape the pennant race.
As Major League Baseball prepares to open its second half, 24 of the 30 teams sit within seven games of a postseason spot. With no more August trades for clubs to fall back on, the next three weeks should present a flurry of moves that will shape the pennant race.
The division leaders all figure to add talent by the July 31 Trade Deadline, but what about those teams that will spend the next two-plus months fighting for a Wild Card spot? Identifying the buyers and sellers can be a perplexing exercise, especially for teams within striking distance -- despite sub-.500 records -- that are looking up at five or six teams in their league's Wild Card race.
Depending on the timing of the moves, it's possible teams could find themselves adding talent and unloading some later. Until the Deadline arrives, clubs will have the opportunity to pivot based on where they sit in the standings.
The Twins found themselves in that position two years ago, acquiring starter Jaime Garcia from the Braves on July 24 as they stood just 2 1/2 games out of first place. A week later, Minnesota found itself seven games back in the AL Central, prompting the team to trade Garcia to the Yankees and reliever Brandon Kintzler to the Nationals.
Which teams might currently be on the fence with only three weeks until the Trade Deadline? Here's a look at 11 clubs that could emerge as buyers, sellers or perhaps both (listed in order of first-half record).
Rays (52-39)
One month ago, Tampa Bay was atop the American League East with a 41-24 record. But an 11-15 stretch has dropped the Rays into second place, 6 1/2 games behind the Yankees and only 2 1/2 games ahead of the third-place Red Sox. The Rays are currently in the top Wild Card spot, and although four teams are within three games of them, it seems more likely that they approach the next few weeks as cautious buyers, especially with 18 of their next 28 games against sub-.500 teams. Then again, with eight games against the Yankees and Red Sox before July 31, a bad stretch could cause Tampa Bay's front office to reassess its situation.
• Rays in prime position to make postseason push
Indians (50-38)
Cleveland might be the most intriguing team on this list, as the Indians currently sit in the second AL Wild Card spot and just 5 1/2 games behind the Twins in the AL Central. The Tribe has been to the postseason in each of the past three seasons, though after losing the World Series to the Cubs in 2016, they've been knocked out in the ALDS in each of the past two years. If things go south in the next two weeks, Cleveland could see its window closing and decide to shop Trevor Bauer (under team control through 2020) and possibly Brad Hand (through 2021), who would become two of the most attractive players on the market. If the Indians can close the gap on the Twins, the front office might look to add a player or two, with an outfielder being the most obvious need.
• Now Cleveland's a contender, so decisions loom
Rangers (48-42)
Texas has been one of the most pleasant surprises this season in what was supposed to be a rebuilding year. The Rangers could use some pitching help in both the rotation and bullpen, though the acquisition of a starter could result in one of their current rotation members being shifted to a relief role.
• Rangers look to bolster rotation at Deadline
Although the Rangers stand just three games out of a Wild Card spot, Texas is likely to pursue pitchers with control beyond 2019, especially with its new ballpark set to debut next season. The big question for GM Jon Daniels is whether he wants to take a shot at the playoffs this year or stay the course; the latter could mean moving players such as Lance Lynn (signed through 2021) and Mike Minor (through 2020) to bolster the team's system. The Rangers stumbled into the break with a 2-6 slide, and with seven of their next nine games coming against the first-place Astros, they should know a lot more about their postseason chances 10 days from now.
D-backs (46-45)
When Arizona unloaded Paul Goldschmidt last offseason and let Patrick Corbin and A.J. Pollock leave via free agency, it looked as if the D-backs were headed for a rebuilding season. Instead, they're a game above .500 at the break, only 1 1/2 games out of a Wild Card spot. Adding a starter to the rotation would seem to be the biggest goal, though the bullpen and a bat are also needs. Arizona's first eight games out of the break are against the Cardinals, Rangers and Brewers, so GM Mike Hazen is likely to wait until the end of that stretch to assess his Deadline approach. If they decide to sell, Greg Holland, Adam Jones and Jarrod Dyson are potential chips as all three will become free agents after the season.
• D-backs' path may rest on 9 games after break
Padres (45-45)
San Diego made plenty of noise before the season with its signing of Manny Machado and the decision to open the season with Fernando Tatis Jr. on the roster, setting the Padres in a positive direction. They're only two games out of a Wild Card spot despite being 14 games behind the Dodgers in the National League West, and given that the Padres haven't been to the postseason since 2006, even a Wild Card Game berth would be great progress.
• Padres still shaping Trade Deadline strategy
Half-season rentals are likely out of the question for GM A.J. Preller, who will look for players with control beyond 2019 if he's in a buying mood. A strong farm system gives San Diego plenty of trade chips, so it won't be a surprise to see the Padres make some moves with an eye on the near future. They have been rumored to be interested in Mets righty Noah Syndergaard (under team control through 2021), and he certainly fits the mold of the type of player they would target.
Cardinals (44-44)
St. Louis' offense has underperformed all season, as the Cardinals rank 12th in the NL in runs scored and OPS, yet the club finds itself only two games back in both the division and Wild Card races. Goldschmidt, Matt Carpenter and Yadier Molina are among the chief culprits, and although Marcell Ozuna has had a big year, he's now on the injured list. Still, adding a big bat seems like a long shot, as the Cardinals will need their own big bats to come alive in the second half if they hope to make a run. If the Cardinals are buyers, the focus still figures to be on the pitching staff, specifically the rotation.
• Cardinals look to rebound after All-Star break
Angels (45-46)
The annual "Will Mike Trout finally get back to the postseason?" narrative will continue to hover over the Angels until it happens, and their 3-6 stretch before the break left them one game under .500 and 6 1/2 games out of a Wild Card spot. Los Angeles needs pitching help, both in the rotation and the bullpen, most notably a left-handed reliever -- something the Angels are missing in their relief corps. And a small part of the unfortunate reality of Tyler Skaggs' tragic death on July 1 is that he was coming into his own as a pitcher, and the Angels don't have an obvious internal candidate to replace him.
• Angels' restart will determine if they buy or sell
It's unlikely the club would deal any of its top prospects in a search for pitching, though outfielder Michael Hermosillo -- its No. 13 prospect, per MLB Pipeline, who debuted last year -- could have appeal to some teams. If things go sour in the next two weeks, GM Billy Eppler could make the likes of Kole Calhoun, Jonathan Lucroy and Hansel Robles available.
Pirates (44-45)
The NL Central is the tightest division in the Majors, with only 4 1/2 games separating the first- and last-place teams. The Pirates are 2 1/2 games back in both the division and Wild Card races, so GM Neal Huntington could approach the market as both a buyer and seller as he did in 2016, when he traded Francisco Liriano and Mark Melancon, while adding Ivan Nova. Closer Felipe Vázquez will draw plenty of attention, but barring an Aroldis Chapman-like return, it's improbably that he'll go anywhere, given that he has a team-friendly contract that keeps him under club control through 2023 (including team options). Impending free agents Corey Dickerson, Melky Cabrera and Liriano could be moved if the Pirates decide to sell, though it seems unlikely the NL Central will have the kind of separation to make it a crystal-clear scenario.
• Pirates enter second half looking for pitchers
There is also this: Huntington made one of the biggest deals of last July when he sent Austin Meadows, Tyler Glasnow and Shane Baz to the Rays for Chris Archer, and given Archer's struggles -- as well as the ascents of Meadows and Glasnow -- he might be hesitant to be so bold again.
White Sox (42-44)
Chicago has played better than expected for much of this season, though at 42-44, the Sox face a seven-game Wild Card deficit as they begin the second half. The White Sox have six games against the Rays and Athletics prior to the Deadline, so a strong showing could cause GM Rick Hahn to look for additions. Regardless of what happens over the next two weeks, Chicago is unlikely to make any short-term moves, looking instead for controllable players as they continue to build for the future. Alex Colomé and Leury García are potential trade chips if the Sox decide to sell, but each has another year of control, so they won't just give them away.
• White Sox eye young talent to add to core
Reds (41-46)
Like the Pirates and Cardinals, the Reds are in the playoff mix, thanks to a tight, competitive division in which no team has emerged as a power. Given all the moves Cincinnati made during the offseason, it's unlikely that the front office takes a hard-sell approach, especially as they sit only 4 1/2 games out of both the division and Wild Card despite being five games below .500. If the Reds decide to add, the focus will likely be on the bullpen, with a bat also on the list of needs. The roster includes several players with expiring contracts, but trading Yasiel Puig, Scooter Gennett, Tanner Roark or even José Iglesias might be a bad message to send to the clubhouse and fan base.
• Reds have choice to make as Deadline nears
Mark Feinsand, an executive reporter, originally joined MLB.com as a reporter in 2001.