20 players, 20 Trade Deadline predictions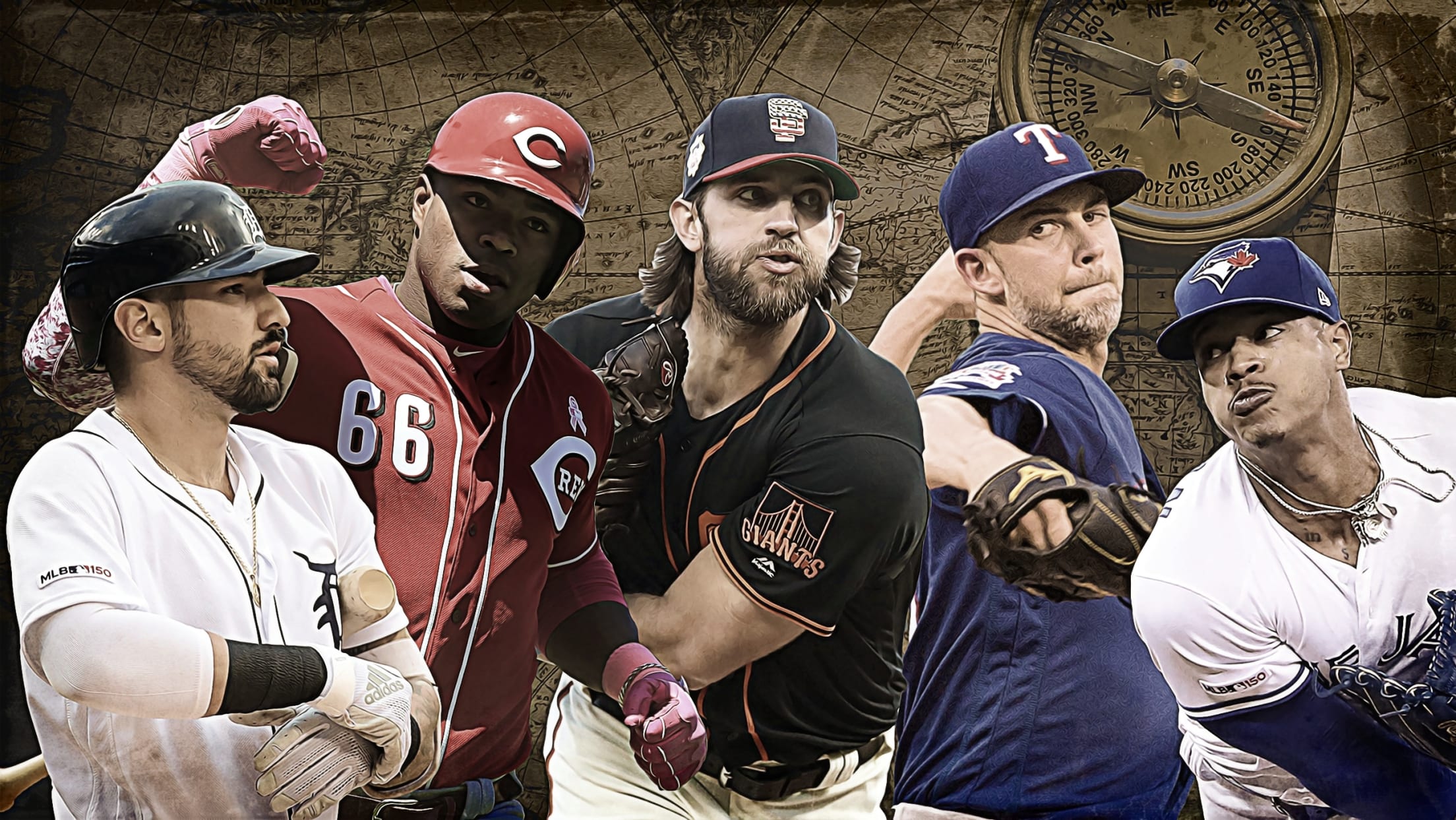 The 2019 Trade Deadline is a week from Wednesday (4 p.m. ET on July 31), and as you've probably heard, it's a little different this year. There's no August waiver period this time around, and therefore if teams want to make moves to reinforce a playoff push, they've only got
The 2019 Trade Deadline is a week from Wednesday (4 p.m. ET on July 31), and as you've probably heard, it's a little different this year. There's no August waiver period this time around, and therefore if teams want to make moves to reinforce a playoff push, they've only got a few more days to do it. This is going to be new. We don't know how it's going to play out.
That, of course, doesn't mean we can't make some predictions about some of this year's hottest rumored players to try to figure out where they might end up by the end of the month. Let's make 20 predictions for 20 names.
We did this in 2017, and we got a few right -- Alex Avila did go to the Cubs, Eduardo Núñez did go to the Red Sox, so did Addison Reed, and several big names we didn't think would be traded weren't. We did it last year too, and got a few more right -- Eduardo Escobar went to Arizona, J.A. Happ went to the Yankees, and a few others stayed put.
If a handful of correct guesses out of 40 predictions doesn't sound like a great success rate, well, that's sort of the point. These things change daily. They'll change between now and July 31, depending on injuries and performance. We guarantee most of these will be wrong -- but at least a few won't be.
(And, of course, many other deals will happen. Just because, for example, we don't have a reliever addition listed for the Rays or Braves, or a badly needed outfielder for the Cubs, it doesn't mean they won't go get one. They probably will.)
All stats entering Monday.
Madison Bumgarner, SP, Giants
Prediction: He stays.
Let's start with the biggest name and the most complicated situation: The rebuilding Giants have won 16 of their last 20 to get back to within 2 1/2 games of a playoff spot. That's fun for fans, but it makes life a little complicated for first-year general manager Farhan Zaidi, who has to weigh the opportunity to rebuild a thin farm system with the entertainment factor of an unexpected playoff push. (If a still unlikely one, given the mere 5.8% playoff odds, thick NL Wild Card race, and zero percent chance of a division title.)
Our guess is that Zaidi will thread the needle by doing a little of both. He'll deal from the team's strong bullpen, but he won't receive the offers he wants for Bumgarner, in part due to concerns that his reputation outweighs his 2019 performance, specifically his low fastball velocity (91.6 MPH) and high hard-hit rate (just 14th percentile). Throw in the X-factor of Bumgarner's limited no-trade clause, and Zaidi will keep a franchise icon and extend him a qualifying offer that Bumgarner probably won't accept this winter, meaning that at least a Draft pick will be coming back. Maybe he even signs an extension.
Will Smith, RP, Giants
Prediction: Twins.
Zaidi can't get too caught up in the run of the last few weeks, of course, and he won't, especially not with every contender dying for relief help. Smith is pretty clearly one of the two or three best relievers available, and as an impending free agent on a low-cost contract, every contender can afford him. So sure, maybe he'll end up with the Nationals, Dodgers, Red Sox, or any number of relief-needy clubs, but there's no better fit than in an exhausted Twins bullpen, where he could team with Taylor Rogers to form an elite 1-2 punch to hold off Cleveland in the Central and compete with the Yankees and Astros in October.
Tony Watson, RP, Giants
Prediction: Cardinals.
Though the St. Louis bullpen has been surprisingly effective -- the emergence of Giovanny Gallegos certainly helps -- Cardinals GM John Mozeliak has been clear about his desire for a lefty reliever. Watson isn't the only southpaw reliever out there (see our next name), but he's probably the best, and his 2020 player option means that he could be a free agent if he so chooses, so the Giants could deal Smith and Watson without decimating their 2020 relief core.
Jake Diekman, RP, Royals
Prediction: Astros.
For all the talk about Houston's need in the rotation, they don't really have a lefty reliever, as they've tried Framber Valdez, Reymin Guduan, and Cionel Perez with relatively little success from any. In fact, only four teams have had worse performance from lefty relievers, so while this may not be the need, it's definitely a need. Maybe that's Watson or Roenis Elias instead, but it seems reasonable to expect they'll try to get someone, and if they can help Diekman tamp down his 5.2 per nine walk rate without hurting his 13.4 per nine strikeout rate, maybe they can even find a way to make him better.
Marcus Stroman, SP, Blue Jays
Prediction: A's.
Yes, you'll hear endless rumors connecting Stroman to the Yankees and Astros, and those all make sense, but neither team fits the profile of liking a low-strikeout groundball-inducing machine. Enter the surging 57-43 A's, now in possession of the second Wild Card, and with what can charitably be called a thin rotation, especially after losing ace Frankie Montas to suspension.
Stroman would fit well in front of a strong Oakland infield defense -- any pitcher would enjoy having Matts Chapman and Olson, along with Marcus Semien, behind them -- and lest you think the A's don't make moves like this, remember that they're the team that traded for Jon Lester, Jeff Samardzija, and Jason Hammel nearly all at once in 2014. Let's wishcast Toronto getting the blocked-by-Chapman third base prospect Sheldon Neuse and turning Vladimir Guerrero Jr. into the first base/DH he's destined to be ahead of schedule.
Zack Greinke, SP, D-backs
Prediction: Phillies.
The Phillies, it ought to go without saying, have rotation problems. Jake Arrieta is pitching through an injured elbow, and as a group, their starters have allowed a 5.21 ERA in the last 30 days. While Aaron Nola has rebounded, Vince Velasquez and Zach Eflin can't seem to stop allowing homers, and so the Phillies have already had to rescue Drew Smyly from the unemployment line. (He did pitch well in his debut on Sunday.) But for all their struggles, they're just a half-game out of the Wild Card, and they didn't go get Bryce Harper and J.T. Realmuto to wait until next year.
Why, then, not Greinke? While he's in his age-35 season and owed approximately $80 million over the next two-and-a-half seasons, the six-time All-Star is still pitching as effectively as ever (2.93 ERA), and they still are $16 million under the luxury tax and $75 million under next year's. Assuming most of the contract would limit the talent they'd need to send back to Arizona, and it would give them depth in the likely scenario that Arrieta requires surgery this winter -- if not sooner. Philly is reportedly on Greinke's 15-team no-trade list, but teams often work around such provisions, especially if the player is compensated in some form for doing so.
Zack Wheeler SP, Mets
Prediction: Astros.
The Astros don't just need better starters, they need starters, because they really only have three in Justin Verlander, Gerrit Cole, and Wade Miley; they're going to try to ride a four-man rotation out through the Trade Deadline.
The Astros will ride a four-man rotation through the Trade Deadline because they have a few off days. They won't need a fifth starter again until Aug. 2.

— Brian McTaggart (@brianmctaggart) July 21, 2019
There's a risk here, obviously, in the fact that Wheeler is currently on the IL with shoulder fatigue, though his Sunday bullpen session went well and he's expected to be back to start before the Deadline. If so -- and if Houston can't pull off a far more entertaining swap for Noah Syndergaard -- Wheeler certainly fits the mold of a talented pitcher who could be made even better by the Astros. His 4.69 ERA belies the fact that his strikeout rate is a career-high 25.6%, while his walk rate is down to a career-best 6.7%. He'll be a free agent at the end of the year, which doesn't help a 2020 Houston rotation that may lose both Cole and Miley, but that might be a problem for another day.
Eric Sogard, IF, Blue Jays
Prediction: Cubs.
This feels like cheating a little, because we've already heard rumors connecting Sogard to the Cubs, but the fit makes sense, so let's not overthink it. Sogard is hitting a stellar .305/.369/.491, and while no one on earth should think that's sustainable from a 33-year-old who has never come close to that -- literally no one with 200 batted balls has a softer hard-hit rate than he does -- he's still a contact-hitting multi-positional veteran that would appeal to a Chicago team that has had unacceptable second base production from Addison Russell, Daniel Descalso, and friends.
Yasiel Puig, RF, Reds
Prediction: Indians.
The Reds received a great deal of credit last winter for adding to their team in an attempt to break a skid of six straight losing seasons, but it hasn't worked -- at 44-53, they're once again in last place in the NL Central. That means they'll likely pivot and sell off their impending free agents, and that might mean Puig, who shook off a brutal start (.192/.226/.354 in April) to rake; since June 1, he's been one of the 20 best hitters in baseball (.318/.358/.635), as good as Cody Bellinger or Alex Bregman. There's actually a strong baseball fit with the Cubs, though we'll consider that unlikely after last month's Pedro Strop-related shenanigans, so Puig stays in Ohio, heading to a Cleveland club that's back in the playoff race and still in need of outfield help, even with Oscar Mercado and Tyler Naquin playing well.
Hunter Pence, DH/RF, Rangers
Prediction: Rays.
Texas once seemed like a dark-horse playoff contender, but dropping 13 of its last 17 games has all but ended any October hopes, moving them into the category of "likely sellers." At 36, Pence's rebound to being named the starting DH for the AL in the All-Star game has been one of the best stories of the season, and he's healed now from the groin strain that kept him from playing in the Midsummer Classic. Texas might have some motivation to move Pence in order to open up some DH time for Willie Calhoun, and Pence's .290/.349/.581 line -- along with two rings and extensive playoff experience -- makes him appealing. The Rays have been vocal in their desire for a right-handed bat (they attempted to get Edwin Encarnacion before the Yankees did), and you could see Puig landing in Tampa Bay too. For that matter, you could see Pence in Cleveland, also.
Nicholas Castellanos, RF/DH, Tigers
Prediction: He stays.
The Tigers, and Castellanos, find themselves in a tough spot. His defensive limitations make it somewhat hard to see a trade to the National League (the Cubs have been rumored) happening, and both Puig and Pence have arguments for comparable or better bats. Then consider that AL contenders like the Yankees, Red Sox, and Twins have little need for an outfield-DH type -- and that the ones like Tampa Bay who would might prefer Puig or Pence -- and it's hard to see Detroit getting an impressive offer. We've seen this story before, when they traded J.D. Martinez to Arizona in 2017 for relatively little, and they may not want to do it again.
Mike Minor, SP, Rangers
Prediction: Yankees.
Texas is in something of a tough spot with Minor, because they would like to remain competitive for the 2020 opening of their new ballpark, but at the same time understanding that Minor's value will probably never be higher and that there's a very real possibility that Bumgarner, Trevor Bauer, and Matthew Boyd all stay put. If so, that would make the starting pitcher market pretty thin, and the Yankees pretty clearly would like to add another strong starter, especially one who can replace the retiring CC Sabathia in 2020. This won't net the Rangers pitching phenom Deivi Garcia. It might get them a bat like Clint Frazier or Estevan Florial.
Ken Giles, RP, Blue Jays
Prediction: Dodgers.
The Dodgers could sure use another reliever or three, and they don't seem likely to be mesmerized by the good-not-great peripherals behind Shane Greene's shiny ERA and saves. A more likely fit seems like Giles, who has rebounded from a bad finish to his Houston career by becoming one of the more dominant relievers in baseball this year for Toronto, both by traditional metrics (1.64 ERA) and advanced (his 43.2% strikeout rate is baseball's second-highest, and his Statcast quality-of-contact metrics are top five.) Though he did miss some time with nerve inflammation in his right elbow, he was healthy enough to strike out three Tigers while nailing down a save on Saturday.
Chris Martin, RP, Rangers
Prediction: Dodgers.
Why stop there, if you're Andrew Friedman? This is probably the most talented team the Dodgers have had in their current run, but after two straight losses in the World Series, nothing short of a ring will count, and the most obvious place to add is in the bullpen. Giles would be a good start, but a sneaky good name for the Dodgers would be the fascinating Martin, who is 33 with just over a year of service time, but still will be a free agent at the end of the year due to the rules regarding his mid-career sojourn to Japan.
Martin is in the midst of a ridiculous run, having struck out 33 since his last walk, which came on April 30; his 2.1% walk rate is the second-lowest in baseball. Put Giles and Martin in front of Kenley Jansen and Pedro Baez, throw in some Julio Urias, Ross Stripling and Kenta Maeda (assuming he isn't in the October rotation), and now you've got something.
Matthew Boyd, SP, Tigers
Prediction: He stays.
Boyd, a Trade Deadline acquisition himself back in the 2015 David Price deal, has had himself a well-documented breakout season, headlined by the fact that only Hyun-Jin Ryu, Max Scherzer, Walker Buehler, and Zack Greinke have superior strikeout-to-walk ratios than he does. If the Tigers make him available, he'll surely require a huge return. Then again, Boyd is just 28 and under team control for an additional three seasons after this one, while the Tigers are headed for their fourth losing year in five seasons. If that's going to end any time soon, they'll have to hang on to some of their long-term talent.
Felipe Vázquez, RP, Pirates
Prediction: He stays.
"We fully anticipate Felipe will be closing the next playoff games that we're a part of," Pirates general manager Neil Huntington told MLB.com's Adam Berry. You don't always have to take a GM at their word, but Vázquez is A) elite and B) under team control through 2023 at extremely reasonable prices. Pittsburgh's asking price is reportedly exorbitant, correctly so, and that will keep Vázquez in Pittsburgh, at least for now.
Shane Greene, RP, Tigers
Prediction: Nationals
That doesn't hold true for Greene, however, because he's 30, coming off a 5.12 ERA season, and a free agent after 2020. While he's not pitching quite as well as that 1.25 ERA would indicate, he's still an upgrade for most teams, and especially so for a resurgent Washington club that is now in possession of a Wild Card spot and still within shouting distance of Braves in the NL East. The early season disaster of a bullpen has improved, but they've made it quite clear that additional relief help in front of Sean Doolittle is a priority, and they've been connected to Greene.
Trevor Bauer, Indians
Prediction: He stays.
It's tempting to think Cleveland could buy and sell at the same time -- Tampa Bay did this last year when they traded Chris Archer away while acquiring Tommy Pham -- but the Indians have played so well lately that they're just three games out in the AL Central and in possession of a Wild Card spot. They still don't have firm return dates on Corey Kluber or Carlos Carrasco, though they expect to see both again this season. This would be different if they were still 11 1/2 games out, as they were in June, but they can't make this move now. An offseason Bauer trade might still be in the cards.
Corey Dickerson, OF, Pirates
Prediction: A's
Dickerson does the same thing every year, which is to be about 15 percent better than average on offense, play slightly better defense than you think he does, and to have large platoon splits (career .860 OPS against righties, just .710 OPS vs lefties). He'll be a free agent at the end of the year, so this might be as simple as looking for contenders who could use a lefty-swinging addition in the outfield corners and/or DH. Our roulette wheel lands on the A's, who have received a mere .232/.313/.382 line from those spots this year (fifth-weakest in baseball). Stephen Piscotty is still a few weeks away from returning from a knee injury and wasn't hitting much even before that (88 OPS+), while Dickerson could be a decent platoon partner both for Robbie Grossman (historically better against lefties) and Khris Davis, suffering through a shocking power outage.
Todd Frazier, 3B, Mets
Prediction: Red Sox
Though Boston could still use pitching help -- no, Andrew Cashner alone won't cut it -- might we suggest a minor move for small bench improvement? Consider this: Looking at team performance from first and third base against lefty pitching, the .226/.259/.380 put up by the Red Sox is 29th, or second-worst. That's because Rafael Devers is much stronger against righty pitching than lefty pitching; because lefty Mitch Moreland, when healthy, has massive platoon splits; and because Steve Pearce, who was supposed to help fill this role, hit just .180/.245/.258 before injuring his back and hasn't played since May. Frazier is no star, but he's a low-cost league-average bat who is something more than that against lefties (career .808 OPS). Every little bit matters.
Mike Petriello is an analyst for MLB.com and the host of the Statcast podcast.