Votto, Suarez, Iglesias in top 10 ballot update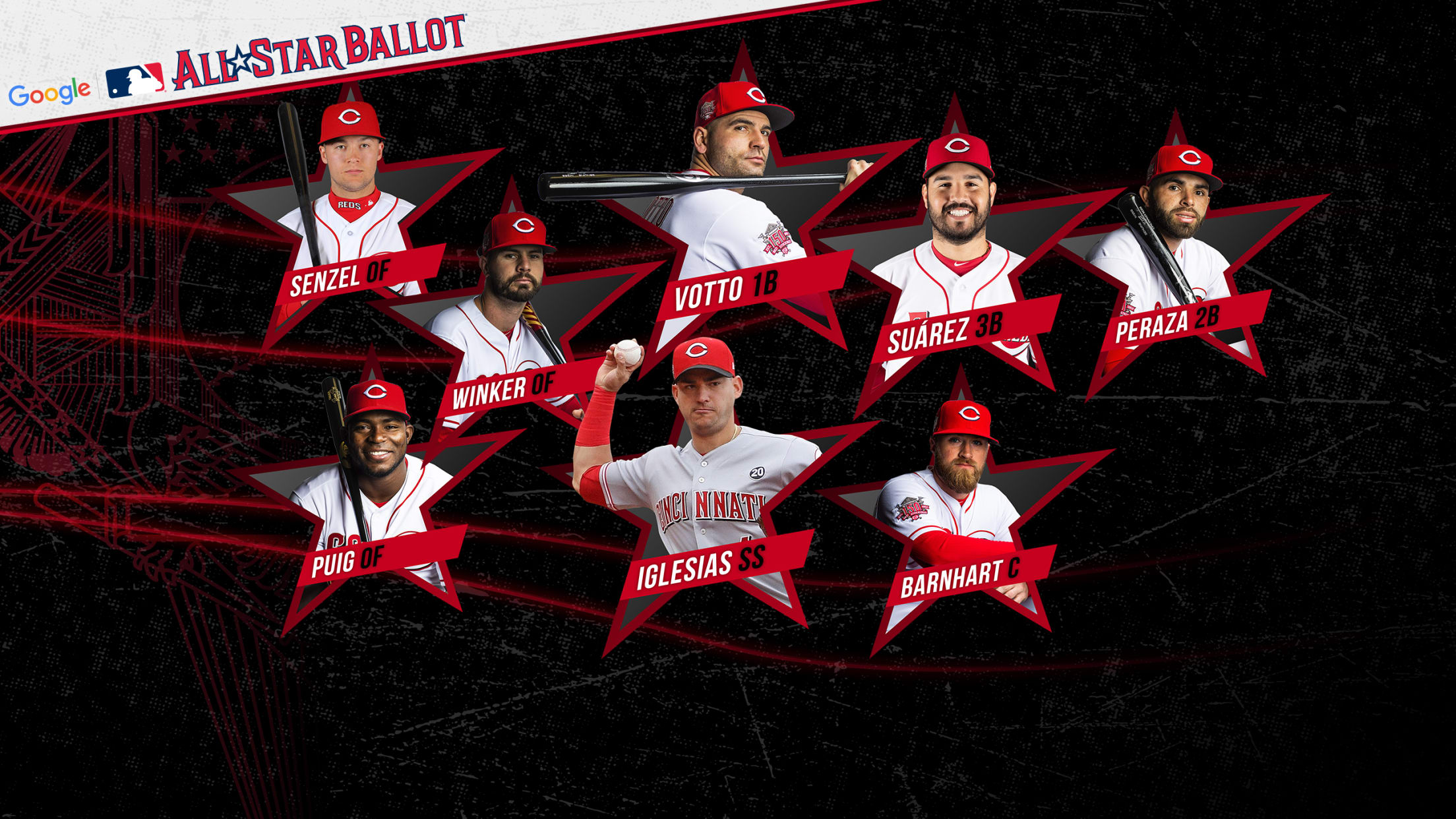 Read our FAQ on this year's revamped balloting format, which includes two phases of fan voting to determine the All-Star starters, and the ability to vote through Google Search. CLEVELAND -- Three Reds players cracked the top 10 in the first National League voting update for the 2019 Google All-Star
Read our FAQ on this year's revamped balloting format, which includes two phases of fan voting to determine the All-Star starters, and the ability to vote through Google Search.
CLEVELAND -- Three Reds players cracked the top 10 in the first National League voting update for the 2019 Google All-Star Ballot, released on Tuesday. However, they will need many more votes to get an opportunity to reach the second election for starters.
• VOTE NOW: Google MLB All-Star Ballot
Six-time All-Star Joey Votto was 10th among first basemen with 60,985 votes and well behind leader Josh Bell of the Pirates and his 621,915 votes. At third base, 2018 All-Star Eugenio Suarez was eighth with 69,052 votes while Nolan Arenado of the Rockies led with 783,684 votes.
At shortstop, Jose Iglesias was ninth with 81,091 votes. The Cubs' Javier Baez is the leader with 891,496 votes.
Following a slow start over the first two months, Votto entered Tuesday batting .256/.347/.379 with five home runs and 14 RBIs. But he came in batting .412 over his last 12 games.
Suarez is following up his career 2018 season with another strong effort in '19 while batting .265/.338/.500 with 14 homers and 41 RBIs. Iglesias, who emerged as a starter for Cincinnati late in Spring Training because of an injury to Scooter Gennett, came in batting .291/.330/.413 with four homers and 22 RBIs.
One Reds player not among voting leaders, or even on the ballot, Cleveland native and second baseman Derek Dietrich is having a breakout year. He entered leading the team with a career-high 17 home runs. But not listed among second basemen, Dietrich is in need of write-in votes, which is possible.
Dietrich hopes he has a chance to go to the All-Star Game and participate in the Home Run Derby.
"I mean think about it, I'm a Cleveland kid. I've played the game a long time in the Major Leagues," Dietrich said. "I'm having the best year I've ever had. I'm hoping for the opportunity to represent the Reds here in my hometown and be a part of the All-Star Game festivities. I think it would be a dream come true."
Fans may vote in "The Primary" at MLB.com and all 30 club sites, the MLB At Bat and MLB Ballpark apps up to five times in any 24-hour period. Fans in the US and Canada can also vote on Google Search for every position, or up to 17 unique players per day, by searching "MLB Vote" or the names of their favorite players. Primary voting ends at 4 p.m. ET on Friday, June 21.
The top three vote-getters at each position (including nine outfielders) per league will move on to "The Starters Election," which begins at noon ET on Wednesday, June 26. The votes will reset for a 28-hour voting window that ends at 4 p.m. ET on Thursday, June 27. Starters for the 2019 Midsummer Classic will be unveiled on ESPN that night at 7 ET. The pitchers and reserves will be announced on Sunday, June 30, at 5:30 p.m. ET.
Then on Tuesday, July 9, during the 2019 All-Star Game presented by Mastercard, fans may visit MLB.com and the 30 club sites to submit their choices for the Ted Williams Most Valuable Player Award presented by Chevrolet.
The 90th Midsummer Classic, at Progressive Field in Cleveland, will be televised nationally by FOX Sports; in Canada by Rogers Sportsnet and RDS; and worldwide by partners in more than 180 countries. FOX Deportes will provide Spanish-language coverage in the United States, while ESPN Radio and ESPN Radio Deportes will provide exclusive national radio coverage. MLB Network, MLB.com and SiriusXM also will provide comprehensive All-Star Week coverage. For more information about MLB All-Star Week and to purchase tickets, please visit AllStarGame.com and follow @MLB and @AllStarGame on social media.
Mark Sheldon has covered the Reds for MLB.com since 2006, and previously covered the Twins from 2001-05. Follow him on Twitter @m_sheldon and Facebook.