Mejia working to find his role with Twins
Perez, Pineda to piggyback; freezing temps continue at Target Field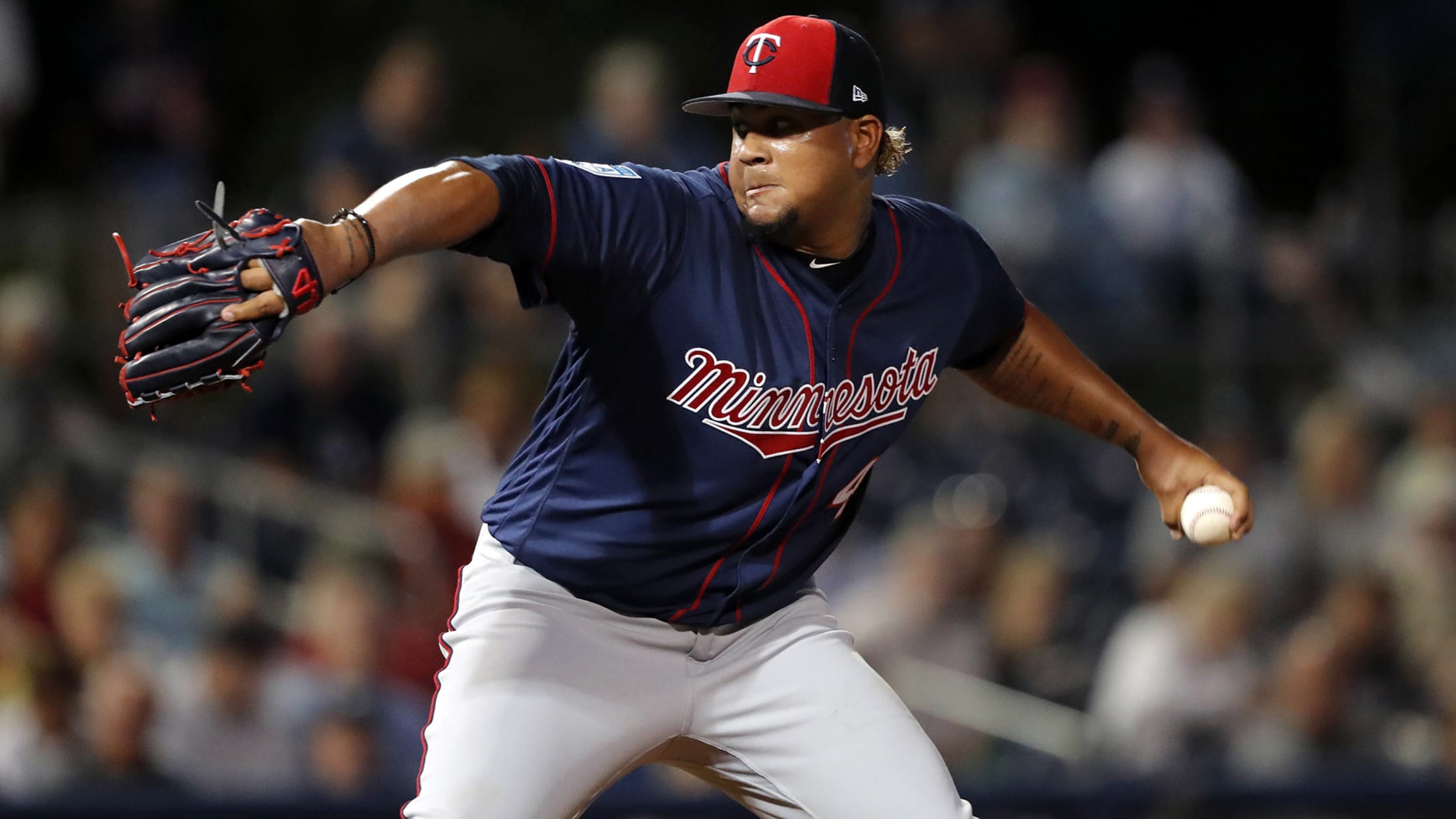 MINNEAPOLIS -- Adalberto Mejia's first appearance of 2019 was in a short, two-out stint on Saturday, but Twins manager Rocco Baldelli said that Mejia remains stretched out for longer appearances out of the bullpen. As with many of the pitchers in Minnesota's relief corps, Baldelli believes that the 25-year-old left-hander
MINNEAPOLIS -- Adalberto Mejia's first appearance of 2019 was in a short, two-out stint on Saturday, but Twins manager Rocco Baldelli said that Mejia remains stretched out for longer appearances out of the bullpen. As with many of the pitchers in Minnesota's relief corps, Baldelli believes that the 25-year-old left-hander can be counted on in different roles as the Twins navigate unique pitching challenges due to their early distribution of off-days.
"We're going to have to try and balance this with all of our guys," Baldelli said. "So, we want all of our guys out there pitching under ideal circumstances, but it never really plays out like that. So, we'll do our best to make it work."
The Twins committed early in the spring to readying Mejia as a starter, while Fernando Romero was moved to the bullpen to prepare for shorter stints out of the bullpen. But with the entirety of Minnesota's rotation remaining healthy through Spring Training, the Twins will look for opportunities to continue to get Mejia his work as a reliever.
"Mejia is still stretched out," Baldelli said. "We're going to have to probably do things over time to maintain that in one way or another and stretched-out is a relative term. Probably a situation where he's available to throw more than one inning, and maybe in some situations, more than two innings. But we'll do everything we can to maintain that even if the games don't dictate him going out there and pitching two to three innings."
Mejia, who hit 94 mph in his 10-pitch, two-strikeout relief appearance against the Indians on Saturday, only appeared in five games last season -- including four starts -- as he dealt with a nerve issue in his left wrist following his promotion from Triple-A Rochester in July. Mejia has primarily been used as a starter in the Majors and Minors, and Baldelli didn't yet have a sense for whether the big left-hander's velocity could get a boost in his new relief role.
"I think it plays differently for every person that's moved into shorter stints," Baldelli said. "So, if he's used to preparing as just a straight starter and you bring -- let's just say not even Mejia, but anyone. Some of those guys really tick up, and some of them don't. It doesn't necessarily mean they're not still very good pitchers and good at what they do. There's no way to really tell until you get a guy out there and just let him do his thing."
No set plan for Perez beyond Sunday
Martin Perez followed starter Michael Pineda into Sunday's game in a "piggyback" role out of the bullpen to keep him stretched out until the Twins can fit him into the starting rotation. Pineda struck out 5 and allowed 1 hit over 4 scoreless innings before Perez took over. The lefty followed Pineda by striking out 6 and allowing 3 runs on 5 hits over 3 2/3 innings. According to pitching coach Wes Johnson, there isn't a set plan for how the team plans to deploy Perez beyond Sunday.
"That's kind of to be determined," Johnson said. "There's a lot of factors, right? Weather, we go through a million scenarios right now that could put him with [Pineda] again, or if something crazy happens, you don't know. So, without putting ourselves in a hole and saying he's following whoever, there's too many factors to say who he follows next."
Perez following Pineda in his first outing on Sunday made sense for the team as a starting point, as Pineda is returning from both Tommy John surgery and a procedure to repair a torn meniscus that have kept him out of Major League action since July 2017.
"That way, we don't put too much pressure on [Pineda], and Martin can come in and get in his work," Johnson said. "So yeah, that's just the thought there. We want him to continue to go because he is going to be in our rotation as we move forward and as we get out of all of these off-days. So, you're getting him work, and it's going to be good."
Hitters continue to deal with frigid temperatures
The game-time temperature at first pitch on Sunday was again expected to be in the mid-thirties, presenting an added challenge to hitters on both teams. Saturday's first pitch occurred at 34 degrees, making it the third-coldest game in Target Field history.
"Even for the strongest-minded, best hitters in baseball, it's definitely a challenge, especially when you're facing quality pitching like the four starters that have thrown over the last two games," Baldelli said. "There's a physical aspect of it where some of these guys literally can't feel their hands, but they tell themselves they can do it, and they go out there and do it.
"I think if we ever looked back on it and tried to figure it out, I think we'd find that in those cold, windy conditions, runs are down and hard-hit balls are probably down."