Surprising names start strong in AL Primary vote
Trout overall vote leader at first All-Star balloting update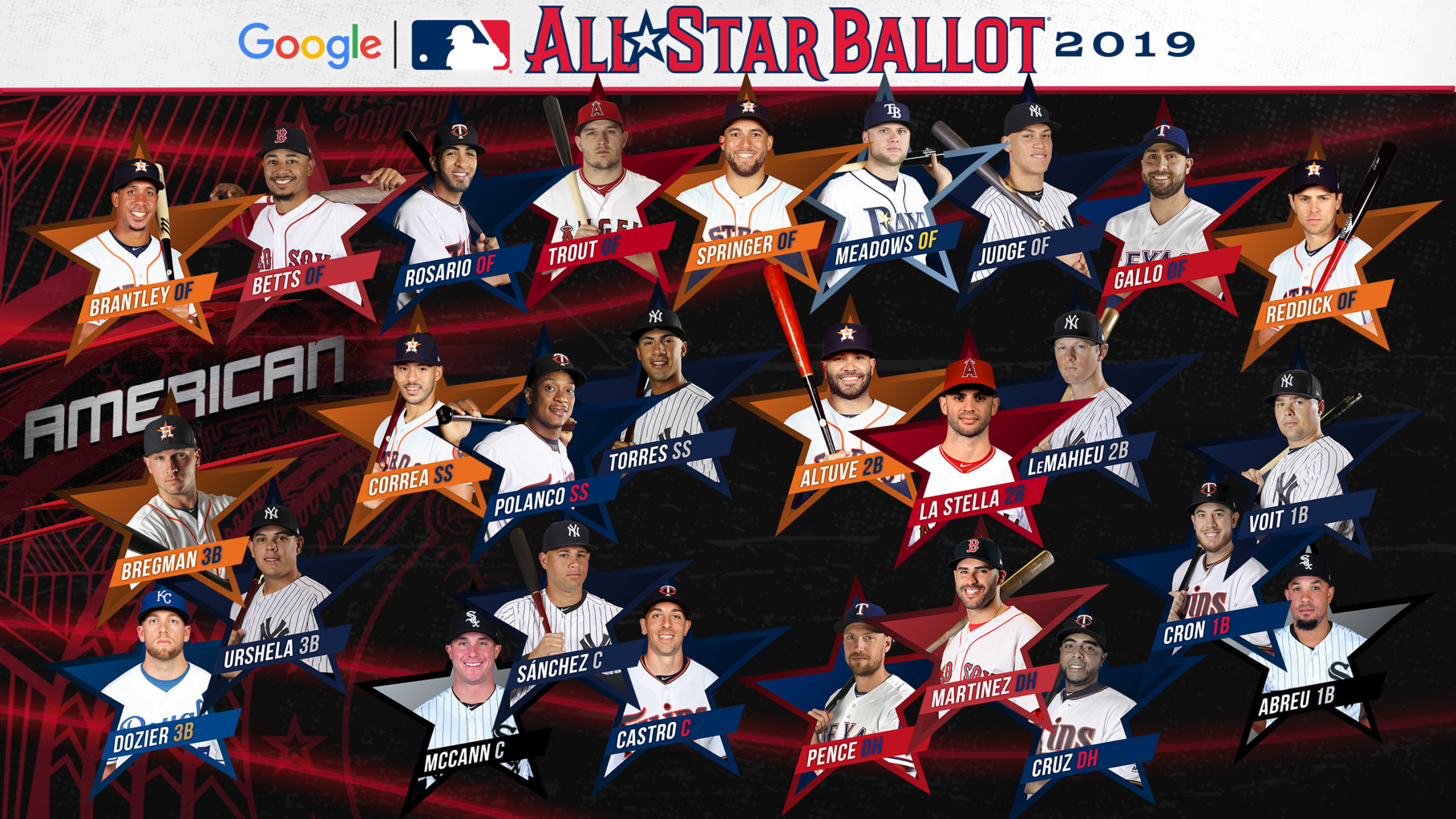 Read our FAQ on this year's revamped balloting format, which includes two phases of fan voting to determine the All-Star starters, and the ability to vote through Google Search. There was no shortage of surprises in the American League portion of updated results of the 2019 Google MLB All-Star Ballot
Read our FAQ on this year's revamped balloting format, which includes two phases of fan voting to determine the All-Star starters, and the ability to vote through Google Search.
There was no shortage of surprises in the American League portion of updated results of the 2019 Google MLB All-Star Ballot revealed on Monday.
• VOTE NOW: Google MLB All-Star Ballot
Sure, Mike Trout and George Springer are the leading overall vote-getters in the AL for next month's All-Star Game presented by Mastercard, but wait until you see which outfielder has the third most votes in the first update in the initial phase of the selection process.
In fact, Trout and Springer are the only leading vote-getters at their respective positions (top three in the outfield) who have started an All-Star Game previously. Keep in mind, however, that players simply need to be in the top three in this first round of voting -- or top nine in the outfield -- to advance to the next round.
With that in mind, let's take a look at the first returns at each position:
CATCHER
1) Gary Sanchez, Yankees -- 737,107
2) James McCann, White Sox -- 289,475
3) Jason Castro, Twins -- 199,497
4) Robinson Chirinos, Astros -- 197,976
5) Christian Vazquez, Red Sox -- 183,291
6) Jonathan Lucroy, Angels 139,059
7) Josh Phegley, Athletics -- 89,795
8) Mike Zunino, Rays -- 64,167
9) Martin Maldonado, Royals -- 56,763
10) Roberto Perez, Indians -- 55,799
In the midst of an incredible bounce-back campaign, Gary Sanchez holds the largest lead at any position in American League balloting. After hitting just .186 with 18 homers last season, Sanchez has already topped that home run total in 2019 and is putting up far better numbers across the board. Keep in mind, however, players are simply jockeying to be in the top three for this Primary portion of the voting -- and that means this is actually the tightest position battle with Jason Castro leading Robinson Chirinos by just 1,521 votes for that third spot.
FIRST BASE
1) Luke Voit, Yankees -- 393,356
2) C.J. Cron, Twins -- 302,586
3) Jose Abreu, White Sox 286,145
4) Carlos Santana, Indians -- 250,615
5) Albert Pujols, Angels -- 192,816
6) Yuli Gurriel, Astros -- 188,318
7) Miguel Cabrera, Tigers -- 180,803
8) Mitch Moreland, Red Sox -- 116,979
9) Ji-Man Choi, Rays -- 77,847
10) Chris Davis, Orioles -- 70,010
The top two vote-getters at first base, Luke Voit and C.J. Cron, are both vying for their first career All-Star selection. Jose Abreu, meanwhile, is hoping to be the AL's starter at first base for a second straight season. Meanwhile, a pair of legends in Albert Pujols and Miguel Cabrera currently sit in fifth and seventh, respectively. That duo has a combined 21 All-Star appearances.
SECOND BASE
1) Tommy La Stella, Angels -- 487,598
2) Jose Altuve, Astros -- 448,131
3) DJ LeMahieu, Yankees -- 379,820
4) Jonathan Schoop, Twins -- 179,792
5) Michael Chavis, Red Sox -- 156,208
6) Whit Merrifield, Royals -- 146,670
7) Brandon Lowe, Rays -- 110,507
8) Dee Gordon, Mariners -- 63,483
9) Yolmer Sanchez, White Sox -- 55,079
10) Jason Kipnis, Indians -- 50,065
The top three at second base in the AL have distanced themselves from the rest of the pack, with Tommy La Stella -- one of the biggest surprises of the first half -- leading the way. The Angels second baseman has already clubbed more homers this year than he had in 396 games over his previous five seasons. Jose Altuve, who has started four straight All-Star Games at second base, is holding strong in second place, despite being sidelined since May 10. DJ LeMahieu is in third, more than 200,000 more votes ahead of Jonathan Schoop.
THIRD BASE
1) Alex Bregman, Astros -- 630,159
2) Gio Urshela, Yankees -- 269,716
3) Hunter Dozier, Royals -- 216,809
4) Rafael Devers, Red Sox -- 202,569
5) Matt Chapman, Athletics -- 159,155
6) Vladimir Guerrero Jr., Blue Jays -- 150,074
7) Marwin Gonzalez, Twins -- 132,235
8) Yoan Moncada, White Sox -- 122,121
9) David Fletcher, Angels -- 90,761
10) Yandy Diaz, Rays -- 62,930
It's no surprise that Alex Bregman has a commanding overall lead among AL third basemen, but the race for the top three is a close one. Gio Urshela and Hunter Dozier currently round out the top three, but five players are within 100,000 votes of Dozier.
SHORTSTOP
1) Jorge Polanco, Twins -- 395,210
2) Carlos Correa, Astros -- 329,421
3) Gleyber Torres, Yankees -- 322,958
4) Tim Anderson, White Sox -- 281,862
5) Xander Bogaerts, Red Sox -- 220,317
6) Francisco Lindor, Indians -- 175,868
7) Andrelton Simmons, Angels -- 130,774
8) Adalberto Mondesi, Royals -- 81,777
9) Elvis Andrus, Rangers -- 73,559
10) Willy Adames, Rays -- 60,392
Enjoying a breakout season with the first-place Twins, shortstop Jorge Polanco has his sights set on his first career All-Star selection. Carlos Correa, who was the AL starter in 2017, is in second, though he's currently sidelined with a fractured rib. That leaves the door open for guys like Gleyber Torres, clinging to the third spot, and White Sox shortstop Tim Anderson, who is within striking distance in the No. 4 spot.
OUTFIELD
1) Mike Trout, Angels -- 951,002
2) George Springer, Astros -- 776,352
3) Austin Meadows, Rays -- 468,111
4) Michael Brantley, Astros -- 458,577
5) Mookie Betts, Red Sox -- 450,407
6) Eddie Rosario, Twins -- 344,215
7) Aaron Judge, Yankees -- 308,134
8) Joey Gallo, Rangers -- 281,179
9) Josh Reddick, Astros -- 220,079
10) Max Kepler, Twins -- 202,822
11) Byron Buxton, Twins -- 192,230
12) Andrew Benintendi, Red Sox -- 138,911
13) Brett Gardner, Yankees -- 138,426
14) Jackie Bradley Jr., Red Sox -- 124,490
15) Tommy Pham, Rays -- 119,691
16) Aaron Hicks, Yankees -- 110,139
17) Trey Mancini, Orioles -- 100,457
18) Shin-Soo Choo, Rangers -- 95,875
19) Kevin Kiermaier, Rays -- 76,526
20) Kole Calhoun, Angels -- 74,625
There should be no surprise among the top two vote-getters in the AL outfield, with Mike Trout and George Springer leading the way -- but the guy in third might raise a few eyebrows. Tampa Bay's Austin Meadows, who has been on an absolute tear in 2019, currently sits just ahead of the likes of Michael Brantley, Mookie Betts, Eddie Rosario and Aaron Judge. For the outfield, however, remember that the top nine vote-getters will advance to the next round of voting, which means the focus is currently on Max Kepler, Byron Buxton, Andrew Benintendi and Brett Gardner, as they try to close the gap on Josh Reddick.
DESIGNATED HITTER
1) J.D. Martinez, Red Sox -- 491,955
2) Hunter Pence, Rangers -- 329,321
3) Nelson Cruz, Twins -- 214,702
4) Shohei Ohtani, Angels -- 166,275
5) Giancarlo Stanton, Yankees -- 157,411
6) Aledmys Diaz, Astros -- 152,614
7) Khris Davis, Athletics -- 140,227
8) Daniel Vogelbach, Mariners -- 131,700
9) Avisail Garcia, Rays -- 127,731
10) Yonder Alonso, White Sox -- 71,174
J.D. Martinez holds the top spot at DH, as he continues his bid for a second straight All-Star Game start. Yet another early-season surprise player is right at his heels, with three-time All-Star Hunter Pence enjoying a resurgent season with the Rangers. Nelson Cruz would currently be the third player advancing to The Starters Election, but Shohei Ohtani, who sits in fourth after missing the first 34 games of the season, is starting to heat up in Anaheim.
Fans may vote in "The Primary" at MLB.com and all 30 club sites, the MLB At Bat and MLB Ballpark apps up to five times in any 24-hour period. Fans in the US and Canada can also vote on Google Search for every position, or up to 17 unique players per day, by searching "MLB Vote" or the names of their favorite players. Primary voting ends at 4 p.m. ET on Friday, June 21.
The top three vote-getters at each position (including nine outfielders) per league will move on to "The Starters Election," which begins at noon ET on Wednesday, June 26. The votes will reset for a 28-hour voting window that ends at 4 p.m. ET on Thursday, June 27. Starters for the 2019 Midsummer Classic will be unveiled on ESPN that night at 7 ET. The pitchers and reserves will be announced on Sunday, June 30, at 5:30 p.m. ET.
Then on Tuesday, July 9, during the 2019 All-Star Game presented by Mastercard, fans may visit MLB.com and the 30 club sites to submit their choices for the Ted Williams Most Valuable Player Award presented by Chevrolet.
The 90th Midsummer Classic, at Progressive Field in Cleveland, will be televised nationally by FOX Sports; in Canada by Rogers Sportsnet and RDS; and worldwide by partners in more than 180 countries. FOX Deportes will provide Spanish-language coverage in the United States, while ESPN Radio and ESPN Radio Deportes will provide exclusive national radio coverage. MLB Network, MLB.com and SiriusXM also will provide comprehensive All-Star Week coverage. For more information about MLB All-Star Week and to purchase tickets, please visit AllStarGame.com and follow @MLB and @AllStarGame on social media.