Astros show up big in 1st All-Star ballot update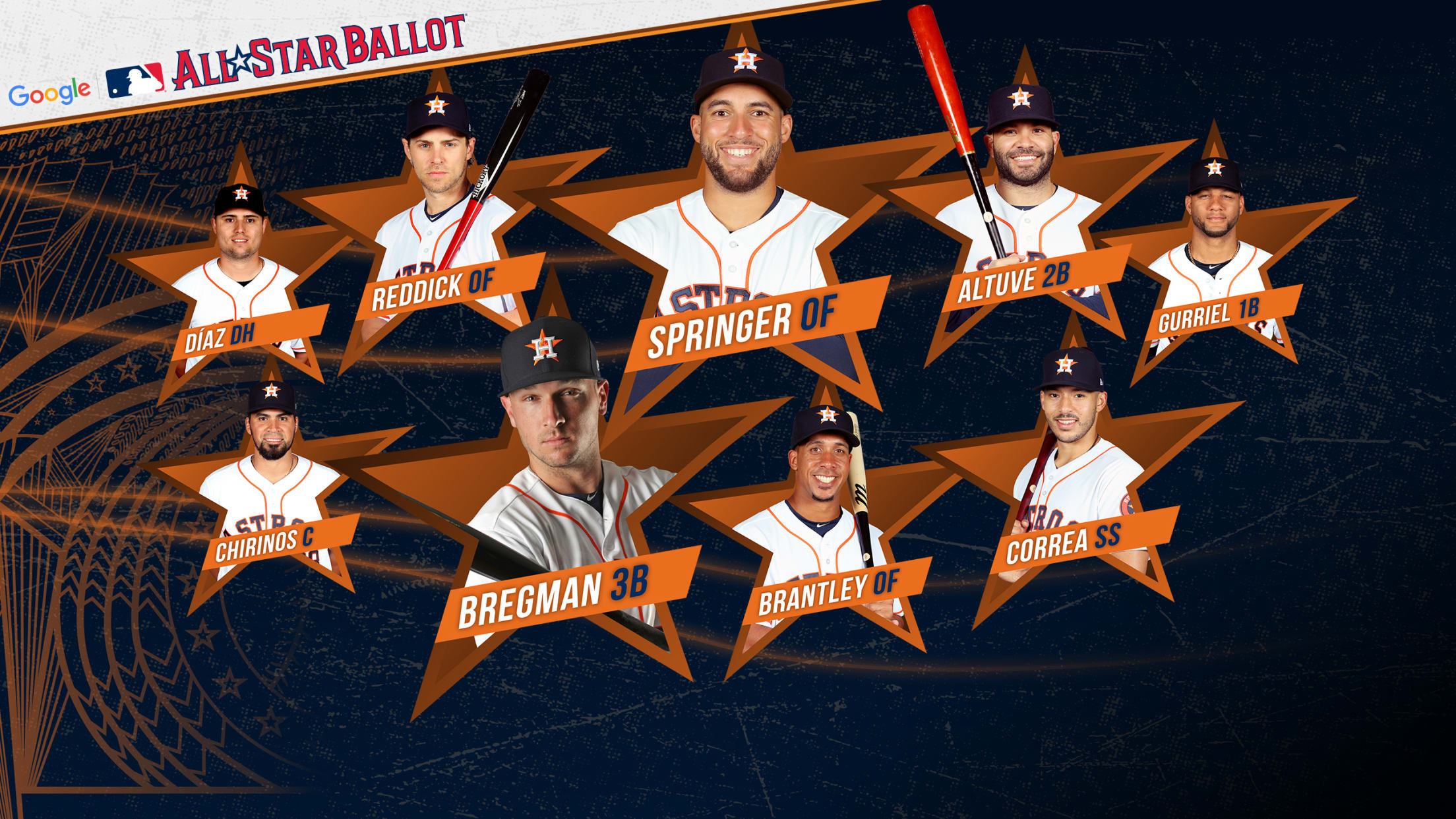 Read our FAQ on this year's revamped balloting format, which includes two phases of fan voting to determine the All-Star starters, and the ability to vote through Google Search.
Read our FAQ on this year's revamped balloting format, which includes two phases of fan voting to determine the All-Star starters, and the ability to vote through Google Search.
HOUSTON -- Astros third baseman Alex Bregman leads all American League third basemen in the first update of American League All-Star Game voting results, which was released by Major League Baseball on Monday.
• VOTE NOW: Google MLB All-Star Ballot
Bregman, who was the All-Star Game MVP last year, has 630,159 votes, which is over 360,000 more votes than the next closest third baseman, Gio Urshela of the Yankees (269,716). His vote total also ranks fourth among all AL players regardless of position, behind only Angels outfielder Mike Trout (951,002), Astros teammate and outfielder George Springer (776,352) and Yankees catcher Gary Sánchez (737,107).
Springer trails only Trout for the lead among outfielders. Jose Altuve stands in second place among AL second basemen with 448,131 votes, trailing Tommy La Stella of the Angels by less than 40,000 votes. Carlos Correa (329,421) also ranks second among shortstops behind Jorge Polanco (395,210) of the Twins.
Springer, Altuve and Correa have been on the injured list since late May. Springer (hamstring strain) and Altuve (right leg fatigue/soreness) could return later this month. Correa cracked a rib getting a massage two weeks ago and could be out another month.
Meanwhile, Michael Brantley ranks fourth AL among outfielders (458,577) while Josh Reddick (220,079) ranks ninth. Also garnering votes for the Astros are catcher Robinson Chirinos (fourth, 197,976), first baseman Yuli Gurriel (sixth, 188,318) and designated hitter Aledmys Díaz (152,614). Diaz is also on the IL with a hamstring injury.
Last season, the Astros had a club-record-tying six players make the All-Star team, while the entire Astros coaching staff represented the club at the All-Star Game, led by Astros manager AJ Hinch.
Fans may vote in "The Primary" at MLB.com and all 30 club sites, the MLB At Bat and MLB Ballpark apps up to five times in any 24-hour period. Fans in the US and Canada can also vote on Google Search for every position, or up to 17 unique players per day, by searching "MLB Vote" or the names of their favorite players. Primary voting ends at 4 p.m. ET on Friday, June 21.
The top three vote-getters at each position (including nine outfielders) per league will move on to "The Starters Election," which begins at noon ET on Wednesday, June 26. The votes will reset for a 28-hour voting window that ends at 4 p.m. ET on Thursday, June 27. Starters for the 2019 Midsummer Classic will be unveiled on ESPN that night at 7 ET. The pitchers and reserves will be announced on Sunday, June 30, at 5:30 p.m. ET.
Then on Tuesday, July 9, during the 2019 All-Star Game presented by Mastercard, fans may visit MLB.com and the 30 club sites to submit their choices for the Ted Williams Most Valuable Player Award presented by Chevrolet.
The 90th Midsummer Classic, at Progressive Field in Cleveland, will be televised nationally by FOX Sports; in Canada by Rogers Sportsnet and RDS; and worldwide by partners in more than 180 countries. FOX Deportes will provide Spanish-language coverage in the United States, while ESPN Radio and ESPN Radio Deportes will provide exclusive national radio coverage. MLB Network, MLB.com and SiriusXM also will provide comprehensive All-Star Week coverage. For more information about MLB All-Star Week and to purchase tickets, please visit AllStarGame.com and follow @MLB and @AllStarGame on social media.