Meadows drops to 4th among AL outfielders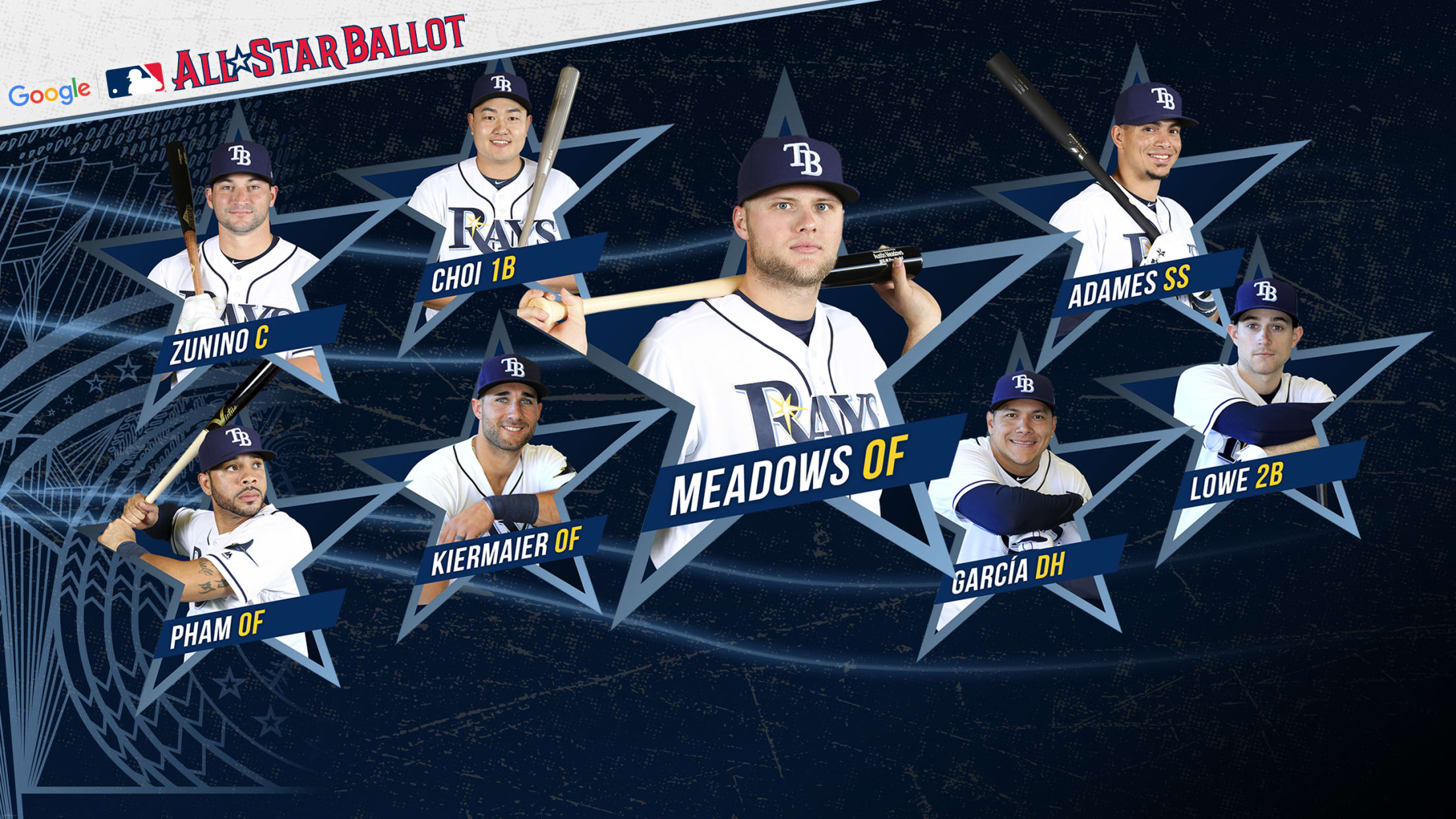 Read our FAQ on this year's revamped balloting format, which includes two phases of fan voting to determine the All-Star starters, and the ability to vote through Google Search. NEW YORK -- Rays outfielder Austin Meadows has a chance to start in this year's All-Star Game, but he's going to
Read our FAQ on this year's revamped balloting format, which includes two phases of fan voting to determine the All-Star starters, and the ability to vote through Google Search.
NEW YORK -- Rays outfielder Austin Meadows has a chance to start in this year's All-Star Game, but he's going to need some more votes in order to crack the top three at the position in the American League.
After landing in the top three in the first All-Star Game voting update, the second update, released on Monday, had Meadows falling to fourth, behind Mike Trout, George Springer and Michael Brantley. Brantley has the edge over Meadows by fewer than 37,000 votes.
• VOTE NOW: Google MLB All-Star Ballot
Meadows has struggled at the plate as of late and is hitting just .217 with no home runs in June. Even so, he leads the Rays in batting average (.314) and OPS (.963).
Of all the Rays remaining on the ballot, Meadows has the best chance to start in the Midsummer Classic. Brandon Lowe, who leads the club with 15 home runs, moved up to sixth among second basemen with 237,277 votes, but he remains a long shot to break into the top three, as Yankees second baseman DJ LeMahieu is third with 739,074 votes.
Avisail Garcia jumped into seventh in designated hitter voting, with 282,170 votes. He remains more than 200,000 votes behind Twins slugger Nelson Cruz, who sits in third with 506,211 votes.
Fans may vote in "The Primary" at MLB.com and all 30 club sites, the MLB At Bat and MLB Ballpark apps up to five times in any 24-hour period. Fans in the U.S. and Canada can also vote on Google Search for every position, or up to 17 unique players per day, by searching "MLB Vote" or the names of their favorite players. Primary voting ends at 4 p.m. ET on Friday.
The top three vote-getters at each position (including nine outfielders) per league will move on to "The Starters Election," which begins at noon ET on Wednesday, June 26. The votes will reset for a 28-hour voting window that ends at 4 p.m. ET on Thursday, June 27. Starters for the 2019 Midsummer Classic will be unveiled on ESPN that night at 7 ET. The pitchers and reserves will be announced on Sunday, June 30, at 5:30 p.m. ET.
Then on Tuesday, July 9, during the 2019 All-Star Game presented by Mastercard, fans may visit MLB.com and the 30 club sites to submit their choices for the Ted Williams Most Valuable Player Award presented by Chevrolet.
The 90th Midsummer Classic, at Progressive Field in Cleveland, will be televised nationally by FOX Sports; in Canada by Rogers Sportsnet and RDS; and worldwide by partners in more than 180 countries. FOX Deportes will provide Spanish-language coverage in the United States, while ESPN Radio and ESPN Radio Deportes will provide exclusive national radio coverage. MLB Network, MLB.com and SiriusXM also will provide comprehensive All-Star Week coverage. For more information about MLB All-Star Week and to purchase tickets, please visit AllStarGame.com and follow @MLB and @AllStarGame on social media.
Juan Toribio covers the Rays for MLB.com. Follow him on Twitter @juanctoribio.