1 bold prediction for each MLB team in 2019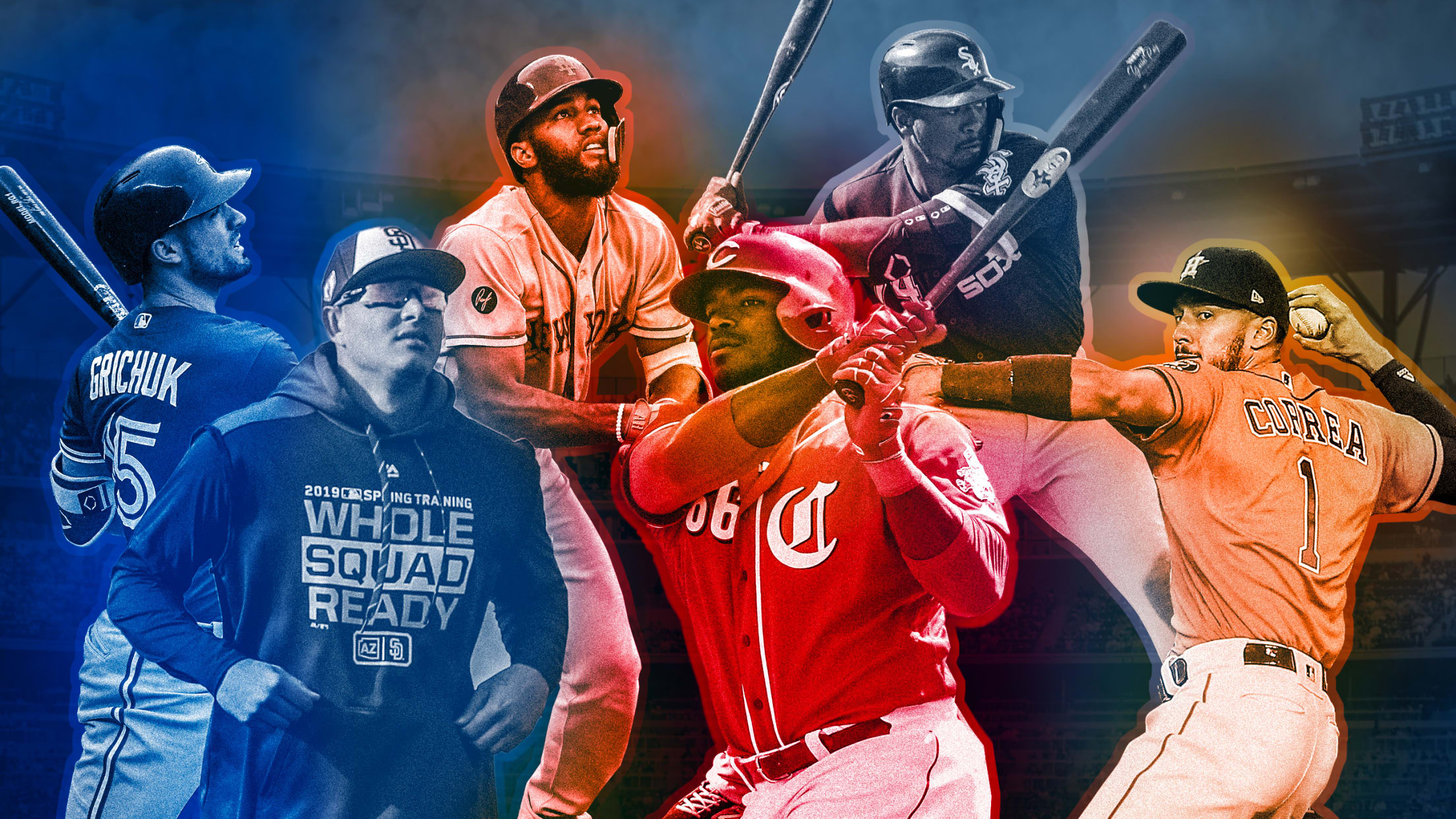 We've made it: At last, it's Opening Week for Major League Baseball. The winter is over. Baseball is finally here. Doesn't it feel good just to say that? For the past month and a half, I've been previewing the season division by division; you can find all of those here.
We've made it: At last, it's Opening Week for Major League Baseball. The winter is over. Baseball is finally here. Doesn't it feel good just to say that?
For the past month and a half, I've been previewing the season division by division; you can find all of those here. But on the eve of the season, today, it's time for bold predictions for every team. Strange things happen every year: Who in the world saw Max Muncy coming at the beginning of 2018? Here are my best guesses at a surprise for each team.
Then, at the end, we'll finish up the season preview with postseason predictions. It's Opening Week. Now we all get to have some fun.
AMERICAN LEAGUE EAST
Blue Jays: Randal Grichuk will end up hitting 35 homers and become a highly coveted Trade Deadline piece
Grichuk has cut his strikeout rate considerably since arriving in Toronto from St. Louis without losing his prodigious power. He's also a terrific defensive outfielder who may even lead off occasionally. He'll also be a free agent after 2020, which makes him Deadline bait for a team looking for pop and defensive prowess. If he's healthy -- a big if -- 35 homers should be a cinch.
Orioles: They'll lose more than 100 games and still be more fun than they've been in years
It's going to be a long season for the Orioles, especially in this division, but that doesn't matter nearly as much as the fact that this team finally has a new direction, with new leadership ready to try new things. The Orioles aren't going to be good. But they'll be experimental and daring; they'll throw everything against the wall to see what sticks. That is unquestionably progress.
Rays: Tommy Pham will finish in the top five in AL MVP Award voting
Pham was otherworldly after the Cardinals traded him to the Rays last season, and he's poised to do even more damage in an extended run this year. When healthy – and he's yet to stay healthy through a full season – he is simply one of the best hitters in baseball. He is in the perfect situation to thrive.
Red Sox: Jackie Bradley Jr. will be the second-best Red Sox outfielder
My colleague Mike Petriello is already well aboard this train, but it makes sense: Bradley hit the ball harder last year, he slightly altered his approach in the offseason and he's already one of the best fielders and baserunners in the game. He's also entering his prime. It will be difficult for the Red Sox to improve on what they did last year. It's Bradley who can make the biggest leap forward.
Yankees: Greg Bird will bat cleanup in their first playoff game
Bird, at last healthy, has been destroying the ball this spring and finally showing why the Yankees have had such high hopes for him. Luke Voit is handy -- he's having a nice spring himself -- but Bird is the person they have always wanted to have that first-base job. Here's betting Bird grabs a hold of the job this year and never lets go.
AL CENTRAL
Indians: They won't play a stressful game until October ... again
With their rotation and those stars atop their lineup, the Indians will probably win the AL Central by 10 games, at least. But it'll be just like 2018: With no real tests until the AL Division Series, they'll be in danger of crumbling when faced with the more battle-tested Red Sox, Yankees or Astros. Indians fans desperately want that World Series title. They're running out of time in this competitive window.
Royals: Last year's MLB steals leader won't even lead his own team in 2019
Whit Merrifield's 45 steals in 2018 were the lowest total to lead baseball since 1963. But with Billy Hamilton and Adalberto Mondesi on the roster and sure to get endless green lights, Merrifield will be lucky to finish third for the Royals in '19.
Tigers: Miguel Cabrera will finish in the top 10 in MLB in batting average
Have you see Miggy this spring? He looks good! (Plus, he's doing hidden ball tricks!) He doesn't look like vintage Miggy, but he looks healthy, and when Miggy is healthy, he hits the ball. I'm not sure the power is coming back, but a healthy Cabrera can hit .310 in his sleep.
Twins: OK, this is the year Byron Buxton will bust out
Seriously, I mean it, totally, it's happening now. Buxton hit four homers this spring and looked like the most dominant player on the field every game he played. His talent has never been in doubt: It has simply been a matter of him figuring the game out. He doesn't have to be a great hitter to be a huge benefit to the Twins. But if he's that in addition to everything else he is … look out.
White Sox : Eloy Jiménez will win the AL Rookie of the Year Award
Vladimir Guerrero Jr. is the hot pick, but Eloy will be up with the White Sox on Opening Day … and Vlad isn't the one being compared to Babe Ruth by his teammates. Cubs fans may never forgive Jose Quintana.
AL WEST
Angels: Mike Trout will win his third AL MVP Award
Maybe this isn't so bold, but then again, how in the world has he only won two? With his new contract in his pocket and the peace of mind knowing that he won't be going anywhere, is it possible, at 27, he may have his best season this year?
Astros: Their best player is going to be … Carlos Correa
Back pain caused Correa trouble all year and sunk his entire second half. This is still the superstar-in-waiting we saw two years ago, and he's now 24, healthy and ready to go. 2018 belonged to Alex Bregman; 2019 belongs to Correa.
Athletics: Khris Davis is going to hit .247
All right, so this is the least bold prediction imaginable because, of course, Davis has famously hit exactly .247 for four consecutive years. Also, more daring: I bet he'll finally get to 50 homers this year. (He came up just two short last year.)
Mariners: More than half of the Opening Day starting lineup won't be on the team by August
Ichiro is already gone, and Dee Gordon, Jay Bruce and Edwin Encarnacion are all likely to shipped off at the Deadline by the team's active general manager. All Mariners should rent, not buy.
Rangers: Joey Gallo will break Mark Reynolds' single-season strikeout record
Gallo is who he is: A guy who hits 40 homers and strikes out like crazy. (He already has two top-20 strikeout seasons, and he's only 25.) In this age, it's sort of remarkable that Reynolds' record of 223 has lasted a decade. Gallo's the man to end his reign.
NATIONAL LEAGUE EAST
Braves: Ronald Acuña Jr. will win the NL MVP Award
Is he the best player in the NL already? Does he have a 30-homer/30-steal season in him? It's nice to be the defending division champ who gets 50 more games of Acuna than you did last year.
Marlins: Lewis Brinson will play in the All-Star Game
Brinson's start to his career has been rocky, but he has been a monster this spring and looks primed to be the first sign of what could be a quietly hopeful future for the Marlins.
Mets: Amed Rosario will lead the team in position player WAR
Another guy who has had fantastic spring, Rosario has caught the eye of Robinson Cano, who has said, "He's going to be a superstar."
Nationals: Max Scherzer will win his fourth Cy Young Award
He doesn't seem to be slowing down a bit. Winning one in 2019 would make him the fifth pitcher ever to win four, joining Roger Clemens, Randy Johnson, Steve Carlton and Greg Maddux.
Phillies: Rhys Hoskins will lead the National League in RBIs
With Andrew McCutchen, Jean Segura and Bryce Harper hitting in front of him, Hoskins is going to have many, many opportunities to clean up the basepaths.
NL CENTRAL
Brewers: Lorenzo Cain will be the better NL MVP Award candidate than Christian Yelich
Before Yelich went nuts the last few months of 2018, Cain was neck-and-neck with him. Cain's defense was huge last year and could be even more so this year.
Cardinals: Paul DeJong will lead the team in home runs
DeJong had the second-highest homer-per-AB rate on the team last year, and the team, positionally, may be relying on no player more so, since there's no real backup for him.
Cubs: Yu Darvish will receive NL Cy Young Award votes
Last year was a disaster in every possible way, but Darvish didn't just forget how to pitch all of a sudden. This year, the Cubs start getting some return on investment.
Pirates: Francisco Cervelli will make his first All-Star game
Cervelli has quietly been one of the best catchers in baseball over the last decade. This year, a hot first half gets him what is long overdue.
Reds: Yasiel Puig will have the best year of his career
Can you believe Puig has never hit 30 homers or reached even 75 RBIs? Here's betting he reaches both numbers by September.
NL WEST
Diamondbacks: By the end of the season, Luke Weaver will be the team ace
He has all the tools, and at last, the opportunity. (Plus, Zack Greinke might be traded by then.)
Dodgers: Clayton Kershaw will pitch out of the bullpen in the playoffs
If you think about it … it could kind of be the perfect next step in the ongoing Clayton Kershaw postseason journey.
Giants: Madison Bumgarner will end up not being traded
Either Bumgarner pitches so well that the Giants can't imagine trading him, or he's merely good enough to make them demand too much in return for a franchise icon.
Padres: Manny Machado will have one of the 10 best WAR seasons for a Padre ever
This would require a 6.0 WAR season, a number he has never reached, though he has made it to 5.7 twice.
Rockies: German Márquez will break his own Rockies record for strikeouts
He fanned 230 last year, snapping Ubaldo Jimenez's 2010 club record (213). If he's healthy, he may fly past that this year.
And now, going off the division previews, here are the final predictions:
AL Wild Card Game: Red Sox over A's
ALDS: Astros over Red Sox; Indians over Yankees
ALCS: Astros over Indians
NL Wild Card Game: Cubs over Rockies
NLDS: Dodgers over Cubs; Nationals over Cardinals
NLCS: Dodgers over Nationals
World Series: Dodgers over Astros
Have a great season, all. Be safe out there.