20 questions that will define the NL East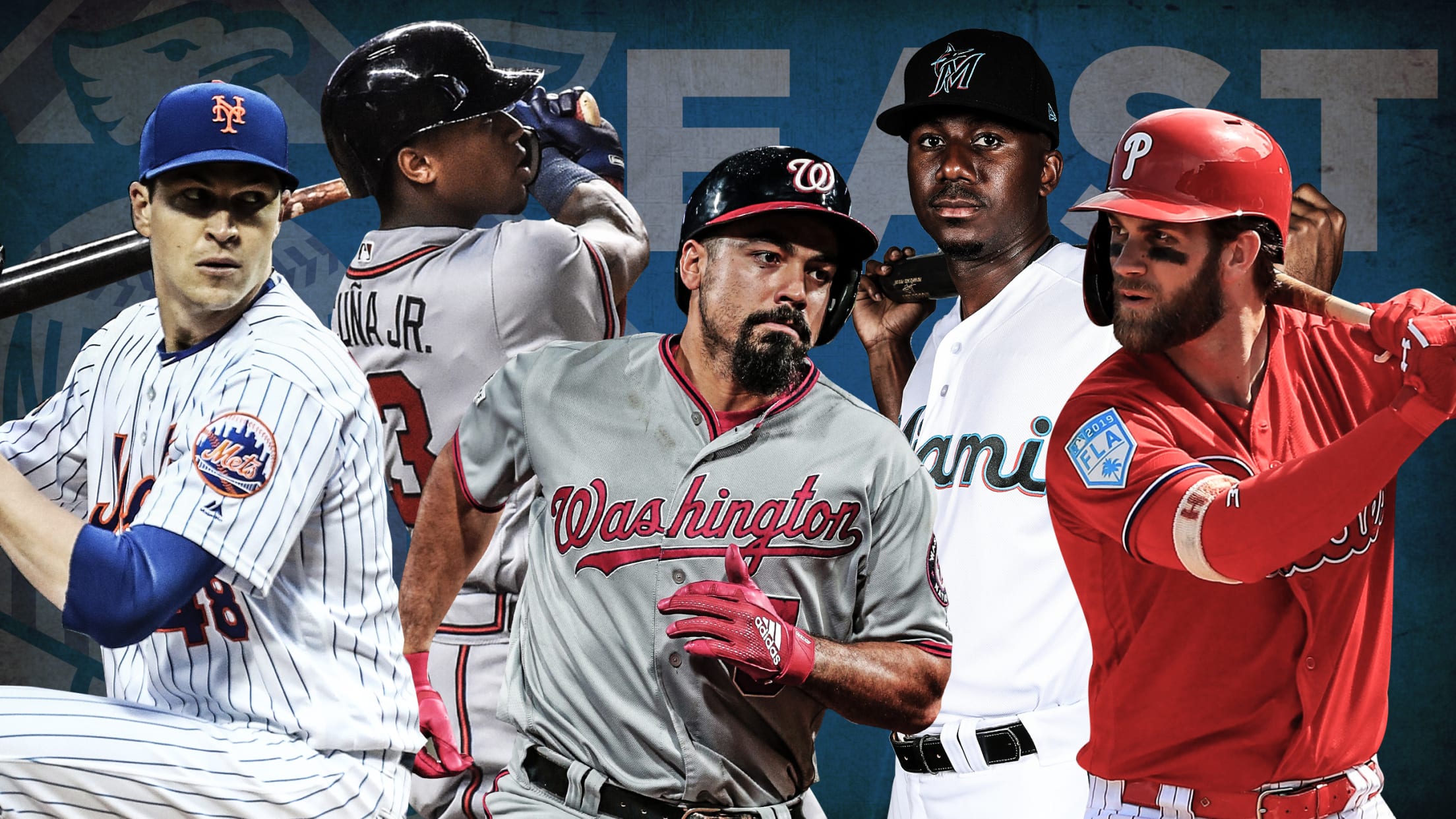 It is difficult to imagine, but considering how much all four of the top National League East teams have put into this season, one, maybe two, maybe even three of them aren't going to make the postseason at all. There isn't a division in baseball with more on the line.
It is difficult to imagine, but considering how much all four of the top National League East teams have put into this season, one, maybe two, maybe even three of them aren't going to make the postseason at all. There isn't a division in baseball with more on the line. The Nationals didn't spend on Bryce Harper, but they sure spent lots of money other places and are loaded with talent; the Mets brought in Edwin Diaz and Robinson Canó and still have some of the best starting pitchers in baseball; the Phillies just added Bryce freaking Harper! Oh, and the Braves, they won the division last year.
How is any one of these teams, let alone potentially three of them, going to deal with missing the postseason? The storylines abound in the NL East: Everybody has so much on the line. Which, as a fan, is all you could possibly want.
Thus: Today, our weekly series previewing each of baseball's six divisions concludes with the National League East. Like every other week, our previews will be extended games of 20 Questions, in which we look at four pressing questions for each team heading into the 2019 season, and at the end, we will make some actual predictions on the final standings, predictions that are unassailable and so obviously iron-clad correct that we're a little worried you won't even bother to watch the actual games once we read them. We are willing to assume such a risk.
Previews so far:
American League East
American League Central
American League West
National League Central
National League West
Let's take a team-by-team look at the biggest questions:
Braves
1) Is this the Ronald Acuna Jr. NL Most Valuable Player Award season?
That prediction might seem a little early, but man, did you see this guy the second half of last season? Acuna's grand slam in the NL Division Series might have been the best "didn't ultimately mean anything but ... wow" moment of the year, and the guy is essentially great at everything. And he's just getting started. He only played 111 contests last year. How many more games do the Braves win when he's a year better and playing 155 games?
2) Who's the ace?
This question might be a little easier to answer a year or two from now, when all those young Braves pitchers hit the Majors. But for now, there's no obvious top guy, which could be a problem in a division with Max Scherzer, Jacob deGrom and Aaron Nola. Mike Foltynewicz isn't going to be ready for Opening Day, and the fact that Julio Teheran will be out to make another Opening Day start is a sign that there isn't anybody quite yet to step up.
3) What is Dansby Swanson?
We find that Swanberson bobblehead as amusing as anyone does, but suffice it to say: No one ever thought you'd be confusing Swanson, the first overall pick in the 2015 Draft, and Charlie Culberson, a helpful but unspectacular bench player. Swanson's bat was a little better in '18, but still not enough for him to be even a league-average hitter. He's a good shortstop, but not so good that you can just forget about that bat. His rookie season, he hit .302 with a .361 OBP; that OBP has actually gone down every season since. They don't need him to be a star, but they need him to be better.
4) Can they build off last year?
The Braves were good in 2018, but they essentially won the East by default: The Nats collapsed, the Phillies weren't ready, the Mets were … the Mets. But the Braves will have no such cushion this year: All three teams are coming for them. The addition of Josh Donaldson was a smart strategic move, but you can argue that the pitching staff actually needed more outside help, and didn't get it.
Marlins
5) Can Lewis Brinson live up to his pedigree?
Brinson was the main prospect in two separate trades before he ever made his big league debut, which leads to considerable expectation of him showing … something. But in 130 big league games over two seasons, Brinson has been a disappointment, putting up a .189/.239/.331 line. Yikes. He's not even stealing bases like everyone thought he would. He has looked better this spring, but right now, he's still the shining jewel of those big outfielder trades before last season. If all the Marlins have to show for those trades in 2019 is a 62 OPS+, that's a problem.
6) Is Brian Anderson a building block?
If the NL hadn't been invaded by Acuna and Juan Soto last year, Anderson might have won the NL Rookie of the Year Award. He's a solid on-base guy who plays terrific defense and gives the Marlins, at last, a young player they can feel extremely comfortable putting in the lineup every day. Still, you'd like to see the power numbers spike up a bit: He's the best hitter on the Marlins right now, but it'll require 2019 to let us know if that tells us more about Anderson or more about the Marlins.
7) When do the prospects arrive?
The Marlins' somewhat average farm system took a big step forward simply by bringing in Sixto Sanchez (J.T. Realmuto trade) and Victor Victor Mesa (international free agent); Sanchez might even reach the big leagues this year. This is a long-term project for chief executive officer Derek Jeter and company, but those two are good starts. This season in large part needs to be about discovering and developing players who are going to be on the next contending Marlins team. Those players should have plenty of opportunities to reveal themselves.
8) What's the best-case scenario?
It would be a mistake for Jeter and his team to try to go for it in 2019: This is an ongoing project, and some foundations are being laid for future success. But in the meantime, with four teams in this division all-in for this season, it could get super rough. The Marlins are the lone break in any NL East team's schedule, and they'll want to load up on wins while they can. That could make for a long season in Miami.
Mets
9) Can the rotation be what it can, and should, be?
The Mets and their fans, and everyone who pays attention to both, have a tendency to overthink the Mets' success. It's really quite simple: When the Mets' rotation is healthy and at its best, they're the best team in the division, and when it's not, they are … quite a bit less than that. From 1-4, the Mets can match up with any team on any day, and there isn't a pitcher in the sport you'd want more in an NL Wild Card Game than deGrom. But how healthy is everyone going to be? How many starts can those four make? If the answer is 120 games, this might be the Mets' year. But 1-4 starters rarely make those 120 starts.
10) How long do they get the good Cano?
For all the drama of Cano's 2018, from the PED suspension to his ultimate trade, it's worth remembering: The dude can still hit. He also rarely misses games for injury, so, for the not-so-low price of most of his remaining salary, the Mets got a lineup force nearly every day. That's the good news. The bad news is that his contract is going to get super ugly in a few years, even with the money the Mariners are giving the Mets. So New York needs to maximize Cano's impact while it can. If any team knows that one day's splashy offseason move is the next day's albatross, it's the Mets. You're not acquiring Cano for '24. You're acquiring him for now.
11) Will they let Brandon Nimmo and Michael Conforto fly?
Nimmo was so much better than anyone outside New York really noticed last year, and Conforto eventually came around after a fluke left shoulder injury shortened his 2017 All-Star campaign. Quietly, the Mets have two building block outfielders … but both of them have been shifted around at times in terms of position and playing time. Yoenis Cespedes may or may not be back, but this team is relying a ton on the two 26-year-old outfielders. If they can blossom at the same time, they won't even need Cespedes if he does come back.
12) Can Brodie shake off the bad vibes?
The Mets' fans are in a perpetual defensive crouch, and honestly, who can blame them? But new general manager Brodie Van Wagenen comes in with a fresh attitude, a fervent desire to win and all sorts of unconventional thinking. He certainly carries himself like a guy who isn't weighed down by the Mets' history … but we'll see if the shoulders slump when things start to go wrong.
Nationals
13) What's next for Soto?
One of the main reasons Soto was such a revelation in 2018 was that he was a young player who was fantastic for reasons young players aren't usually fantastic: His plate discipline marked him as a professional from his very first moments in the league, and separated him from his peers. And he was 19. If he has the season he just had for the next 15 years, he'll end up in the Hall of Fame, even if he never improves. But improvement could send him somewhere else in the stratosphere.
14) Is Victor Robles ready?
Had the Nationals re-signed Harper, or Michael A. Taylor had stepped forward, Robles might not be counted on this season. But now MLB Pipeline's No. 4 prospect is key to everything the Nationals want to do. If he can show up and have anything close to the season Soto just had, the Nats won't only not miss Harper, they'll have themselves two entirely new young Harpers to go through all this drama again in six years. There are far worse places to be.
15) Are they going to re-sign Anthony Rendon?
Rendon, by many measures, has been a better player than Harper the last few seasons anyway: The Nationals are probably keeping their best player. But he had to see the dollars Nolan Arenado got this offseason and started drooling, and who wouldn't? Rendon is a much lower-key personality than Harper, but he'll still want to cash in if he makes it to free agency next offseason. And Rendon will have a full season outside of Harper's shadow, with the spotlight, for better or worse, on himself. Somehow, Rendon has never made an All-Star team. That ends this season.
16) OK, how about getting out of the NLDS … now?
If the Nationals really do want to stick it to Harper for not only leaving but joining a division rival, picking the season after he leaves to at last win a postseason series would be a rather wonderful way to do it. The Nats have all the same advantages they had during these last few years of falling short, as well as some of the deficiencies, including a bullpen that still has all sorts of questions. But this team has just needed to get clicking, with all its talent aligned at once, to finally get where it's so desperate to go. This year is as good as any.
Phillies
17) Is Bryce Harper 2015 Bryce, 2018 Bryce or something in between?
The Phillies got their superstar! Whether you think they paid "stupid" money or not, it is impossible not to consider the Phils' offseason a massive success -- the team took a step forward before it signed Harper.
But it is worth remembering that Harper wasn't Mike Trout in 2018: He actually only had the 12th-highest bWAR on his own team. Harper's defense took a massive step back last season, and while some speculate it's because he was making sure he didn't hurt himself before his big payday, he'll need to be at least average this year. And it wouldn't hurt to get his OPS back near 1.000, which it has been twice in his career. Harper is still a good player, even if he just plays at last season's levels. But obviously, the Phillies are paying for a superstar. It would behoove Harper, in Year One, to play like one.
18) Is Realmuto stealthily their best player?
Two of the three biggest stories this offseason revolved around Harper and Realmuto, and the Phillies got them both. But an argument could be made that it's Realmuto, not Harper, who is the true building block. He took a step forward for the Marlins in every area last season, is entering his prime and already might be the best everyday catcher in the game. He's also beloved by pitchers, key for a team that has some questions in its rotation. Harper is the flashy addition, and for good reason. But Realmuto might be the guy who makes this team go.
19) Should they have supplemented their rotation at all?
Nola was one of the best pitchers in the game last season. But every other part of the Phillies' rotation has big question marks. Jake Arrieta had his worst season since he was an Oriole, and he was the team's second-best pitcher. Nick Pivetta, Vince Velasquez and Zach Eflin all struggled to various degrees, yet there they are, still locked into spots in the rotation. Add that to a bullpen that has talent but is hardly proven, and as impressive as the lineup looks now, that pitching staff looks like it could spring a lot of leaks. The last great Phillies team rode its rotation to the NL East title. If this one is going to do the same, it will have to do it from the opposite direction.
20) Can manager Gabe Kapler withstand the heat?
Kapler survived the heady first fortnight of his managerial career -- when some fans legitimately wanted to fire the manager after his first series -- but clearly, there's still some friction there: He has never been able to get quite comfortable. After all the offseason additions, the spotlight's only going to get brighter. If the Phillies get off to a slow start, all fingers are going to immediately start pointing at Kapler again. This is Philadelphia, there are no honeymoons here. The Phillies, in one of the toughest divisions in baseball, are expected to win right now. Good luck.
PROJECTED STANDINGS
1. Washington Nationals: 89-73
2. Atlanta Braves: 88-74
3. New York Mets: 85-77
4. Philadelphia Phillies: 82-80
5. Miami Marlins: 47-115 (Sorry, the Marlins probably aren't going to lose this many games, but I had to make the records of all six previews add up. Feel free to subtract a couple of wins here or there and give them to the Marlins, if you wish.)
Next week: The Big Season Preview