Every Canadian-born player with Blue Jays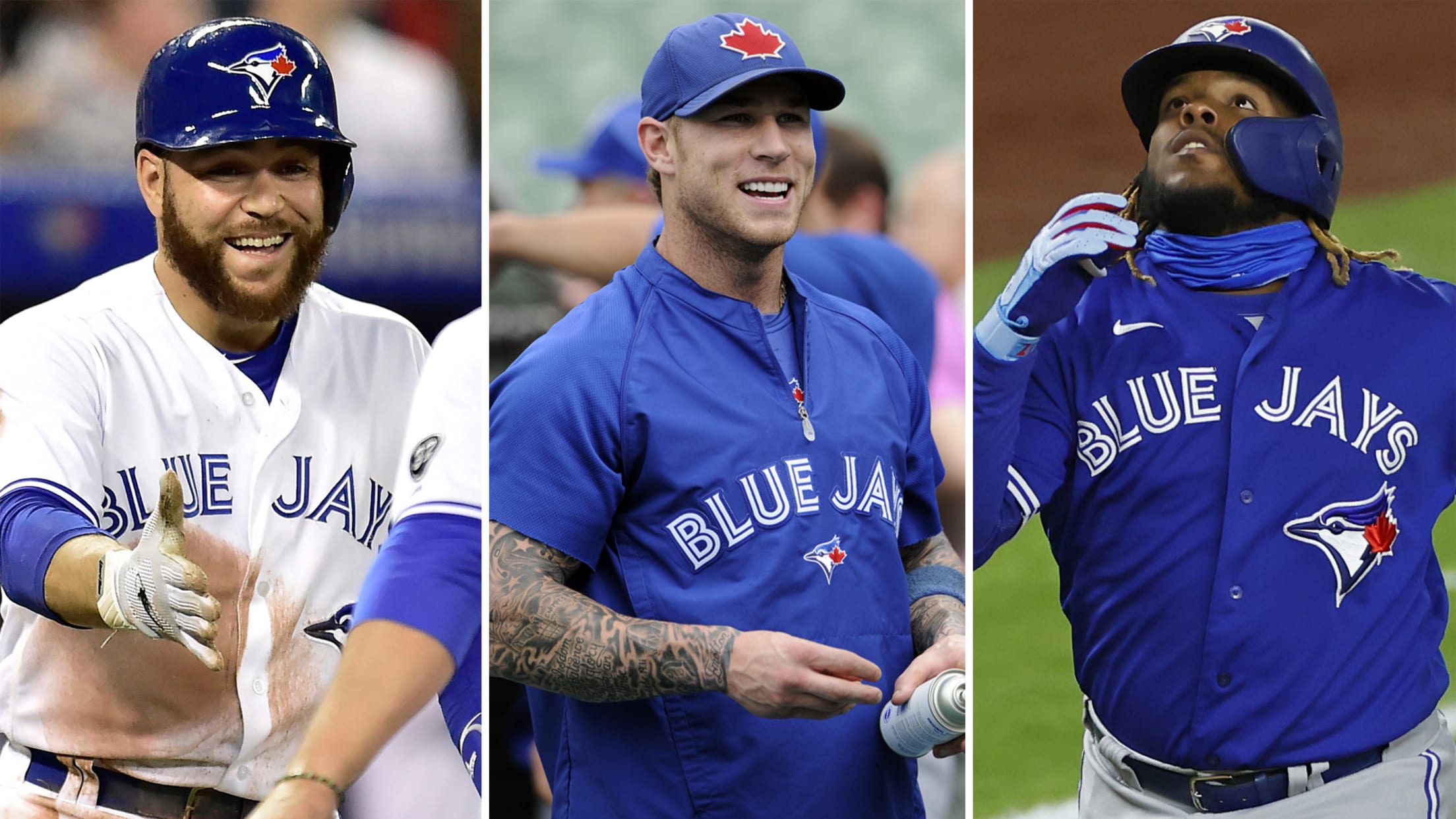 TORONTO -- In more than four decades of Blue Jays baseball, 28 Canadian-born players have taken the field for Canada's team. Ranging from the club's inaugural season in 1977 to the young lineup that's expected to carry the Blue Jays into the future, these players come from British Columbia to
TORONTO -- In more than four decades of Blue Jays baseball, 28 Canadian-born players have taken the field for Canada's team.
Ranging from the club's inaugural season in 1977 to the young lineup that's expected to carry the Blue Jays into the future, these players come from British Columbia to Nova Scotia and plenty of places in between.
Here's a look at each of those players and the impact they made with the Blue Jays.
LHP Andrew Albers (2015) -- North Battleford, Saskatchewan
In one season with the Blue Jays, Albers made 15 starts for Triple-A Buffalo before finally getting the call to the big leagues. The lefty made only one appearance, on May 1 against Cleveland, taking over for starter Mark Buehrle to throw 2 2/3 innings of relief.
RHP John Axford (2018) -- Simcoe, Ontario
The hard-throwing right-hander appeared for six different MLB clubs before joining the Blue Jays in 2018, and he enjoyed a productive season with Toronto, posting a 4.41 ERA over 45 appearances. A veteran of 10 Major League seasons, Axford recorded 144 career saves, including a career high of 46 with the Brewers in '11.
LHP Denis Boucher (1991) -- Montreal, Quebec
Boucher climbed through the Minor Leagues with some impressive numbers in the Blue Jays' system before making his big league debut in 1991, when he started seven games for Toronto. In June of that year, Boucher was traded with Glenallen Hill and Mark Whiten to Cleveland in exchange for Tom Candiotti and Turner Ward. He later pitched two seasons with the Expos (1993-94), making him one of the few Canadian players to play for both Canadian clubs.
OF Rich Butler (1997) -- Toronto, Ontario
Butler played seven games for the Blue Jays in 1997, hitting .286 with a .732 OPS over that span before eventually being selected by the Devil Rays in the expansion draft that November. Butler played two seasons for Tampa Bay and a total of 10 seasons in the Minor Leagues.
OF Rob Butler (1993-94, '99) -- Toronto, Ontario
Rob Butler, the older brother of Rich, appeared in 58 games for the Blue Jays between 1993-94, then came back for an eight-game stint in '99. Butler had two career postseason plate appearances, both as a pinch-hitter, and recorded a base hit in Game 5 of the 1993 World Series when he stepped in for the pitcher, Juan Guzman, and singled off Curt Schilling.
LHP Scott Diamond (2016) -- Guelph, Ontario
Diamond broke through with the Twins in 2011 and had an excellent season in '12, posting a 3.54 ERA over 173 innings at just 25 years old. He later signed with the Blue Jays in 2016 and pitched most of the season in Triple-A Buffalo, where he made 28 starts, but he pitched in one game for the Blue Jays at home against the Phillies.
OF Rob Ducey (1987-92, 2000) -- Toronto, Ontario
Ducey was one of the first players (1987) to win the Tip O'Neill Award, presented annually to the Canadian baseball player judged to have excelled as an individual and teammate while adhering to baseball's highest ideals. Over parts of seven seasons with the Blue Jays, Ducey appeared in 188 games. His first career home run as a rookie came in an 18-3 rout of the Orioles, a game in which the Blue Jays launched 10 home runs.
LHP Jeff Francis (2015) -- Vancouver, British Columbia
Part of an incredible 2002 MLB Draft for Canadians, with Adam Loewen going fourth and Francis going ninth, the lefty played 10 Major League seasons for five different organizations before spending his final one with the Blue Jays. For his career, Francis, one of the most well-known Canadian pitchers, pitched to a 4.97 ERA over 217 starts and 37 relief appearances.
1B Vladimir Guerrero Jr. (2019-) -- Montreal, Quebec
The younger Guerrero was born in Montreal in 1999, just as his father was stepping into superstardom with the Expos en route to a 16-year career and enshrinement in the Baseball Hall of Fame. Guerrero grew up and lives in the Dominican Republic, but the Canadian connection will always be strong for the great baseball family.
RHP Shawn Hill (2010, '12) -- Mississauga, Ontario
Hill was drafted by the Expos back in the sixth round of the 2000 MLB Draft, making him another Canadian with connections to both clubs. After a brief debut with Montreal in '04, Hill later signed with the Blue Jays in '10 after spending time in Washington and San Diego. With Toronto, Hill made a combined four starts and one relief appearance over those two seasons, posting an impressive 2.28 ERA.
OF Paul Hodgson (1980) -- Montreal, Quebec
Hodgson spent all seven years of his professional career with the Blue Jays' organization, reaching the big leagues for one year in 1980. Hodgson appeared in just 20 games that season, but did manage to hit his first and only career home run on Sept. 19 against the Orioles off of Dennis Martinez.
LHP Vince Horsman (1991) -- Dartmouth, Nova Scotia
One of the few Major League players to come out of the beautiful province of Nova Scotia, Horsman signed with the Blue Jays in 1985 and slowly climbed the ladder to the big leagues in '91. The left-hander made four scoreless appearances for the Blue Jays, including his debut, in which he took over for Jimmy Key to strike out the first batter he faced, Albert Belle.
3B Corey Koskie (2005) -- Anola, Manitoba
After starting his career with seven very strong seasons as a member of the Twins, Koskie signed with the Blue Jays entering the 2005 season and hit .249 with 11 home runs and a .735 OPS in his lone season with Toronto. In each of his other seven full seasons at the Major League level, however, the Manitoba native posted an OPS of .815 or higher.
C George Kottaras (2014) -- Scarborough, Ontario
Kottaras played for seven clubs in seven seasons, but he made sure to sneak in a quick stint with the Blue Jays in his final year in 2014. He appeared in just four games and recorded a walk, and he saw time with the Triple-A Buffalo Bisons in both 2014-15.
3B Brett Lawrie (2011-14) -- Langley, British Columbia
The fiery 21-year-old Lawrie played with an intensity rarely seen on the diamond, which appealed to Canadian fans immediately in 2011. Lawrie's production dipped a bit over the next three seasons with expectations set sky-high, but it was a fun ride while it lasted. Lawrie was part of the package sent to Oakland in the Josh Donaldson deal, which was a catalyst for the playoff runs of '15 and '16.
OF Adam Loewen (2011) -- Surrey, British Columbia
The fourth overall pick in the 2002 MLB Draft, two spots ahead of Zack Greinke, Loewen travelled a fascinating path through professional baseball as a pitcher, then hitter, then pitcher again. His time with the Blue Jays came while he had a bat in his hands, with Loewen recording six hits -- including his one career home run -- over 14 appearances. After returning to the mound, Loewen last pitched in the Major Leagues in '16.
C Russell Martin (2015-18) -- East York, Ontario
One of the greatest baseball players in Canadian history, Martin's signing prior to the 2015 season was one of the biggest moves the Blue Jays had made since their World Series years. Martin embodied the attitude of those star-studded Blue Jays teams that made back-to-back ALCS runs in 2015 and 2016, appearing in 447 total games for Toronto. Martin's No. 55 jerseys littered the stands at Rogers Centre in those years.
2B Dave McKay (1977-79) -- Vancouver, British Columbia
One of the very first Canadians to play for the Blue Jays, McKay was selected by Toronto from Minnesota in the 1976 expansion draft. McKay played three seasons with the Blue Jays, and his best came in 1978 as a full-time starter at second base, when he hit .238 with seven home runs. He'd eventually round out his eight-year Major League career with three years in Oakland.
C Mike Nickeas (2013) -- Vancouver, Canada
The former fifth-round Draft pick of the Rangers in 2004 started his career with the Mets, but joined the Blue Jays in the blockbuster R.A. Dickey deal. He didn't make a plate appearance with the Blue Jays in his lone game, but did enter as a defensive replacement for J.P. Arencibia in the ninth inning, catching Luis Perez.
OF Dalton Pompey (2014-16) -- Mississauga, Canada
A gifted athlete and top prospect who shot through the Minor Leagues, Pompey debuted as a 21-year-old in 2014 and made an immediate impression with his speed and defense. Pompey was never able to seize a starting role long term and dealt with an unfortunate string of injuries, but he still gave Blue Jays fans one of the iconic images of the '15 and '16 playoff runs when he stole second then third base against the Royals in the ninth inning of Game 6 of the '15 ALCS. If the Blue Jays had found a way to bring him home, that pinch-running performance would be an all-time Blue Jays moment.
OF Simon Pond (2004) -- North Vancouver, British Columbia
Pond kept it Canadian for most of his career, being drafted by the Montreal Expos in the eighth round of the 1994 MLB Draft. After grinding through the Minor Leagues with Montreal and Cleveland, Pond finally got his shot at the Majors at 27 with the Blue Jays. Over 16 games in 2004, Pond had eight hits, including his one career home run, which came against Bronson Arroyo of the Red Sox on May 21.
RHP Paul Quantrill (1996-2001) -- London, Ontario
Quantrill spent six seasons of his impressive 14-year Major League career with the Blue Jays, a stint in which he converted to a full-time reliever and found immediate success. The right-hander posted ERAs of 1.94 and 2.59 in his first two seasons coming out of the bullpen and developed into an absolute workhorse, making 80-plus appearances five times from 1998 to 2004. In his final season with the Blue Jays in 2001, Quantrill was awarded with an All-Star Game appearance.
RHP Scott Richmond (2008-09, '11-12) -- Vancouver, British Columbia
Richmond has travelled the world pitching professionally later in his career, but he spent parts of four seasons with the Blue Jays as a starter. The right-hander's biggest workload came in 2009, when his 138 2/3 innings over 24 starts and a few relief appearances placed him fourth on the team in innings pitched, behind Roy Halladay, Ricky Romero and Brian Tallet.
RHP Jordan Romano (2019-20) -- Markham, Ontario
Drafted in the 10th round out of Oral Roberts University, Romano worked through the Minor Leagues as a starter, but things really clicked for the hard-throwing right-hander when he made the transition back to the bullpen. After debuting in 2019, Romano was one of the stories of '20 for the Blue Jays, posting a 1.23 ERA over 15 relief appearances while showing the potential to close ballgames.
OF Michael Saunders (2015-17) -- Victoria, British Columbia
After coming up with the Mariners, who draw plenty of Canadian fans on the west coast from British Columbia -- especially when the Blue Jays are in town -- Saunders was dealt to Toronto prior to the 2015 season for left-hander J.A. Happ. Saunders lost nearly all of his first season in Toronto to a knee injury, but he put up some impressive numbers in his lone full campaign (2016), hitting .253 with 24 home runs and an .815 OPS.
LHP Steve Sinclair (1998-99) -- Victoria, British Columbia
A 28th-round Draft pick of the Blue Jays in 1991, Sinclair began his Minor League career in the rotation before transitioning to the bullpen, which is where he made his big league debut in '98. After making his first four appearances on the road, Sinclair's first appearance in Toronto at SkyDome saw him retire fellow Canadian Matt Stairs in a 7-6 loss to Oakland.
LHP Paul Spoljaric (1994, '96-97, '99) -- Kelowna, British Columbia
Spoljaric's pro career began like many others on this list, with the Medicine Hat Blue Jays of the Pioneer League. Four seasons later, Spoljaric made his Major League debut with Toronto and had a handful of stints with Canada's national team. Spoljaric was also part of two trades from the Blue Jays. First, in 1997, he was dealt with Mike Timlin to the Mariners for Jose Cruz. After returning to the Blue Jays, in '99, he was dealt along with Pat Hentgen to the Cardinals for Alberto Castillo, Matt DeWitt and Lance Painter.
OF Matt Stairs (2007-08) -- Saint John, New Brunswick
The Canadian baseball legend played 19 seasons in the Major Leagues, spanning his 1992 debut with the Expos all the way to his final season with the Nationals in 2011. From his peak years with Oakland (1996-99) to the many stops later in his career, Stairs appeared in MLB games for 12 different teams. Stairs came to the Blue Jays for his age-39 season in '07 and delivered, hitting .289 with 21 home runs and a .917 OPS. He was dealt to the Phillies late in '08, but remains a fan favorite in Toronto and several other Major League cities.