Mackanin: Righty Anderson 'looks very poised'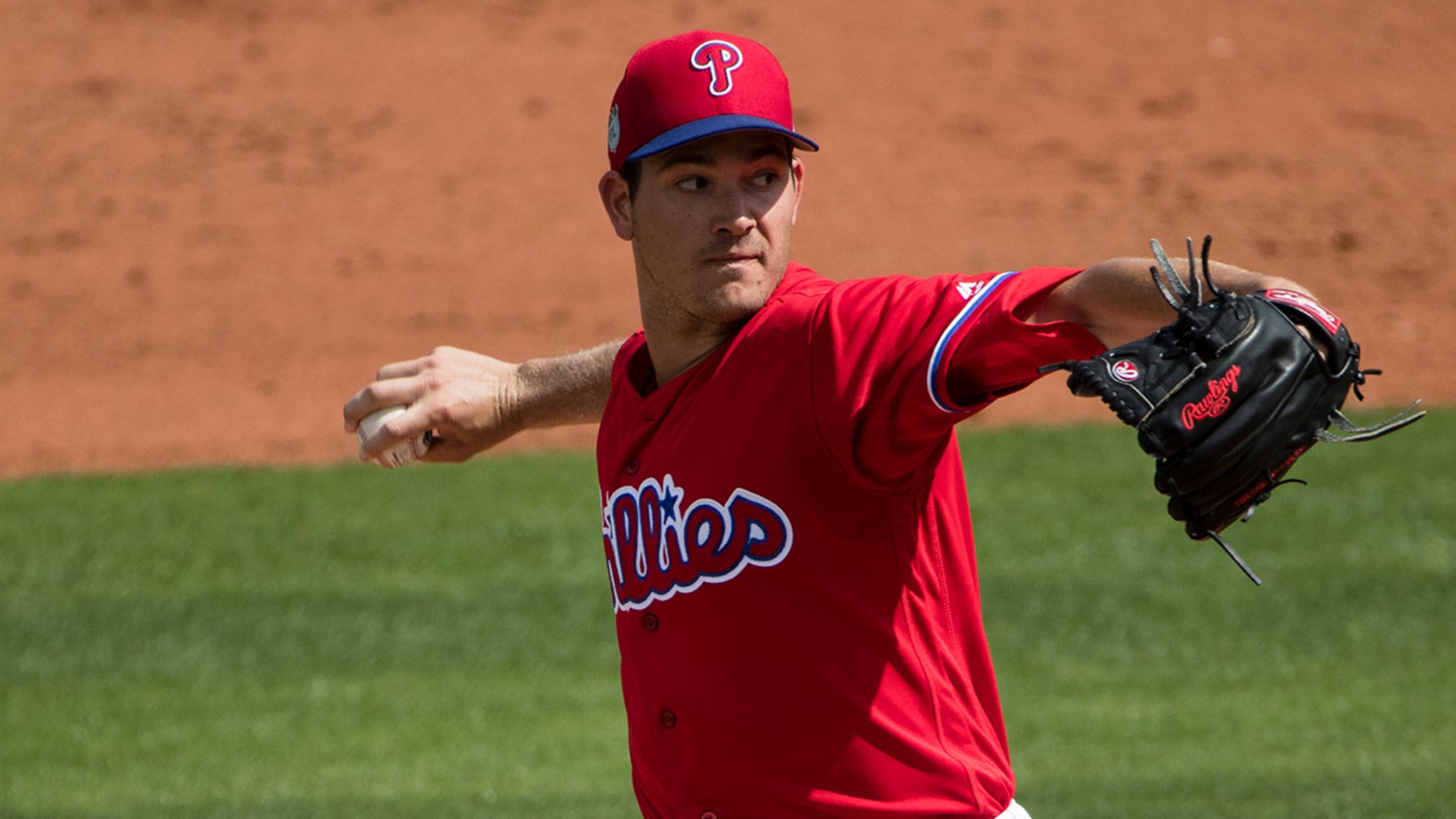 Phillies manager Pete Mackanin was impressed by righty Drew Anderson on Saturday. (AP)
CLEARWATER, Fla. -- Drew Anderson hasn't pitched above Class A. Two seasons ago, he didn't pitch at all while rehabbing from Tommy John surgery. He has appeared in only 49 professional games since the Phillies drafted him in the 21st round in June 2012.But even though Anderson will almost certainly
CLEARWATER, Fla. -- Drew Anderson hasn't pitched above Class A. Two seasons ago, he didn't pitch at all while rehabbing from Tommy John surgery. He has appeared in only 49 professional games since the Phillies drafted him in the 21st round in June 2012.
But even though Anderson will almost certainly open the season at Double-A Reading, the 22-year-old is one of the most intriguing pitchers in a camp full of good, young arms.
"We've got scouts who will tell you that he might be our best pitching prospect," player development director Joe Jordan said earlier this spring.
That's why the Phillies never hesitated when deciding whether or not to add Anderson, rated the team's No. 22 prospect by MLBPipeline.com, to the 40-man roster. They didn't want to take any chances on losing him in the Rule 5 Draft.
"I liked Anderson. I think he's going to be a pretty good pitcher," said manager Pete Mackanin after the right-hander allowed one run on one hit in three innings of Saturday's Grapefruit League game against the Braves at Spectrum Field. He walked one while striking out three.
"He looks very poised," said Mackanin. "He's got three good pitches. He throws strikes, for the most part. And one thing that caught my eye was the way he handled the runner at first [Travis Demeritte with one out in the fifth]. He used two or three different tools that were available to him to hold that runner. I'm looking for things like that.
"When he made that final pitch, the runner at first was caught flat-footed. That's one of the things we're trying to instill in the pitchers, how to handle the running game without help from the bench. And they're getting it."
Because Demeritte had to be cautious, it made it that much easier for the Phillies to turn a double play when Ender Inciarte followed by hitting a grounder to shortstop.
Anderson began last season on the DL, still recovering from the elbow surgery. He was activated on May 20, had a 3.38 ERA at Class A Lakewood before being promoted to Class A Advanced Clearwater. With the Threshers, he averaged 10.2 strikeouts per nine innings over eight starts.
It means a lot to Anderson that the Phillies protected him even though he has so little professional experience.
"I was pretty surprised [to find out]," he said with a wide grin. "Joe Jordan told me there was a chance I might get to come to big league camp, and I thought that was pretty cool. And it's all worked out.
"I was like, 'Oh, man, I barely have 200 innings and they're throwing me up here. I love it. Let me at it.'"
Paul Hagen is a reporter for MLB.com.