Hosmer, Kinsler heating up for Padres
Notes on Strahm, Garcia, Reyes and more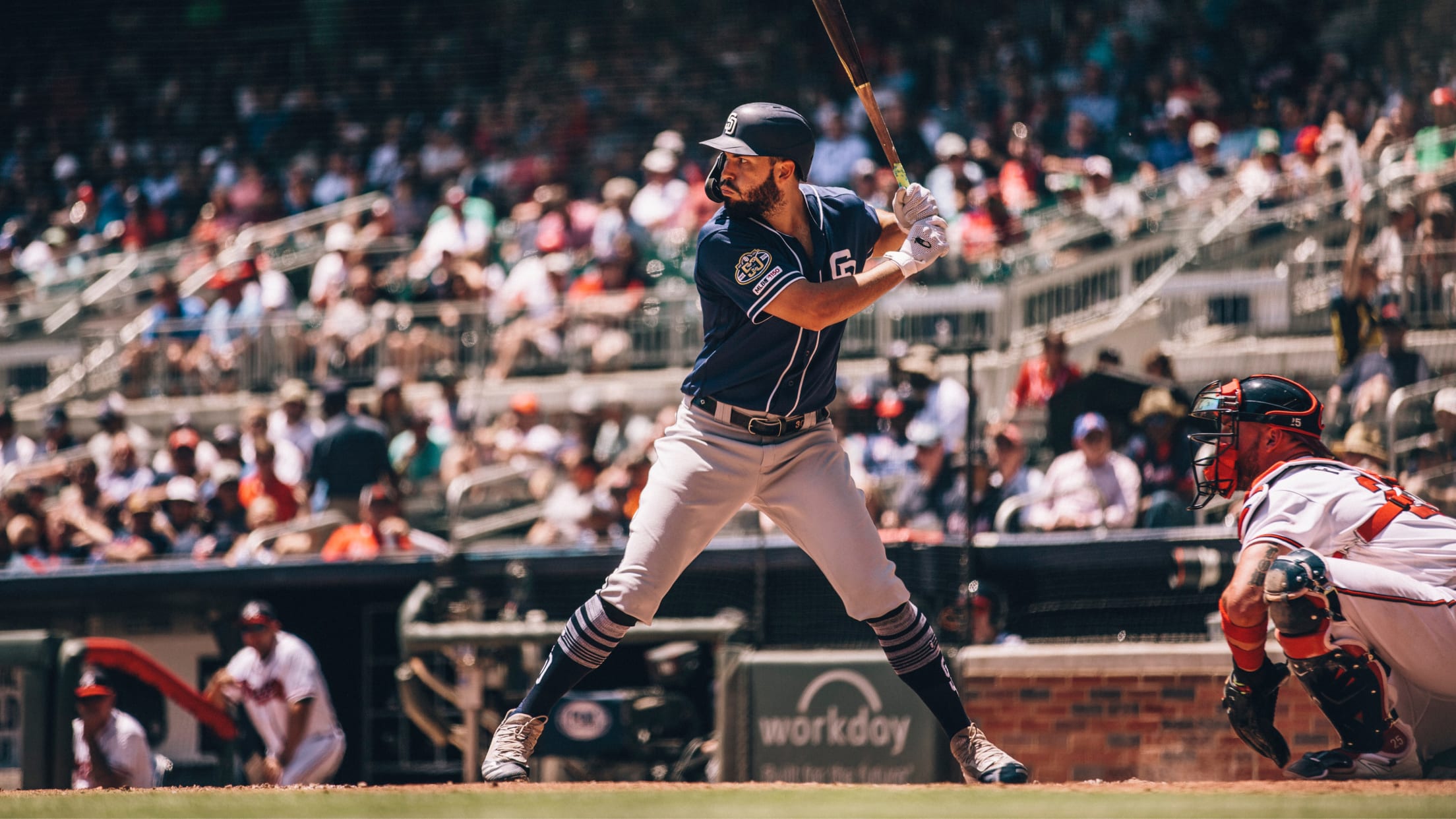 Bill Center, longtime sportswriter for U-T San Diego, is an employee of the Padres. From the start of Spring Training, manager Andy Green identified right-side infielders Eric Hosmer and Ian Kinsler as being keys to any success the Padres would have in 2019. Not only did they have six Gold
Bill Center, longtime sportswriter for U-T San Diego, is an employee of the Padres.
From the start of Spring Training, manager Andy Green identified right-side infielders Eric Hosmer and Ian Kinsler as being keys to any success the Padres would have in 2019.
Not only did they have six Gold Gloves Awards between them -- four for first baseman Hosmer and two for second baseman Kinsler -- but their bats were also expected to be major contributors to the Padres' offense.
Twenty games into the season, both were hitting under .200 with a homer apiece. Now, both are heating up -- and each had a three-hit, two-RBI game on Thursday afternoon in Atlanta.
Hosmer was the first to get it going. He has hit safely in nine of his past 11 games dating back to April 20. He is 17-for-43 (.395) during the run with three doubles, four homers, 11 RBIs and eight runs scored for a .413 on-base percentage, a .744 slugging percentage for a 1.157 OPS. The run has raised his batting average from .184 to .261.
Kinsler's batting average had dropped to a season-low .133 before going 5-for-9 in the final two games in Atlanta with two doubles, a homer, two RBIs (doubling his season total) and three runs scored. Kinsler's batting average jumped 41 points in two days. He had two doubles and a home run Thursday, the seventh three-extra-base hit game of his career.
Notes
• As they enter the three-game series this weekend against the Dodgers, the Padres have some unusual splits. They are 11-6 on the road and 7-8 at home. They are also 10-3 in day games and their pitchers have a 2.62 ERA in day games this season.
• The Padres scored five runs in both the fourth and fifth innings Thursday in Atlanta. It was the first time since April 9, 2016, at Coors Field that San Diego had multiple innings of five or more runs in the same game. And it was the first time since 2000 that it happened in consecutive innings.
• Lefty Matt Strahm has a 1.80 earned run average and a 0.800 WHIP over his past five starts. Since April 7, Strahm has given up seven runs (six earned) on 23 hits and just two walks with 25 strikeouts in 30 innings, lowering his 16.88 ERA after his first start of the season (five runs allowed in 2 2/3 innings) to 3.03. Also, Strahm hasn't allowed a walk in his past four starts -- the first Padres starter to pitch five innings without allowing a walk in four straight starts since Greg Maddux did it in eight straight starts in 2007.
• Infielder Greg Garcia has an interesting streak going. He has drawn walks in six straight games -- twice as a pinch-hitter and once in his long plate appearance after entering the game in a double-switch. Over his past seven games, Garcia is 3-for-11 with a home run, a sacrifice fly, two RBIs and four runs for a .273/.500/.545 slash line.
• Right fielder Franmil Reyes is working on a five-game hitting streak -- 8-for-18 with a double, two homers, three RBIs and three runs scored.