5 notable facts about Splendid Splinter's life and career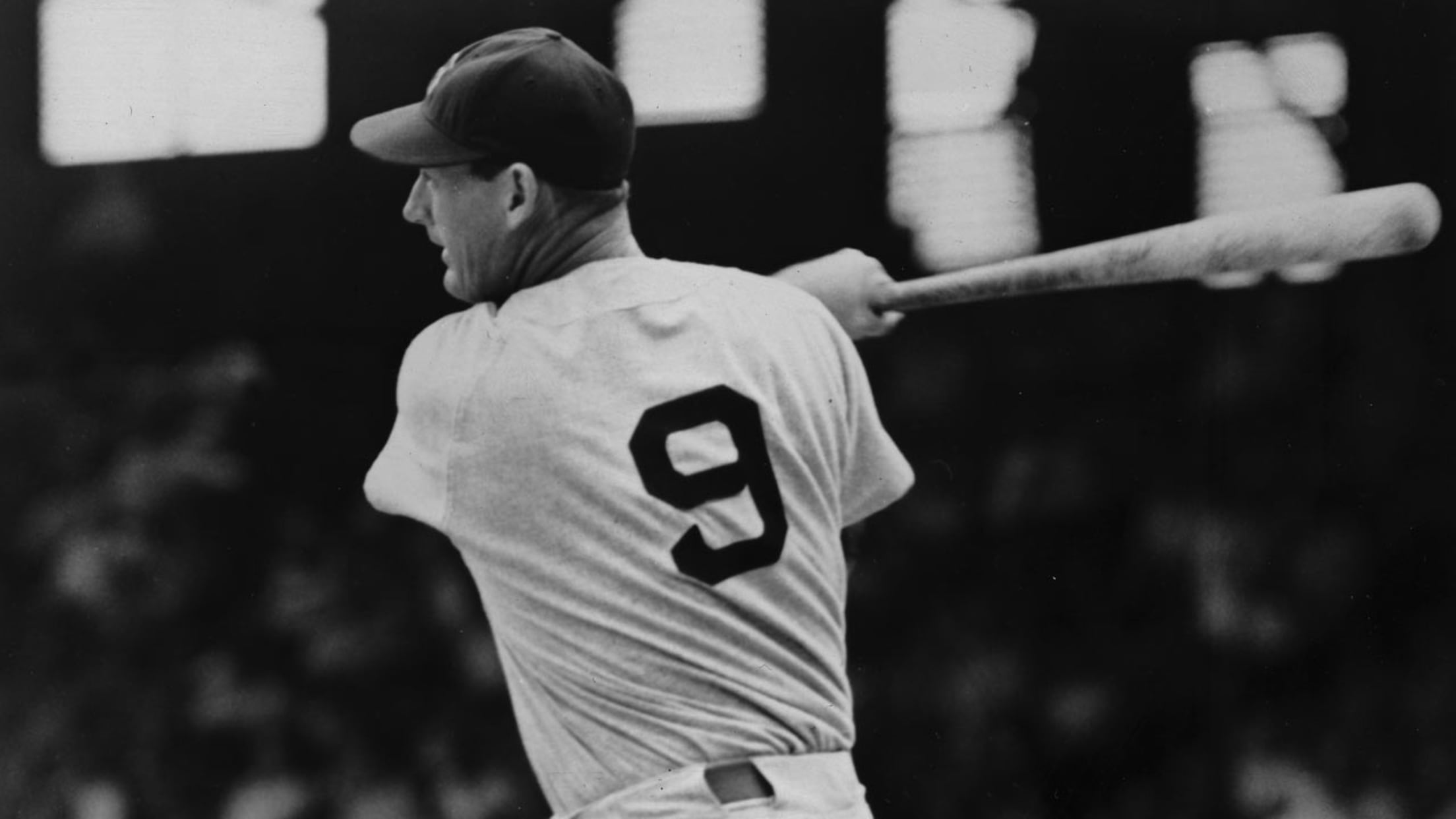 From his feats on the field to his military service, Ted Williams led an iconic American life. (AP)
Ted Williams had a season for the ages in 1941. But the Hall of Famer also enjoyed a remarkable career -- and life. Here are five highlights from his iconic life you should know about.1. Military career Like many ballplayers of his era, Williams was called to service -- first
Ted Williams had a season for the ages in 1941. But the Hall of Famer also enjoyed a remarkable career -- and life. Here are five highlights from his iconic life you should know about.
1. Military career
Like many ballplayers of his era, Williams was called to service -- first during World War II and again during the Korean War. Yet, unlike many of his MLB comrades, the Splendid Splinter was a casualty of active combat -- losing part of his hearing and surviving many dangerous encounters while flying 39 missions as a captain in the Korean War, according to the Marine Corps Association.
"Some people came back in from the sports world who were put to work as coaches for the baseball teams or something like that," said John Glenn, who later became an astronaut and U.S. senator, to MLB.com's Jonathan Mayo. "Ted was not that way. Ted fit right in. He was a Marine pilot just like the rest of us and did a great job."
Williams' first military stint had a rocky beginning, at best. With a 1A status, he received a deferment months after the 1941 season -- due to his mother's dependence on him -- which the media portrayed as "un-American," contributing to one of the many fractures in his relationship with the press. Williams voluntarily enlisted in the Navy reserve a year later and spent the next three seasons learning to fly.

Teddy Ballgame was known for his remarkable vision at the plate, and that prowess translated directly to his military tenure. According to Mayo, Williams set records for hits, shooting from wingovers, zooms and barrel rolls, as well as a student gunnery record, in reflexes, coordination and visual reaction time -- a high mark that still stands today.
"Much as I appreciate baseball, Ted to me will always be a Marine fighter pilot," Glenn told Mayo. "He did a great job as a pilot. Ted was a gung-ho Marine."
2. A bridesmaid, despite a Triple Crown campaign
If a .406 batting average in 1941 wasn't enough to win the American League MVP Award -- that honor went to Joe DiMaggio, who recorded a 56-game hit streak that remains a record -- one would think a Triple Crown the following year would do the trick.
Williams' trifecta featured a .356 clip, 36 homers and 137 RBIs in 1942. But he was once again the runner-up to a Yankee for the AL MVP Award, this time to Joe Gordon.
Gordon belted half as many homers, posted a .900 OPS that was 247 points lower than Williams' mark, though his Yankees won the AL pennant by nine games over Williams' Red Sox. Gordon did, however, lead the league in two categories: strikeouts (95) and double plays grounded into (22).
A nine-time All-Star, Gordon revolutionized the middle-infield standard. He supplemented his defensive prowess with power, as he became the first AL second baseman to belt 20 homers in a season -- a feat he accomplished seven times in his 11-year career.
Gordon was inducted into the Hall of Fame in 2009, 21 years after his death. While he is considered among the greatest middle infielders of his era, the 1942 AL MVP Award is considered by many to be one of the biggest snubs Williams endured.
Of the 13 Triple Crown winners since MVP awards were established, six did not receive the distinction -- including Williams twice (also in 1947).
3. Williams finally wins the AL MVP Award
In his first full season following World War II, Williams finally won the AL MVP Award in 1946, while leading the Red Sox to their first pennant in 28 years.
Williams led the league with a gaudy 1.164 OPS, a mark that's been reached only 14 times since (including by Williams again in 1957) by just seven other players: Barry Bonds (2001-04), Mark McGwire (1996, '98), Mickey Mantle ('56-57), Larry Walker ('97, '99), Frank Thomas ('94), Jeff Bagwell ('94) and Sammy Sosa (2001).
Yet, despite the breakthrough, that year culminated in disappointment. In an exhibition game four days prior to the Fall Classic, Williams was hit by a pitch on his right elbow and -- despite his downplaying it -- experienced major swelling, according to the Boston Globe archives. He would play in all seven games of the World Series, but went just 5-for-25 (.200) with one RBI and no extra-base hits, as the Red Sox fell to the Cardinals.
Williams won the AL MVP Award again in 1949, but he never played in the World Series after the '46 heartbreak.
4. Williams puts .400 season at risk
Williams remains the last player to exceed the .400 mark. But he put that milestone on the line on the final day of the 1941 season.
With the Red Sox 17 1/2 games behind the first-place Yankees in the standings and Williams sporting an even .400 average entering that afternoon, there was little incentive for Boston's All-Star left fielder to play. Since the postseason only consisted of the AL and National League champions meeting in the World Series at the time, the Red Sox's title hopes had ended weeks earlier.

Yet, Williams risked losing his .400 mark by playing in both ends of a doubleheader against the Philadelphia Athletics. The Splendid Splinter delivered in dramatic fashion, as he went a combined 6-for-8 to vault his average to .406. Had he gone hitless that afternoon, Williams would have finished with a .393 average, and Rogers Hornsby's .424 mark in 1924 would have remained the last time a player eclipsed .400.
5. Six batting titles (almost eight)
Only six players -- Ty Cobb (12), Tony Gwynn (eight), Honus Wagner (eight), Rod Carew (seven), Hornsby (seven) and Stan Musial (seven) -- won more batting titles than Williams, though the Splendid Splinter lost two titles by the narrowest of margins.
Williams finished 194-for-566 (.3427) in 1949, while George Kell went 179-for-522 (.3429), a separation of just .0002 points in favor of Kell. Had Williams gotten one hit on the final day of the season against the Yankees -- he went 0-for-4 -- he would have won the title. Adding injury to insult, the Red Sox lost the AL pennant on that day to -- you guessed it -- the Yankees.
Williams did the AL MVP Award that year. But, as was the case throughout Williams' career, it came with a caveat.
Williams posted a .345 average in 1954 that would have been the AL's best. But he finished with just 386 at-bats, 14 shy of the league minimum to qualify. Williams had 526 plate appearances that season, but his MLB-high 136 walks wound up being a hindrance. MLB altered its regulations in 1957 to accommodate plate appearances instead of at-bats in determining batting titles.