History of qualifying-offer decisions
Who accepted, who rejected and what Draft picks teams received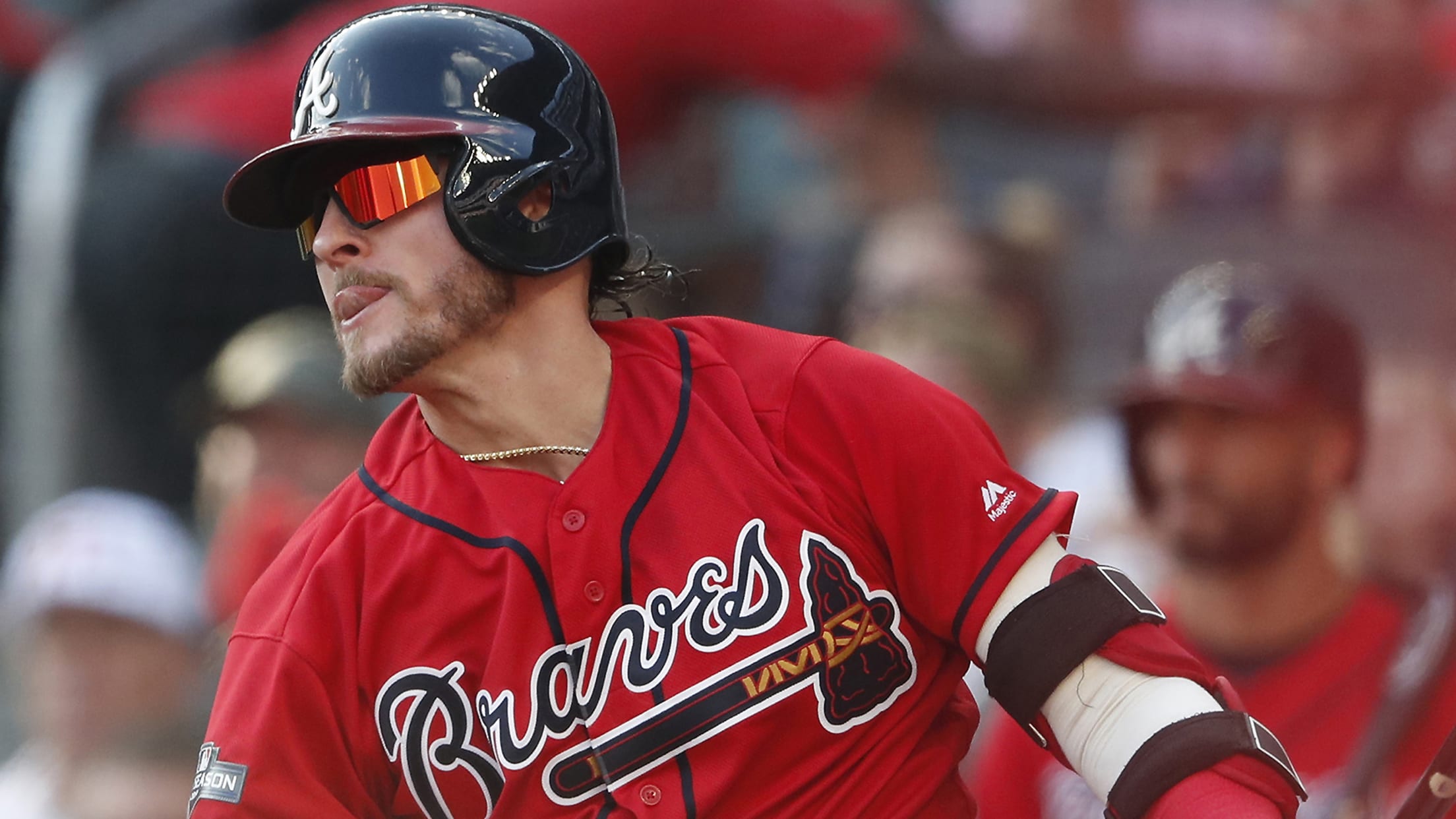 Since the qualifying offer was implemented in 2012, 90 players have received the one-year contract offer from their teams. But only eight players have ever accepted the offer -- including two of the the 10 players who received qualifying offers in 2019 for the 2020 season. The rest of the
Since the qualifying offer was implemented in 2012, 90 players have received the one-year contract offer from their teams. But only eight players have ever accepted the offer -- including two of the the 10 players who received qualifying offers in 2019 for the 2020 season. The rest of the group became free agents with Draft-pick compensation tied to them, per rules from the Collective Bargaining Agreement.
The qualifying-offer system changed with the ratification of the current CBA in December 2016. Previously, teams forfeited their first-round pick (or second-round pick if they had a protected pick in the top 10 overall selections) if they signed a player who had rejected a qualifying offer, while the player's former team received a compensatory pick immediately following the first round. Under the current CBA, if a team loses a free agent who rejected a qualifying offer, the Draft-pick compensation is based on the team's status in regard to revenue sharing and the competitive-balance tax.
Here are all the players who have received qualifying offers since the system was implemented -- who accepted it, who rejected it and signed with a new team and who rejected it but re-signed with the same team -- and what Draft picks teams received as compensation for losing free agents who rejected qualifying offers.
2019 ($17.8 million)
Accepted
• José Abreu, White Sox (replaced with three-year, $50 million contract on Nov. 22)
• Jake Odorizzi, Twins
Rejected (signed elsewhere)
• Will Smith, Giants
Where he signed: Braves (three years, $39 million)
Giants' compensatory Draft pick: After Competitive Balance Round B in 2020 MLB Draft
Rejected (destinations TBD)
• Josh Donaldson, Braves
• Gerrit Cole, Astros
• Zack Wheeler, Mets
• Madison Bumgarner, Giants
• Marcell Ozuna, Cardinals
• Anthony Rendon, Nationals
• Stephen Strasburg, Nationals
2018 ($17.9 million)
Accepted
• Hyun-Jin Ryu, Dodgers
Rejected (signed elsewhere)
• Patrick Corbin, D-backs
Where he signed: Nationals (six years, $140 million)
D-backs' compensatory Draft pick: Brennan Malone, RHP (No. 33 overall)
• Yasmani Grandal, Dodgers
Where he signed: Brewers (one year, $18.25 million)
Dodgers' compensatory Draft pick: Jimmy Lewis, RHP (No. 78 overall)
• Bryce Harper, Nationals
Where he signed: Phillies (13 years, $330 million)
Nationals' compensatory Draft pick: None (forfeited for signing Corbin)
• Dallas Keuchel, Astros
Where he signed: Braves (one year, $13 million)
Astros' compensatory Draft pick: None (Keuchel signed after Draft)
• Craig Kimbrel, Red Sox
Where he signed: Cubs (three years, $43 million)
Red Sox's compensatory Draft pick: None (Kimbrel signed after Draft)
• A.J. Pollock, D-backs
Where he signed: Dodgers (four years, $55 million)
D-backs' compensatory Draft pick: Drey Jameson, RHP (No. 34 overall)
2017 ($17.4 million)
Accepted
None
Rejected (signed elsewhere)
• Jacob Arrieta, Cubs
Where he signed: Phillies (three years, $75 million)
Cubs' compensatory Draft pick: Paul Richan, RHP (No. 78 overall)
• Lorenzo Cain, Royals
Where he signed: Brewers (five years, $80 million)
Royals' compensatory Draft pick: Jackson Kowar, RHP (No. 33 overall)
• Alex Cobb, Rays
Where he signed: Orioles (four years, $57 million)
Rays' compensatory Draft pick: Shane McClanahan, LHP (No. 31 overall)
• Wade Davis, Cubs
Where he signed: Rockies (three years, $52 million)
Cubs' compensatory Draft pick: Cole Roederer, OF (No. 77 overall)
• Greg Holland, Rockies
Where he signed: Cardinals (one year, $14 million)
Rockies' compensatory Draft pick: Mitchell Kilkenny, RHP (No. 76 overall)
• Eric Hosmer, Royals
Where he signed: Padres (eight years, $144 million)
Royals' compensatory Draft pick: Daniel Lynch, LHP (No. 34 overall)
• Lance Lynn, Cardinals
Where he signed: Twins (one year, $12 million)
Cardinals' compensatory Draft pick: Luken Baker, 1B (No. 75 overall)
• Carlos Santana, Indians
Where he signed: Phillies (three years, $60 million)
Indians' compensatory Draft pick: Ethan Hankins, RHP (No. 35 overall)
Rejected (re-signed with same team)
• Mike Moustakas, Royals
New contract: One year, $6.5 million with incentives up to $22.7 million
2016 ($17.2 million)
Accepted
• Jeremy Hellickson, Phillies
• Neil Walker, Mets
Rejected (signed elsewhere)
• Ian Desmond, Rangers
Where he signed: Rockies (five years, $70 million)
Rangers' compensatory Draft pick: Chris Siese, SS (No. 29 overall)
• Edwin Encarnacion, Blue Jays
Where he signed: Indians (three years, $60 million)
Blue Jays' compensatory Draft pick: Nate Pearson, RHP (No. 28 overall)
• William Fowler, Cubs
Where he signed: Cardinals (five years, $82.5 million)
Cubs' compensatory Draft pick: Alex Lange, RHP (No. 30 overall)
Rejected (re-signed with same team)
• Jose Bautista, Blue Jays
New contract: One year, $18 million
• Yoenis Cespedes, Mets
New contract: Four years, $110 million
• Kenley Jansen, Dodgers
New contract: Five years, $80 million
• Mark Trumbo, Orioles
New contract: Three years, $37.5 million
• Justin Turner, Dodgers
New contract: Four years, $64 million
2015 ($15.8 million)
Accepted
• Brett Anderson, Dodgers
• Colby Rasmus, Astros
• Matt Wieters, Orioles
Rejected
• Wei-Yin Chen, Orioles
Where he signed: Marlins (five years, $80 million)
Orioles' compensatory Draft pick: Cody Sedlock, RHP (No. 27 overall)
• Ian Desmond, Nationals
Where he signed: Rangers (one year, $8 million)
Nationals' compensatory Draft pick: Dane Dunning, RHP (No. 29 overall)
• Zack Greinke, Dodgers
Where he signed: D-backs (six years, $206.5 million)
Dodgers' compensatory Draft pick: Will Smith, C (No. 32 overall)
• Yovani Gallardo, Rangers
Where he signed: Orioles (three years, $35 million)
Rangers' compensatory Draft pick: Cole Ragans, LHP (No. 30 overall)
• Jason Heyward, Cardinals
Where he signed: Cubs (eight years, $184 million)
Cardinals' compensatory Draft pick: Dakota Hudson, RHP (No. 34 overall)
• Ian Kennedy, Padres
Where he signed: Royals (five years, $70 million)
Padres' compensatory Draft pick: Eric Lauer, LHP (No. 25 overall)
• John Lackey, Cardinals
Where he signed: Cubs (two years, $32 million)
Cardinals' compensatory Draft pick: Dylan Carson, OF (No. 33 overall)
• Daniel Murphy, Mets
Where he signed: Nationals (three years, $37.5 million)
Mets' compensatory Draft pick: Anthony Kay, LHP (No. 31 overall)
• Jeff Samardzija, White Sox
Where he signed: Giants (five years, $90 million)
White Sox's compensatory Draft pick: Zack Burdi, RHP (No. 26 overall)
• Justin Upton, Padres
Where he signed: Tigers (six years, $132.75 million)
Padres' compensatory Draft pick: Hudson Potts, SS (No. 24 overall)
• Jordan Zimmermann, Nationals
Where he signed: Tigers (five years, $110 million)
Nationals' compensatory Draft pick: Carter Kieboom, SS (No. 28 overall)
Rejected (re-signed with same team)
• Chris Davis, Orioles
New contract: Seven years, $161 million
• Marco Estrada, Blue Jays
New contract: Two years, $26 million
• William Fowler, Cubs
New contract: One year, $8 million
• Alex Gordon, Royals
New contract: Four years, $72 million
• Hisashi Iwakuma, Mariners
New contract: One year, $11 million
• Howie Kendrick, Dodgers
New contract: Two years, $20 million
2014 ($15.3 million)
Accepted
None
Rejected (signed elsewhere)
• Melky Cabrera, Blue Jays
Where he signed: White Sox (three years, $42 million)
Blue Jays' compensatory Draft pick: Jon Harris, RHP (No. 29 overall)
• Nelson Cruz, Orioles
Where he signed: Mariners (four years, $57 million)
Orioles' compensatory Draft pick: Ryan Mountcastle, SS (No. 36 overall)
• Michael Cuddyer, Rockies
Where he signed: Mets (two years, $21 million)
Rockies' compensatory Draft pick: Mike Nikorak, RHP (No. 27 overall)
• Russell Martin, Pirates
Where he signed: Blue Jays (five years, $82 million)
Pirates' compensatory Draft pick: Ke'Bryan Hayes, 3B (No. 32 overall)
• Hanley Ramirez, Dodgers
Where he signed: Red Sox (four years, $88 million)
Dodgers' compensatory Draft pick: Kyle Funkhouser, RHP (No. 35 overall)
• Player Page for David Robertson, Yankees
Where he signed: White Sox (four years, $46 million)
Yankees' compensatory Draft pick: Kyle Holder, SS (No. 30 overall)
• Pablo Sandoval, Giants
Where he signed: Red Sox (five years, $95 million)
Giants' compensatory Draft pick: Chris Shaw, 1B (No. 31 overall)
• Ervin Santana, Braves
Where he signed: Twins (four years, $55 million)
Braves' compensatory Draft pick: Mike Soroka, RHP (No. 28 overall)
• Max Scherzer, Tigers
Where he signed: Nationals (seven years, $210 million)
Tigers' compensatory Draft pick: Christin Stewart, OF (No. 34 overall)
• James Shields, Royals
Where he signed: Padres (four years, $75 million)
Royals' compensatory Draft pick: Nolan Watson, RHP (No. 33 overall)
Rejected (re-signed with same team)
• Francisco Liriano, Pirates
New contract: Three years, $39 million
• Victor Martinez, Tigers
New contract: Four years, $68 million
2013 ($14.1 million)
Accepted
None
Rejected (signed elsewhere)
• Carlos Beltran, Cardinals
Where he signed: Yankees (three years, $45 million)
Cardinals' compensatory Draft pick: Jack Flaherty, RHP (No. 34 overall)
• Robinson Cano, Yankees
Where he signed: Mariners (10 years, $240 million)
Yankees' compensatory Draft pick: None (lost pick for signing Beltran)
• Shin-Soo Choo, Reds
Where he signed: Rangers (seven years, $130 million)
Reds' compensatory Draft pick: Alex Blandino, 3B (No. 29 overall)
• Nelson Cruz, Rangers
Where he signed: Orioles (one year, $8 million)
Rangers' compensatory Draft pick: Luis Ortiz, RHP (No. 30 overall)
• Jacoby Ellsbury, Red Sox
Where he signed: Yankees (seven years, $153 million)
Red Sox's compensatory Draft pick: Michael Kopech, RHP (No. 33 overall)
• Curtis Granderson, Yankees
Where he signed: Mets (four years, $60 million)
Yankees' compensatory Draft pick: None (lost pick for signing Ellsbury)
• Ubaldo Jimenez, Indians
Where he signed: Orioles (four years, $50 million)
Indians' compensatory Draft pick: Justus Sheffield, LHP (No. 31 overall)
• Brian McCann, Braves
Where he signed: Yankees (five years, $85 million)
Braves' compensatory Draft pick: Braxton Davidson, OF (No. 32 overall)
• Kendrys Morales, Mariners
Where he signed: Twins (one year, $7.4 million -- prorated version of $12 million contract signed in June)
Mariners' compensatory Draft pick: None (lost pick for signing Cano)
• Ervin Santana, Royals
Where he signed: Braves (one year, $14.1 million)
Royals' compensatory Draft pick: Foster Griffin, LHP (No. 28 overall)
Rejected (re-signed with same team)
• Stephen Drew, Red Sox
New contract: One year, $10.1 million (prorated version of $14.1 million deal signed in May)
• Hiroki Kuroda, Yankees
New contract: One year, $16 million
• Mike Napoli, Red Sox
New contract: Two years, $32 million
2012 ($13.3 million)
Accepted
None
Rejected (signed elsewhere)
• Michael Bourn, Braves
Where he signed: Indians (four years, $48 million)
Braves' compensatory Draft pick: Jason Hursh, OF (No. 31 overall)
• Josh Hamilton, Rangers
Where he signed: Angels (five years, $125 million)
Rangers' compensatory Draft pick: Travis Demeritte, 3B (No. 30 overall)
• Kyle Lohse, Cardinals
Where he signed: Brewers (three years, $33 million)
Cardinals' compensatory Draft pick: Rob Kaminsky, LHP (No. 28 overall)
• Rafael Soriano, Yankees
Where he signed: Nationals (two years, $28 million)
Yankees' compensatory Draft pick: Ian Clarkin, LHP (No. 33 overall)
• Nick Swisher, Yankees
Where he signed: Indians (four years, $56 million)
Yankees' compensatory Draft pick: Aaron Judge, OF (No. 32 overall)
• Melvin Upton Jr., Rays
Where he signed: Braves (five years, $75.25 million)
Rays' compensatory Draft pick: Ryne Stanek, RHP (No. 29 overall)
Rejected (re-signed with same team)
• Hiroki Kuroda, Yankees
New contract: One year, $15 million
• Adam LaRoche, Nationals
New contract: Two years, $25 million
• David Ortiz, Red Sox
New contract: Two years, $26 million