A reason to believe for all 30 teams
Opening Day is a reason to be hopeful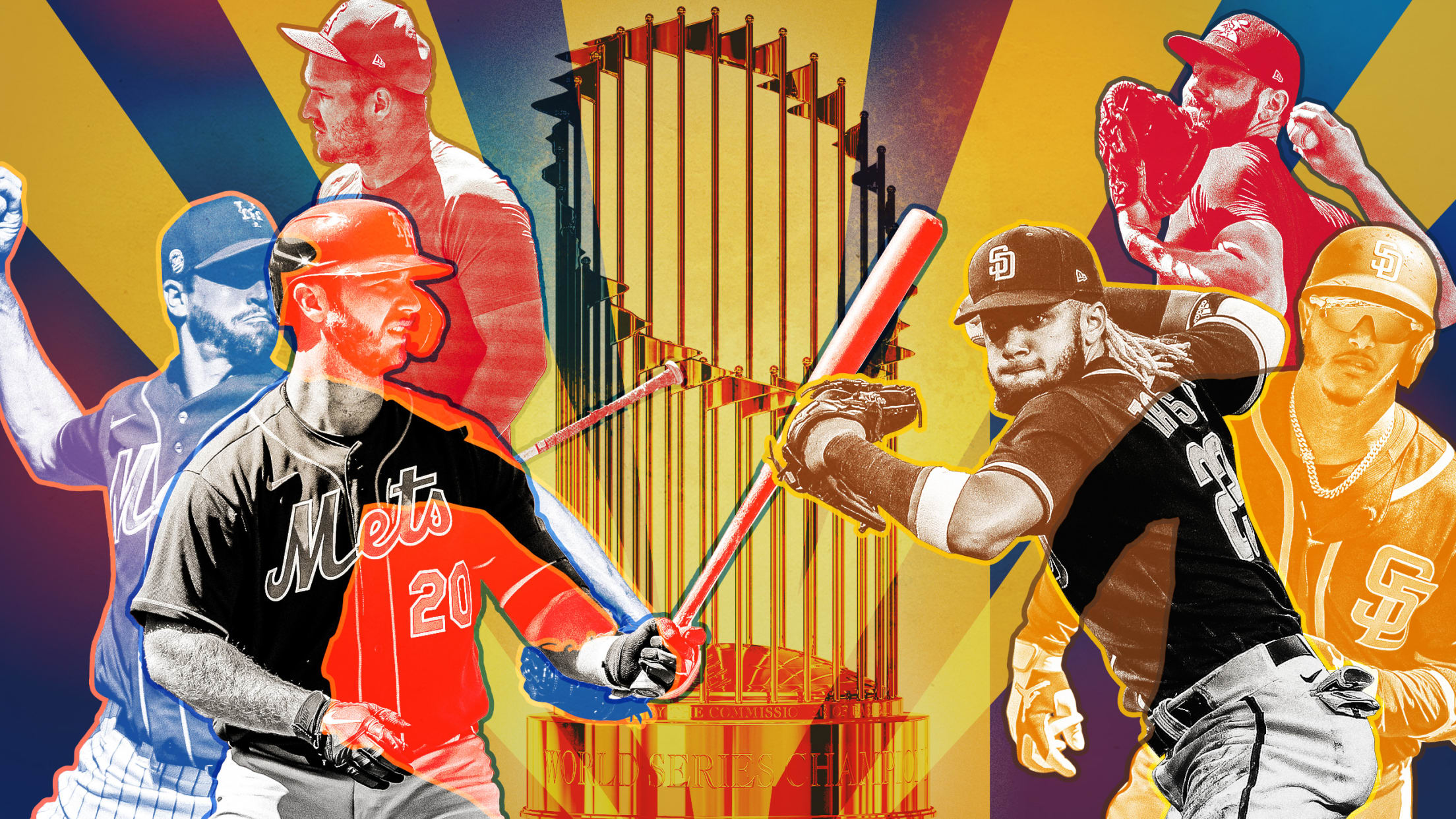 (Tom Forget / MLB.com)
Every Opening Day, fans give in to the collective delusion that this could be the season their team wins it all. That rotation pieced together by waiver wire pickups and prospect hopefuls could surprise. The lineup that seemed incapable of hitting the ball a year ago is hiding a few
Every Opening Day, fans give in to the collective delusion that this could be the season their team wins it all. That rotation pieced together by waiver wire pickups and prospect hopefuls could surprise. The lineup that seemed incapable of hitting the ball a year ago is hiding a few breakout stars. The porous defense spent the winter taking grounders and will be converting hits into outs like never before.
With a shortened 60-game season and expanded playoffs, the postseason races will be more wide open than ever. A few lucky bounces, a backup looking like a star, a pitcher in the zone -- any of these could vault a team into October, where anything can happen.
So, let's take a look at how every team could pull it off -- some are easier to see than others, but everyone has a chance.
AL EAST
Blue Jays: The young stars go supernova
Last season was one of transition as Vlad Guerrero Jr., Bo Bichette and Cavan Biggio were all called to the Majors. Bichette was the best performer of the three, hitting 11 home runs and posting a .930 OPS in a quarter season. If they join together like a baseball version of Alpha Flight (the Canadian Avengers, natch), the rebuild could bear fruit earlier than expected.
Orioles: Dwight Smith Jr. 'Show'-ed it was possible
While Joey Gallo was a homer-hitting phenom and Blake Snell ended up the champ of the MLB: The Show Players League, Smith was the surprise star as he went 19-10 and made the postseason. If the virtual O's did it, then the real-life versions could do the same.
Rays: Brand new trickery
The Rays are already one of the best teams in the league, with a pitching rotation that can stand up against any other. They are also a team that is forever tinkering and pushing the edges. As the rest of the league has caught on to the opener, what new wrinkle will the Rays figure out in the next two months?
Even better, in a shortened season, other teams won't have the chance to be copycats.
Red Sox: Nate Eovaldi is back
Things may seem bleak in Red Sox nation, with Mookie Betts is playing on the other side of the country and Chris Sale missing the season with Tommy John surgery. But the offense still has J.D. Martinez, Xander Bogaerts and Rafael Devers, so runs shouldn't be a problem. That means it's up to the pitchers.
Eovaldi struggled last year in his return to the rotation, but 2020 could be the year he pitches every game like it's extra innings in the World Series.
Yankees: Just repeat last season
Last season the Yankees won over 100 games and hit over 300 home runs, while roughly half their roster missed significant chunks of the season. Then they went and signed Gerrit Cole. It's not hard to think New York will claim a 28th World Series title this year with just a few different bounces going its way.
AL CENTRAL
Indians: More Francisco Lindor flips
Lindor has three straight seasons with 30 home runs. No other shortstop has more than two. He also is pretty smooth in the field as his Gold Gloves and snazzy glove flip double plays can attest.
Sprinkle in a few home run somersaults, and the Indians will be looking pretty good this summer.
Royals: Triples alley
Last year, the Royals stole the second-most bags in the league and tied for the third-most triples. Though Billy Hamilton is no longer on the team, there's still plenty of speed thanks to Adalberto Mondesi and Whit Merrifield. In a shortened season, every triple, stolen base and error committed while they race around the bases will have a big impact.
Tigers: The rotation has a season for the ages
Though the Tigers just had the first overall pick in the amateur Draft, there is reason for optimism. Matthew Boyd had stretches last season where he looked like an ace (including a 3.08 ERA through 61 games), Daniel Norris has shown flashes of the pitcher that was a top-20 prospect in the game before 2015, and the Tigers could call on MLB's No. 7 overall prospect Casey Mize sometime this year, too.
Twins: A home run barrage
The Twins broke the MLB record for most home runs in a season last year. Then they added Josh Donaldson and his 37 home runs to the roster this winter. There's not a pitcher in the game that wants to face this team.
White Sox: Lucas Giolito wins the Cy Young
The White Sox have a strong, young team set to become a powerhouse in the coming years with players like Eloy Jimenez and Luis Robert reaching the Major League roster. That could happen a little faster if Giolito improves on his breakout season last year -- 3.41 ERA and 228 strikeouts -- to snag the AL Cy Young Award.
AL WEST
Angels: They have Mike Trout
Just as the Avengers can respond to every problem by saying, "We have a Hulk," the Angels can point to the Majors' greatest player on their roster. In a 60-game season, Trout could hit .400, hit 20 homers, steal 20 bases, and none of us would be surprised
Astros: They're still a powerhouse
Houston has won over 100 games for three consecutive years -- just the sixth team in history to pull it off. While it's impossible to do that this year, their roster is absolutely stacked. Any combination of players including José Altuve, George Springer, Alex Bregman, Justin Verlander and Zack Greinke can win a World Series.
A's: Every ball hit near third base is converted into an out
It should be pretty easy to win a lot of games when it's impossible to sneak a double down the third-base line past Matt Chapman. It's even easier to win games when Chapman hits plenty of home runs, too.
Mariners: The youth movement arrives
The M's may not have made it to the postseason since 2001, but that could change in a shortened 2020 -- especially if Kyle Lewis, Shed Long and Evan White all impress this year.
Rangers: The pitching does it again
The Rangers hung around in the postseason race longer than most expected last year thanks in large part to the starting pitching. Mike Minor struck out precisely 200 batters (though the Red Sox may not have liked how he did it), and according to Fangraphs WAR Lynn was the third-best pitcher in the Majors. With Corey Kluber added in the offseason, batters will have a real rough time facing Texas if Lynn and Minor can repeat their 2019 seasons.
AL EAST
Braves: Ronald Acuña Jr. does it all
When you have a player like Acuña on the roster -- who came three steals shy of a 40/40 season last year -- you don't need to worry too much. As the MLB.com writers and editors predicted, this could be the year Acuña wins his first MVP Award.
Mets: Cookie Club proves to be a great source of sugar and success
Last year, the Mets got back into the postseason race thanks to their cookie club. A cookie certainly improves your mood, and who wouldn't play better when they're happy?
This year, the cookie club should offer that boost all season long. (And if it's not the cookies, Jacob deGrom winning a third straight Cy Young Award would certainly do it.)
Marlins: The infield plays like one of the game's best
Two years ago, first baseman Jesús Aguilar hit 35 home runs for the Brewers. Last year, Jonathan Villar nearly posted a 30/40 season with the O's. Miguel Rojas is one of the slickest defenders at shortstop, and second baseman Isan Diaz cracked 26 home runs in Triple-A last season before struggling in his big league debut. If they all put it together this season, watch out.
Phillies: Bryce Harper starts hot (as usual)
Harper always starts the season well, with his best splits coming in April and May. Guess what? That's about the length of the full season this year. If he pulls it off, he could easily win his second MVP Award.
Nationals: Strasburg and Scherzer and pray for … umm, what rhymes with Scherzer?
They did it the last time we watched baseball, so why couldn't they do it again?
NL CENTRAL
Brewers: Christian Yelich wins the triple crown
Last year, Yelich won the slash line triple crown and was in a neck-and-neck race for the MVP Award with Cody Bellinger before he got injured in September. If he picks up where he left off, the Brewers might win their first World Series title.
Cardinals: Kolten Wong and Harrison Bader won't let a ball will drop between them
When you have two of the best defenders in the middle of the field, you're going to have a good time. Forget about dropping in any bloop singles this year.
Cubs: Kris Bryant reclaims his 2016 magic
While Bryant has been a solid hitter his entire career, his best season remains the one that ended with a World Series title. If he hits like '16, maybe the year ends the same way.
Pirates: Josh Bell wins the HR title
For two months last year, you could almost count on Bell to hit a home run. One of the largest dudes in the game -- with one of the largest dads in the world -- Bell smashed some of the most majestic homers ever seen at PNC Park. If he avoids the slump that plagued his second half last year, that would help the Pirates, who finished 27th in homers last season.
Reds: Luis Castillo wins the team's first Cy Young Award
Somehow, the Reds have never had a player win the Cy Young Award. Castillo and his unhittable changeup made a run at it for much of the summer before fading down the stretch, and he could pull it off this season.
NL WEST
D-backs: Two Martes prove better than one
Ketel Marte finished fourth in MVP voting last year after hitting 32 home runs and playing a solid center field, shortstop, and second base -- you know, only the hardest positions that aren't catcher. This year, he'll be able to focus just on the infield as the D-backs added Starling Marte from the Pirates over the offseason.
Dodgers: Chico becomes a star
The Dodgers are so good at finding and acquiring talent -- you think it's just luck they wound up with Mookie Betts, Cody Bellinger, Max Muncy, etc. etc. etc. all on the roster? -- that even their clubhouse attendant has become a star. His playing time seems over, but if there's going to be a Disney movie, he needs an in-season appearance.
Giants: A Yastrzemski has to win a World Series eventually, right?
It was a storybook moment last year when Mike Yastrzemski homered at Fenway Park with his grandfather and Red Sox legend, Carl, on hand to see it. Maybe this is the year that the family also gets a World Series ring.
Padres: Manny Machado and Fernando Tatis Jr. become the best left-side duo
Padres fans got a glimpse of the next future of the franchise as Machado moved over to third to herald the coming of Tatis. Unfortunately, Machado struggled (by his impressive standards) and Tatis missed half the year with an injury. They could put it all together while rocking the new-look brown unis, too.
Rockies: The pitching staff bounces back
Two years ago, the Rockies went to the postseason after German Marquez and Kyle Freeland proved that is possible to pitch at Coors Field. Then, the Rockies posted one of their worst team ERAs in history last season, and everyone threw up their hands. If the pitching bounces back, the team can contend once again.
Michael Clair writes for MLB.com. He spends a lot of time thinking about walk-up music and believes stirrup socks are an integral part of every formal outfit.