Where did the ace pitching prospects go?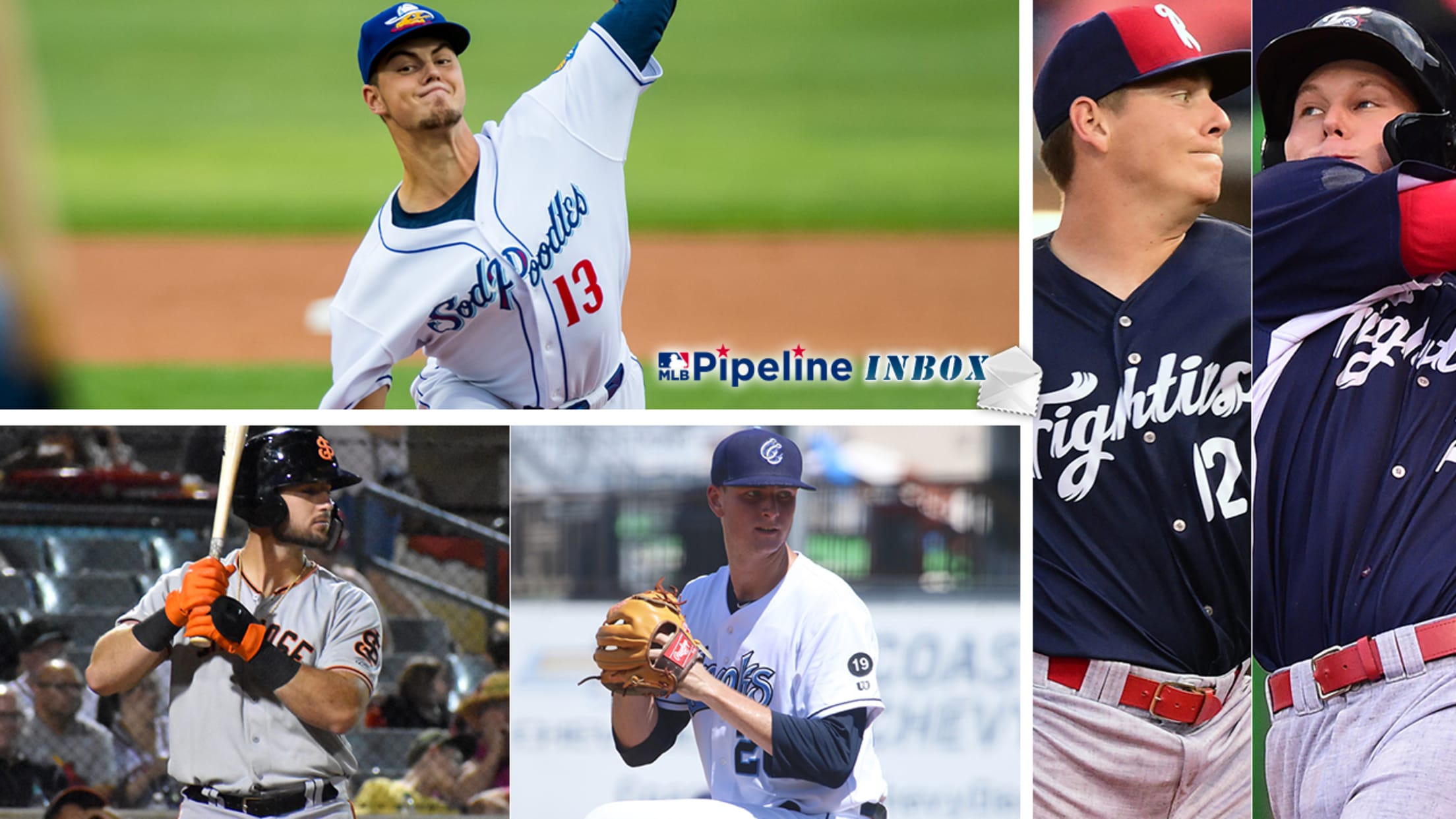 It might seem like this is a down time for baseball, especially in terms of prospect coverage. The Arizona Fall League is over, but we've still got Olympic qualifying going on (read below about one of the key performers for Team USA), there are 40-man roster decisions to be made,
It might seem like this is a down time for baseball, especially in terms of prospect coverage. The Arizona Fall League is over, but we've still got Olympic qualifying going on (read below about one of the key performers for Team USA), there are 40-man roster decisions to be made, the Rule 5 Draft is coming up and fans -- based on the questions we got in for this week's Pipeline Inbox -- are very keen on trying to figure out which young players are going to help out their club in 2020.
@JonathanMayo @jimcallisMLB so this is a @MLBPipeline question. Why does it seem like there has not been an true #1 ACE pitcher prospects in a while? I know Gore "Might be" but no real definitive like Kershaw, Verlander, Felix etc

— Brian D (@BriannAtl35) November 6, 2019
I usually start any conversation on this topic with the caveat that I don't like using the label "ace," especially for young pitching prospects. Look around Major League Baseball and tell me how many true aces there are. You ticked off a few, but they are also far between.
It's an important point, really. Yes, Clayton Kershaw, Justin Verlander and Felix Hernandez were all top pitching prospects who had the upside to be front-line starters. But we didn't know they would become who they became until they got there, right? To your point, they weren't definitive No. 1 starters in the Minors.
The same can be said for the top pitching prospects in the game today. Undoubtedly, some will reach their full potential and head a big league rotation. Some will become solid starting pitchers for a long time. Some won't pan out. Conversely, there will be prospects who aren't as highly regarded now who will outperform expectations to be No. 1 type guys.
There are some who definitely have the makings of top-of-the-rotation types. You mention lefty MacKenzie Gore, and it makes sense to start with our highest-ranked pitching prospect. I do think that the right-handers in the top 10, Detroit's Casey Mize and Toronto's Nate Pearson have the ingredients, and while Astros right-hander Forrest Whitley lost his way in 2019, he looked like he was rediscovering himself in the Arizona Fall League. And another lefty, Jesus Luzardo of the A's, also has staff-leading potential.
Here's the thing to remember, though. If any of those names above end up as, say, a really reliable No. 3-type starter, that's not a failure in my estimation. Last I checked, big league staffs need multiple starters and who is considered No. 1 isn't always as important as some make it seem.
When should Phillies fans expect to see spencer Howard and Alec bohm in the big leagues?

— Danny Kamen (@Chevrolet_Z28) November 4, 2019
Lots of Phillies questions this week, with the organization's top two prospects in Alec Bohm and Spencer Howard, the focal point. Two questions asked specifically about when they might be ready for the big leagues, one asked if Bohm was an option at third next year.
After seeing them excel in the Arizona Fall League, I think both will be ready to contribute at some point in Philadelphia in 2020. Bohm has only one full year of pro ball under his belt, but the 2018 No. 3 overall Draft pick lived up to his billing as an advanced college hitter who could move quickly through a system. He made it to Double-A in year one, then finished second with a .361 average in the AFL. Bohm's power is going to continue to come, but even without that, he's ready to handle big league pitching, and he helped propel Team USA to the next round of Olympic qualifying. Whether he's ready to play third is another matter. He continued to see time at first base this fall, and that might be his eventual home. What the Phillies do on the free-agent market could determine if Bohm gets a shot at the hot corner in 2020 or has to break in playing both infield corners.
Howard's stuff is legit and he misses enough bats to feel confident that it will play against Major League hitters. His changeup was ridiculous in the AFL and he showed a plus slider to go along with an upper-90s fastball. The only thing holding Howard back is his command, which still needs to be refined. I could see him getting a half-season of innings in the upper Minors to start out 2020, but working his way up to the rotation after that. And if the Phillies are competing and there isn't a rotation spot available, Howard could get shortened up and put in the bullpen for the short term, where his power stuff would play up even more.
Is Joey Bart an injury concern or are the two hand injuries both freak breaks? Any long term ding or affect to his value because of the new injury?

— Buffalo Phil (@RealBuffaloPhil) November 4, 2019
I wouldn't worry about any kind of disturbing pattern here and would chalk it up to, as you put it, freak occurrences. The first injury occurred in the California League on a pitch that rode in on his hands (that was actually called a foul ball). Bart obviously returned and performed well. He was looking like one of the best catching prospects in baseball in the AFL when a fastball from Pirates reliever Blake Cederlind was way up and in and struck Bart on the right thumb.
I think the only reason to be concerned would be if Bart had a tendency to crowd the plate or lean/dive over it, putting his non-throwing hand in harm's way on a more regular basis. That wasn't the case on either pitch, especially the one in the AFL. So fear not, Giants fans. Bart should be ready in plenty of time for Spring Training and can continue his ascent to San Francisco. If the injuries mean he needs a few more at-bats or reps in the Minors than some might have anticipated, then so be it. But Bart's so advanced both at the plate and behind it that I don't foresee these injuries being anything but a minor blip on the radar.
With Gerrit Cole a FA, does that increase the chances that the Astros call up Forrest Whitley to try and be in the back end of that rotation? Especially with McCullers coming back and JV and Greinke at the top, is whitely ready to go every 5th day?

— Caleb Morse (@calebdmorse) November 4, 2019
If the Forrest Whitley who just pitched in the Fall League shows up, then yes, I think he's ready. Whether that happens remains to be seen. Pure stuff wise, he has all the ingredients to be a part of that big league rotation, and pitching behind the veterans you mentioned will take the pressure off and allow him to learn from the best.
In talking to Whitley this fall, it seems like he learned a tremendous amount about his craft, his delivery and his body during his lost 2019 season that included a shoulder issue and an extended stretch of not being able to find the strike zone. The guy who showed up in the AFL was back in command and was dominant. Even if he doesn't start the year in the big league rotation -- perhaps the Astros will have someone to fill in the No. 4 or 5 spot for the short-term -- I fully expect Whitley to be a mainstay on that staff in 2020, and for a long time to come.