Inbox: Who will be Royals' biggest surprise?
Beat reporter Jeffrey Flanagan answers questions from Kansas City fans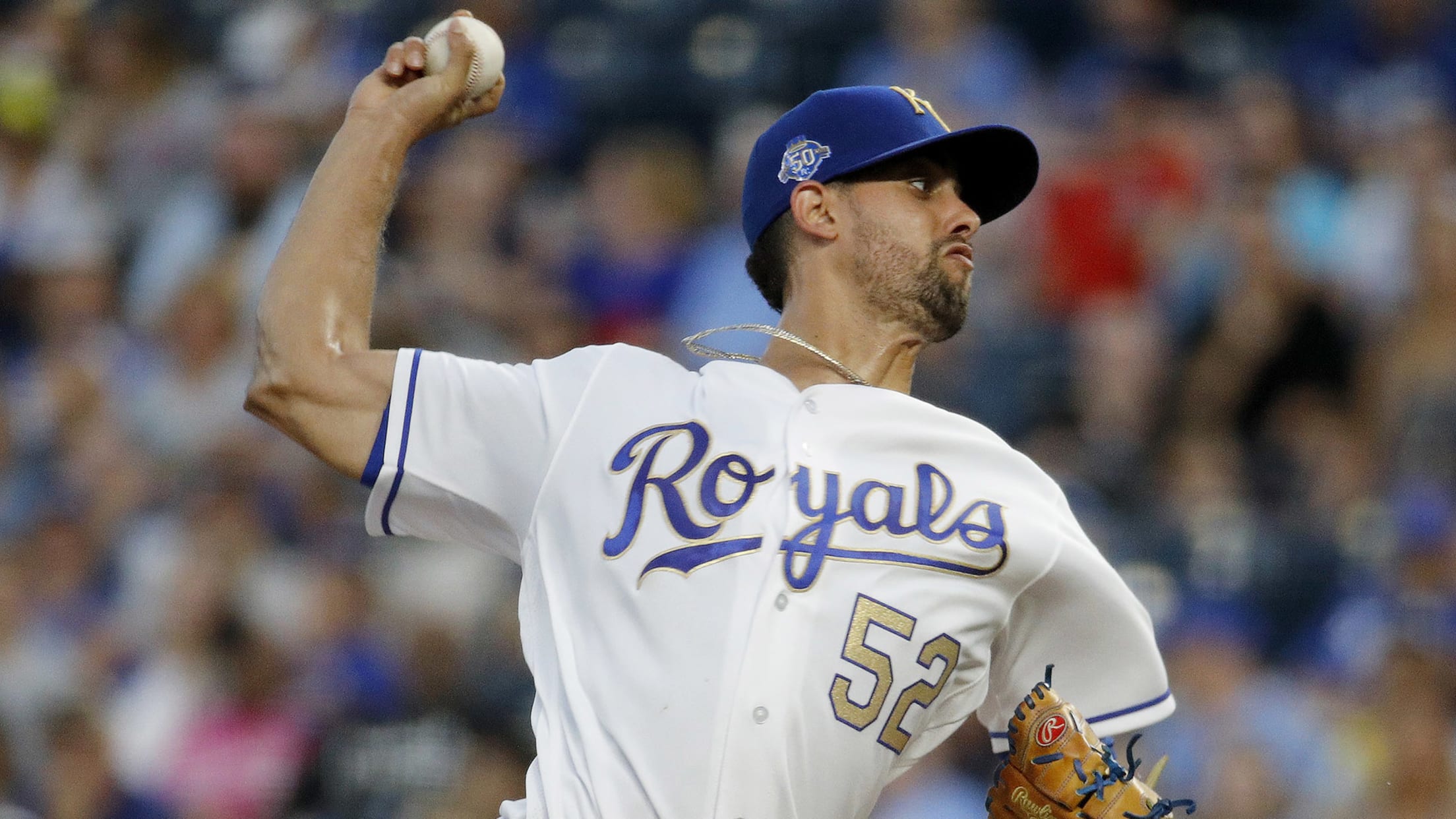 Kansas City Royals starting pitcher Jorge Lopez throws during the first inning of a baseball game against the Minnesota Twins Friday, Sept. 14, 2018, in Kansas City, Mo. (AP Photo/Charlie Riedel) (Charlie Riedel/AP)
KANSAS CITY -- Royals pitchers and catchers will report to Surprise, Ariz., on Feb. 12. Yep, Spring Training is right around the corner.:: Submit a question to the Royals Inbox ::With that in mind, let's jump into the first Royals Inbox of 2019:
KANSAS CITY -- Royals pitchers and catchers will report to Surprise, Ariz., on Feb. 12. Yep, Spring Training is right around the corner.
:: Submit a question to the Royals Inbox ::
With that in mind, let's jump into the first Royals Inbox of 2019:
prediction for biggest surprise player - either positive or negative (please choose positive) ... ?

— B-RAD (@bcraaum) January 8, 2019
I'm very high on right-hander Jorge Lopez. I remember after the first couple of times he pitched for the Royals, Salvador Perez pulled me aside and said, "That kid has the best stuff on the staff." That stuck with me. And then we almost saw Lopez throw a perfect game in Minnesota. Most pitchers have one "out pitch." Lopez has several. It's just a matter of gaining experience now.
Your prediction of the starting rotation is?

— Ned's Taxidermist (@MarcRowedder) January 9, 2019
Danny Duffy, Jakob Junis, Brad Keller, Ian Kennedy, Lopez.
I wouldn't be surprised if Kennedy becomes a late-inning guy at some point. He has the command to do it, sort of the way Jeff Montgomery did.
Will Zimmer make the rotation or will he be a bullpen guy?

— Jonathan Bengtson (@jbengtson79) January 8, 2019
Kyle Zimmer might be the biggest wild card in camp this year. He told me he is throwing pain-free for maybe the first time in his pro career. The Royals need a surprise, like Zimmer wowing everyone in Spring Training. It's not unthinkable to envision him becoming a short reliever, cutting it all loose for an inning or two like Wade Davis did when he transitioned to the bullpen. It's a long shot, but who knows?
Have we ever gotten an answer on how they can justify Hamilton when we need to get looks at Goodwin, Phillips, and Bonifacio?

— Seth Heronemus (@sethheronemus) January 8, 2019
On the surface, it looks like the Billy Hamilton signing goes against the rebuild. But the Royals have made the decision to return to their 2013-2015 identity of speed and defense. General manager Dayton Moore does not want another 100-loss season and as they transition, Hamilton will save a ton of outs for the pitching staff (a young pitching staff, mind you), and provide a weapon on the basepaths. Brett Phillips and Jorge Bonifacio both have options, so they can still develop in the Minors if necessary.
Four years removed from the World Series title. Dayton Moore seems to be meandering the way forward as far as I am concerned. What exactly is the plan?

— FreudianFlip (@NotKeithPatton) January 8, 2019
Actually, it's only been three seasons since the World Series title. Moore doesn't like to use the word "rebuild" but that's essentially what is happening. There's a ton of talent from that Lexington team (Seuly Matias, Nick Pratto, MJ Melendez, et al.) that isn't that far away. Khalil Lee is already at Double-A. And last year's Draft picks of Brady Singer and Jackson Kowar could help in a year or two. To me, the plan is pretty obvious. You can make the argument that the Royals should have started this rebuild in 2017 but then again, they were just a couple of games out of first place at the Trade Deadline that year and were leading in the second Wild Card spot. It's hard to fault the Royals for going all in back then.
Do the Royals plan on bringing in any more free agents? Heard some speculation but I don't know if it's true or not

— Mr. Perfect (@ReelMrPerfect) January 8, 2019
Definitely. Moore and his staff simply are waiting for the price to come down on some free agents, especially relievers.
Who will start 2019 as the royals 1st baseman

— Joey LaBella (@jlab111b) January 9, 2019
Ryan O'Hearn. But expect manager Ned Yost to shuffle his lineup much more than in the past, especially with super-utility guys such as Chris Owings and Whit Merrifield. Ned's favorite phrase of "mix and match" will be even more prominent in 2019.
Who of the young Royals pitchers do you see having the most impact in 2019. Thanks

— Rupert (@royalrupert) January 9, 2019
I mentioned Lopez. I also think Heath Fillmyer will have a significant role in 2019, either in the bullpen or the rotation. And don't be surprised if Zimmer or Josh Staumont emerge.
Was Terrence Gore signed with the expectation of spending most of season in Omaha or KC?

— Greg Smith (@gsmith601) January 9, 2019
It's unlikely Terrance Gore will see Omaha. He was brought in as a late-inning weapon with the hope he can pinch-run two out of every three games, no matter the circumstances. The Royals want speed again.
How will GMDM use Rule 5 draftees, Chris Ellis & Sam McWilliams in 2019?

— Jun (@Royals_Jun) January 9, 2019
Expect both Ellis and McWilliams to follow a similar path the Royals set for last year's Rule 5 pick, Keller. If they make the team, it will be in the bullpen at first.
Will Lovelady and Staumont get a shot in the bullpen this year?

— Darrell Pierce (@DarrellP1953) January 8, 2019
Josh Staumont already is on the 40-man roster, so he has a chance to make the Opening Day roster. The Royals don't have to put Richard Lovelady on the 40-man until next fall, so he would really have to wow them in camp.