Pipeline Preview: Chang looks to stay hot offensively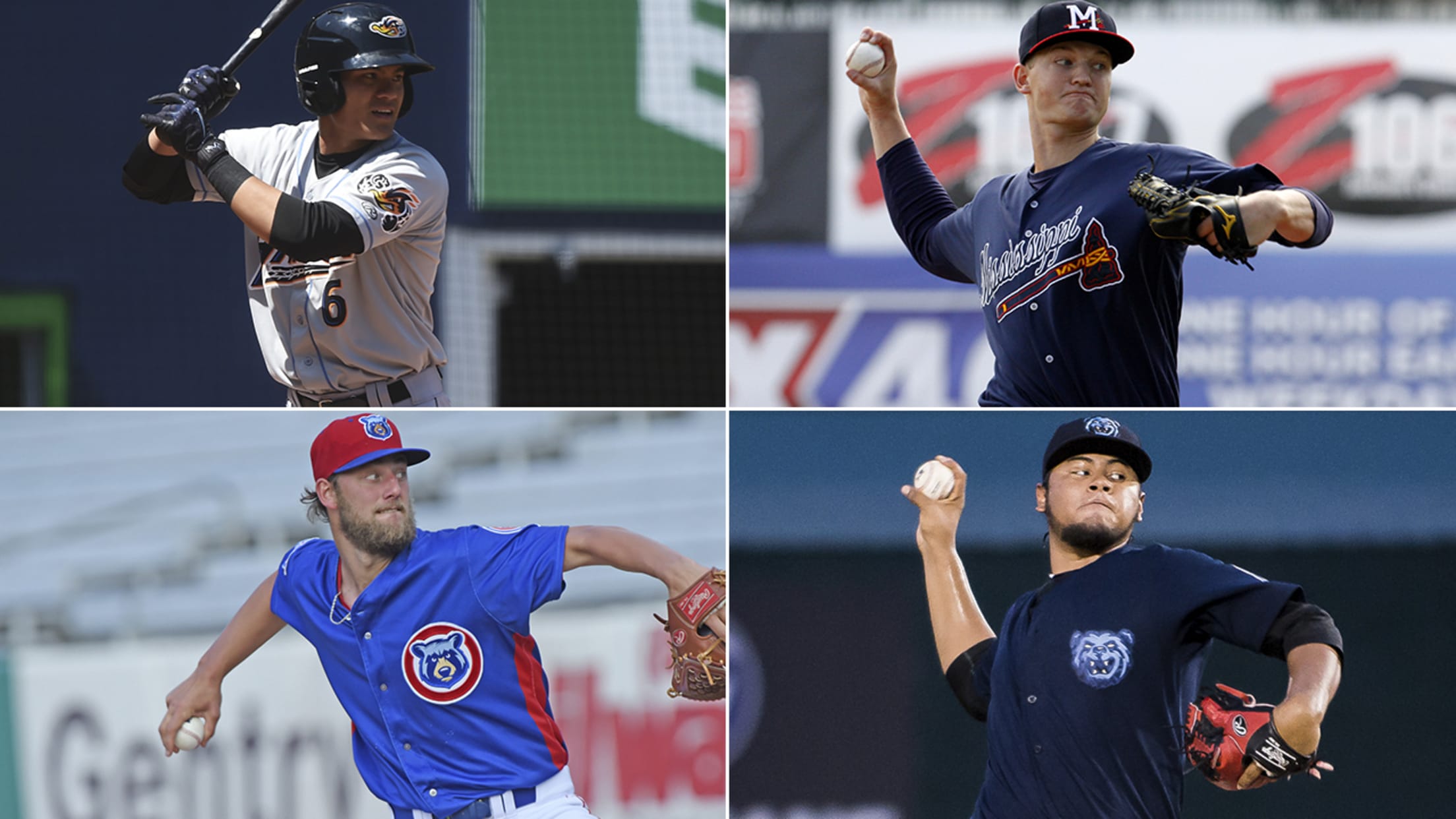 Here's a look at top prospects to watch in today's Minor League action:Hitter to watch: Yu-Cheng Chang (Indians' No. 9), Akron at Erie (7:05 p.m. ET on MiLB.TV)Chang started the scoring for the Western All-Stars in Wednesday's Eastern League All-Star Game, plating a run with a second-inning double before finishing
Here's a look at top prospects to watch in today's Minor League action:
Hitter to watch: Yu-Cheng Chang (Indians' No. 9), Akron at Erie (7:05 p.m. ET on MiLB.TV)
Chang started the scoring for the Western All-Stars in Wednesday's Eastern League All-Star Game, plating a run with a second-inning double before finishing 1-for-2. The 21-year-old shortstop was selected for the event after he posted an .813 OPS with 19 home runs and 50 RBIs for Double-A Akron in 79 first-half games. Chang will open the second half with a seven-game hitting streak, during which he's slashing .375/.433/.708.
Pitcher to watch: Mike Soroka (Braves' No. 4), Mississippi at Pensacola (7:35 p.m. ET on MiLB.TV)
Soroka, a first-round pick in 2015, has been stellar this season, posting a 2.55 ERA in 16 starts with Double-A Mississippi. Despite struggling a bit in his past two starts, allowing nine runs (six earned), the big righty had allowed just one run in the four starts ahead of his past two. A Canadian native, Soroka sports a 73-to-21 strikeout-to-walk ratio.
Duel of the day: Trevor Clifton (Cubs' No. 4) vs. Jaime Barria (Angels' No. 8), Tennessee vs. Mobile (7 p.m. ET on MiLB.TV)
Clifton, 22, will attempt to get back on track after going 0-3 with a 7.84 ERA over his last four starts for Double-A Tennessee. After garnering Cubs Minor League Pitcher of the Year honors in 2016, the right-hander has pitched to a 3.87 ERA in 81 1/3 (15 starts) this season in the Southern League.
Barria, meanwhile, will make his first start for Mobile after he represented the World Team in Sunday's SiriusXM All-Star Futures Game. The 20-year-old right-hander has been sharp since moving up to the Southern League, where he's posted a 1.78 ERA and a 0.82 WHIP while holding opposing hitters to a .200 average across 30 1/3 innings (five starts).
Thursday's Top 100 prospect probables
No. 51 Luis Ortiz (Brewers' No. 4), Biloxi vs. Birmingham (7:30 p.m. ET on MiLB.TV)
No. 57 A.J. Puk (A's No. 2), Midland vs. Corpus Christi (8 p.m. ET on MiLB.TV)
No. 77 Stephen Gonsalves (Twins' No. 2), Chattanooga vs. Jacksonville (7:15 p.m. ET)
More top prospect probables
Christopher Johnson (Red Sox's No. 10), Pawtucket at Syracuse (Triple-A)
Marco Gonzales (Cardinals' No. 19), Memphis vs. Round Rock (Triple-A)
Josh Staumont (Royals' No. 2), NW Arkansas vs. Tulsa (Double-A)
Tyler Alexander (Tigers' No. 4) vs. Luis Lugo (Indians' No. 29) Erie vs. Akron (Double-A)
Taylor Clarke (D-backs' No. 5), Jackson vs. Montgomery (Double-A)
Sandy Alcantara (Cardinals' No. 7), Springfield at Arkansas (Double-A)
Dan Slania (Giants' No. 20), Richmond vs. Harrisburg (Double-A)
Chris Flexen (Mets' No. 22), Binghamton at Reading (Double-A)
David Hess (Orioles' No. 28), Bowie at Altoona (Double-A)
Scott Blewett (Royals' No. 4) vs. Shane Bieber (Indians' No. 14), Wilmington vs. Lynchburg (Class A Advanced)
Keegan Akin (Orioles' No. 5), Frederick at Buies Creek (Class A Advanced)
Roniel Raudes (Red Sox's No. 5), Salem vs. Potomac (Class A Advanced)
Touki Toussaint (Braves' No. 11), Florida at Lakeland (Class A Advanced)
Matt Krook (Giants' No. 12), San Jose at Rancho Cucamonga (Class A Advanced)
Norge Ruiz (A's No. 13), Stockton vs. Inland Empire (Class A Advanced)
Ryan Borucki (Blue Jays' No. 16), Dunedin at Tampa (Class A Advanced)
Lewis Thorpe (Twins' No. 16), Fort Myers at Charlotte (Class A Advanced)
Cody Reed (D-backs' No. 19) vs. Pablo Lopez (Mariners' No. 23), Visalia at Modesto (Class A Advanced)
Edgar Garcia (Phillies' No. 25), Clearwater vs. Bradenton (Class A Advanced)
Curtis Taylor (D-backs' No. 12), Kane County vs. Bowling Green (Class A)
Joey Wentz (Braves' No. 13), Rome at Lakewood (Class A)
Imani Abdullah (Dodgers' No. 14), Great Lakes vs. Wisconsin (Class A)
Tyler Watson (Nationals' No. 17), Hagerstown vs. Charleston (Class A)
Melvin Adon (Giants' No. 24), Augusta at West Virginia (Class A)
Zach Muckenhirn (Orioles' No. 27), Delmarva vs. Lexington (Class A)
Alex Speas (Rangers' No. 9), Spokane at Vancouver (Class A Short Season)
Sam Perez (Marlins' No. 16), Batavia vs. Lowell (Class A Short Season)
Nolan Watson (Royals' No. 14), Burlington vs. Elizabethton (Rookie)