Playful Brantley looking more like himself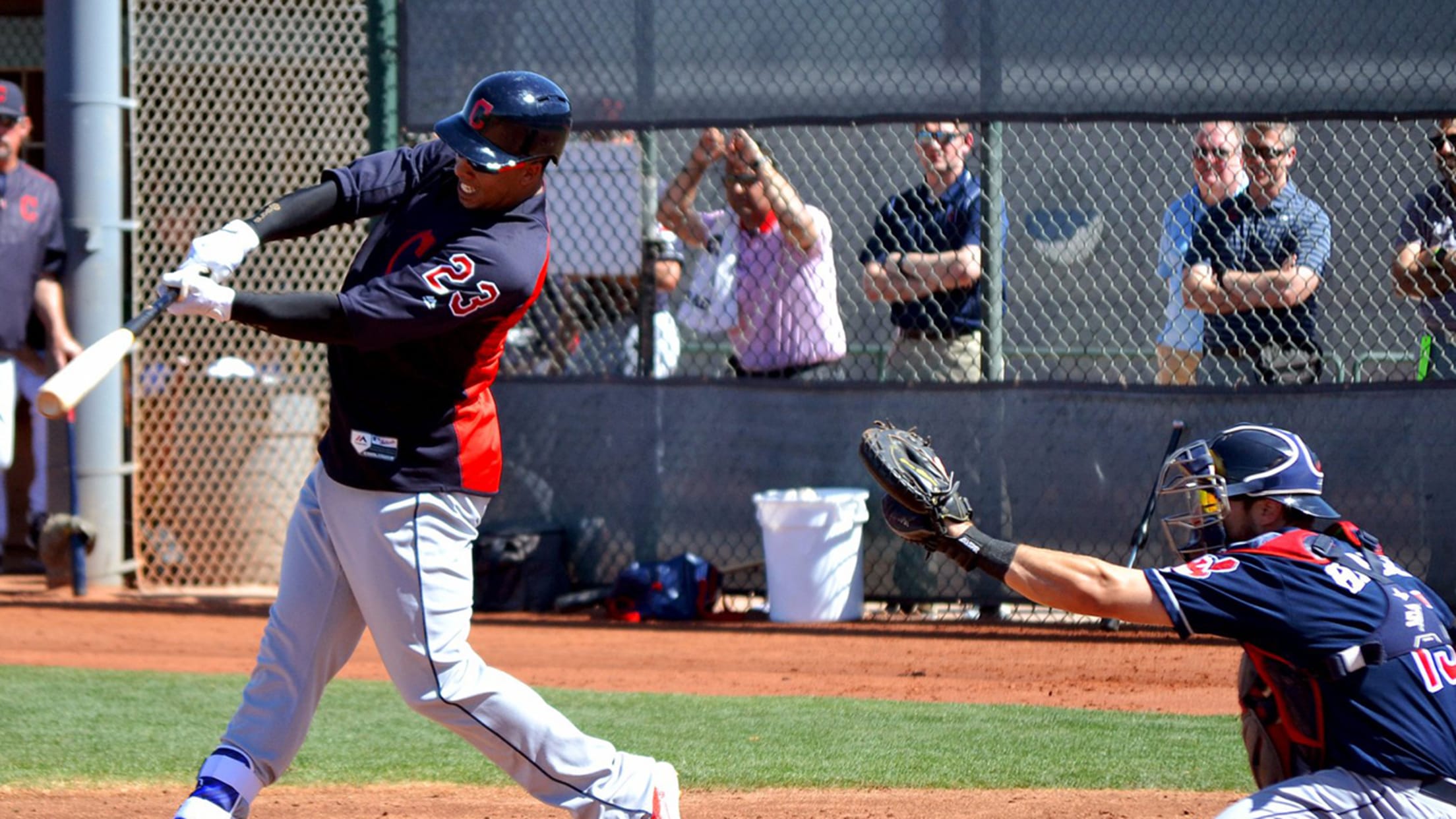 There is still no set date for Michael Brantley's return to game action. (Jordan Bastian/MLB.com)
GOODYEAR, Ariz. -- Michael Brantley's swing is looking more and more like the one the Indians are used to seeing from the left fielder. The playful verbal jabs Brantley sent Cody Allen's way on Monday morning are what his teammates are used to hearing, too.During a simulated hitting session on
GOODYEAR, Ariz. -- Michael Brantley's swing is looking more and more like the one the Indians are used to seeing from the left fielder. The playful verbal jabs Brantley sent Cody Allen's way on Monday morning are what his teammates are used to hearing, too.
During a simulated hitting session on Field 3 at Cleveland's complex, Brantley took seven swings within a series of three at-bats against Allen and Bryan Shaw. While facing Allen, the outfielder shot a pitch into left field. The Indians' closer wanted to get Brantley's feedback on the pitch's location.
"Did that get in?" Allen asked from the mound.
"No, that's a basehit to left," Brantley replied with a smirk.
Brantley has faced Shaw and Allen in a simulated session this morning. pic.twitter.com/scmclmSaN0

— Jordan Bastian (@MLBastian) March 13, 2017
Allen rolled his eyes and laughed when asked about the exchange, but that is a side of Brantley that the Indians are happy to have back.
"It's awesome," Allen said. "A guy like him, man, he can change a club not only from an offensive or defensive standpoint, but having him there in your lineup every day. He's a great clubhouse guy. He's a leader. Just having his presence around every day, it's awesome to see."
While there remains no firm date for Brantley's return to games in his comeback from August surgery on his right biceps, there is optimism about his return, both in terms of how he is recovering from workouts and how he is acting behind the scenes.
"This spring, it's as much what you see in his face and in how he carries himself as what you see in his swing," Indians assistant hitting coach Matt Quatraro said. "But also, they've really built up his volume more, and you can see that he hasn't had any fatigue issues with it or anything like that."
"It's a pretty swing. I don't think there's any left-handed swing better in baseball. It looks the same."--Cody Allen, after facing Brantley pic.twitter.com/nxi7Q1MxWB

— Jordan Bastian (@MLBastian) March 13, 2017
Other injury notes
• Indians right-hander Cody Anderson (mild sprain of the ulnar collateral ligament in his right elbow) is scheduled to meet with Dr. Keith Meister later this week.
• Minor League third baseman and outfielder Yandy Diaz (right groin) hit in a simulated game and did agility drills on Monday. He could be cleared to return to games later this week.
• Minor League first baseman Nellie Rodriguez (right ankle sprain) could be sidelined for the next week, per manager Terry Francona.
• Outfielder Brandon Guyer returned to the lineup as a designated hitter on Monday after dealing with flu-like symptoms.