All-Star Jimenez reflects on whirlwind journey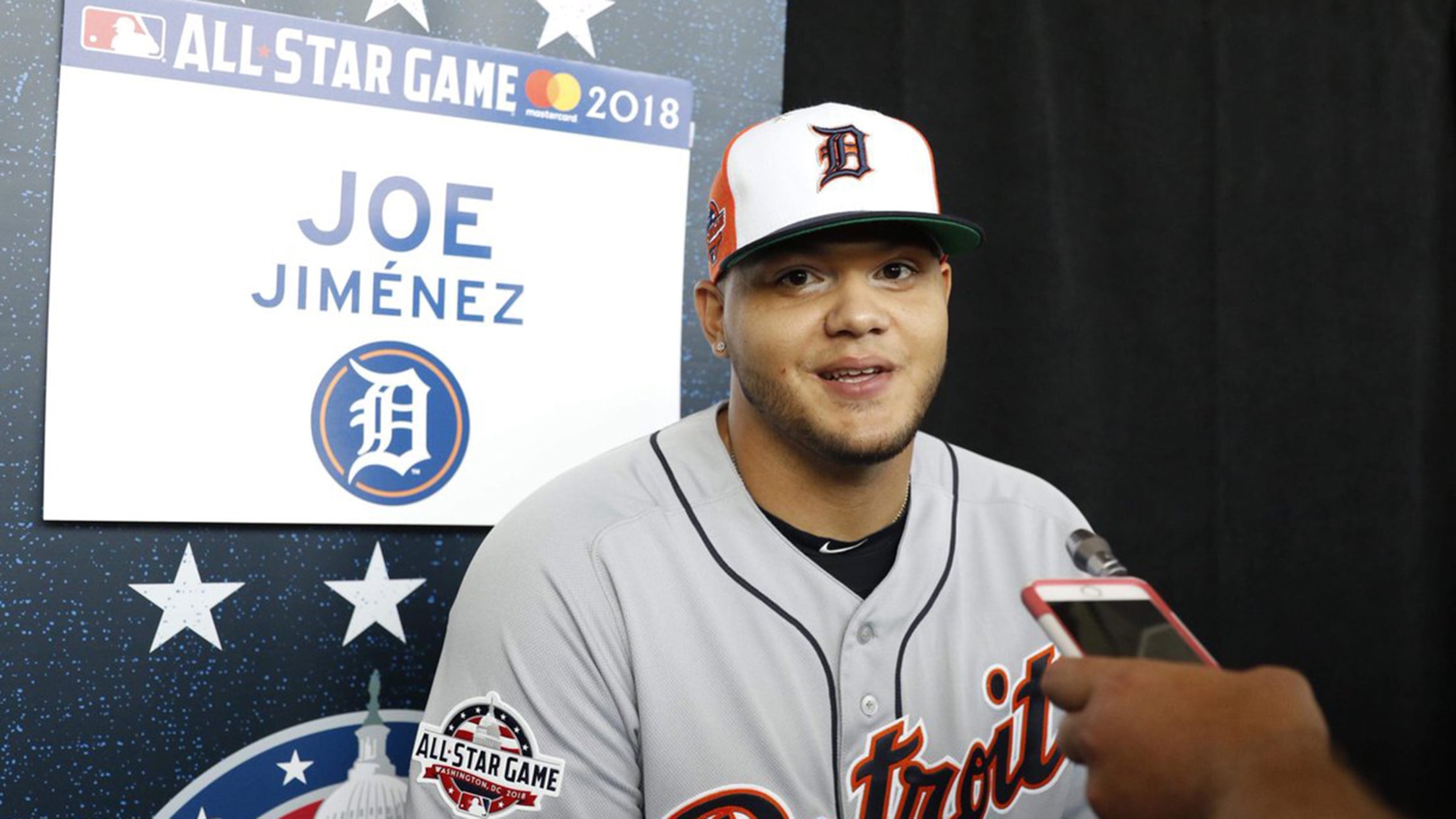 Joe Jimenez was in Washington in January as part of Major League Baseball's Rookie Career Development Program, a series of seminars designed to prepare up-and-coming players for issues that can arise as they try to make their way in the big leagues. At that point, nobody would've expected Jimenez to
Joe Jimenez was in Washington in January as part of Major League Baseball's Rookie Career Development Program, a series of seminars designed to prepare up-and-coming players for issues that can arise as they try to make their way in the big leagues. At that point, nobody would've expected Jimenez to be back in July for the MLB All-Star Game presented by Mastercard.
He had just finished a frustrating 2017 season that included plenty of growing pains in September, and a couple of trips back and forth between Detroit and Triple-A Toledo. After three stints in the Tigers' bullpen, simply sticking in the Majors seemed like a goal for '18.
As he sat at a podium Monday afternoon, preparing to represent the Tigers at Tuesday's Midsummer Classic, Tuesday on FOX at 7:30 p.m. ET, he could soak in how far he has progressed at the age of 23.
:: Complete All-Star Game coverage ::
"For me, it's an incredible moment," Jimenez told reporters on Monday. "My career that I've been in the Majors for a little bit, it was a surprise because there are many other players that are very good. And it's an honor to represent Detroit and Puerto Rico, because it's something very big for my career, and I'm going to have a good time while I'm here."
What makes Jimenez proud isn't so much his own journey, from undrafted signing, to Tigers closer-of the-future label, to All-Star setup man of the present. It's the journey he gets to undertake with others from Puerto Rico. As one of five Puerto Rican players selected to the All-Star Game, less than a year after hurricanes wreaked havoc on the island, he feels a kinship there that goes beyond jerseys and hats.
"For our country, this is the best thing that can happen," Jimenez said. "Obviously, everybody over there loves baseball. They would love to see everybody out there. I think we are six players and two coaches. For us, that is just great. We are going to enjoy the moment and have fun."
@tigers + @MLBPuertoRico 🔥🔥🔥🔥🇵🇷🇵🇷🇵🇷🇵🇷 #AllStarGame18 By: @SolesBySir pic.twitter.com/Fi8bp3C8q2

— Joe Jiménez (@JAJimenez27) July 16, 2018
Ironically, the aftermath of the hurricane damage set in motion the offseason that helped Jimenez grow from prospect to All-Star. With much of the island without power and damage around his neighborhood, Jimenez stayed in the United States this winter, eventually settling into Lakeland, Fla., to work out at the Tigers' Spring Training facility.
The work he put in there, training and throwing, set up his emergence as one of the key cogs of Detroit's bullpen, as well as one of the more promising young relievers in the game today.
"Obviously, last year was not the best for my career," Jimenez said. "I had a lot of ups and downs. But I've tried to turn the page, and when this year came, I had many goals to meet. … This season is going very well."
One of those goals, he said, has just been fulfilled with the Midsummer Classic.
Jimenez has three saves and 13 holds, ranking just outside the American League's top 10 in the latter, to go with a 4-1 record and 2.72 ERA. His All-Star resume goes well beyond game results on a rebuilding Tigers squad: He has struck out 48 batters over 43 innings with 35 hits allowed, and his 46 appearances left him two off the AL lead at the break.
While his mid-90s fastball is formidable, Jimenez's improved secondary pitches have made it nastier. Opponents are hitting just .190 against it with a 25-percent whiff rate, according to Statcast™, both stingier numbers than last season. His slider, meanwhile, has become a better strikeout pitch as he gets ahead in counts more consistently.
Though Detroit manager Ron Gardenhire worried about Jimenez getting jitters and overthrowing in his first All-Star Game, Jimenez said he'll be fine.
"I will take it like another game," Jimenez said. "Obviously it's the All-Star Game and everything, but I'm going to take it like another game, because for me my biggest experience was the World Baseball Classic, and I don't know if the All-Star Game can beat that. Obviously it's the best in the game for the year, so I'm just going to have fun."
While watching the 2018 All-Star Game presented by Mastercard live on FOX on Tuesday, fans can submit their choices for the Ted Williams Most Valuable Player Award presented by Chevrolet with the 2018 All-Star Game MLB.com MVP Vote.
The 89th Midsummer Classic, at Nationals Park in Washington, D.C., will be televised nationally by FOX Sports; in Canada by Rogers Sportsnet and RDS; and worldwide by partners in more than 180 countries. FOX Deportes will provide Spanish-language coverage in the United States, while ESPN Radio and ESPN Radio Deportes will provide exclusive national radio coverage of the All-Star Game. MLB Network, MLB.com and SiriusXM also will provide comprehensive All-Star Week coverage.
For more information about MLB All-Star Week and to purchase tickets, visit AllStarGame.com and follow @MLB and @AllStarGame on social media.