Gallo, Pence need boost in All-Star Primary push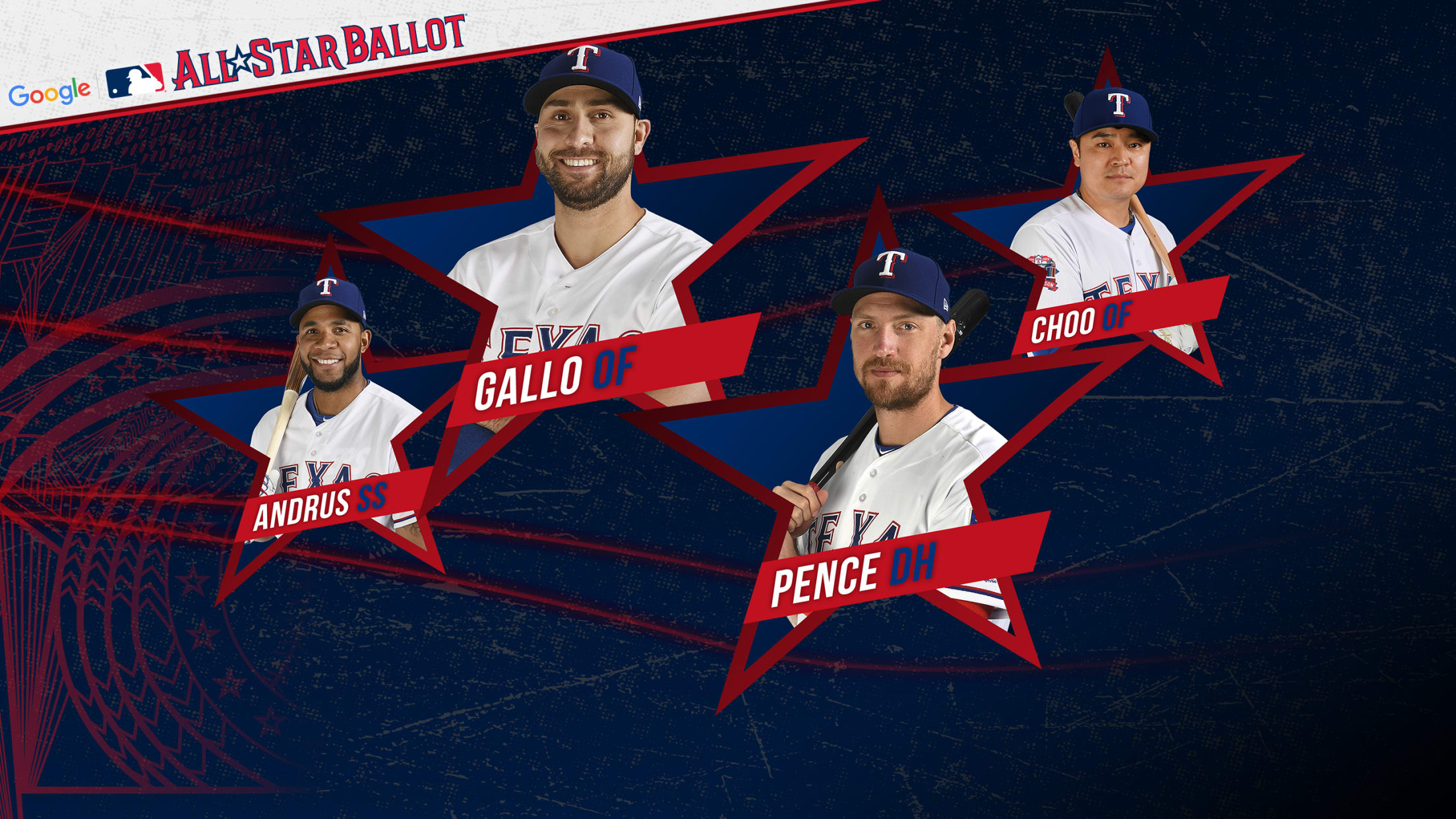 Read our FAQ on this year's revamped balloting format, which includes two phases of fan voting to determine the All-Star starters, and the ability to vote through Google Search. ARLINGTON -- Rangers outfielder Joey Gallo and designated hitter Hunter Pence remain in position to advance to the next round of
Read our FAQ on this year's revamped balloting format, which includes two phases of fan voting to determine the All-Star starters, and the ability to vote through Google Search.
ARLINGTON -- Rangers outfielder Joey Gallo and designated hitter Hunter Pence remain in position to advance to the next round of the All-Star voting, according to the latest updates released on Monday.
• VOTE NOW: 2019 Google MLB All-Star Ballot
Pence, who was placed on the injured list on Monday with a strained right groin muscle, is second among American League designated hitters with 602,766 votes, trailing J.D. Martinez of the Red Sox with 893,689 votes while remaining ahead of Nelson Cruz of the Twins with 506,2211 votes.
Gallo ranks eighth among AL outfielders with 537,934 votes even though he also has been on the injured list since June 2 with a strained left oblique muscle that has slowed his All-Star momentum. He is hoping to return either by the end of this seven-game homestand or on the next road trip that begins on Tuesday, June 25 in Detroit.
"It happens," Gallo said. "That's part of baseball. There's nothing you can do about it but it's a long season. There is still a lot of baseball left to play."
Being selected to the All-Star Game would be a tremendous accomplishment for Pence, who came to camp on a Minor League contract after a disappointing season with the Giants in 2018. Through 55 games, Pence is hitting .294 with 15 home runs, 48 RBIs and a .608 slugging percentage.
What Pence has done no longer surprises manager Chris Woodward.
"I think early on it was a little bit, but later on, I got to know who he was, and on another level, who he was willing to become," Woodward said. "It has been impressive, really, really impressive."
Fans may vote in "The Primary" at MLB.com and all 30 club sites, the MLB At Bat and MLB Ballpark apps up to five times in any 24-hour period. Fans in the US and Canada can also vote on Google Search for every position, or up to 17 unique players per day, by searching "MLB Vote" or the names of their favorite players. Primary voting ends at 4 p.m. ET on Friday.
The top three vote-getters at each position (including nine outfielders) per league will move on to"The Starters Election," which begins at noon ET on Wednesday, June 26. The votes will reset for a 28-hour voting window that ends at 4 p.m. ET on Thursday, June 27. Starters for the 2019 Midsummer Classic will be unveiled on ESPN that night at 7 ET. The pitchers and reserves will be announced on Sunday, June 30, at 5:30 p.m. ET.
Then on Tuesday, July 9, during the 2019 All-Star Game presented by Mastercard, fans may visit MLB.com and the 30 club sites to submit their choices for the Ted Williams Most Valuable Player Award presented by Chevrolet.
The 90th Midsummer Classic, at Progressive Field in Cleveland, will be televised nationally by FOX Sports; in Canada by Rogers Sportsnet and RDS; and worldwide by partners in more than 180 countries. FOX Deportes will provide Spanish-language coverage in the United States, while ESPN Radio and ESPN Radio Deportes will provide exclusive national radio coverage. MLB Network, MLB.com and SiriusXM also will provide comprehensive All-Star Week coverage. For more information about MLB All-Star Week and to purchase tickets, please visit All-StarGame.com and follow @MLB and @AllStarGame on social media.