Prospect Giménez makes Mets' OD roster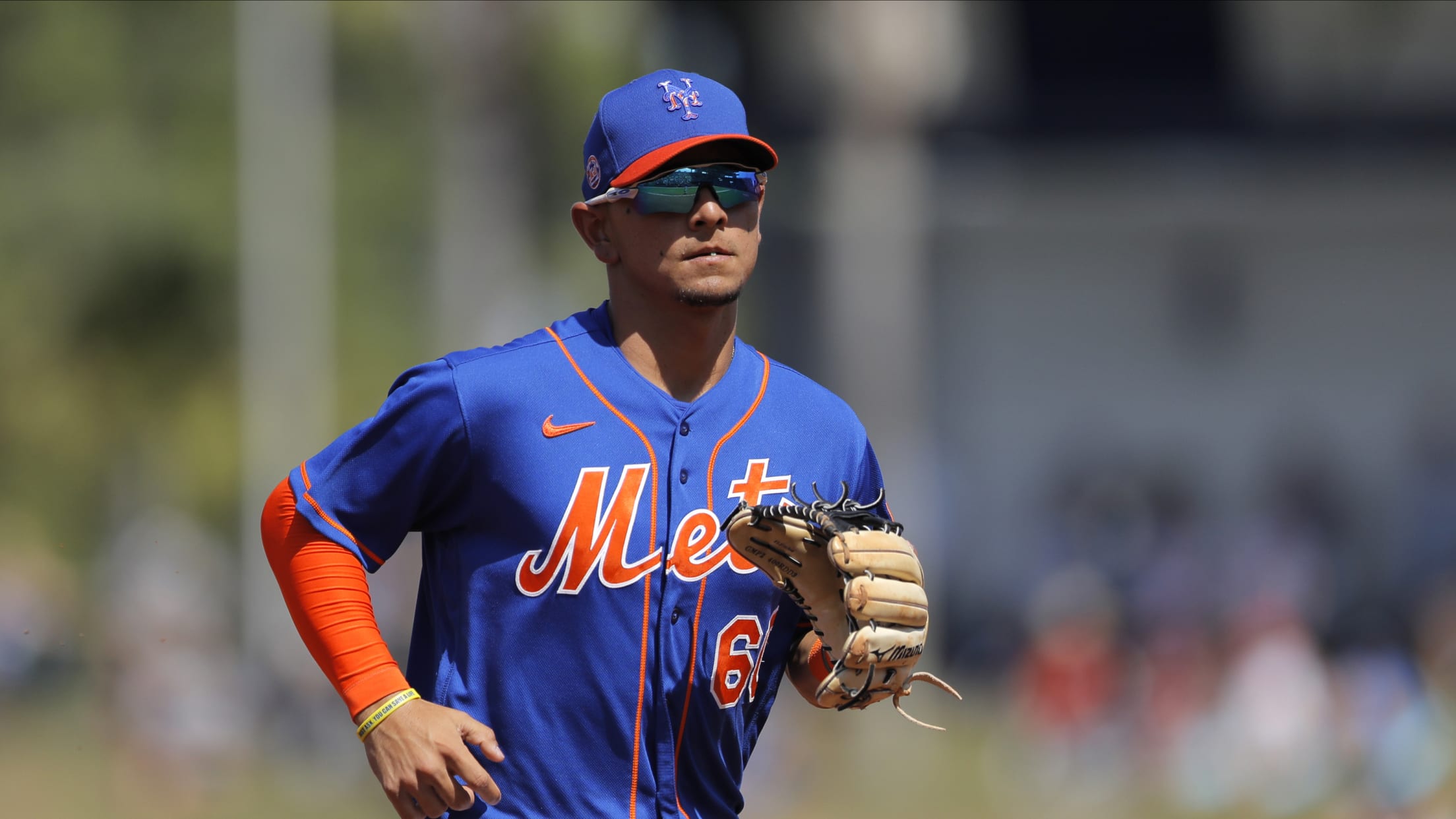 NEW YORK -- Given 30 spots to play with, the Mets figured to include a couple of surprises on the Opening Day roster. They did not disappoint, carrying third-ranked prospect Andrés Giménez on the list of 30 that they will take with them into Friday's game against the Braves. Despite
NEW YORK -- Given 30 spots to play with, the Mets figured to include a couple of surprises on the Opening Day roster. They did not disappoint, carrying third-ranked prospect Andrés Giménez on the list of 30 that they will take with them into Friday's game against the Braves.
Despite the service-time implications -- if Giménez spends the whole season in the big leagues, the Mets will forfeit a chance to keep him under team control for an extra year -- the club believes he is the best option to help in the margins for a team with playoff implications.
"It's simple," general manager Brodie Van Wagenen said. "Andrés was a player that we felt like, on Opening Day, gives us a chance to help us win games. He can win games with his speed. He can win games with his glove. And obviously with the bat."
Here's how the roster shapes up beyond Giménez:
Catcher (3): Wilson Ramos, Tomás Nido, René Rivera
There was some question late in camp if Ramos would be ready after missing three days due to a personal issue, but he should be good to go on Opening Day. Carrying three catchers will free the Mets to rest Ramos late in blowouts, keeping the 32-year-old off his feet from time to time. They'll also have a fourth catcher -- likely prospect Ali Sánchez -- on their taxi squad.
First base (2): Pete Alonso, Dominic Smith
Coming off a 53-homer season as a rookie, Alonso aims to start all 60 games in 2020. Smith is also back, and he could see time at first if the Mets decide to use Alonso as a designated hitter on occasion. Beyond that, Smith will fight for reps in left field, and he will be the Mets' primary left-handed pinch-hitter (though that role, without the option to pinch-hit for the pitcher, will be reduced).
Second base (3): Robinson Canó, Eduardo Núñez, Luis Guillorme
Whether they like it or not, the Mets are committed to Canó for four more seasons at big money. Health may be an issue for Canó at age 37, but the team can ask Jeff McNeil to slide over to second when he needs a break. The Mets were hopeful to receive some production from Jed Lowrie, who gave them eight plate appearances in the first season of a two-year, $20 million contract, but he's back on the injured list for the indefinite future. Núñez and Guillorme will serve as offensive- and defensive-minded backups at second, third and short.
Shortstop (2): Amed Rosario, Andrés Giménez
Rosario's breakout gives the Mets confidence that shortstop is well covered, both in 2020 and for the foreseeable future … which is what makes the inclusion of Giménez on the Opening Day roster such a surprise. The Mets could have ensured an extra year of team control over Giménez by starting him at their alternate site in Brooklyn. Instead, he'll sit the bench in New York and look forward to reaching free agency as early as the autumn of '25.
Third base (1): Jeff McNeil
In the Mets' perfect world, McNeil will start here every day. But if the Mets need to move McNeil to second base or left field to fill in for others, they are well covered at third, with J.D. Davis, Núñez, Guillorme and Giménez all capable of playing the position.
Outfield (5): Michael Conforto, Brandon Nimmo, Yoenis Céspedes, J.D. Davis, Jake Marisnick
These decisions were straightforward, with Céspedes more likely to start at designated hitter than in left field most nights. The Mets could have taken Johneshwy Fargas as a pinch-running option, but they will likely use Giménez in that role instead.
Starting pitchers (5): Jacob deGrom, Steven Matz, Rick Porcello, Michael Wacha, Corey Oswalt
Marcus Stroman's 11th-hour injury threw a wrench in the rotation. Instead of Stroman, the Mets will carry Oswalt on their Opening Day roster, though they haven't yet committed to using him as their fifth starter. Van Wagenen said Oswalt will be available out of the bullpen this weekend against the Braves, and the Mets will reassess after their first few games. They could turn their fifth game of the season into a bullpen game or call up someone else such as 10th-ranked prospect David Peterson to start that one.
The Mets designated for assignment another depth option, lefty Stephen Gonsalves, to clear 40-man roster space.
Relievers (9): Edwin Díaz, Seth Lugo, Dellin Betances, Jeurys Familia, Justin Wilson, Hunter Strickland, Drew Smith, Chasen Shreve, Paul Sewald
Rather than use the 30-man roster as a way to carry several extra relievers, the Mets went with just nine. The first five on this list were locks. Strickland and Smith impressed in Summer Camp, and they should become focal points of the middle innings.
Injured list (6): Noah Syndergaard, Marcus Stroman, Robert Gsellman, Walker Lockett, Brad Brach, Jared Hughes
Syndergaard (Tommy John surgery) and Stroman (left calf tear) are significant blows to a team that was counting on both as rotation cogs. The former won't return this season, but the latter sounded confident in a Twitter message Thursday that he would be in short order, calling it a "super minor setback."
The Mets also expect Gsellman (right triceps tightness) to rejoin their bullpen when eligible on July 30, and Lockett (lower back tightness) to be a rotation option in the near future. Murkier are the statuses of Brach and Hughes, who never appeared at Summer Camp and are dealing with undisclosed issues.