The 2001 season remains vivid in fans' memories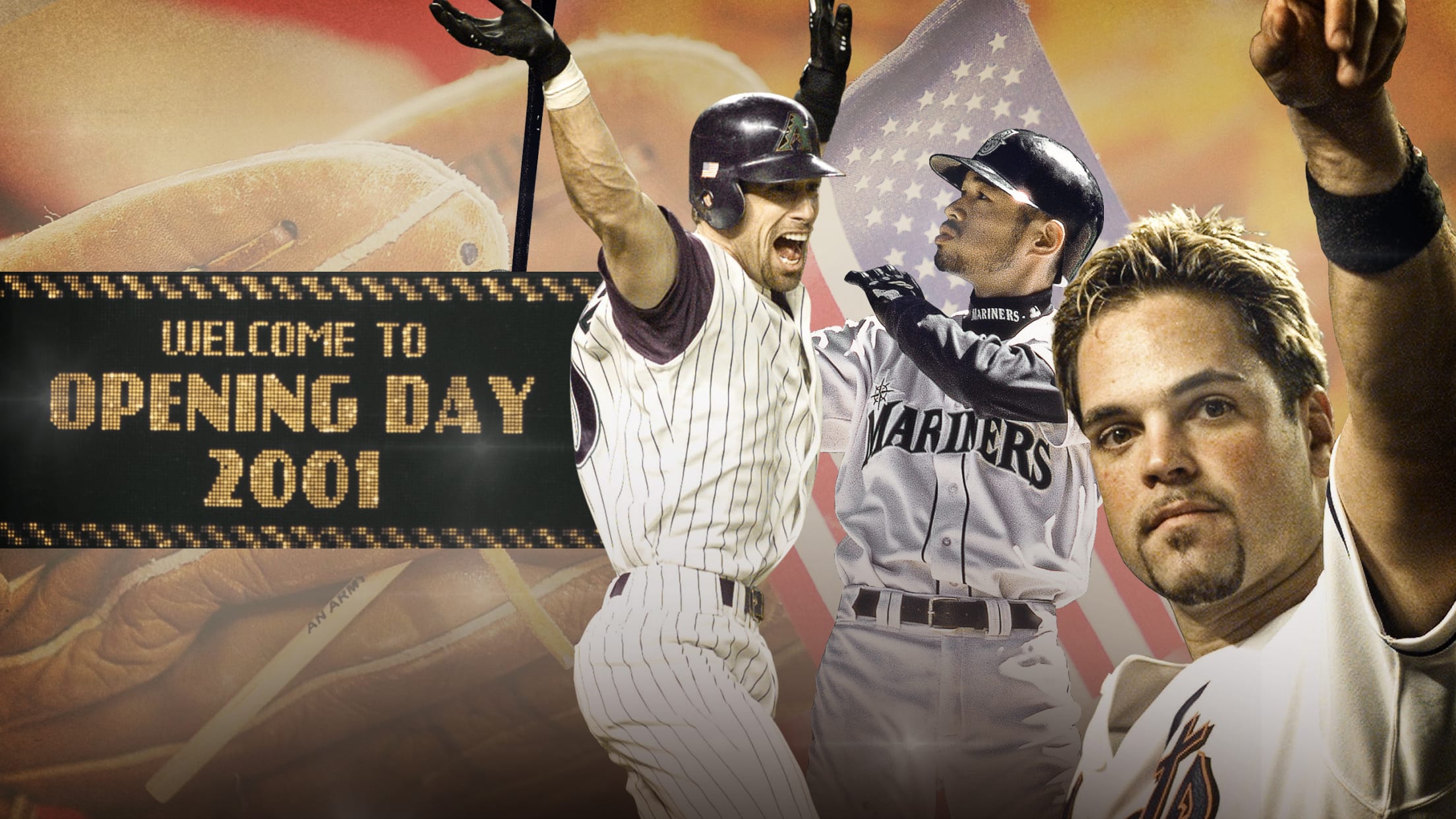 Throughout our hopefully short time without real live games, we'll be taking a weekly look back at a specific year in baseball history. What happened, why it mattered, what we'll remember most. Send us the years you'd most like us to talk about at [email protected].
Throughout our hopefully short time without real live games, we'll be taking a weekly look back at a specific year in baseball history. What happened, why it mattered, what we'll remember most. Send us the years you'd most like us to talk about at [email protected].
So far: 1978 | 1983 | 1984 | 1987 | 1990 | 1991 | 1995 | 1996 | 1998 | 2003 | 2006 | 2010 | 2013
Year: 2001
NLDS: Braves over Astros in 3; D-backs over Cardinals in 5
ALDS: Mariners over Indians in 5; Yankees over A's in 5
LCS: D-backs over Braves in 5; Yankees over Mariners in 5
World Series winner: D-backs over Yankees in 7
MVPs: AL: Ichiro Suzuki, Mariners; NL: Barry Bonds, Giants
Cy Youngs: AL: Roger Clemens, Yankees; NL: Randy Johnson, D-backs
Rookies of the Year: AL: Ichiro Suzuki, Mariners; NL: Albert Pujols, Cardinals
All-MLB Team (chosen by me, in 2020):
1B: Jason Giambi, A's
2B: Bret Boone, Mariners
SS: Alex Rodriguez, Rangers
3B: Albert Pujols, Cardinals
OF: Barry Bonds, Giants
OF: Sammy Sosa, Cubs
OF: Luis Gonzalez, D-backs
C: Mike Piazza, Mets
DH: Manny Ramirez, Red Sox
SP: Randy Johnson, D-backs
SP: Curt Schilling, D-backs
SP: Mike Mussina, Yankees
SP: Roger Clemens, Yankees
RP: Mariano Rivera, Yankees
RP: Keith Foulke, White Sox
Of all the years MLB.com readers have been recommending to me during this pandemic, no single year has received more requests than 2001. It's not difficult to figure out why, of course. That was the year of the Sept. 11 attacks, which happened right at the tail end of the baseball season and positioned the sport to embrace one of its favorite places in American society -- as a healing and unifying force during the country's most perilous and harrowing hours.
We can argue whether or not it's possible for any sport to do that, but there's no question that when we think of the 2001 baseball season, the images that rush to our mind are all 9/11-related. Mike Piazza's dramatic home run in the first home game back, with the Mets all wearing hats honoring first responders. Cardinals broadcaster Jack Buck, body being ravaged by Parkinson's but voice as strong as ever, reading a poem to a rapt Busch Stadium crowd. President George W. Bush throwing out the first pitch at Yankee Stadium during the World Series. (Heck, even the World Series, with the Yankees winning three dramatic games in the Bronx, felt like a part of the extended mourning.)
All of this is true, and all of this is the reason we all remember the 2001 season so vividly.
But had Sept. 11 not changed the entire course of the season -- and human history -- the 2001 baseball season would already have gone down as one of the most amazing campaigns in baseball history. So much happened in 2001. You can make a very strong argument that there were five different stories other than Sept. 11-related moments that would have been the biggest story of nearly any other baseball season. It was a landmark season in the history of this sport. And Sept. 11 was only a part of it.
These are five other big stories:
Albert Pujols' arrival. Pujols was not a heralded prospect and was not even expected to make the big league roster in 2001; he only made the cut because he had a hot spring and Bobby Bonilla, the guy on the depth chart ahead of him, sustained an injury before the year. Pujols immediately became one of the best players in baseball and absolutely pivotal to the Cardinals. He hit .329 and had 37 homers, 130 RBIs and a .403 OBP -- and did it all at the age of 21. He finished fourth in NL MVP voting that year, the first of 11 consecutive seasons he'd finish in the top 10. Out of nowhere, Ted Williams just fell from the sky.
Cal Ripken Jr.'s dramatic All-Star Game moment. Ripken was actually voted in at third base for his 19th straight ASG, but just before first pitch, Alex Rodriguez stepped aside so Cal could play his natural position. This was Cal's last All-Star Game, and it turned into a Cal Ripken Jr. appreciation party. And no moment was bigger than when he homered in the third inning, giving the AL a 1-0 lead it would never relinquish. He'd win his second Midsummer Classic MVP Award and retire at the end of the season.
The Mariners put together one of the best seasons of all time with Ichiro leading the way. Another player to arrive alongside Pujols was Ichiro, who proved that position players from Japan couldn't just survive in MLB, but thrive. Ichiro hit .350, stole 56 bases and turned a Mariners team that had just lost A-Rod into something transcendent -- a 116-win monster that tied the MLB record (and set the AL mark) for most wins in a season. Ichiro joined Fred Lynn as the only other player to be named MVP and Rookie of the Year in the same season. The Mariners also sent eight different players to the ASG -- in Seattle -- that year. No team has won as many games in a season since, even though it ended in the sadness of the Yankees beating them in the ALCS. And the Mariners haven't been back to the playoffs since.
Barry Bonds. The Giants slugger hit 73 homers this year and also set single-season records in slugging percentage (.863) and walks (232). But you can have your Long Gone Summer: Bonds smashed the seemingly unsmashable record in 2001, and no one has come close to him since. The best part? He may have actually been even better in 2002.
That World Series. Oh, yes: Even if the World Series hadn't been tied to Sept. 11, it would have gone down as a classic anyway. The Curt Schilling-Randy Johnson 1-2 punch gave the D-backs a 2-0 lead, but then the Yankees won three dramatic one-run games, punctuated by Derek Jeter's Mr. November home run in Game 4 and Alfonso Soriano's 12th-inning walk-off in Game 5. But then the D-backs stormed right back and won two in Phoenix, with a stunning walk-off win over Mariano Rivera to win their first (and still only) World Series title. Context free, it was an incredible series. With it? Legendary.
Baseball can heal. Baseball can be a solace. But it doesn't have to be. It can be glorious without national catastrophe. It can be enough on its own. It can help us through impossible times. But it can help us anyway. It can help us always.
Here are 10 other notable moments and facts from the 2001 baseball season.
1. The season began with an off-field splash: On Jan. 26, Alex Rodriguez signed a 10-year, $252 million contract with the Rangers -- the largest in baseball history at the time. (It was a record that would stand for seven years … until A-Rod would sign a bigger one.) A-Rod definitely gave the Rangers their money's worth: He batted .318 and belted 52 homers in 162 games in 2001. He would be even better in 2002, and then he would win an MVP Award in '03 … but then Texas traded him, which said a lot more about the Rangers than it did A-Rod.
2. You don't get many Spring Training moments that people are still talking about 20 years later, but 2001 definitely provided us one. Randy Johnson reared back to fire a pitch and … accidentally obliterated a bird.
3. In 2001, with the beautiful PNC Park built and operational, we said goodbye to Three Rivers Stadium.
4. Scott Hatteberg wouldn't be known for his pickin' at first base, let alone having Chris Pratt play him in a movie, for a few more years. But he did something no one has ever done in baseball history in 2001: On Aug. 6, he hit into a triple play and hit a grand slam in the same game. It hasn't happened since. It's weird that it even happened once.
5. There were three no-hitters in 2001, from Hideo Nomo's second career no-hitter (in the season's first week) to Bud Smith's no-no in early September, which is still the most recent no-hitter in Cardinals history. But the wildest one had to be A.J. Burnett's for the Marlins. Burnett walked nine batters in his no-hitter, the second most in baseball history behind Jim Maloney, when he offered 10 free passes in a 1965 no-hitter. Burnett had only seven strikeouts, which may have helped him: He only threw 129 pitches.
6. More memorable in 2001 was the near-miss no-hitter from Mike Mussina. Mussina was famous for barely missing out on no-hitters, and he never got closer than Sept. 2. On Sunday Night Baseball, Mussina got out the first 26 Red Sox hitters before a pinch-hitting Carl Everett blooped a single into left, ending yet another no-hit (and perfect game) bid. Mussina never did end up getting that no-hitter, though it didn't keep him out of the Hall of Fame.
7. Much is always made of the time that Ken Griffey and Ken Griffey Jr. played in the same outfield, but few remember that a father and son playing together happened again in 2001. In the season's final week, Tim Raines and Tim Raines Jr. lined up in the same Orioles outfield at Camden Yards. (Sort of amusingly, son played center; Dad played left.) The two Raines went 1-for-8 on the day, with the younger notching the only hit.
8. As usual, Raines was overshadowed by Rickey Henderson in 2001. On the same day the Raines family played the outfield together, Rickey hit a home run to become baseball's all-time leader in runs scored, passing Ty Cobb. (The current active leader, Pujols, is 467 behind him.) And three days later, on the final day of the season, Henderson notched his 3,000th hit, a double off Rockies pitcher John Thomson. Rickey would play two more years, in Boston in 2002 and Los Angeles in '03, before finally hanging them up.
9. In that final game for Henderson, by the way, San Diego fans also said goodbye to Tony Gwynn, who grounded out in his final at-bat, pinch-hitting for Jeremy Fikac. That might not have been a fitting sendoff, but it was a more fitting sendoff than the one afforded Mark McGwire, who also played his last game in 2001. In Game 5 of the NLDS against the D-backs, McGwire had struck out three times as he walked to the plate in the top of the ninth to face Schilling in a 1-1 game. Jim Edmonds had just singled to lead off the inning, so manager Tony La Russa, wanting to get Edmonds over … replaced McGwire with pinch-hitter Kerry Robinson, whom he instructed to bunt. The bunt worked, but Schilling struck out Edgar Renteria and Mike Matheny, and Arizona's Tony Womack singled in the bottom of the ninth off Steve Kline to send the D-backs to the NLCS and end McGwire's career.
10. Five years after his final game managing the Dodgers, four years after he was inducted into the Hall of Fame and one year after he managed the U.S. Olympic team to a gold medal, Tommy Lasorda returned to serve as the third-base coach for the NL in the All-Star Game. It was a heartwarming moment at first. Then it was briefly scary. And then it was hilarious:
The next inning, Barry Bonds gave Lasorda a chest protector. Probably a good idea.
Send me the year you'd love to have me write about at [email protected].