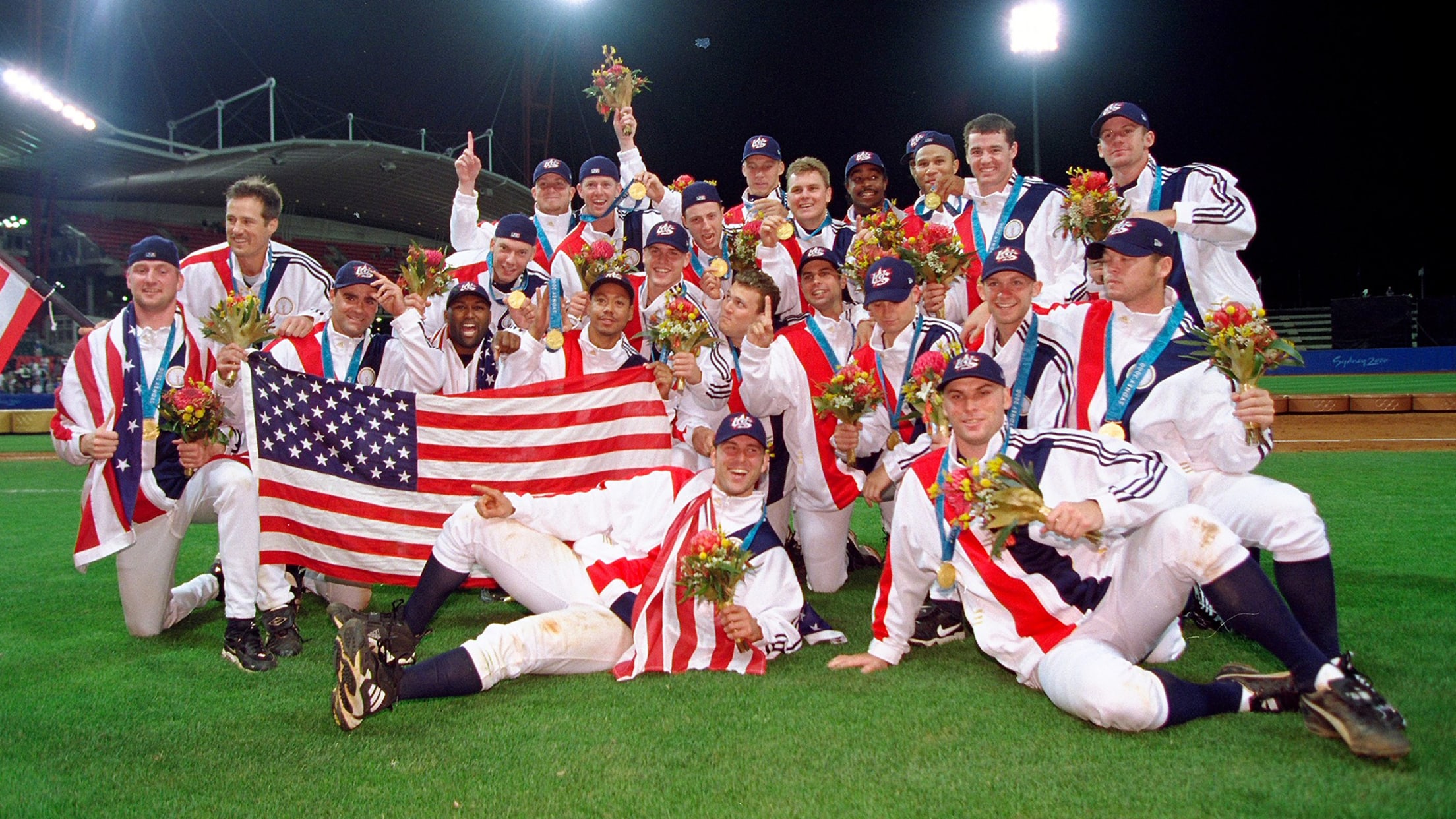 Scroll
Baseball's 'Miracle on Grass': An oral history
Editor's note: This article was originally published in September 2020
The 2000 Summer Games in Sydney marked the first time that professionals were eligible for the Olympic baseball tournament. But this Team USA was no Dream Team. Major League Baseball's schedule got in the way. Instead, USA Baseball spent months selecting a team comprised of Minor League prospects, journeymen and players somewhere in between, led by Tommy Lasorda, the legendary Dodgers manager and All-American showman, who passed away at age 93 on Jan. 7, 2021. In the other corner was Cuba, a seemingly unstoppable force of international baseball that had swept through the previous two Olympic tournaments in 1992 and '96 without a single defeat.
When it was over, it was known as the Miracle on Grass -- a triumph that remains special more than 20 years later, as the Winter Olympics get underway in Beijing.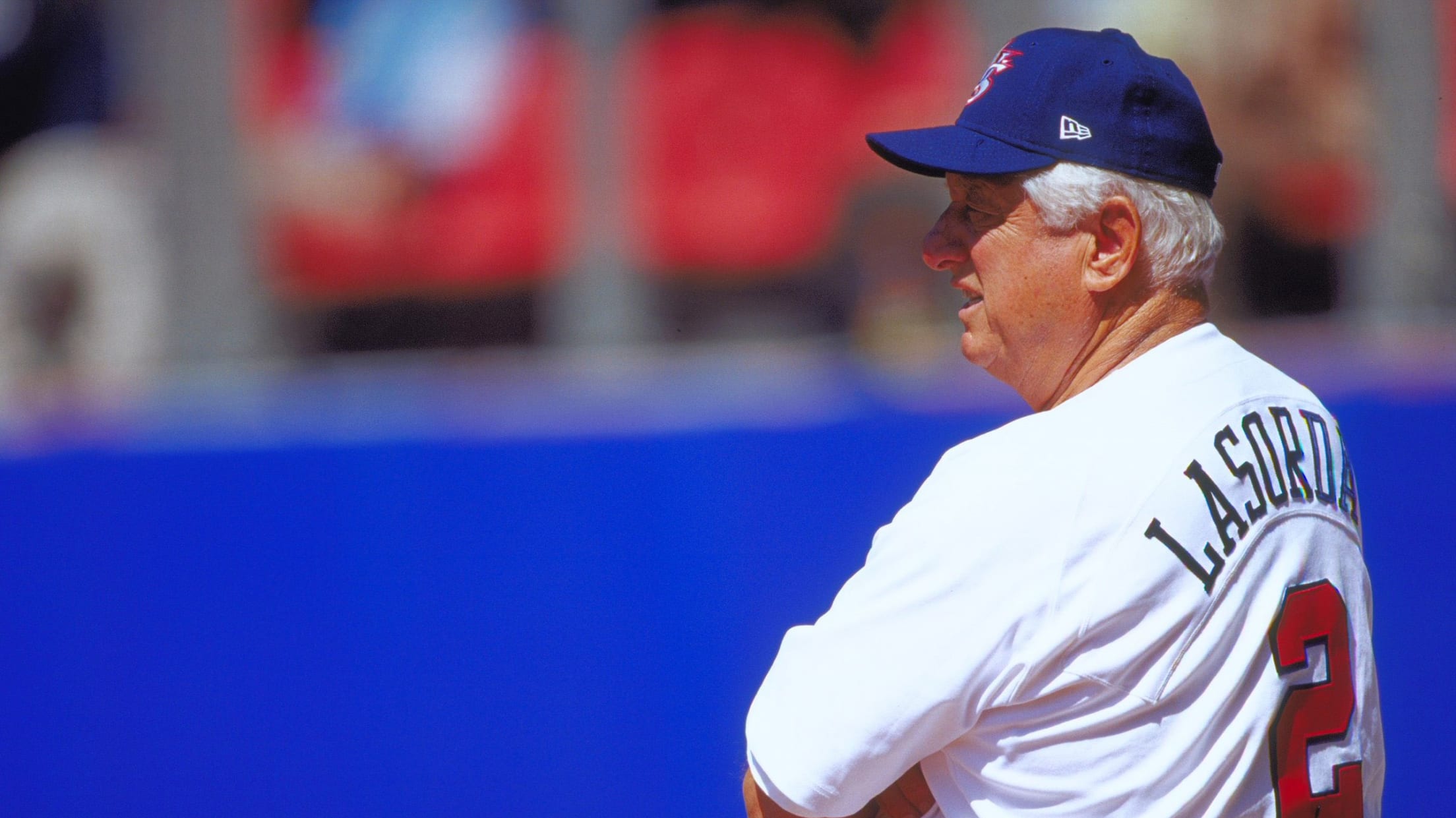 (Note: All players, coaches and managers quoted below are identified by their team/role at the time of the Sydney Games.)
Tommy Lasorda, Team USA manager: I know the Cubans were heavy favorites. When I got the [U.S.] team, I didn't know any of them. A bunch of guys nobody had heard of. But they were a bunch of great guys. We had a lot of fun. I enjoyed every bit of it.
Jose Contreras, Team Cuba ace (through interpreter Billy Russo): Our team was a powerhouse. We were a great team with a lot of talent. Before that tournament, the last game we lost was in 1997. We won 152 games straight until that tournament.
Roy Oswalt, Astros pitching prospect: On the way over there, we were getting bashed and hammered by the media saying we had no chance against Cuba. No one knew who these [U.S. players] were, who they're sending over here. "I don't know how they came up with these guys." Everything you can imagine; they were trying to say we didn't have a chance.
John Manuel, reporter (now a scout for the Twins): It was all new with the internet. I was writing four stories a day for Baseball America's new website. I wrote this giant preview and I thought the U.S. had a chance to win, but I didn't want to seem provincial and pick the United States, so I picked Cuba to win. Of course, the American players gave that back to me the whole two weeks.
Mike Neill, Mariners Minor League outfielder: I think it was Tommy Lasorda's expectation [to win the gold medal], but I had been a part of the Pan Am Games the year before, and I don't think he really realized how closely competitive it really was. Obviously, Cuba's pitching stood out. But everything else -- Japan's team, South Korea's team, our team -- it was pretty well matched up. I thought it was going to be a really fun thing to be a part of.
Paul Seiler, executive director and CEO of USA Baseball: A lot of the time, we use the analogy of putting a puzzle together, trying to get all the right pieces. That was one of those teams where all of the pieces fit perfectly.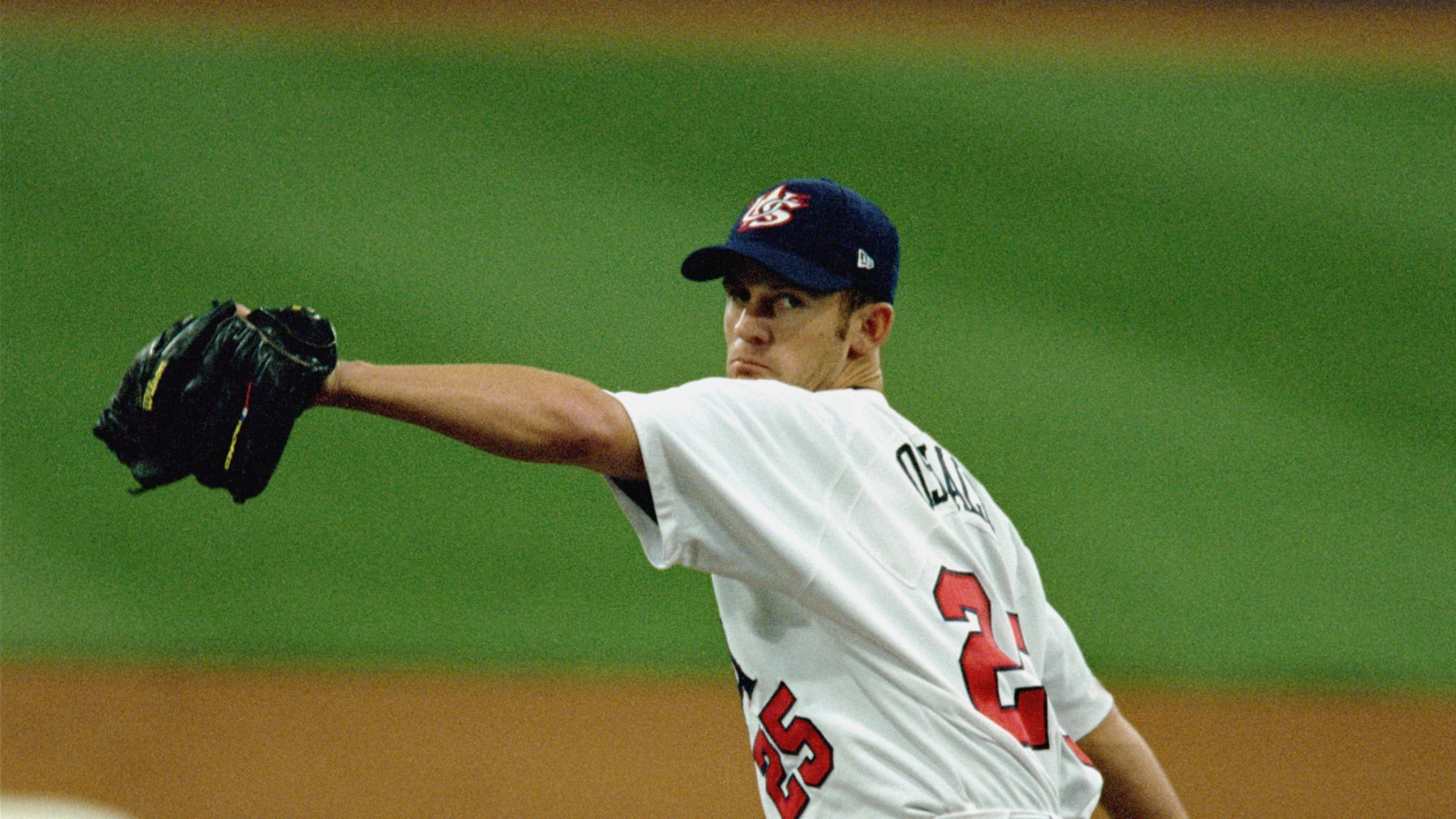 BUILDING THE TEAM
Pat Borders, veteran catcher who spent 2000 at Triple-A for Tampa Bay: I put my name in the hat when it was drawn to my attention, but at the end of the year, I was like, "Golly, I'm exhausted." I was 37 at the time. I was ready to go home. I had been away from the family for a while. I was physically worn out. It was six more additional weeks or whatever it was. My wife said, "Nope, you're not coming home. You've got to go." And ultimately, it was probably one of the most fun experiences of my life.
Ben Sheets, Brewers' No. 1 Draft pick in 1999: I think they sent out a questionnaire when we were in the Minors, and you had to fill it out and then they went through their process. I wasn't going to the big leagues that September … so yeah, why not?
Oswalt: Sheets was big in the Brewers organization, and we had a lot of guys that had been in Triple-A for a while that were pretty young. Guys that didn't have a lot of Major League experience, except for Pat Borders, who had 12 or 13 years in the big leagues. He was a big leader on the team, kept everybody where they needed to be.
Manuel: They had decent position players, but it was more of a "Four-A" offense with a playoff-type of pitching staff. [Baseball America's] Minor League Player of the Year that year was Jon Rauch, the runner-up was Roy Oswalt, and they were both on that team. Then Sheets. That threesome, I thought, was pretty outrageous. And the bullpen pitched really well, starting with Ryan Franklin.
Ryan Franklin, Mariners farmhand: I was having a good year in Triple-A in 2000, and I was going to get called up. The Mariners told me, "There were no guarantees you're going to make it, but we'll give you the option: Do you want to go to the big leagues with expanded rosters? Or do you want to go and try to do this?" I'm like, "I've already been in the big leagues a little bit the year before." So yeah, this is something I never, ever thought I would have the opportunity to do. So I went and did it.
Doug Mientkiewicz, Twins first baseman: In 1999, I got absolutely embarrassed in the big leagues [.229 average, 2 homers in 379 plate appearances]. I got sent to Triple-A [in 2000] for the first time, and I said, "You know what? I need something like the Olympics to get me back on the map." ... The confidence that whole Olympics gave me catapulted me into the next year in the big leagues. I said, "If I never play another inning in Major League Baseball, I've done something that not many people can say they've done." It gave me an "exhale" moment. Now I could just go play.
UNDERDOGS ARRIVE DOWN UNDER
Franklin: We went and worked out a little in Southern California, and then we went to Queensland in Australia for exhibition games. That's where they evaluated who was going to be on the roster. I pitched really good, so next thing you know, I'm on it.
Manuel: When they unveiled the roster, Sheets really did stand out. But I think the guy who was the biggest deal to the media there was Pat Borders, because he had been a World Series MVP.
Borders: I think I was the oldest by quite a ways. The next person probably was Ernie Young. I think he was [31]. The rest of them were very young, but all of them ended up being pretty talented and had pretty good careers. I think CC Sabathia was the last cut. That's a pretty good cut.
CC Sabathia, Indians prospect: It was fun being in Australia. That was probably the funnest part. I think we went to a kangaroo park one day. It was crazy. The night before the opening ceremonies, I got a call to come down. They were like, our plan was to pitch you the second half of the game against Cuba, and [then-Indians GM John Hart] was like, "No, he's not a reliever. We told you guys, if you bring him, he's got to start."
Neill: I was kind of the odd man out the first couple of exhibition games, not really getting at-bats, so I was a little nervous that I wasn't even going to be part of the team that went to Sydney. I guess we lost to The Netherlands in an exhibition game, and after that loss, they made some changes, and next thing you know, I was hitting third and playing left field. I got called off the bus by Sandy Alderson [who helped construct the team], who drafted me way back in 1991 with Oakland [when he was the A's general manager]. We had history. He said, "You're playing left field, you're hitting third, so prove me right."
That loss to The Netherlands came in the fifth of Team USA's six exhibition games. Rikkert Faneyte, an outfielder who played parts of four years in the Majors with the Giants and Rangers, drove in three runs with a double in the second inning off 6-foot-11 right-hander Jon Rauch, a White Sox prospect, and the Americans played catch-up the whole game in a 4-3 loss.
Pat Murphy, manager of Team Netherlands: There was a toughness and a bond [about Team USA], that they were not going to be denied. It was beautiful to see from the outside. Obviously, we were trying to win, but it was beautiful to see.
Sheets: We beat most everyone in the exhibition games, so maybe I thought we were awesome. When you're young, you don't know any better. You don't know anything.
It was one of the greatest moments you can have in your life, and that was before the games even started.

Mike Neill, Team USA outfielder
LET THE GAMES BEGIN
Seiler: Our team lived in the Olympic Village, and we basically had two houses. The houses were so tight. It was pretty pedestrian in terms of creature comforts; no televisions, some of the furniture was lawn furniture. You weren't going to stay at the Ritz. Our guys really bonded as a part of that village experience, and I think it made us better on the field.
Mientkiewicz: One of the topics that comes up a lot and has nothing to do with the games was the opening ceremonies. Basically, you're on the street with all of the United States athletes getting ready to go in, and I'm standing next to Kevin Garnett and Mia Hamm. I said, "Even if we didn't win out there, it was the most memorable thing I've ever seen, as far as sports go."
Neill: Two things popped in my head. A) I can't believe I'm here. B) It's unfortunate that there's no way I'll be able to describe this to somebody else who wasn't there. It was one of the greatest moments you can have in your life, and that was before the games even started.
Sheets took the ball first for Team USA in pool play, pitching seven scoreless innings opposite Japan's Daisuke Matsuzaka in the longest game since baseball became a medal sport at the Olympics. It was a 4-2 win for the Americans in 13 innings decided on Neill's walk-off home run after Franklin, his Triple-A teammate, pitched three scoreless frames.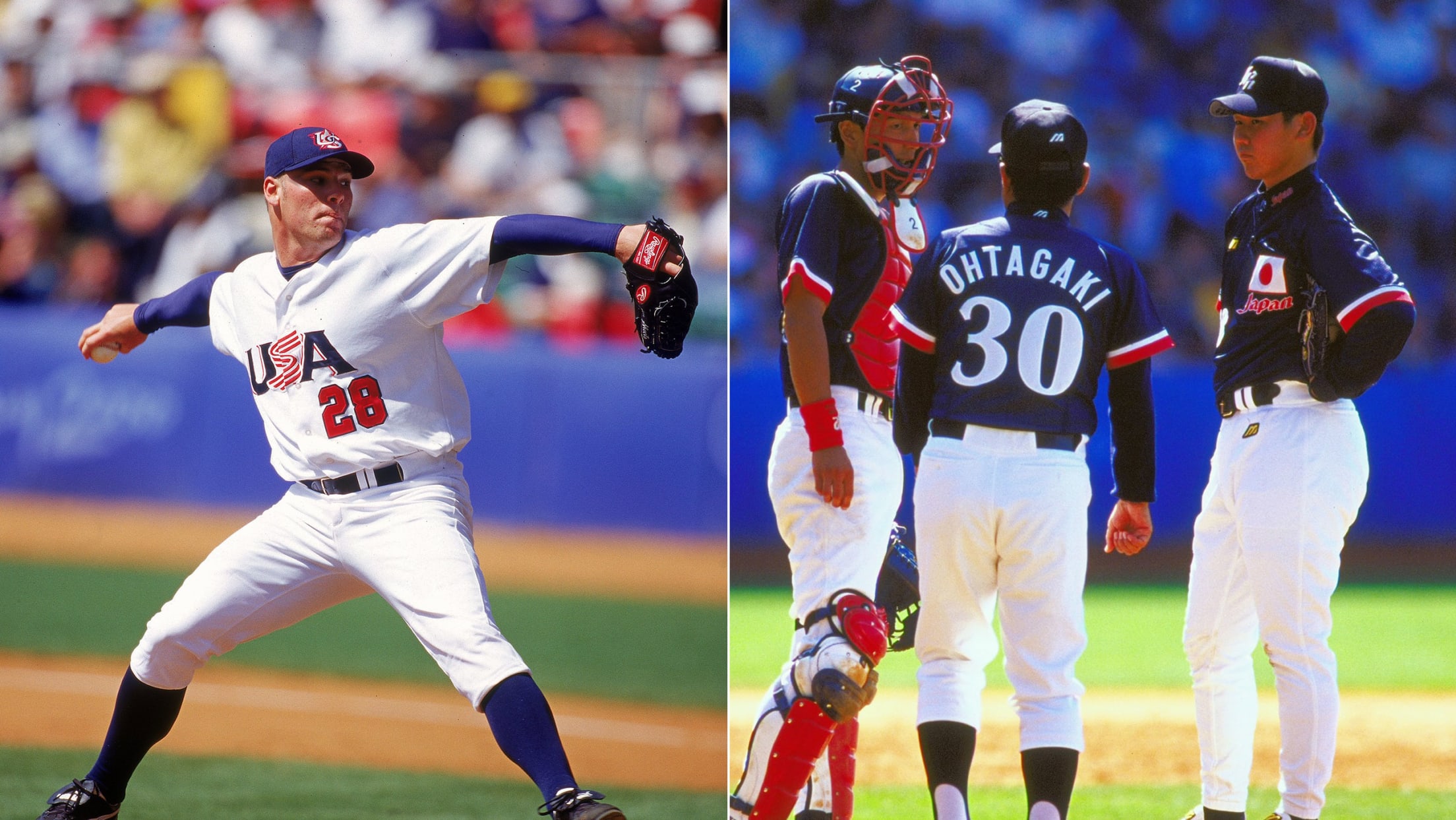 Manuel: Japan had something like five players who were in their Major Leagues who left their teams in the middle of the season and came and played in the Olympics. So they were good. And it starts with Sheets vs. Dice-K. In the history of my game-watching, that's one of the all-time great games. Sheets threw something like 25 pitches in the first inning and afterward was like, "Shoot, I'm on a 75-pitch count. I'd better throw some two-seamers." So he totally changed his style of pitching to go deeper into the game. As a reporter, that told me, "Man, Sheets is into this."
Oswalt: We didn't have a whole lot of offense. We just had great pitching. I think the pitchers' ERA over there was in the 1's the whole time we were there.
The next day, Rauch redeemed himself with 13 strikeouts in seven innings of an 11-1 win over South Africa that was cut short by the 10-run rule. Team USA then evened the score against The Netherlands with a 6-2 win featuring home runs for Brad Wilkerson and Young, followed by a 4-0 win over South Korea on Oswalt's seven scoreless innings and Mientkiewicz's two-out, two-strike grand slam in the bottom of the eighth. The Americans then beat Italy two days later by a score of 4-2.
Team USA was 5-0 going into its first meeting with Cuba. But whatever momentum the Americans carried into the game, it was gone in a hurry.
Sheets: They were throwing gas. Everybody was throwing gas. They hit Ernie Young. He got mad. Then Doug Mientkiewicz leg-whipped a guy at first. Then they slid in hard at Pat Borders.
Manuel: It was like an old picture of Ty Cobb, sliding in, spikes up. I really had never, ever seen anything like that. I was watching in the press cafeteria and all the Cuban reporters were there, and they don't hold back. There's nobody in the press box in Cuba saying, "Hey, this is a professional press box. We don't cheer." I got kind of fired up.
Franklin: Pat was banged up. I think he tried to crawl to their dugout and fight them all.
Borders: I guess they assumed all of us were young kids, and all of us weren't. … A couple words were exchanged. We let them know that we're not 18-year-olds.
Neill: Cuba jumped on us early and beat us soundly. [Cuban starter José] Ibar was pretty nasty, throwing 96-97 mph with a 90 mph split. But you have to realize, we didn't have one of our horses on the mound, either, right? We didn't have Sheets or Roy Oswalt. So OK, it was one game. We knew we had to play better, but we also knew we were a bunch of guys who were going to do whatever it takes to win, and we were not going to be pushed around.
Sheets: Bottom line, they kicked our butts. I remember their outfielder Luis Ulacia, when everybody was getting in the scrum, yelling, "Look at the scoreboard!" But hey, lost in that is Jon Rauch dominated them the second half of that game. Rick Krivda started, but Jon Rauch, he dominated Cuba.
The final score: Cuba 6, USA 1.
But as Sheets noted, Cuba wasn't unbeatable. The Dutch had proven that a few days earlier by pulling off a shocking 4-2 win over the Cubans thanks to eight quality innings from right-hander Ken Brauckmiller. It was Cuba's first defeat in 22 Olympic baseball games.
Murphy, Netherlands manager: Our guys were so experienced at playing the Cubans, they kind of knew a game plan much better than I did. That was a great win for Dutch baseball. You hear so much about the Cubans and how great they were, how dominant they were. But it's a credit to our game -- you can't take anything for granted.
Neill: From playing in the Pan Am Games before that, I knew you just had to be part of the four teams in the semifinals. You had to be playing for the bronze and the gold. And we were playing pretty well.
The top four teams made it to the semifinals: Cuba and USA tied atop the standings at 6-1, then Japan and Korea. The Americans would play the Koreans for the right to move on to the gold medal game, and it was another thriller. Oswalt pitched six quality innings, Franklin followed with two innings of scoreless relief, and Team USA came back from a 2-0 deficit to tie the game going into the bottom of the ninth inning.
Oswalt: I had thrown seven innings the first time I faced them. We won in the bottom of the ninth on a walk-off by Doug Mientkiewicz. The playoff to get us into the gold medal game, I faced the same pitcher as I did during the regular tournament, against the same team, and the same exact thing happened in the playoffs -- walk-off in the bottom of the ninth by Doug Mientkiewicz. The only difference -- there was a three- or four-hour rain delay after the seventh inning. It was almost 2 or 3 in the morning when we went back out. I remember everyone felt like it was a whole new game because we had been inside for so long.
Mientkiewicz: I was really bad in the exhibition games. We played 10, 12 games maybe, and I think I got one hit all 12 games. Reggie Smith was my hitting coach and I remember he said to me, "Are you going to start hitting?" I said, "Well, I don't want to get hits now when they don't count. When the bell rings, I'll be fine." But I was panicking, freaking out, in the back of my mind thinking, "They're going to send me home." Then I got a broken-bat, hit-and-run single off Daisuke Matsuzaka in the first game. From that moment on, everything dropped into slow gear. Everything I wanted to do at the plate, happened. It was really almost an out-of-body experience.
Sheets: I know Mientkiewicz said this in an interview, that when we were celebrating in the clubhouse, I came up to him and said, "You just won us a gold medal!" That's true. It was another of those ones where you're so arrogant at the time, you don't know better. I dominated my whole life, why wouldn't I dominate that one? Cubans? I didn't know who they were. It didn't matter.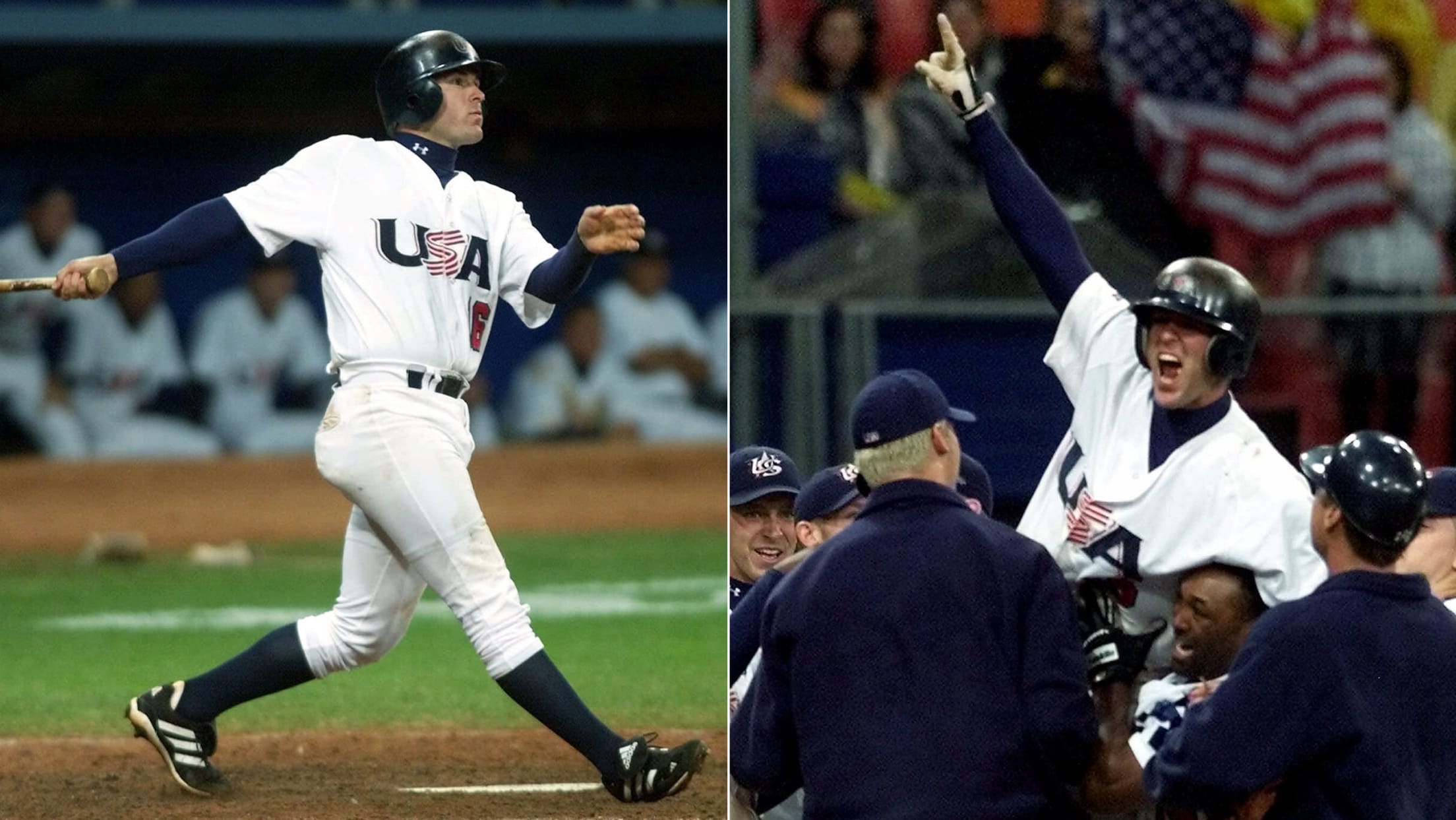 TOMMY'S TOUCH
Lasorda: I got them to believe in themselves, that's what I usually do. I try to get everybody to pull the same way, everybody pulling for the USA. And we pulled it off, didn't we?
Borders: Tommy Lasorda was a big part of it, making it really important to everybody. We knew it was, but he really put a stamp on it: "This has got to be really important to you." … Demanding, energetic, engaging with all the players. He was a good guy to have for that team.
Oswalt: He made you believe that you could pretty much run through a wall.
Manuel: Sometimes I wasn't sure how well Tommy knew his personnel. But the one thing players did say at the time was that he had them believing.
Mientkiewicz: He pulled me aside and talked to me individually. It gave me a sense of, "OK, if I don't accomplish one other thing in my life, I've done something that not a lot of people can say they've done." We talked about the big league life and what went wrong [for me the summer before] and how to correct it. Tommy is really good at making you believe you're a better player than you probably think you are.
Seiler: We never talked about, "Are we good enough?" Lasorda set it out in the beginning, in our very first meeting when we got the guys together in San Diego. It was about belief in who we are and what we are capable of. Tommy said, "The world might not know us right now, but they will when this thing is over." The guys fed off that positive belief.
Sheets: Tommy just always brought energy. I think he thinks he can coach anything to a victory, is what it comes down to. If he's the manager, he's the favorite, you know? Even if he wasn't. He would come grab me every day to go eat lunch, walk around, hang out, talk baseball. You know why? A lot of guys don't know baseball history, but I did know baseball history. Like, when you know baseball history and a guy like Tommy can talk it to you, they love that. Because that's their history. ... It's just the respect factor.
THE GOLD MEDAL GAME
Contreras pitched his second shutout of the tournament in Cuba's 3-0 win over Japan in the other semifinal game to set up a rematch with Team USA for gold on Sept. 27, 2000, at sold-out Homebush Bay Stadium. Sheets reckons he slept like a baby the night before.
Sheets: When you're young, you're dumb. It's probably your best tool.
I dominated my whole life, why wouldn't I dominate that one? Cubans? I didn't know who they were. It didn't matter.

Ben Sheets
Contreras: I pitched the previous game against Japan, because for us and for all the people around the tournament, they were saying that Japan was the team to beat. … After we won the game, our manager talked to Pedro Luis Lazo, our closer at that time. A great pitcher, the best all-time from Cuba for me. Our manager told him, "You are going to be our starter [against the U.S.]." He didn't take that in a serious way. The last time he started a game was probably 10 years ago. The day of the championship game, an hour before the game, the manager told him again, "Hey, you are our starter today." He was like, "What?" He wasn't ready, and in that moment, we lost the game.
Manuel: The fact they did not pitch Contreras tells you a lot. I covered the qualifier in 1999 in Winnipeg and Jose Contreras beat the U.S. on one day's rest with 13 strikeouts. You talk about bigger than life. ... But this time they pitched him against Japan. That was the team they respected and feared, not the U.S. That, for me, was a sign of disrespect.
This U.S.-Cuba matchup would go much differently. Neill provided a lead with a solo home run in the first inning, Young broke the game open with a two-run single in a three-run fifth inning for a 4-0 lead and Sheets did the rest, blanking mighty Cuba on three hits without a walk in nine innings.
Neill: Normally, I was a good contact hitter. My swing had gotten a little long from not playing [in exhibition games], and I just remember a 2-0 pitch that I fouled straight back. I was like, "Ah, shoot, there's my one pitch." Then he threw a 2-1 fastball in the same spot and I put a good swing on it.
Sheets: When he hit that first-inning homer, that was the tone-setter, if you want to be honest.
Neill: It's very neat seeing him say that the first-inning homer helped him relax and hopefully helped our team relax, that it set the tone. But seriously, no one had beaten Cuba. I had watched Brad Penny throw against them the previous year, throwing 99 mph, and they were turning him around. But Ben went out there and dominated them.
Contreras: I remember that Sheets, before the championship game, he pitched against Italy and he allowed [two runs before leaving that game after being struck on the arm by a comebacker]. When we got the news that he was to be the starting pitcher for the U.S. against us, we were celebrating. It was like, "OK, we got him." But that day he was at his best, and we couldn't do anything against him.
Borders: First of all, he had courage and focus. He didn't act like a young kid. He just absolutely performed like an old, in-his-prime veteran.
Seiler: One of the terms one of our scouts uses a lot is, "When that guy's on the mound and it starts to vibrate, what's he going to be like?" That was the neat thing about Sheets. One, his ability was very significant. But when [the mound] started to vibrate, he was not going to succumb to the vibrations.
Manuel: They were priming Ben Sheets the entire time, "You're going to pitch the gold medal game and you're going to bring it home for us." And then he did.
The Brewers had set a limit of 75 pitches for Sheets in the Olympics to protect the pitcher they'd drafted 10th overall in 1999. But during training on the Gold Coast, Sheets had phoned Brewers GM Dean Taylor and asked that the limit be bumped to 90. Taylor agreed. In the gold medal game, Sheets went the distance on 103 pitches, with Neill making a snow-cone catch in left field for the final out of Team USA's 4-0 triumph.
Sheets: When Mike Neill slid and made that 27th out, that's when I knew we had it. You're always nervous that somebody's going to get going. I've watched it happen 100 times.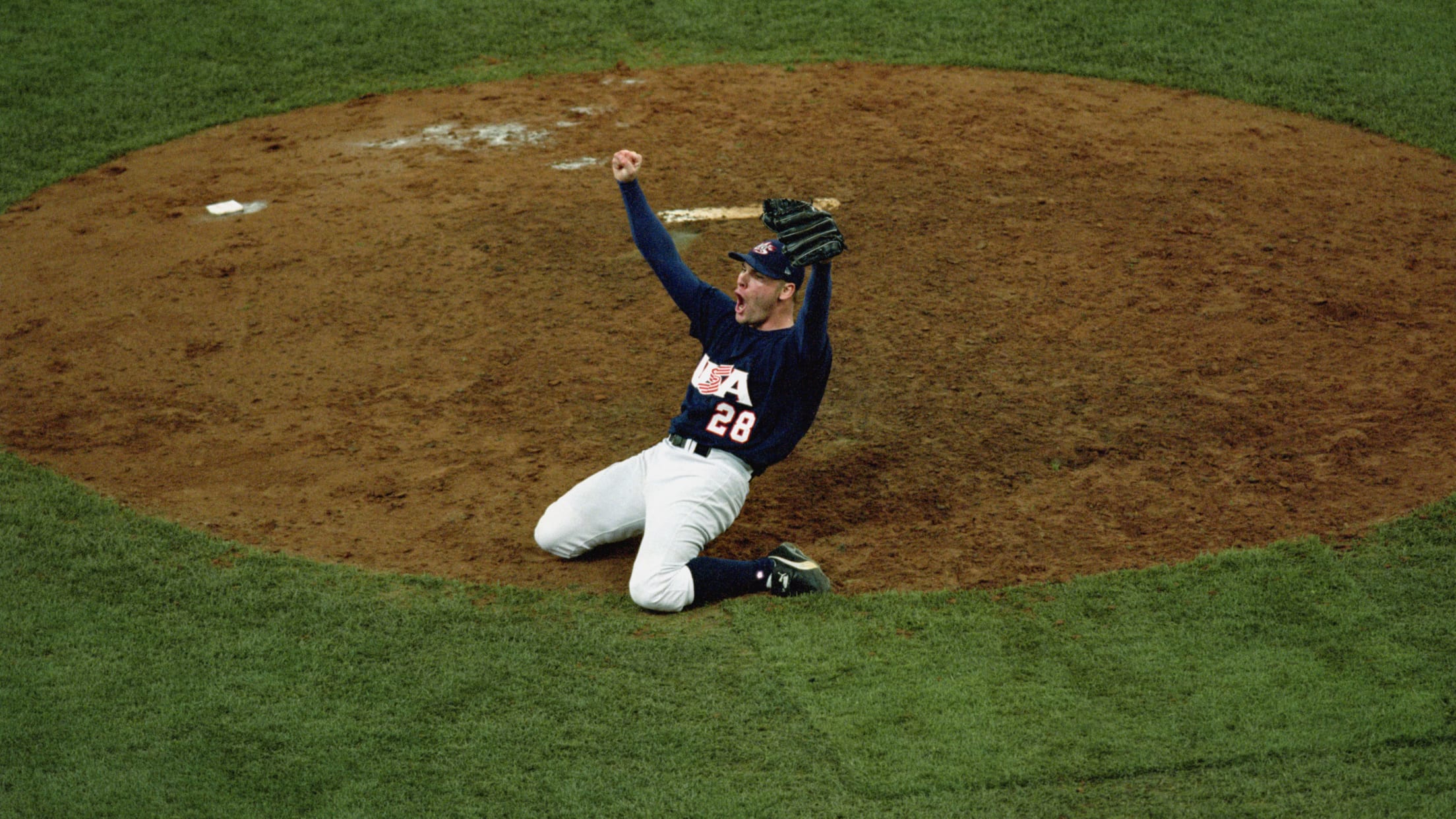 Neill: A couple of the guys on the team were saying I was running in place to make the catch look good for the camera.
Contreras: We were in shock. We were in shock because we didn't expect that. It was a big surprise for us. At that time we were beating everybody easily. For us, there wasn't a team to compare. We had that streak. We were a very good team. And the U.S. was playing with Minor Leaguers. The Cuban National Team wasn't prepared to lose that game.
I got them to believe in themselves, that's what I usually do. I try to get everybody to pull the same way, everybody pulling for the USA. And we pulled it off, didn't we?

Tommy Lasorda
PODIUM MEMORIES
The medal ceremony produced one of the enduring images of those Olympics, Mientkiewicz on the podium with tears streaming down his face while "The Star-Spangled Banner" played.
Mientkiewicz: The Olympics were a big part of my family. I watched Mike Eruzione [the captain of the 1980 "Miracle on Ice" U.S. Olympic hockey team] play minor league hockey for the Toledo Goaldiggers before he scored the winning goal against the Russians. The Olympics were a big deal.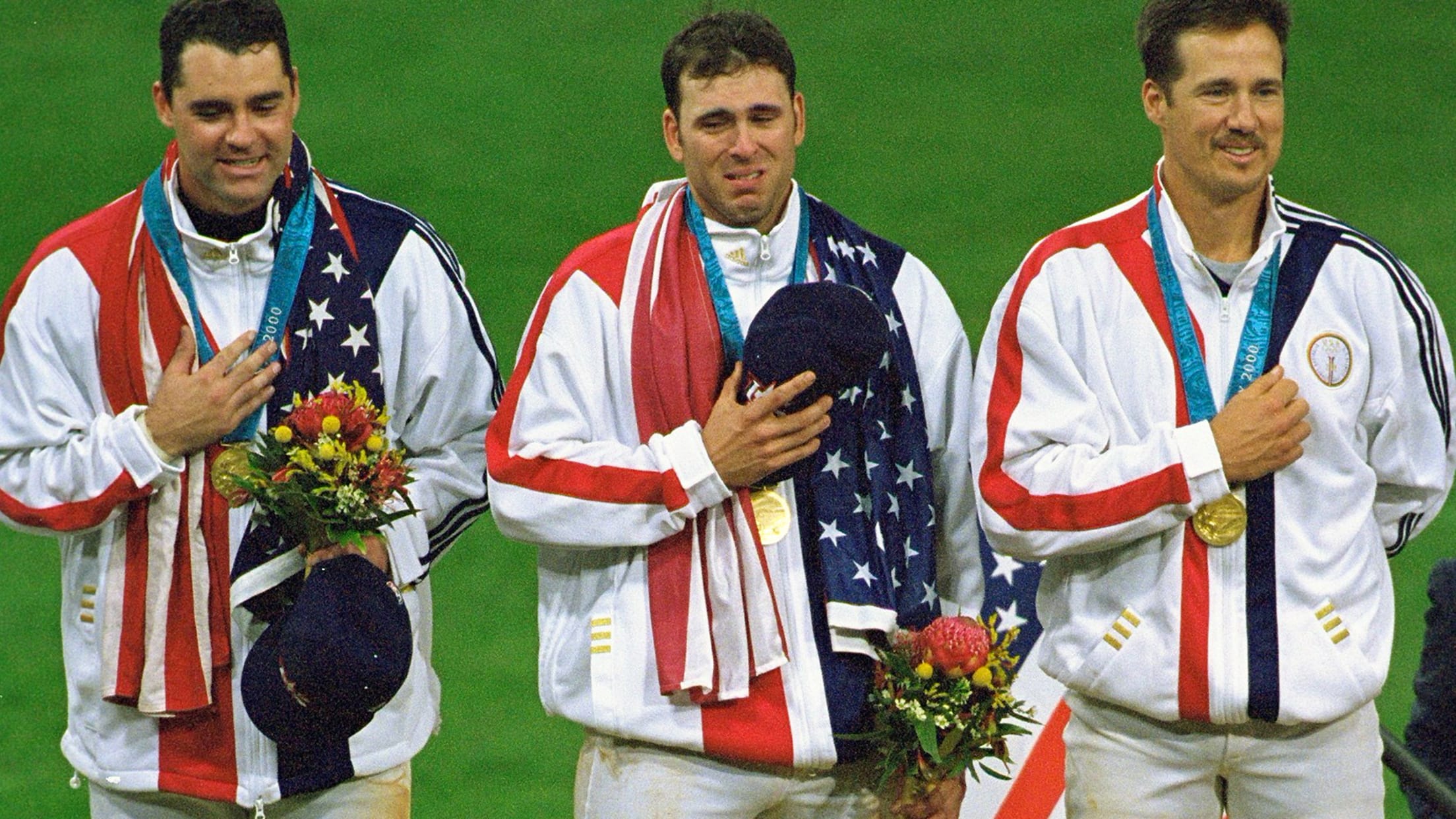 Borders: I get chill bumps thinking about it. I decided to call my wife while the national anthem was playing. … I was on the podium listening to the national anthem and I let her listen to it at the same time. I said, "I want you to be part of this. Listen." That was probably worth the whole thing right there.
Neill: I was near Mientkiewicz and I was like, "What are you crying about? This is awesome!"
Manuel: Watching Doug Mientkiewicz in a puddle of tears on the podium, that has to affect you. I definitely was trying to not be like the Cuban reporters; I was trying to not cheer for the United States. I was trying hard. But you can't help but take a little bit of pride seeing what it meant to those guys.
Borders: I like my World Series rings, but [the gold medal] is so nice and so heavy, it's kind of a proud thing to have. The kids take it to school. … Every time they get to a show-and-tell, the teacher will say, "Can you have your dad come in and talk about the World Series or something like that?" I'll say, "Better yet, why don't you take the medal and wear it to school?" It's probably got dings all over it now.
Franklin: My gold medal is in a safety deposit box. I haven't gotten it out in a few years. I keep telling myself that I'm going to, and you know what? I need to get it out. I don't think my 6-year-old has ever seen it. I'm glad we're talking, because I'm going to get it out.
Seiler: It's an Olympic tradition that only the athletes get medals, not the coaches and support staff. And I'm OK with it. The Olympics are about the athletes, and that's what's celebrated on the podium. I'm standing here talking to you 19 years later, and the experiences are all still so clear in my mind. I don't need a medal to remind me of that. It's in my head -- and I don't need a safety deposit box for that.
Oswalt: Tommy told everyone that he had won World Series and all kinds of stuff in Major League Baseball, but nothing he had done in his life amounted to what had just happened.
Neill: I've got [the gold medal] hidden away in a backpack somewhere, but every year on the anniversary, I get it out and wear it around for the day. There might have been one time it was under my shirt at a bar. Yeah. You have to move on, you can't live on it, but it is pretty neat on the anniversary to get it out and wear it around a little bit. I will say that the neat thing for me is when you see an article about a guy who spent a lot of time in the big leagues -- Ben Sheets, Jon Rauch, Doug Mientkiewicz -- and they say it is still the highlight of their career. That is really something neat for a guy who didn't make it.
Sheets [laughing]: If it had come with a big league salary, it would probably be No. 1 for me by a lot.
I've got [the gold medal] hidden away in a backpack somewhere, but every year on the anniversary, I get it out and wear it around for the day.

Mike Neill
Sheets didn't have much time to celebrate. The next morning, he began a journey to Milwaukee, arriving in time to step out of the Brewers' dugout with the gold medal around his neck during the final game at County Stadium. The Brewers moved into Miller Park the following season with Sheets in their rotation.
Sheets: Mike Neill texts me every year on the anniversary of the final game. Every year. So what is that, 19 times he's texted me? "Thanks, Sheeter."
Neill: I was a little late this year and he was like, "I thought you forgot!" No way, Benny. No way I'm forgetting. He was a stud. An absolute stud. It was amazing watching him shut down what supposedly was the greatest team ever assembled. He just shut them down. They couldn't touch him. A friend of mine got me a Ben Sheets bobblehead, and every day I tap its head and go, "Thank you, Benny." He got us the gold.
credits:
MLB.com's Jason Beck, Alyson Footer, Bryan Hoch, Jenifer Langosch, Scott Merkin and Todd Zolecki contributed reporting.