Players who didn't win awards, but deserved to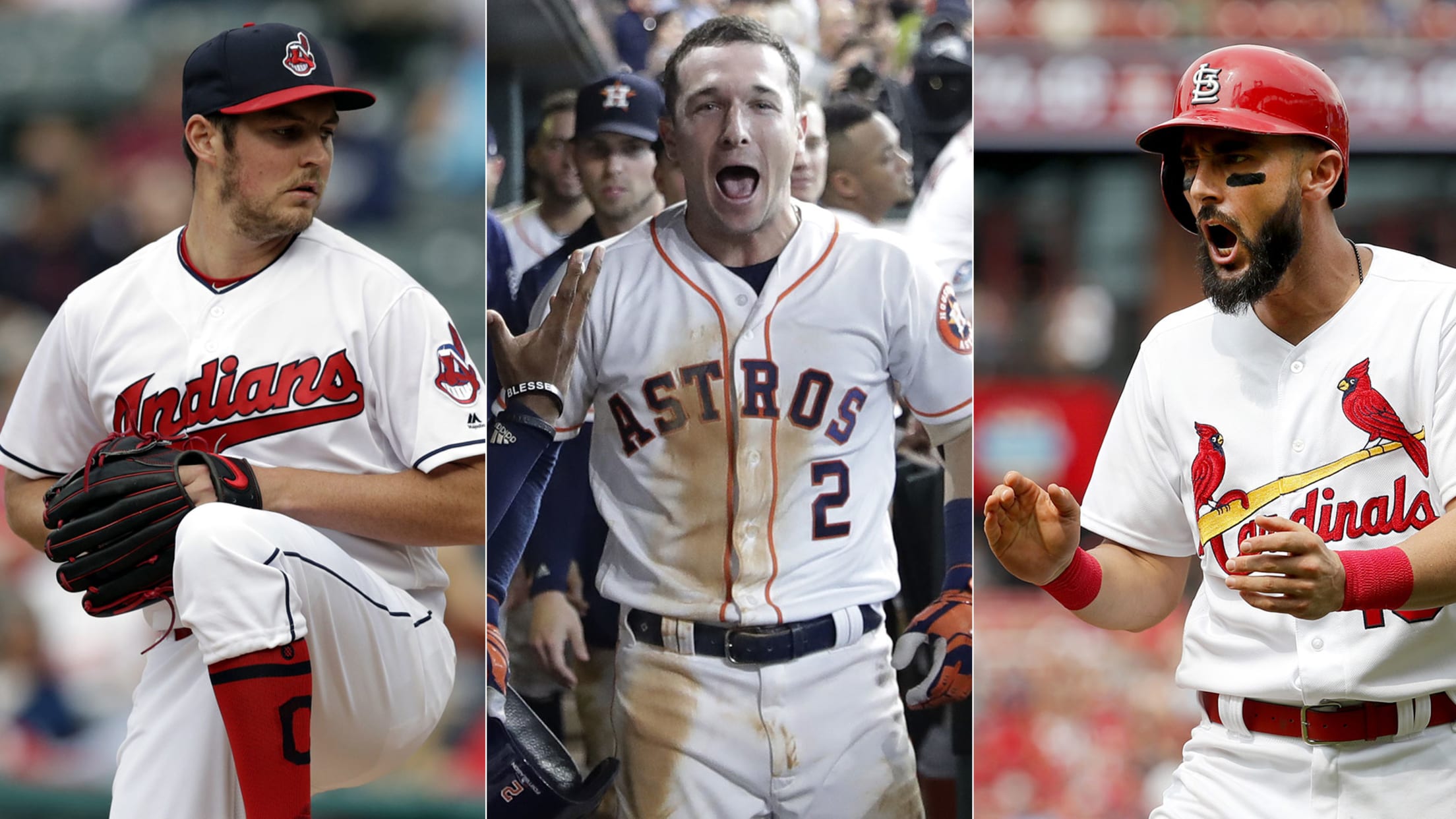 Like every other element of the entertainment business, MLB is awash in awards.There are awards for pitching prowess, defensive deftness and straight-up slugging. There is a trophy given to guys who give to the community. There is an honor designated for designated hitters. There are rewards reserved for rookies and
Like every other element of the entertainment business, MLB is awash in awards.
There are awards for pitching prowess, defensive deftness and straight-up slugging. There is a trophy given to guys who give to the community. There is an honor designated for designated hitters. There are rewards reserved for rookies and relievers. And perhaps the most valuable award of all is the one that goes to the Most Valuable Player in each league.
And yet, for all this awarding, some really good seasons are victims of atrophy (as in, "without trophy").
• Complete MLB awards coverage
So here's an All-Star squad of guys who had seasons worth celebrating, even if they don't have the hardware haul to show for it. While many markets have awards handed out by the local media, we're focused here on players who didn't win a Gold Glove Award, Silver Slugger Award, Hank Aaron Award or Reliever of the Year Award, and -- this is important -- weren't finalists for either the Baseball Writers' Association of America awards or the MLB Players Association's Players Choice Awards. (We're leaving out all finalists both to demonstrate the depth of awesomeness that occurred in 2018 and because of the fundamental fact that the Cy Youngs, MVPs and Players Choice Award winners had not been announced, as of this writing.)
Let's award the awardless!
C: Yasmani Grandal, Dodgers
Some people were surprised Grandal just turned down the $17.9 million qualifying offer after a postseason in which he lost significant playing time to Austin Barnes. Remember, though, that Grandal was probably the second-most-productive catcher in baseball in 2018, behind National League Silver Slugger winner J.T. Realmuto.
In fact, if you look at Weighted Runs Created Plus (wRC+), which takes the league average and park effects into account in measuring a player's overall offensive impact, Grandal's 125 mark (or 25 percent better than average) was only one point below that of Realmuto. He also graded out as one of the game's best pitch-framers.
1B: Matt Carpenter, Cardinals
Carpenter was probably in the pole position of the NL MVP Award race as recently as mid-August, but both he (.558 OPS) and the Cards (12-15) fell apart in September. He wound up finishing outside the top three in the MVP voting, and Paul Goldschmidt won the NL Silver Slugger.
Still, we shouldn't forget Carp's homemade salsa-fueled midseason surge, which helped propel St. Louis out of the standings abyss. In the three-month span from May 16 to Aug. 15, he slashed .326/.430/.707 with 30 homers in 365 plate appearances.
2B: Whit Merrifield, Royals; Scooter Gennett, Reds
Normally, I'd pick one guy or the other, but, if the whole point here is to highlight guys untouched by award season and the cases are fairly equal, why not salute both of these surprise seasons? (Bonus points, of course, for their names being Whit and Scooter.)
Though he logged most of his time at second, Merrifield was the do-everything, play-everywhere asset for the Royals. He led the Majors in hits (192) and stolen bases (45), and Baseball Reference's calculation had him 10th among American League position players in Wins Above Replacement (5.5). That's why a bunch of teams are trying to trade for him.
If you thought Gennett would turn back into a pumpkin after his four-homer game in 2017, you (like me) were wrong. He posted career-bests in batting average (.310) and OBP (.357), and Silver Slugger winners Jose Altuve and Javier Baez were the only qualified second basemen with a higher wRC+ mark than his 125.
SS: Manny Machado, Orioles/Dodgers
So much of the 2018 story revolved around Machado, from his Spring Training shift to his original position at shortstop to the All-Star Game intrigue that surrounded his move from Baltimore to L.A. to all the October attention on his (lack of) hustle and other antics on the NL Championship Series and World Series stages to his high position in the Hot Stove hierarchy. But they don't have an award for Best Performance in a Drama, so Machado will have to settle for the hundreds of millions of dollars that await him in free agency following his best season (poor guy). All told, Machado had a career-high .905 OPS and 107 RBIs with a career-high-tying 37 homers. And his defense did improve with the Dodgers.
3B: Alex Bregman, Astros
Jose Ramirez's late-season fade and shift to second base were not enough to yank him out of the top three in the AL MVP voting or the top spot in the AL Silver Slugger voting at the hot corner. So Bregman's big breakout in 2018, which included a .286/.394/.532 slash with a Major League-high 51 doubles and an AL-high 5.94 Win Probability Added mark, did not earn him an award.
That said, already this offseason, Bregman has crashed a fan's wedding and given a waitress a $500 tip after her home was burglarized, so he might be trending toward 2019 Roberto Clemente Award consideration.
OF: Lorenzo Cain, Brewers; Brandon Nimmo, Mets; Mitch Haniger, Mariners
He's not the first or the last, but the bottom line is that Cain, a robber of many would-be home runs, was himself robbed in the Gold Glove Awards, as his plus-20 Defensive Runs Saved mark (tied for first among outfielders) and 11 assists (tied for second) and 2.4 dWAR (first) did him no favors. Clearly, though, between the glove and the .395 OBP and the 30 steals, the veteran center fielder was an impactful pickup for the first-place Brew Crew.
Nimmo entered the year as the Mets' fourth outfielder and left it as their most valuable position player. His .404 OBP was second only to that of Joey Votto. His 149 wRC+ was second in the NL only to likely NL MVP Award winner Christian Yelich. He also graded out positively on the defensive side with five Outs Above Average, according to Statcast™. This is a complete player.
You can say the same about Haniger, who only built upon the all-too-brief, injury-shortened 2017 sample that made him such an intriguing trade acquisition for the Mariners. Haniger stayed healthy this year and posted a .285/.366/.493 slash line with 26 homers and 38 doubles. Yelich and Nimmo were the only NL outfielders with a higher wRC+ then Haniger (138).
DH: Khris Davis, A's
With no awards or All-Star appearances despite three straight seasons with north of 40 homers, Davis qualifies as one of the more underrated players in the game. And though he has somehow managed to log a .247 batting average in four consecutive seasons (c'mon, find me a more fun stat than that), he took his game to a new level in '18, with a career-best 48 homers and 128 RBIs to help power the A's to a playoff spot. Problem is, Hank Aaron Award and Silver Slugger winner J.D. Martinez was simply better in the DH department this year.
Starting pitcher: Trevor Bauer, Indians
Like that of Chris Sale, Bauer's trajectory toward the top end of the AL Cy Young Award discussion this year was thwarted by an August injury. Sale, though, is at least a finalist for Outstanding Pitcher in the Players Choice Awards (and he got to record the final out of a World Series, which, you know, is better than any actual award or mention in this column).
So here's to Bauer, who was struck by a comebacker that fractured his fibula on Aug. 13, was third in the Majors among pitchers in WAR, Fielding Independent Pitching and strikeouts, and second only to Sale in ERA. Bauer finished with a 2.21 ERA and an AL-best 2.44 FIP and 0.5 homers-per-nine mark. His 198 ERA+ was a career-best by 89 points.
The Astros' Gerrit Cole (2.88 ERA and MLB-best 12.4 Ks per nine) and the Rockies' Kyle Freeland (whose 2.85 ERA included a near-miraculous 2.40 ERA at Coors Field) would also be worthy of the starting assignment for our All-Awardless squad.
Relief pitcher: Blake Treinen, A's
If Treinen had won the Mariano Rivera AL Reliever of the Year Award instead of the Mariners' Edwin Diaz, it would have been difficult to argue against it. That's no knock on Diaz, whose 57 saves were the second-highest single-season total in MLB history, but Treinen was every bit -- if not more -- effective. He was the first pitcher in history to record 30 saves and 100 strikeouts with an ERA less than 1.00. His 0.78 ERA was the fourth-lowest all-time for a pitcher with at least 55 innings, and his 0.83 WHIP in 80 1/3 innings was also remarkable.
Josh Hader was a no-doubt selection for the Trevor Hoffman NL Reliever of the Year, but his Milwaukee teammate Jeremy Jeffress or the Rockies' Adam Ottavino, both of whom had 0.99 WHIPs in north of 70 innings of work, deserve a shoutout here.