Yost hopes bats can power improved 2nd half
Kennedy not close to return; Mondesi placed on Family Medical Emergency list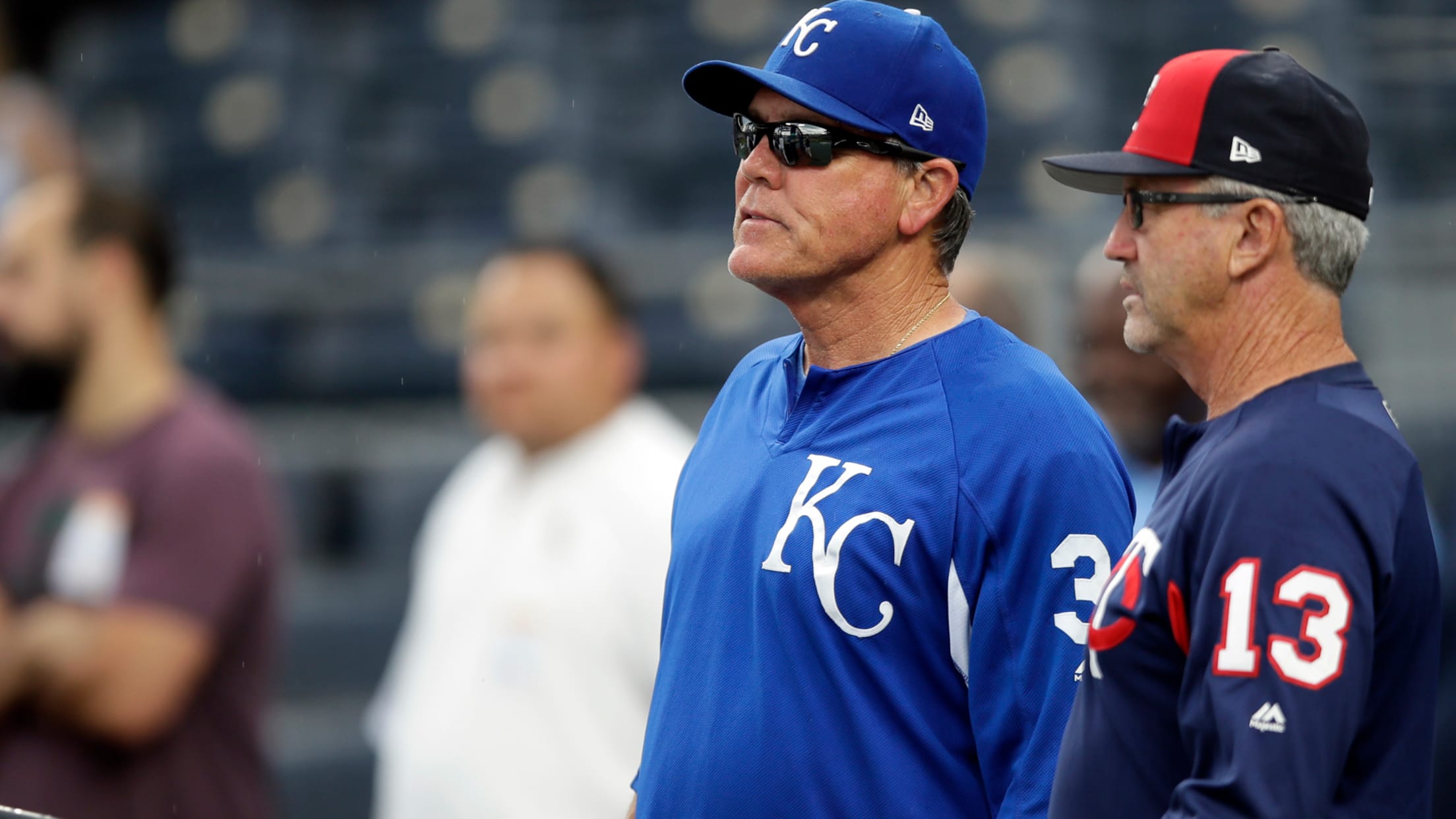 KANSAS CITY -- Royals manager Ned Yost remembered getting a call from general manager Dayton Moore at the All-Star break during the 2011 season.Yost's team back then stumbled into the break 17 games under .500."I remember landing in the Atlanta airport at the break and Dayton and I were on
KANSAS CITY -- Royals manager Ned Yost remembered getting a call from general manager Dayton Moore at the All-Star break during the 2011 season.
Yost's team back then stumbled into the break 17 games under .500.
"I remember landing in the Atlanta airport at the break and Dayton and I were on the phone and he says, 'You got to find ways to win more games,'" Yost said Friday. "'We got to find ways to win.' I thought, 'OK, I'll try to figure something out."
Yost is at a similar stage at the All-Star break here in 2018. Though no one had the illusion that the rebuilding Royals would be a pennant contender this season, neither Yost nor Moore thought they'd be 41 games below .500.
"We just didn't get it done [before the break]," Yost said. "We got young pitchers who are going to get their lumps. Our guys have to get hot offensively. Simple as that."
Yost truly didn't expect his team to have a .239 team batting average now.
"No way," Yost said. "We had the rough April. But we settled down in May and I thought we'd be all right. Then in June we were like a lead balloon."
Aside from winning more games, Yost now will turn his attention over the final 10 weeks or so to watching over the development of younger players like Brad Keller, Jakob Junis, Hunter Dozier and Raul Mondesi.
"That part is enjoyable," Yost said.
And Yost said he hasn't received any urgent messages from Moore about searching for more victories.
"I'm sure he's got his plate pretty full right now," Yost said. "I'm trying to keep all of this off of him. I just try to handle things down here. He's full-blown trying to figure out which players are going to be part of the next wave."
And with the non-waiver Trade Deadline 11 days away, that could include trading away more veterans such as Mike Moustakas, Lucas Duda and Jason Hammel, among others.
Kennedy not close to returning
Right-hander Ian Kennedy, on the disabled list with a strained left oblique, said he has not yet resumed any baseball activities.
Asked if it would be perhaps weeks before his return, Kennedy nodded and said, "It's going to be awhile. I just want this thing to heal. I thought it was OK once before and then [reinjure] it. I don't want that to happen again."
Mondesi on emergency leave
Mondesi was placed on the Family Medical Emergency list on Friday and infielder Ramon Torres was called up from Triple-A Omaha in his place. Yost said Mondesi was back in the Dominican Republic taking care of a family member.