Who might bid on intriguing Castellanos?
Castellanos' one-sided skill set makes for complex case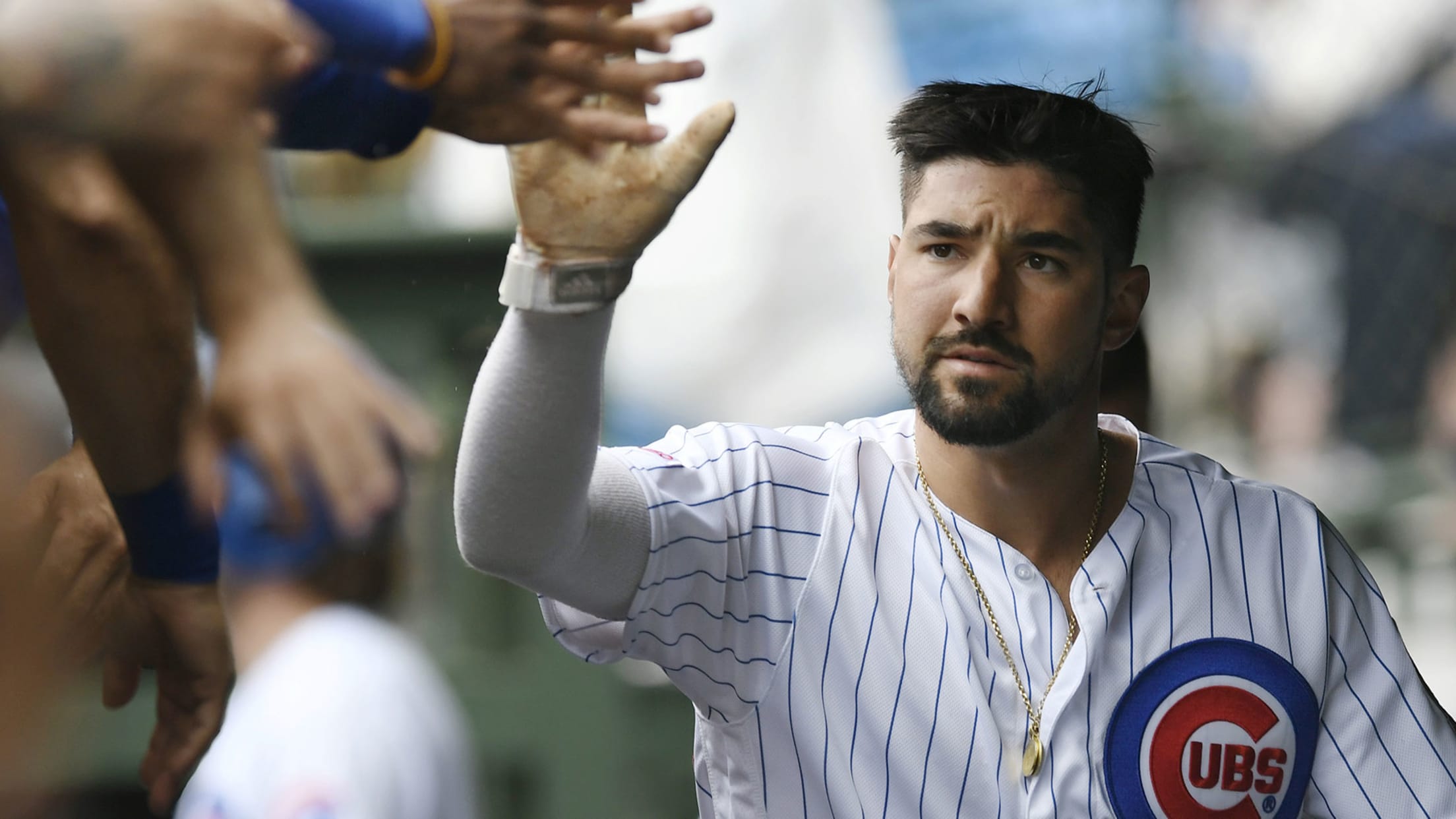 Nicholas Castellanos might have changed his financial future more than anyone not named Gerrit Cole after the All-Star break. Now it's up to front offices to decide: Who is the real Castellanos? Is it the outfielder who lit the world on fire for two months with the Cubs, or the
Nicholas Castellanos might have changed his financial future more than anyone not named Gerrit Cole after the All-Star break. Now it's up to front offices to decide: Who is the real Castellanos?
Is it the outfielder who lit the world on fire for two months with the Cubs, or the one who was a barely above-average hitter in four months with the Tigers? Is Castellanos, who turns 28 in March, on the verge of leveling up?
Opinions will likely be split on Castellanos' free-agent value, so here's a breakdown of what teams will be evaluating in the coming months.
How does Castellanos' Cubs tenure change his outlook?
After getting the change of scenery he wanted on Trade Deadline day, Castellanos slashed .321/.356/.646 with the Cubs to give him a 154 wRC+, on par with J.D. Martinez and Anthony Rendon as baseball's 15th-best hitter over the last two months. Per Statcast, no one put more hard-hit fly balls and line drives into play than Castellanos over that stretch.
Contrast that with Castellanos' four-month stretch with the Tigers in which he posted a 105 wRC+, and it looks like he became a completely new hitter. But those two segments combined to give Castellanos a season-end wRC+ of 121 -- the exact figure that FanGraphs' Depth Charts projections pegged him for entering the year. A tale of two halves? Perhaps. But Castellanos has gone through stretches of both kinds before.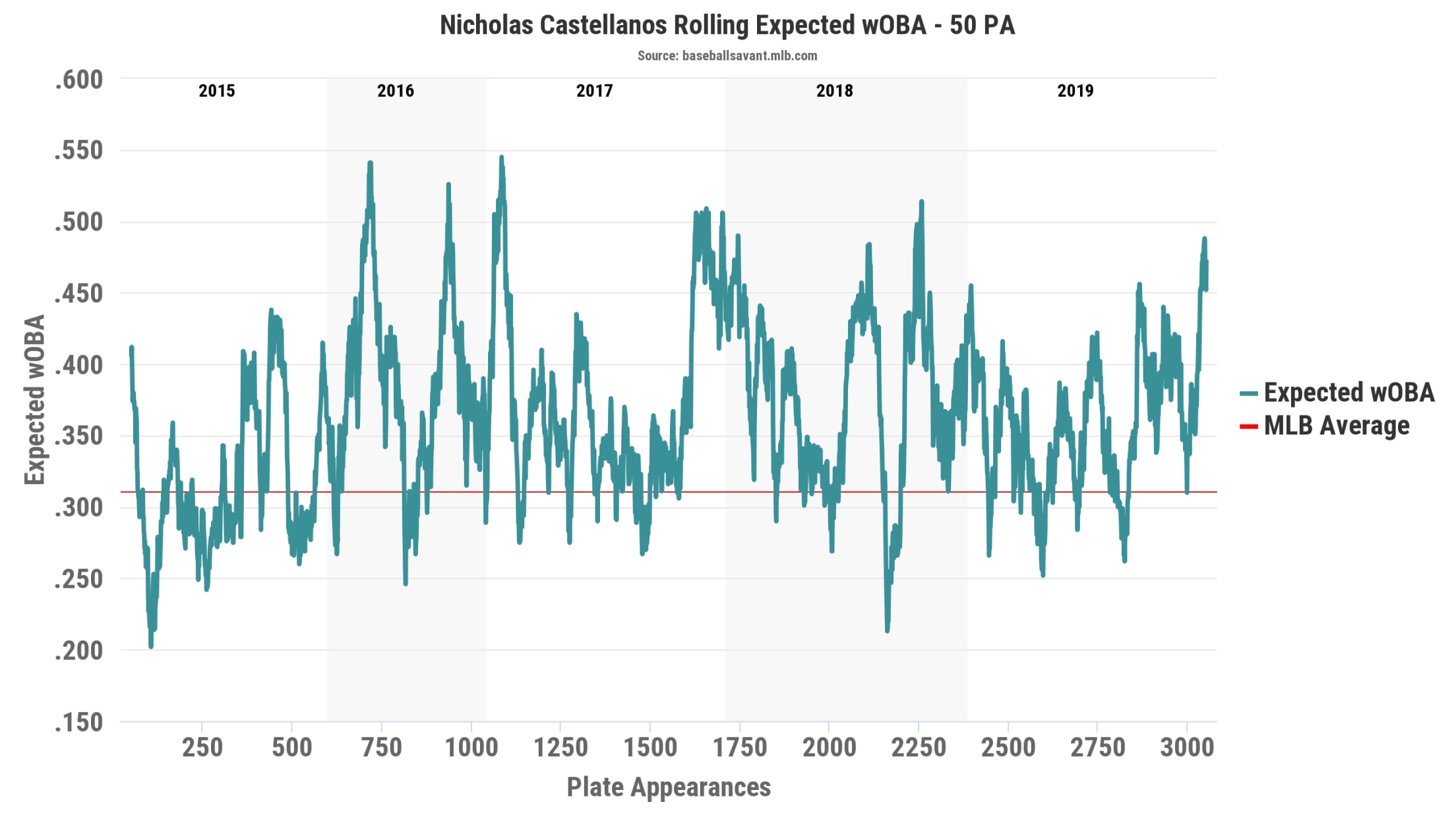 The chart above is Castellanos' rolling 50-plate appearance windows by expected weighted on-base average (xwOBA), the most comprehensive Statcast metric that examines how well a hitter strikes the ball -- exit velocity and launch angle -- along with how often he strikes out. You can see that Castellanos got even hotter in Aug. 2018 than he did this August, and he's had similar hot streaks before. He's also struggled as much as he did this past spring in Detroit. In the end, Castellanos finished 2019 with a very Castellanos-like campaign:
2016: .285/.331/.496, 119 wRC+, 1 HR per 22.8 AB
2017: .272/.320/.490, 111 wRC+, 1 HR per 23.6 AB
2018: .298/.354/.500, 130 wRC+, 1 HR per 27 AB
2019: .289/.337/.525, 121 wRC+, 1 HR per 22.8 AB
Teams are simply too intelligent and too thorough in 2019 to be overwhelmed by a two-month stretch. They're more likely to evaluate Castellanos as the hitter he's largely been over the last four years, and not as the post-Deadline MVP he was on the North Side.
So, what are Castellanos' selling points from the last four years?
Hot and cold streaks like the ones Castellanos went through are common with every hitter. There's a reason why players always cite consistency among their top goals -- it's hard to do. But as FanGraphs' Craig Edwards wrote in September, Castellanos has actually had smaller swoons on average in comparison with his peers (2,000-plus plate appearances, 111-131 wRC+) over the last four seasons.
Castellanos has spent most months over that four-year stretch hovering between 90 and 109 wRC+ -- right around the league average -- and while that might not be a sexy characteristic, it can actually be valuable. That's because Castellanos, who has just one sub-90 wRC+ month in the last four years, has almost never bottomed out like, say, José Ramírez did this spring.
When a manager has written in Castellanos' name, he's come to expect a hitter who consistently hits hard liners and strikes out around a league-average rate. He's finished among the top 40 qualified hitters by xwOBA in each of the last three seasons -- top-25 in 2017 and '18 -- and posted career highs in slugging and isolated power (ISO) this season despite his tough start in Detroit.
One more big pro for Castellanos: By virtue of being traded midseason, he won't come attached with a qualifying offer, meaning teams wouldn't have to surrender Draft pick compensation to sign him. That could give him a leg up on fellow corner outfielder Marcell Ozuna, who could enter the free-agent market with a QO attached to him via the Cardinals.
What's the knock on Castellanos?
We can't go any further without discussing the other side of Castellanos' game, because his outfield defense certainly didn't get any better once he moved from Comerica (-5 defensive runs saved in four months with the Tigers) to Wrigley (-4 DRS in two months with the Cubs). Per Statcast, Castellanos' -7 Outs Above Average (OAA) was actually a major improvement from 2018, when he ranked dead last at -24, though it was still among the game's lowest marks. He can turn simple defensive plays, like the one below, into adventures.
Every team is aware of this. It would be extremely hard to trot out Castellanos as an everyday outfielder in 2020 and beyond, and he was also far from a stud at third base. His defensive issues are such that Dan Szymborski's ZiPS projections peg him as a more valuable designated hitter than position player over the next five seasons, but that also means Castellanos' market is automatically cut in half.
Where might Castellanos land?
This is where it gets tricky -- both in projecting the contract Castellanos will receive and where he'll ultimately sign. His agent is Scott Boras, who already began touting Castellanos' value in mid-September as one of the youngest free agents available. He'll be the top free-agent right fielder by WAR, but he's more likely to be used as a DH -- particularly as he ages -- and Nelson Cruz, Edwin Encarnacion and Martinez could join him on the market.
Though he was older, Cruz had a much better offensive profile than Castellanos entering last winter, when he wound up signing a one-year, $14 million deal as a DH. Similar bat-first corner outfielder/DH types from last year's market like Michael Brantley (two years, $32 million) and Andrew McCutchen (three years, $50 million) could be realistic targets for Castellanos to aim for.
Here are some clubs that could be fits for Castellanos:
Rays: Tampa Bay reportedly checked in with the Tigers on Castellanos before the Trade Deadline, and Avisaíl García could depart via free agency after a strong 2019.
Indians: Yasiel Puig will join Castellanos on the free-agent market, and the Tribe's outfield production won't look that much better without one of those two players than it did entering this season.
White Sox: The South Siders should have one of the deepest purses, and they'll be eager for players who can help them level up. Their right fielders also just put up one of the lowest combined batting lines of any team, ever, so this might be a club willing to live with Castellanos' defensive shortcomings in exchange for his bat.
Cubs: Castellanos was well-liked in Chicago's clubhouse, and it often felt like he kept the Cubs afloat as the rest of their lineup sputtered. Recency bias or not, there might be pressure on Theo Epstein to bring Castellanos back after such a successful audition.
Red Sox: Boston will be focused on bringing back Martinez. But if he somehow slips away, Castellanos would be a nice consolation prize.