Padres could 'piggyback' pitchers again
Margevicius, Diaz combine for effective outing vs. Nationals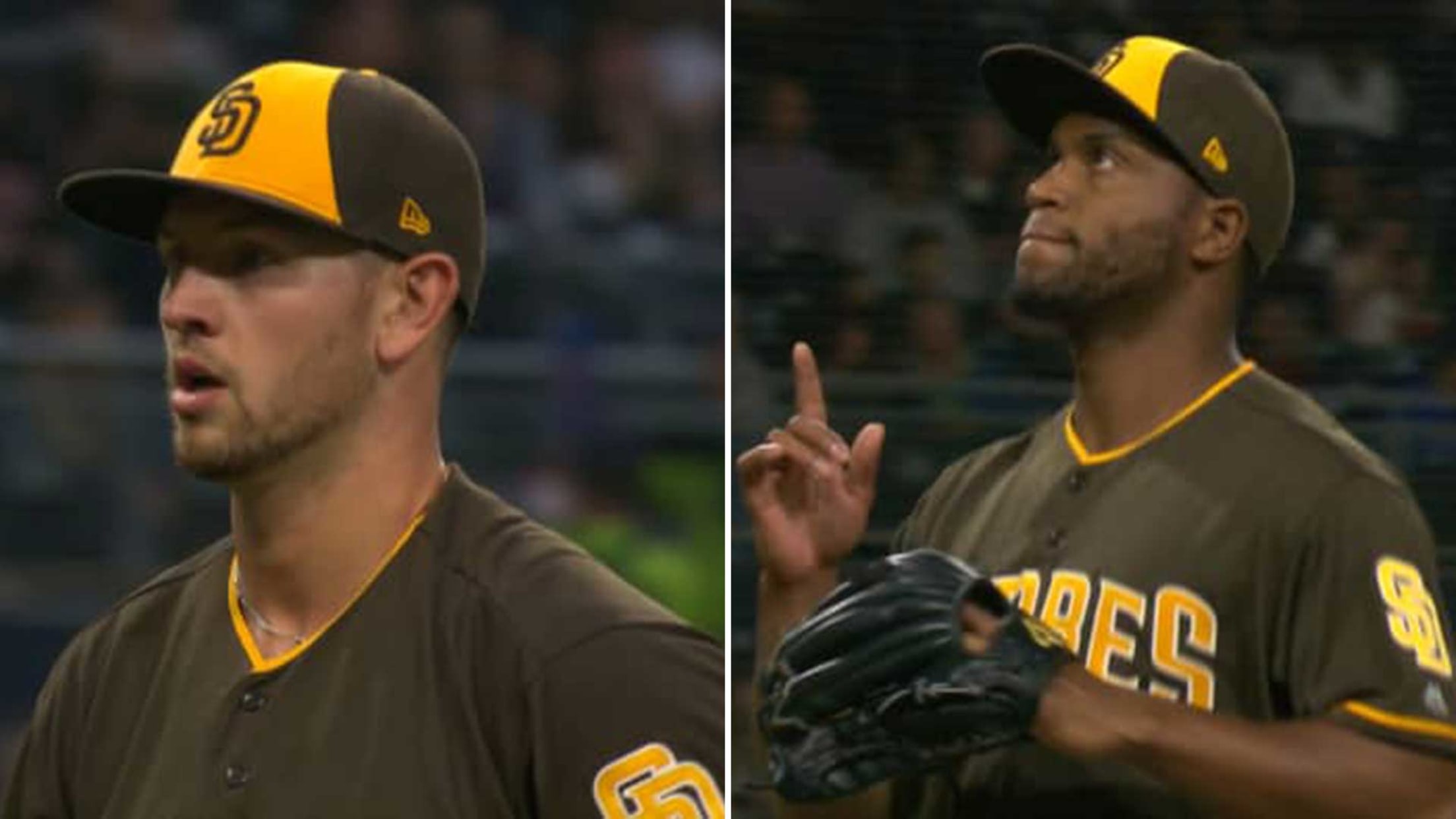 SAN DIEGO -- Forget who's pitching. Six scoreless innings count as six scoreless innings. "It doesn't matter how you get there," said Padres manager Andy Green. Green got creative in navigating six scoreless on Friday night against the Nationals, piggybacking two innings of Miguel Diaz on top of 3 2/3
SAN DIEGO -- Forget who's pitching. Six scoreless innings count as six scoreless innings.
"It doesn't matter how you get there," said Padres manager Andy Green.
Green got creative in navigating six scoreless on Friday night against the Nationals, piggybacking two innings of Miguel Diaz on top of 3 2/3 from Nick Margevicius before turning things over to his traditional middle relievers.
It probably won't be the last time the Padres employ such a strategy.
"We're not going to shy away from that when the opportunity presents itself," Green said. "You can't do it every single day."
On Friday night, however, everything lined up for a piggyback effort. Diaz had recently returned from the injured list and was rested enough for an entire trip through the order. Margevicius, meanwhile, had struggled in his second and third times through opposing lineups all season.
Margevicius is a tricky lefty with low fastball velocity. Diaz is a high-octane righty. Their skill sets diverged enough that it made perfect sense to stagger one after the other. All along, the Padres planned for Margevicius to face the two lefties in the heart of the Nats lineup, then hand it over to Diaz.
Only they didn't tell Margevicius. The 22-year-old left-hander was surprised when Green emerged from the dugout with two outs in the fourth. The coaching staff had decided they wanted Margevicius treating his outing like any other start. It wasn't until afterward that they explained the reasoning to him.
"I totally understand it, and we won the game," Margevicius said. "That's what this is about. I don't care how I'm used or what else goes on."
Diaz, meanwhile, has been used in all sorts of different roles, so entering a game in the fourth inning was nothing new.
"I'm ready for everything, and I'll always be prepared for whatever they ask for," Diaz said. "I like [the strategy]. I think it's good."
The Padres still haven't announced their starter for Sunday's series finale. They could do something similar if they start left-hander Robbie Erlin, who has served as their swing man before. But that would be a bit less surprising than Friday's events.
Margevicius had served as a traditional starter over his first 10 outings, but he struggled immensely over the past month. He was noticeably sharper on Friday night, but Green pointed out that no matter how effective Margevicius was, the Padres were going to stick with their plan.
"He's pitched well so many times this year," Padres catcher Austin Hedges said of Margevicius. "I think [his start] was a big confidence boost for him, and also to know that you don't always have to go six, seven, eight innings, when you've got a guy like Miggy to pick you up."
"We do want to see Nick pitch deeper into ballgames," Green said. "But sometimes there's intermediary steps. Sometimes, it's about winning the game that day. If we feel like there's a way to win the game that day, we'll take our shot to win the game that day."
The Padres won the game that day, of course, on Hedges' walk-off single.
Padres host Pitch, Hit and Run
Petco Park played host to Major League Baseball's Pitch, Hit and Run competition on Saturday morning, crowning eight regional champions from four different age groups for baseball and softball. Those eight winners advanced to the National Finals, which will be held during All-Star Week in Cleveland.
7 & 8-year-old Softball Division: Harley Newman
7 & 8-year-old Baseball Division: Dylan Hood
9 & 10-year-old Softball Division: Isabella Matney
9 & 10-year-old Baseball Division: John Brande
11 & 12-year-old Softball Division: Liliana Esparza
11 & 12-year-old Baseball Division: Ryder Young
13 & 14-year-old Softball Division: Jill Halas
13 & 14-year-old Baseball Division: Kurt Felix
Injury updates
• Shortstop Fernando Tatis Jr. was out of the starting lineup Saturday, as the Padres ease their rookie phenom back into game action. Tatis missed six weeks with a left hamstring strain, and he's been red-hot since his return, going 4-for-6 with a pair of walks and a homer.
But Tatis also hadn't played a full nine-inning game until Thursday night. The Padres always planned for an off-day on Saturday, and they'll likely give him another one next weekend in Colorado, in the midst of a stretch with nine games in nine days.
"If he's feeling good after that, we'll probably turn him loose," Green said.
• Lefty reliever Jose Castillo worked a scoreless inning for Class A Advanced Lake Elsinore in his first rehab appearance on Friday night. He threw 17 pitches, striking out two and walking one. Castillo's return from a flexor strain in his left forearm could give the shaky Padres' bullpen a huge boost. But he's likely to require a somewhat extensive rehab stint.
• Right-hander Adam Warren landed on the injured list Saturday with a flexor strain in his right forearm. The Padres recalled righty Gerardo Reyes to fill his spot.
• Utility man Jose Pirela has recovered from the left oblique strain he sustained in late April. He was activated from the IL and optioned to Triple-A El Paso.
• Hedges was a late scratch on Saturday night because of a left ankle sprain. According to the team, Hedges is day to day. Austin Allen filled in and went 1-for-3 with a walk.
• Outfielder Hunter Renfroe has been battling a stiff neck for the past two days, and he's been limited to pinch-hitting duties. Renfroe's status for Sunday's starting lineup remains uncertain.