FanFest offers fans rare up-close look at Petco
Annual event gives opportunities to play catch, throw in bullpen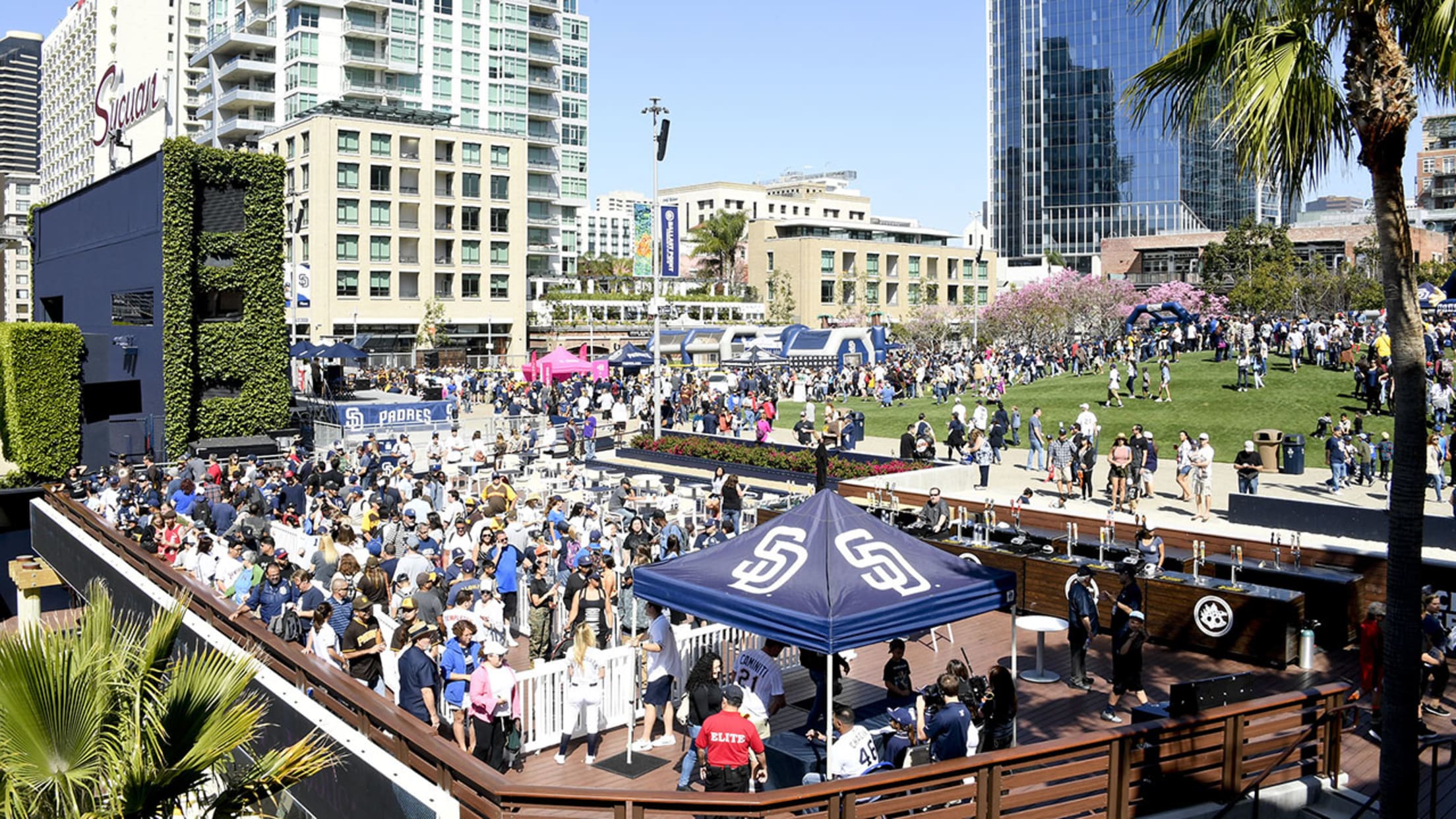 Bill Center, longtime sportswriter for U-T San Diego, is an employee of the Padres.Mingle and explore.That would be my advice for fans visiting Petco Park for the annual Padres FanFest. Trust me, even for fans attending every game, FanFest offers young and old the opportunity to visit areas of Petco Park
Bill Center, longtime sportswriter for U-T San Diego, is an employee of the Padres.
Mingle and explore.
That would be my advice for fans visiting Petco Park for the annual Padres FanFest.
Trust me, even for fans attending every game, FanFest offers young and old the opportunity to visit areas of Petco Park normally off limits to fans.
Fans will be able to play catch in right field, catch fly balls in center, throw three pitches in the visiting bullpen and have pictures taken at the left-field wall. Kids will be allowed to run the bases.
Plus, there will be three special displays.
• To begin the 20th anniversary celebrations of the Padres' 1998 National League Championship team, the visiting clubhouse will be open to the public and will feature locker-room exhibits from the '98 team in addition to surprise visits from several members of the club from that season.
• The recently opened Breitbard Hall of Fame, which was relocated from Balboa Park to the main concourse in the Western Metal Building at Petco Park, will be available to fans. Take time to visit the Hall, which features historic plaques commemorating the careers of San Diego's greatest athletes -- including a special wall for Padres players in the Baseball Hall of Fame.
• Fans are invited to view the grounds crew field maintenance equipment.
Before reviewing more details of what to see at FanFest, some details on how to get free vouchers to attend the event:
• FanFest, presented by T-Mobile, will be open at Petco Park Saturday from 10 a.m. to 4 p.m PT. Entry will be through the Home Plate and East Village Gates. Padres Season Ticket Members will receive exclusive early access to FanFest beginning at 9 a.m. through the dedicated Member Entrance at the Home Plate Gate.
• Admission to FanFest is complimentary, but fans are required to have a voucher. Learn how to get your free vouchers online at www.padres.com/fanfest. Fans may claim up to eight complimentary vouchers for the event and all vouchers are delivered digitally through the MLB.com Ballpark app.
• Parking is free of charge and available on a first-come, first-served basis in neighboring Padres-owned lots, including the Lexus Premier Lot, Tailgate Lot and Padres Parkade, with spaces expected to fill quickly. Padres Members may redeem one complimentary parking pass in advance through their online My Tickets account, to be presented on the day of the event.
• Standard Petco Park security and screening procedures will be in place for Padres FanFest. Re-entry to the event is permitted, though fans who exit will be screened upon re-entering the ballpark.
• Please visit www.padres.com/fanfest for additional details and the most up-to-date information.
Padres FanFest will feature various interactive experiences, including Padres photo booths, KidsFest activations (with bounce houses, games and face painting), and the Military and First Responder Zone in addition to previously noted features. Other elements of the day will include the Home Run Derby VR Experience and the Sony Experience gaming area located inside the Padres Majestic Team Store.
Padres players, alumni and broadcasters will be available to sign autographs from 10 a.m. to 2 p.m. at three designated locations around Petco Park. Autographs are available on a first-come, first-served basis and are not guaranteed.
Fans will also have the opportunity to take part in three Q&A sessions at the Park stage with Padres players, coaches, alumni, broadcasters and front-office personnel. The Q&A sessions are scheduled to begin at 11 a.m., 11:25 a.m. and noon. Fans are encouraged to stay for a Player Pictionary competition at 1 p.m.
Returning in 2018 is the fan-favorite Padres Foundation Garage Sale located in the Park Blvd. Gate Plaza, featuring memorabilia, game-used player jerseys, batting helmets, one-of-a-kind Padres items, collectibles and more. All proceeds from the garage sale will benefit the Padres Foundation's charitable efforts.
Fans in attendance will be able to participate in the Computers 2 San Diego Kids E-Waste Event. From 8 a.m. to 1 p.m., fans are encouraged to bring old electronics and computers to the Tailgate Park prior to entering the ballpark. Fans will receive a giveaway item when they donate a piece of electronic equipment from 8:00 to 10 a.m., subject to availability.
Information about Padres FanFest, including maps, schedules, exclusive giveaways and further details can be found in the MLB.com Ballpark app. Entry to FanFest will be exclusively through digital ticketing found in the app. Fans are encouraged to download and familiarize themselves with the app prior to attending the event.