Pirates' finale vs. Brewers postponed by rain
Game to be made up as part of straight twin bill in Pittsburgh July 14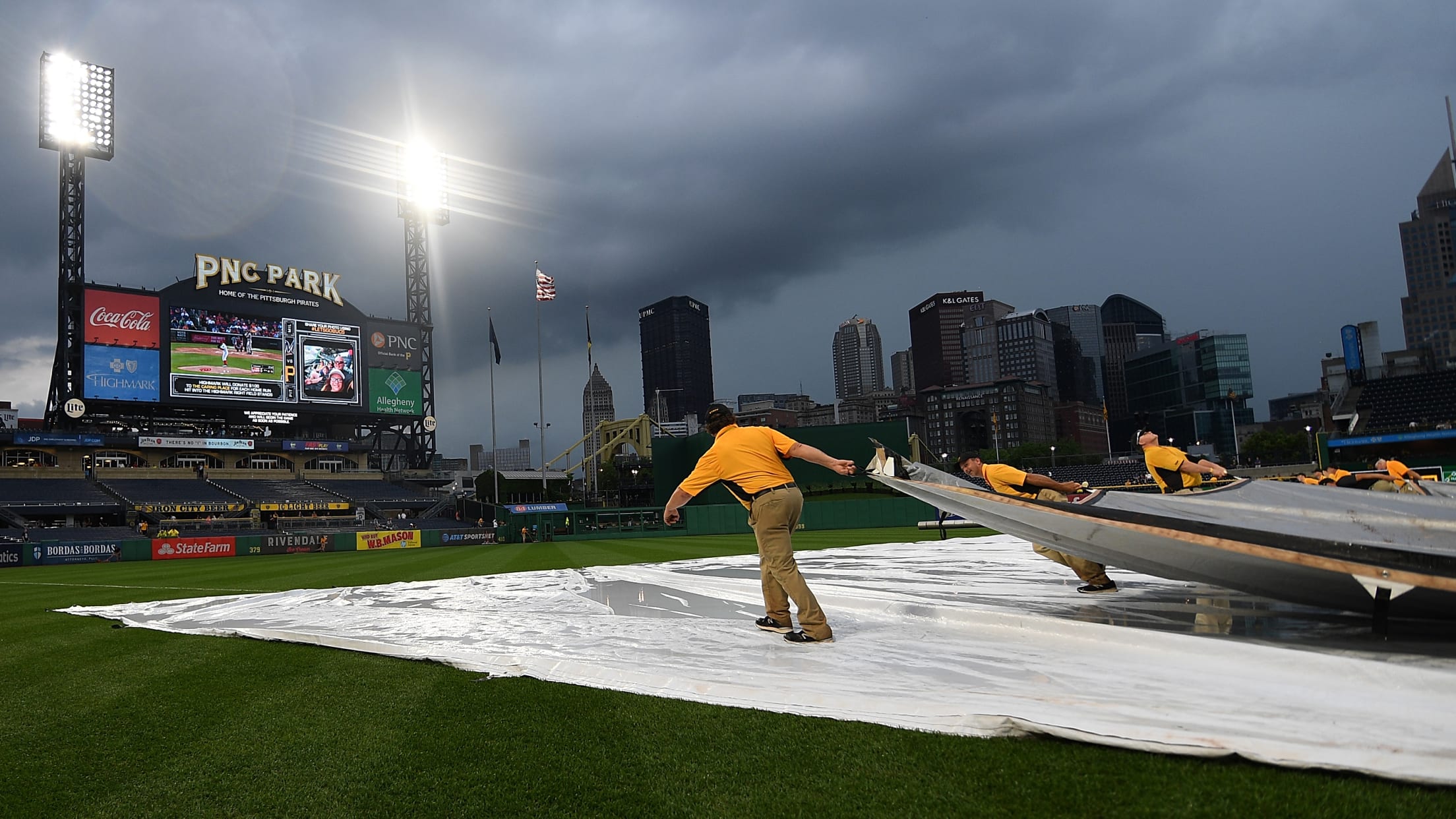 PITTSBURGH, PA - JUNE 20: The PNC Park grounds crew removes the tarp from the field during a rain delay in the game between the Pittsburgh Pirates and the Milwaukee Brewers at PNC Park on June 20, 2018 in Pittsburgh, Pennsylvania. (Photo by Justin Berl/Getty Images) (Justin Berl/Getty Images)
PITTSBURGH -- The Pirates' series finale against the Brewers on Wednesday night at PNC Park was postponed due to rain. The game, which would have pitted Pittsburgh right-hander Chad Kuhl against Milwaukee lefty Brent Suter, will be made up as part of a straight doubleheader on July 14 at 12:35
PITTSBURGH -- The Pirates' series finale against the Brewers on Wednesday night at PNC Park was postponed due to rain. The game, which would have pitted Pittsburgh right-hander Chad Kuhl against Milwaukee lefty Brent Suter, will be made up as part of a straight doubleheader on July 14 at 12:35 p.m. ET.
The Pirates and Brewers will now have a five-game series between July 12-15, the weekend before the All-Star break.
Kuhl will take the mound on Thursday when the Pirates begin a four-game series against the D-backs at 7:05 p.m. ET at PNC Park. Right-hander Zack Godley is slated to start for Arizona. The Pirates are pushing everyone in their rotation back a day, so Ivan Nova will start on Friday, Joe Musgrove on Saturday and Trevor Williams on Sunday.
Wednesday's first pitch had been scheduled for 7:05 p.m. ET, but the threat of rain forced the Pirates to delay the start of the game. They initially hoped to be underway between 7:30-8 p.m., but storms continued to sweep through the area. It cleared up enough for the Bucs to announce an expected start time of 8:40 p.m., but by that time, the grounds crew had rolled out the tarp again and Suter had retreated to the dugout.
Kuhl, catcher Elias Diaz, pitching coach Ray Searage and several others remained in the Pirates bullpen throughout the deluge. After a two-hour, one-minute delay, the Pirates announced that the game had been called off. Shortly afterward, Brewers bullpen catcher Marcus Hanel ran onto the field and slid across the tarp.
This is the fourth game Pittsburgh has had postponed this year and its second home postponement. The Bucs' Opening Day matchup in Detroit was pushed back due to inclement weather, as was their April 9 game at Wrigley Field, the Cubs' scheduled home opener. The Pirates and Tigers were rained out at PNC Park on April 24.
For ticket exchange information and more, the Pirates advise fans to visit pirates.com/raincheck.