Players to go straight from MLB Draft to The Show
Only 21 drafted players have made the jump -- and none since 2009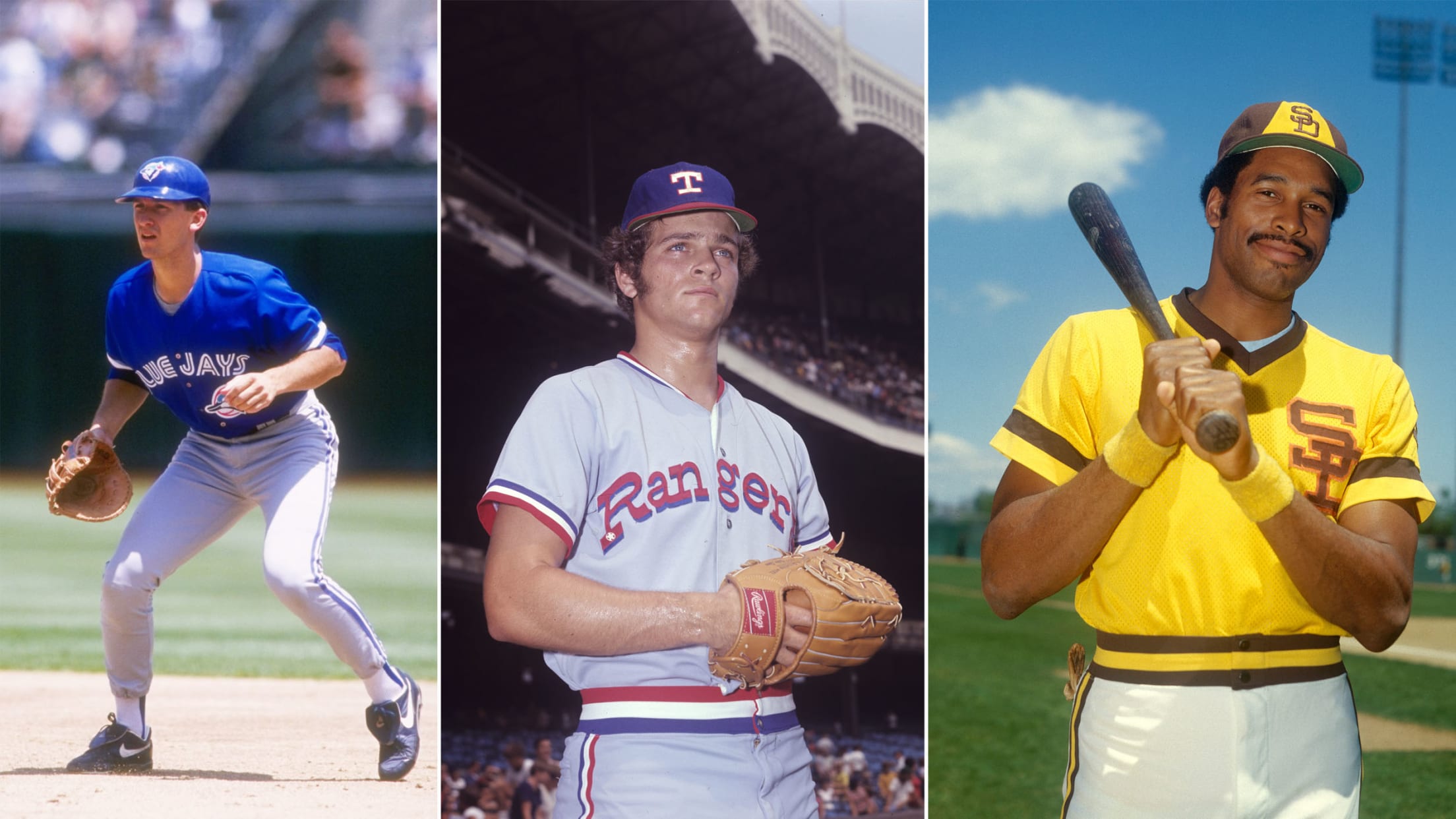 When it comes to drafting players, Major League Baseball is quite different from other professional sports leagues. For one thing, baseball's Draft historically has been many more rounds than those of the NBA, NFL and NHL. For another, although it's not always the case, the professional path typically is much
When it comes to drafting players, Major League Baseball is quite different from other professional sports leagues. For one thing, baseball's Draft historically has been many more rounds than those of the NBA, NFL and NHL.
For another, although it's not always the case, the professional path typically is much slower in baseball. In basketball and football, particularly, and in some cases with top picks in hockey, players are more or less expected to contribute -- if not star -- in their respective pro league immediately after being picked. On the other hand, it is common for a baseball player to take two or three (or more) years developing in the Minor Leagues before reaching The Show after being drafted.
That applies to many of the biggest names and best players in baseball. Albert Pujols, for instance, was taken in the 1999 Draft -- in the 13th round, no less -- and didn't make his MLB debut until 2001. Jacob deGrom is an example of an even slower path, as he went in Round 9 of the 2010 Draft but didn't make the Majors until the middle of '14, in part due to injuries. And remember: Both Pujols and deGrom were college draftees, a demographic that usually reaches The Show more quickly.
It's usually a longer journey for high schoolers, even when focusing specifically on draftees with first-round pedigrees. Andrew McCutchen (2005 Draft) and Christian Yelich ('10), both climbed through the Minors progressively, and it still took them four and three years, respectively, to arrive.
That's not to say, however, that going straight from the Draft to The Show never happens. It's just very rare. How rare? Consider this: Since the MLB Draft began in June 1965, only 21 players have gone from being selected via that process straight to MLB without first playing in the Minors.
Here are those players, along with some context and background on each, in reverse chronological order, starting with the 2009 Draft -- the last instance.
Mike Leake, RHP: Selected by Reds in 1st Round of 2009 Draft (No. 8 overall) out of Arizona State University
Date of MLB debut: April 11, 2010
Leake was undersized at 5-foot-10 and lacked the projection and ceiling of a typical top-10 pick, but he made up for it as a polished pitcher who was just about big league-ready after capping a standout career at Arizona State as a junior. The expectation at the time of the 2009 Draft was that he would be able to reach the Majors quickly -- and he did.
After being taken eighth overall by Cincinnati and signing in mid-August, Leake was held out of action until the Arizona Fall League (19 2/3 IP, 3 ER, 15 Ks, 3 BB), so he didn't pitch in the Minor Leagues before making the Reds out of Spring Training in 2010 at 22 years old. "He just went out and took the job," said Bryan Price, the club's pitching coach at the time.
Leake, who spent 5 1/2 solid seasons with Cincy (3.87 ERA, 1.28 WHIP), was traded to the Giants in July 2015, then signed a five-year, $80 million contract with the Cardinals that offseason. He has been traded multiple times since then, settling in as a capable and durable back-of-the-rotation option.
Xavier Nady, 1B/OF: Selected by Padres in 2nd Round of 2000 Draft (No. 49 overall) out of University of California, Berkeley
Date of MLB debut: Sept. 30, 2000
After a decorated collegiate career with the Golden Bears, including a .729 slugging percentage that surpassed Mark McGwire's Pac-10 record, Nady was selected in the second round in 2000 by the Padres. He signed a big league contract in mid-September, opening a path for the 21-year-old to go directly to San Diego that month.
Nady only got one at-bat that year -- he singled and scored as a pinch-hitter on Sept. 30 -- before starting the following campaign at the Class A Advanced California League. He climbed the Minor League ladder and hit well but didn't make it back to The Show until 2003, partly due to undergoing Tommy John surgery in '01.
Unfortunately, injuries would become a theme for Nady, who never reached his potential and was traded three times before turning 30. His best year came in 2008, when he slashed .305/.357/.510 with 25 homers and 97 RBIs with the Pirates and Yankees. A second Tommy John procedure cost him all but seven games with the World Series-winning Yanks in '09 and essentially relegated him to journeyman status until his final season in '14. He retired with 104 homers and a 99 OPS+ over 961 games in his 12-year career.
Ariel Prieto, RHP: Selected by Athletics in 1st Round of 1995 Draft (No. 5 overall) out of Fajardo University (Cuba)
Date of MLB debut: July 2, 1995
Born in Cuba, Prieto pitched eight seasons -- starting at 15 years old -- in Serie Nacional, the island country's pro league, eventually becoming a star in the early 1990s. He wanted a chance to pitch in the Majors, however, and after reportedly faking injuries and intentionally pitching poorly, his visa application surprisingly was approved in 1994.
Eligible for the '95 Draft, Prieto was picked fifth overall by Oakland, and after signing in late June, the 6-foot-3 right-hander bypassed the Minor Leagues to make his big league debut on July 2 at the age of 25. Prieto pitched two hitless innings of relief that day, then joined the rotation to some initial success before faltering and returning the bullpen to finish the season.
Prieto again struggled at the outset of '96 with a 6.37 ERA through his first nine starts before being sent down. While he was better upon returning midseason (3.08 ERA in 12 starts), Prieto never managed to maintain any sustained success during his Oakland tenure because of injuries and ineffectiveness, thus becoming arguably the A's biggest Draft regret. His last MLB action came at 31 in three 2001 appearances with the Devil Rays, and Prieto wound up with a 4.85 ERA and a 1.66 WHIP over 352 1/3 career innings.
Darren Dreifort, RHP: Selected by Dodgers in 1st Round of 1993 Draft (No. 2 overall) out of Wichita State University
Date of MLB debut: April 7, 1994
After starring at Wichita State and earning NCAA Player of the Year honors for 1993, Dreifort went second overall to the Dodgers in that year's MLB Draft -- behind only Alex Rodriguez -- and signed in September.
The following spring, Dreifort made the Dodgers as a reliever at 21 years old, though he did not perform well with a 6.21 ERA over 27 games (29 innings). Injuries cost him all of the '95 season and would plague the hard-throwing righty throughout his career. Dreifort did, however, transition to a starting role after a successful '97 in relief (2.86 ERA, 1.25 WHIP, 63 K's in 63 IP).
After three relatively healthy seasons as a starter from 1998-2000 (4.31 ERA, 1.35 WHIP, 7.7 K/9 in 551 1/3 IP), Dreifort landed what at the time was a massive five-year, $55 million deal to re-sign with L.A. Despite that large sum (and correspondingly high expectations), Dreifort succumbed to multiple injuries, never pitched more than 100 innings in a season again and called it quits at age 32 in '04 with a 48-60 career record, a 4.36 ERA and a 1.39 WHIP.
John Olerud, 1B: Selected by Blue Jays in 3rd Round of 1989 Draft (No. 79 overall) out of Washington State University
Date of MLB debut: Sept. 3, 1989
A two-way star who excelled at the plate as well as on the mound for Washington State, Olerud lasted until the third round of the 1989 Draft, where the Blue Jays selected him as a first baseman. He then signed in late August before debuting with Toronto early the following month and getting a hit in his first big league at-bat at the age of 21.
Olerud stuck in The Show the next year and proved to be a steady performer over his first three full seasons, hitting .269/.364/.440 for an OPS+ of 120 and helping the Blue Jays to their first title in '92. Olerud followed that up with a breakout '93 -- the 24-year-old finished third in the MVP voting after leading the AL in batting (.363), on-base percentage (.473) and OPS (1.072) -- and was a driving force in Toronto's second straight championship.
While that remained his career campaign, Olerud would go on to have three productive seasons after being traded to the Mets in December 1996, before signing with his hometown Mariners in December 1999 and spending 4 1/2 years in Seattle, including the record-setting 116-win '01 club.
All told, Olerud wrapped up his underrated 17-year career with three Gold Gloves, two All-Star appearances, more than 2,200 hits, exactly 500 doubles, more walks than strikeouts and a .295/.398/.465 slash line for a 129 OPS+. Oh, and he only spent three games in the Minor Leagues at the Red Sox's Triple-A Pawtucket affiliate -- in 2005, the final year of his career.
Jim Abbott, LHP: Selected by Angels in 1st Round of 1988 Draft (No. 8 overall) out of University of Michigan
Date of MLB debut: April 8, 1989
Born without a right hand, Abbott's ability to overcome and succeed made him one of the more inspiring stories in baseball history. After an accomplished run at Michigan that included winning the 1987 Golden Spikes Award as the top collegiate baseball player in the country and the James E. Sullivan Award as the nation's top amateur athlete, he was selected eighth overall by the Angels in '88 and signed that August.
Despite his handicap, Abbott made his big league debut the following spring and pitched capably as a 21-year-old rookie, winning 12 games with a 3.92 ERA over 181 1/3 innings. Known for his signature method of propping his glove on his right wrist while winding up and throwing with his left hand before quickly transferring the mitt to his left hand to achieve a fielding position, Abbott continued to perform well with the Halos (3.37 ERA, 1.34 WHIP in 665 2/3 IP) across 1990-92.
His career highlight came the following year, after being traded to the Yankees, when he threw a no-hitter against the Indians on Sept. 4. Abbott ultimately lasted 10 seasons in the Majors and finished with a respectable 4.25 ERA before going on to become a motivational speaker after his playing days ended in '99 at the age of 31.
Pete Incaviglia, OF: Selected by Expos in 1st Round of 1985 Draft (No. 8 overall) out of Oklahoma State University
Date of MLB debut: April 8, 1986
Arguably college baseball's most prolific slugger, Incaviglia ultimately became known more for an MLB rule named after him than for his performance as a professional. The Expos picked him eighth overall in 1985 -- after he hit an NCAA-record 48 homers that year at Oklahoma State -- but Incaviglia indicated he did not want to play in the Minor Leagues. So he held out on signing until Nov. 2, and only then with the understanding that Montreal would trade him to the Rangers.
While Incaviglia got his wish to bypass the Minors, this resulted in MLB creating a rule preventing teams from trading a drafted player until he was under contract for at least a year. Dubbed the "Pete Incaviglia rule," this stipulation was amended in 2015, allowing drafted players to be dealt as soon as the conclusion of that year's World Series (now known as the "Trea Turner rule").
As for Incaviglia's career, he mashed 30 homers as a 22-year-old Rangers rookie in '86 and topped the 20-homer mark each of his next four seasons, too. Strikeouts, however, proved problematic, as he whiffed almost 157 times on average in his first five years, leading MLB in the category twice in that span. Incaviglia hit 206 long balls in 12 big league seasons, but fell off dramatically right when he should have been reaching his peak and finished with a .246/.310/.448 line.
Bob Horner, 3B: Selected by Braves in 1st Round of 1978 Draft (No. 1 overall) out of Arizona State University
Date of MLB debut: June 16, 1978
The 1978 Draft featured a whopping four draftees who went straight to The Show, so it's only fitting that the No. 1 overall selection would be one of them.
The inaugural winner of the Golden Spikes Award after starring at Arizona State, Horner was the first pick on June 6 in 1978 and was on the Braves just 10 days later, debuting on June 16 at age 20. In fact, the righty slugger went deep against the Pirates -- and eventual Hall of Famer Bert Blyleven -- in that first game. Although he only played 89 contests due to his midseason arrival, Horner made an immediate impact by smashing 23 long balls en route to winning the NL Rookie of the Year Award ahead of none other than Ozzie Smith.
Horner continued to hammer homers early in his career, totaling 138 through his age-24 campaign -- matching Manny Machado and Miguel Cabrera and one more than Joe DiMaggio. In 1986, Horner crushed four homers in a game -- he's one of just 18 players to do so -- but that also was his last full season in the Majors.
A casualty of collusion by the owners during his free agency that offseason, Horner spent '87 slugging 31 homers for the Yakult Swallows in Japan's Nippon Professional Baseball before returning to MLB for one season with the Cardinals. Horner's career ended at age 30 with 218 career big league bombs, and he never played even a day in the Minors.
Mike Morgan, RHP: Selected by Athletics in 1st Round of 1978 Draft (No. 4 overall) out of Valley High School (NV)
Date of MLB debut: June 11, 1978
Taken three picks after Horner in the 1978 Draft, Morgan actually beat Horner to The Show by five days, while also becoming the first of three high schoolers to go straight to the Majors after being drafted that year. That's remarkable, given how such players have been handled in the decades since.
As Morgan, a Nevada prep product, once put it: "I graduated from high school and went on a senior trip. I got drafted and [A's owner] Charlie Finley had me on an airplane to Oakland. Four or five days later, I was starting against Baltimore."
Indeed, Morgan was selected by Oakland on June 6 and debuted for the A's on June 11. He was 18 years and 246 days old at the time and threw a complete game vs. the O's, his first of three starts that month before being sent to Triple-A the rest of the year.
Turns out, rushing Morgan to the Majors didn't work well. After a disappointing 1980 season spent entirely at Triple-A, the A's shipped him to the Yankees, beginning a chain of trades and signings that turned Morgan into one of baseball's most famous journeymen. Despite pitching in four different decades and sticking around until 2002 when he was 42 years old, Morgan retired with a 141-186 record and a career 4.23 ERA, never lasting long with any one club. Only fellow righties Edwin Jackson (14) and Octavio Dotel (13) have played for more franchises in history than the dozen Morgan suited up for.
Tim Conroy, LHP: Selected by Athletics in 1st Round of 1978 Draft (No. 20 overall) out of Gateway High School (PA)
Date of MLB debut: June 23, 1978
Not only did Conroy go straight from high school to MLB like Morgan, he also was -- get this -- the second 1978 first-round draftee by the A's to circumvent the Minor Leagues, debuting for Oakland almost two weeks after Morgan did. Conroy was even younger, at 18 years and 81 days.
The A's advanced Conroy and Morgan straight to the Majors partly because after winning three straight titles from 1972-74, the team was on a downturn in the late '70s and Finley wanted to drum up interest in short order.
It backfired in Conroy's case, too, as the Pennsylvania prepster made two shaky starts in June 1978 but then didn't make it back to Oakland again until '82. The following year was Conroy's best (3.94 ERA in 162 1/3 innings), but he only reached the 100-inning mark one other time, and his career came to an end in '87 at the age of 27 with an 18-32 mark and a 4.69 ERA.
Brian Milner, C: Selected by Blue Jays in 7th Round of 1978 Draft (No. 158 overall) out of Southwest High School (TX)
Date of MLB debut: June 23, 1978
Milner was yet another prep player picked in 1978 to make the leap to the Majors, but unlike Morgan and Conroy, he wasn't taken by the A's (although he debuted the same day Conroy did). The Blue Jays selected Milner in the seventh round out of a Texas high school, and at 18 years old, he became the first -- and still only -- catcher to make the direct Draft-to-Majors jump.
Despite going 4-for-9 in two games that June, Milner was sent down to the Rookie League level for the remainder of '78. Alas, he never returned to The Show -- or even made it above Double-A again -- because of injuries and a lack of production.
Milner's legacy carried forward, however. His son, Hoby Milner, a lefty pitcher out of the University of Texas, made it to the Majors with the Phillies in '17 after he was drafted in 2012 -- coincidentally, as a seventh-round pick like his father.
Dick Ruthven, RHP: Selected by Phillies in 1st Round of 1973 January Draft (No. 1 overall) out of Fresno State
Date of MLB debut: April 17, 1973
Chosen eighth overall by the Twins in the 1972 Draft, Ruthven did not sign, but the Phillies took him at No. 1 seven months later in the secondary phase of the January Draft -- a selection process limited to players who didn't sign after being drafted previously. (Added in 1966, MLB's January Draft ceased after '86, and there has been only one Rule 4 Draft of amateur players since, held in June.)
Three months after that, the righty Ruthven made his MLB debut at age 22 and despite a shaky first start, he finished his rookie campaign with a solid 4.21 ERA over 128 1/3 innings. Arguably Ruthven's best season was '80, when he won a career-high 17 games with a 3.55 ERA and also pitched well in two postseason starts for a Phillies team that won it all. He stuck in the Majors for 14 years, made two All-Star teams and threw more than 2,100 innings with a 4.14 ERA.
David Clyde, LHP: Selected by Rangers in 1st Round of 1973 Draft (No. 1 overall) out of Westchester High School (TX)
Date of MLB debut: June 27, 1973
An immensely talented southpaw hyped as the potential next Sandy Koufax, Clyde posted an 18-0 mark with a 0.18 ERA as a senior at Westchester High, making the Texas phenom doubly appealing to the nearby Rangers, who had the No. 1 pick.
Sensing an opportunity to put fans in the seats in only the second season after moving the struggling franchise to Texas, owner Bob Short decided after Clyde was drafted on June 5, the lefty would make his first few pro starts with the Rangers before being sent to the Minors. Amid wild anticipation, Clyde debuted on June 27 at 18 years and 66 days -- still the youngest pitcher debut since the Draft's inception -- allowing just a two-run homer and whiffing eight but also walking seven in five innings to earn the win.
After his second start also was a success and both outings had huge turnouts -- those two games brought the highest attendance figures at Arlington Stadium all season -- the team decided to keep Clyde in The Show. He pitched well through his first 11 starts (4-4 with a 3.27 ERA) before losing steam by late August and finishing with an ERA of 5.01.
The rest of Clyde's career became a cautionary tale of pushing a young sensation too fast. Rather than let Clyde develop in the Minors in '74, the Rangers once again stuck with him, and after a brief hot start, he failed to earn a single win after mid-May. He hurt his shoulder in '75 and spent the year in Double-A, other than one September start with the Rangers. Clyde's following season was wrecked by shoulder surgery, and he continued to battle shoulder problems through the end of his career in 1981 -- at age 26.
Dave Winfield, OF: Selected by Padres in 1st Round of 1973 Draft (No. 4 overall) out of University of Minnesota
Date of MLB debut: June 19, 1973
Large, strong and agile, the 6-foot-6 Winfield -- a St. Paul native -- excelled as both a pitcher and a hitter on the diamond at Minnesota. He was so athletically advanced, in fact, that Winfield became the first person in history to be drafted by four different leagues: MLB (Padres), NFL (Vikings), NBA (Hawks) and the now-defunct ABA (Utah Stars). Ultimately, he settled on baseball and played in the outfield, a choice that worked out incredibly well.
At 21, Winfield jumped to the Majors two weeks after going fourth overall in the 1973 MLB Draft. He started 10 straight games to begin his pro career and never looked back, becoming one of the sport's most productive, consistent and durable stars of his generation. (His 2,973 games played total is 11th highest.) Winfield spent his first eight years with San Diego, making two All-Star Games and winning a pair of Gold Glove Awards, before signing a 10-year, $23 million free-agent deal with the Yankees -- the richest pro sports contract in history to that point. In New York, he continued his run with eight more Midsummer Classics -- giving him 12 straight in all -- and earned five additional Gold Gloves.
Winfield finished his career with stints with the Angels, Blue Jays, Twins and Indians, winning the 1992 title with Toronto, racking up 3,110 hits, 465 homers and a .283/.353/.475 slash line before retiring after '95 at age 43, having never played in the Minors. A first-ballot inductee in 2001, Winfield is the only player on this list to make the Hall of Fame.
Eddie Bane, LHP: Selected by Twins in 1st Round of 1973 Draft (No. 11 overall) out of Arizona State University
Date of MLB debut: July 4, 1973
A star pitcher for Arizona State's powerhouse program in the early 1970s, Bane landed with the Twins in the first round of the '73 Draft. Almost exactly a month after being the 11th pick, the southpaw made his MLB debut on July 4 at age 21.
Bane was solid in three of his first four starts that summer, before he transitioned to a relief role and struggled the rest of the way. He then spent all of '74 at Triple-A before making it back to Minnesota at the tail end of the ensuing season. Arm trouble ultimately hampered Bane, who retired at 28 in '80 after spending his final years in the Minors and finished his MLB career with only seven wins in 44 career games.
Bane did go on to have a long and successful career as an MLB scout and front office executive, including a run as Angels scouting director from 2004-10, when he helped draft none other than Mike Trout in '09.
Dave Roberts, C/3B: Selected by Padres in 1st Round of 1972 Draft (No. 1 overall) out of University of Oregon
Date of MLB debut: June 7, 1972
No player has gone from the Draft to the Major Leagues faster than Roberts, who did so in barely more than 24 hours. The Oregon product went first overall to the Padres on June 6, 1972 … signed his pro contract on June 7 … and debuted with San Diego that very same day, entering at the hot corner in the 12th inning of an eventual 18-inning affair in which he went 0-for-3.
Possessing an ideal baseball frame at 6-foot-3, 215 pounds, Roberts looked every bit the part of a rising star when he hit .286 with 21 dingers in 127 games as the Padres' primary third baseman in '73.
But a slow start the next year turned into severe struggles over the next several seasons, with Roberts spending most of his time in the Minors. As the shine melted away, Roberts turned into a journeyman utility player -- he even wound up catching 152 games in total -- and never topped the 251 plate appearances he had for the Rangers in '80. Two years later, his once-promising career was over at age 31.
Pete Broberg, RHP: Selected by Senators in 1st Round of 1971 Draft (No. 1 overall) out of Dartmouth College
Date of MLB debut: June 20, 1971
A fireballing righty, Broberg was chosen second overall by the A's in 1968 but did not sign and went to Dartmouth. Three years later, he was the No. 1 pick in the June secondary phase by the Washington Senators in the club's final year before moving to Texas and becoming the Rangers.
Signed on June 8, Broberg arrived on June 20, 1971, and pitched well -- the 21-year-old registered a 3.47 ERA with a 1.26 WHIP -- for a long-languishing franchise that finished 63-96. Broberg's '72 campaign also was fairly solid (4.29 ERA, 1.35 WHIP), especially considering the first-year Rangers went an MLB-worst 54-100.
From there, however, things went downhill for Broberg in Texas, which traded him to the Brewers after a '74 season spent mostly at Triple-A. While Broberg did throw a career-high 220 1/3 innings in his first year in Milwaukee, his stuff and strikeout rate (4.1 K/9) declined, and his last big league action came in '78 at 28 years old. He finished with a 41-71 mark and a 4.56 ERA over 963 frames.
Burt Hooton, RHP: Selected by Cubs in 1st Round of 1971 Draft (No. 2 overall) out of University of Texas at Austin
Date of MLB debut: June 17, 1971
Similar to Broberg, Hooton was picked in 1968 (by the Mets) but chose to go to college (Texas) and then became an early selection (No. 2) in the June secondary phase in '71. The Cubs pushed the right-hander to The Show at 21, inside of two weeks after he was drafted June 8.
After a shaky debut, Hooton was sent to Triple-A, where he excelled and earned a late-season callup, wrapping that year with two stellar September starts -- a 15-strikeout game and a shutout, both against the Mets. Known for his knuckle curve, Hooton began the next year by pitching a no-hitter against the Phillies, spurring a successful rookie campaign (2.80 ERA, 1.29 WHIP, 218 1/3 IP).
Traded to the Dodgers on May 2, 1975, Hooton went from good to very good, as he posted a 112-84 record with a 3.14 ERA and a 1.18 WHIP over 10 years in Los Angeles. He was the NL Cy Young Award runner-up in '78 and made the All-Star team in '81, the same year he captured the NLCS MVP and helped the Dodgers win the World Series. All told, Hooton went 151-136 with a 3.38 ERA in 15 seasons.
Rob Ellis, 3B/OF: Selected by Brewers in 1st Round of 1971 Draft (No. 3 overall) out of Michigan State University
Date of MLB debut: June 18, 1971
Ellis was picked third by the Brewers in the June secondary phase of the 1971 Draft, after the Michigan native had turned down the Giants, who selected him in the 34th round in '68, to play at Michigan State.
Rushed straight to the big leagues 10 days after being drafted on June 8, Ellis was just 20 years and 10 days old upon arriving. He got a hit in his first at-bat and went 9-for-29 (.310) in his first 10 games with Milwaukee, but it quickly went south. Ellis ended his initial taste of the Majors with a .198/.278/.216 line in 36 games (129 plate appearances).
Turns out, the 36 games he played that first year would wind up being more than half of his career total (64) in MLB, as Ellis didn't make it back to the Brewers until a 22-game stint in '74 and another six games in '75. While his baseball career continued with a number of seasons in Triple-A and finished in '82 with a turn in the Mexican League, Ellis never again reached The Show, with his final game at the highest level coming at the age of 24.
Steve Dunning, RHP: Selected by Indians in 1st Round of 1970 Draft (No. 2 overall) out of Stanford University
Date of MLB debut: June 14, 1970
After going to the Indians with the second pick in 1970 out of Stanford on June 4, Dunning bypassed the Minors completely by starting only 10 days later. As a 21-year-old, he won his first start with five innings of two-run ball. Dunning continued to pitch fairly well through his first eight starts, with a 4.25 ERA in 48 2/3 innings, but his performance dipped down the stretch (5.72 ERA in his final 11 outings).
Although Dunning threw a career-high 184 frames in '71, he began the ensuing season at Triple-A before being called up midseason and posting a career-best 3.26 ERA in 16 starts. After getting off to a rough start in '73, however, Dunning was traded to the Rangers in May. That was the first of five trades in a four-year span, during which Dunning jockeyed back and forth between the Minors and Majors. His last big league game came in '77 at age 28, and he retired with a 23-41 record and a 4.56 ERA in barely more than 600 career big league innings.
Mike Adamson, RHP: Selected by Orioles in 1st Round of 1967 Draft (No. 1 overall) out of University of Southern California
Date of MLB debut: July 1, 1967
The first Draft pick to debut in the Majors, Adamson initially was selected in the first round of the inaugural MLB Draft in 1965, but he didn't sign with the Phillies. After two years at USC, the O's made him the first overall pick in the Draft's secondary phase.
Adamson was still 19 years old when he shot straight to The Show, with his first appearance coming in a two-inning relief stint. After a pair of starts in his next two outings that July, Adamson went to Triple-A, where he notched a 1.95 ERA in 60 innings (nine starts).
He began '68 at Triple-A before earning a midseason callup, a two-start cameo that did not go well. While Adamson began the next year with the O's, he only managed six relief appearances before going back down to Rochester for the rest of the year. Those outings in '69 would turn out to be Adamson's last time in the big leagues, and his MLB career was over by age 21 with a 7.46 ERA in 11 games -- and zero wins.
Jason Catania is an editor and reporter for MLB.com. Follow him on Twitter at @JayCat11.